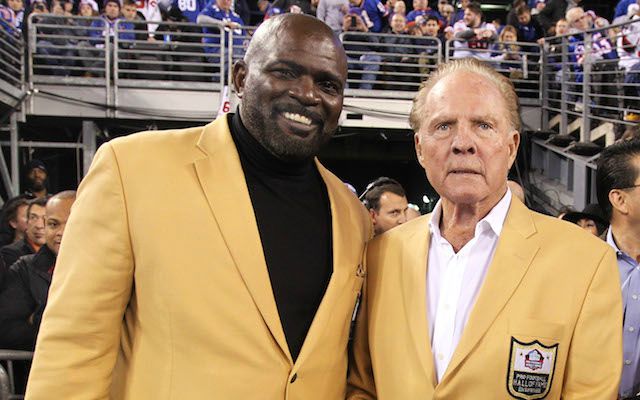 Andy Robustelli died yesterday at age 85. A native of Stamford, Connecticut, a U.S. Navy veteran of World War II, and a two-way end at Connecticut's Arnold College (now the University of Bridgeport), he played for the Los Angeles Rams from 1951 to 1955, before joining his "hometown" New York Giants.
The defensive end, wearing Number 81, became a cornerstone of the team that moved the Giants into the modern era from 1956 to 1964. In his first season with the team, he led a Giant defense that featured fellow Hall-of-Famers Sam Huff (linebacker) and Emlen Tunnell (safety) to the NFL Championship. Along with the offense led by quarterback Charlie Conerly and running back Frank Gifford, with the great Roosevelt Brown blocking, the G-Men demolished the Chicago Bears 47-7 at a frigid Yankee Stadium to take the only title the team would win between 1938 and 1986. The Giants also reached the NFL Championship Game in 1958, '59, '61, '62 and '63, but would lose them all. He recovered 22 fumbles in his career, at the time an NFL record.
*
Reflecting the death of this New York football legend, I present this companion piece to the one I did the other day on living members of the Baseball Hall of Fame. Inductees are listed with a team if they played, or coached, or were an executive, with them for at least 4 seasons.
I have divided moved teams accordingly (i.e., Johnny Unitas never took a snap for the Indianapolis Colts). "Sure future Hall-of-Famers" are not included, because, as we have seen in baseball, there is no such thing anymore. Coaching/executive tenure not counted unless they were elected as such. Ties are broken by more players (as opposed to other categories), and then by time in the league (a team with 3 players in 50 years is ahead of one with 3 players in 80 years).
EDIT: 1950s 49ers stars John Henry Johnson and Joe Perry, 1940s-50s Eagle star Pete Pihos, and early Tampa Bay Buccaneers star Lee Roy Selmon recently died, and have been removed from this list.
1. Washington Redskins, 13: Darrell Green, Russ Grimm, Chris Hanburger, Ken Houston, Sam Huff, Sonny Jurgensen, Paul Krause, Bobby Mitchell, Art Monk, John Riggins, Bruce Smith, Charley Taylor, Joe Gibbs (coach).
2. Oakland Raiders, 12: Marcus Allen, Fred Biletnikoff, Willie Brown, Dave Casper, Mike Haynes, Ted Hendricks, Howie Long, John Madden, Jim Otto, Jerry Rice, Art Shell, Al Davis (owner). Note that I'm making an exception to my one-city-only rule for the Raiders, treating them as a continuous Oakland franchise, since they did return, even though their Los Angeles edition became a cultural icon (and not for good reasons). Madden has also been elected as a broadcaster.
3. Pittsburgh Steelers, 12: Mel Blount, Terry Bradshaw, Joe Greene, Jack Ham, Franco Harris, John Henry Johnson, Jack Lambert, John Stallworth, Lynn Swann, Rod Woodson, Dan Rooney (owner), Chuck Noll (coach).
4. Dallas Cowboys, 11: Troy Aikman, Mike Ditka, Tony Dorsett, Michael Irvin, Bob Lilly, Mel Renfro, Deion Sanders, Emmitt Smith, Roger Staubach, Randy White, Rayfield Wright.
5. Buffalo Bills, 10: Joe DeLamiellure, Jim Kelly, James Lofton, Billy Shaw, O.J. Simpson (had to list him), Bruce Smith, Thurman Thomas, Marv Levy (coach), Ralph Wilson (owner), Van Miller (broadcaster).
6. San Francisco 49ers, 10: Fred Dean, Jimmy Johnson (the cornerback, not the coach), Ronnie Lott, Hugh McElhenny, Joe Montana, Jerry Rice, Bob St. Clair, Y.A. Tittle, Dave Wilcox, Steve Young.
7. Miami Dolphins, 9: Nick Buoniconti, Larry Csonka, Bob Griese, Jim Langer, Larry Little, Dan Marino, Dwight Stephenson, Paul Warfield, Don Shula (coach).
8. Minnesota Vikings, 9: Carl Eller, Paul Krause, Randall McDaniel, Alan Page, John Randle, Fran Tarkenton, Ron Yary, Gary Zimmerman, Bud Grant (coach).
9. Green Bay Packers, 9: Herb Adderley, Willie Davis, Forrest Gregg, Paul Hornung, James Lofton, Bart Starr, Jan Stenerud, Jim Taylor, Willie Wood.
10. Kansas City Chiefs, 7: Marcus Allen, Bobby Bell, Len Dawson, Willie Lanier, Marv Levy, Jan Stenerud, Emmitt Thomas.
11. Cleveland Browns, 7: Jim Brown, Joe DeLamiellure, Leroy Kelly, Mike McCormack, Bobby Mitchell, Ozzie Newsome, Paul Warfield.
12. Chicago Bears, 7: Doug Atkins, Dick Butkus, Richard Dent, Mike Ditka (player & coach), Dan Hampton, Gale Sayers, Mike Singletary.
13. Denver Broncos, 6: Willie Brown, John Elway, Floyd Little, Shannon Sharpe, Gary Zimmerman, Charlie Jones (broadcaster).
14. San Diego Chargers, 6: Lance Alworth, Fred Dean, Dan Fouts, Charlie Joiner, Ron Mix, Kellen Winslow.
15. Detroit Lions, 6: Lem Barney, Yale Lary, Dick LeBeau, Barry Sanders, Charlie Sanders (no relation), Joe Schmidt.
16. New York Giants, 6: Harry Carson, Frank Gifford, Sam Huff, Fran Tarkenton, Lawrence Taylor, Y.A. Tittle. Gifford has also been elected as a broadcaster. So has Pat Summerall, but as a CBS & Fox broadcaster, not as a Giants player or broadcaster.
17. New England Patriots, 5: Nick Buoniconti, John Hannah, Mike Haynes, Andre Tippett, Don Criqui (broadcaster). This counts players from their AFL days, when they were officially the Boston Patriots.
18. Philadelphia Eagles, 5: Chuck Bednarik, Bob Brown, Sonny Jurgensen, Tommy McDonald, Steve Van Buren.
19. New York Jets, 3: Don Maynard, Joe Namath, John Riggins.
20. Indianapolis Colts, 2: Eric Dickerson, Marshall Faulk. From their Baltimore days, count Raymond Berry, Art Donovan, Ted Hendricks, John Mackey, Gino Marchetti, Lenny Moore and Don Shula.
21. Cincinnati Bengals, 2: Charlie Joiner, Anthony Munoz.
22. Tennessee Titans, 1: Bruce Matthews (3 years as a "Tennessee Titan," but counting 2 as a "Tennessee Oiler," he qualifies for the Titans). From their days as the Houston Oilers, count Elvin Bethea, Earl Campbell, Dave Casper, Ken Houston, Charlie Joiner, Matthews, Warren Moon and Mike Munchak.
23. Baltimore Ravens, 1: Rod Woodson.
24. St. Louis Rams, 1: Marshall Faulk. From their Los Angeles days, count Eric Dickerson, Deacon Jones, Tom Mack, Jackie Slater (who did play their first season in St. Louis), Jack Youngblood and broadcaster Dick Enberg.
25. Seattle Seahawks, 1: Steve Largent.
26. New Orleans Saints, 1: Rickey Jackson.
27. Atlanta Falcons, 1: Deion Sanders.
From the defunct NFL version of the Brooklyn Dodgers (played 1930 to 1948), 1: Clarence "Ace" Parker. Having just turned 99, he is the oldest living pro football player, and the oldest living Hall-of-Famer in any of the four major sports. He also played Major League Baseball, and is their 2nd-oldest living player, behind 100-year-old Connie Marrero, a pitcher for the 1950-54 Washington Senators (debuted late because of the color barrier). Parker, a native of Portsmouth, Virginia and a Duke graduate, is also the oldest living member of the College Football Hall of Fame. (The oldest living NHL player is Al Suomi, 98, of the 1936-37 Chicago Blackhawks; 93-year-old Elmer Lach is the oldest living Hockey HOFer; and while the NBA has only been around for 65 years, its oldest living player is Bill Sharman, 83.)
28. Houston Texans, none. Not surprising, as they are the newest franchise.
29. Carolina Panthers, none: Not surprising, as they are one of the 4 newest franchises -- 3 if you count the Browns as an established team (and you should, even if they have looked like an expansion team). Mike McCormack was an executive with them, but that's as close as they come. Reggie White, who played for them in 2000 and died in 2004, is their only former player inducted.
30. Jacksonville Jaguars, none: Also one of the 4 newest franchises.
31. Arizona Cardinals, none: Emmitt Smith wasn't with them long enough. From their Chicago days, count Charley Trippi. From their St. Louis days, count Dan Dierdorf, Jackie Smith, Roger Wehrli, Larry Wilson.
32. Tampa Bay Buccaneers, none: As I said, Lee Roy Selmon recently died.