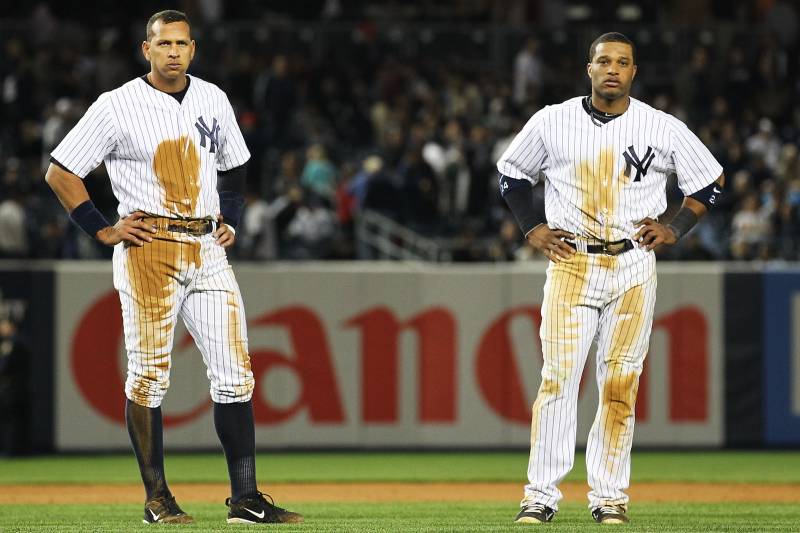 As you're aware, I love the New York Yankees. Which means I hate losing, and I hate the Boston Red Sox, and I especially hate losing to the Boston Red Sox.
The Scum.
Last night, a big 3-game series against The Scum began at Yankee Stadium II. Every series against them is big. If the Yankees ever clinch the AL East on September 1 and play the Red Sox in a series that closes on October 1, the October 1 game will still be big.
Clay Buchholz (4-3) held the Yanks to 2 runs on 5 hits through 7 innings. Bartolo Colon (2-2) held the Sox to 3 runs (2 earned) and 5 hits through 6, including an Adrian Gonzalez homer.
The Yanks could still have won it, but Joe Girardi's poor bullpen management blew it again. He brought Joba Chamberlain in to pitch the 7th. Why? Colon wasn't pitching badly. He'd thrown 103 pitches? So what? One more inning would have brought it up to, what, 120? 125? Your pitcher can't be a
man
if you don't let him!
Last night, Joba was not a man. He certainly was not
the
man. He gave up a homer to Kevin Youkilis (who is definitely not a man, he's a whiny bitch who has no problem with opponents getting purposely hit but becomes, as I said, a whiny bitch when it happens to him), and that made it 5-2 Scum.
And that made the difference. Russell Martin hit one out off a control-averse Daniel Bard in the bottom of the 8th to make it 5-3, and another run was scored off the execrable Jonathan Papelbon (6th save) in the bottom of the 9th to make it 5-4, but in both innings, the Yanks wasted opportunities for more runs. Nobody to blame but themselves, starting with the manager.
To make matters worse, Tampa Bay also won. The Yankees are now 2 games out of first place, 1 in the loss column.
Tonight, at 7:05, CC vs. Super Punk. The Yankees have to win.
It's the Red Sox. It's The Scum. The Yankees
always
have to win.
Jeter 2964 36
Rivera 572 29
A-Rod 619 144
Magic Number N/A
*
A few minutes ago, I found out that Derek Boogaard of the New York Rangers, a Canadian of Dutch descent, died last night at age 28. Cause as yet unknown.
In spite of my contempt for his team and his reputation as a player who could do nothing but fight, no one deserves this. I join the hockey world in offering my sympathy.
Manchester United got, you guessed it, a dodgy penalty awarded to them by, no, not Howard Webb, no, not Mike Dean, but by the other truly corrupt English referee, Phil Dowd, and Shrek Rooney slotted it home, to forge a 1-1 draw with Blackburn Rovers, and the Fergiebastards clinched their 19th championship in English league play, surpassing Liverpool's total of 18.
This is a bad thing.
Manchester City -- who, unlike United who play at a stadium called Old Trafford in the Borough of Trafford, actually play within the limits of the City of Manchester -- defeated Stoke City, the prototypical Dirty Northern Bastards, 1-0 to win the FA (Football Association) Cup at the new Wembley Stadium today.
This is a good thing, although I'm hardly a City fan. It is their first FA Cup win in my lifetime, since 1969, and their first trophy of any kind since the 1976 League Cup.
Stoke, who have not won a trophy of any kind since the 1972 League Cup, are the only surviving original member of England's Football League that has never won the FA Cup. Poor fucking babies.
Arsenal's last 2 games -- tomorrow, home to Aston Villa, and next Sunday at crosstown Fulham, are all but meaningless. But it will be a situation where manager Arsene Wenger will find out who wants to be there next season, and who's just collecting a fat paycheck.