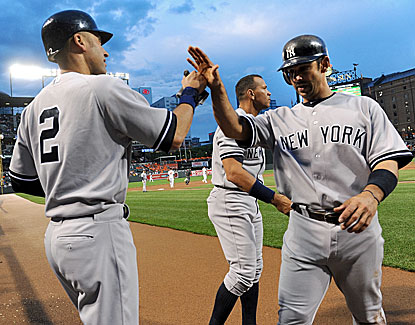 Computer issues prevented me from updating for 3 straight days. Which felt like 4, considering I was going back and forth between the Yankees and TV season finales.
I can't believe both Kate Beckett (Stana Katic on
Castle
) and Teresa Lisbon (Robin Tunney on
The Mentalist
) both got shot. So did Mike Franks (Muse Watson -- great name -- on
NCIS
), but he's a lot harder on the eyes, not to mention the ears, than Beckett and Lisbon.
Lisbon says she'll be all right, but Franks is dead, and Beckett sure looks dead. At least Patrick Jane (Simon Baker on
The Mentalist
) finally got Red John (a very creepy cameo by
West Wing
er Bradley Whitford).
UPDATE: Beckett's life was saved, and Whitford's character turned out not to be Red John. It took another 4 years for Jane to get his revenge.)
*
Tuesday night. The Yankees not only got the hits they needed, but came through late, scoring 2 runs in the 7th and 2 more in the 9th, to finally beat the Tampa Bay Rays, 6-2. Alex Rodriguez hit 2 homers to break out of a nasty slump. WP: Ivan Nova (4-3). No save. LP: James Shields (4-2).
*
Wednesday night. Back up the coast to Baltimore to face the Orioles, revitalized under former Yankee manager William Nathaniel Showalter III.
Bartolo Colon turned back the clock again. He pitched 8 brilliant innings and got a Nick Swisher sacrifice fly to score A-Rod in the 4th, and the Yankees took a 1-0 lead into the bottom of the 9th.
All game long, John Sterling was musing (I like that word) on WCBS about how Colon was throwing an average of 10 pitches per inning. So should he have been sent back out for the bottom of the 9th to protect his 1-run lead?
If you have Mariano Rivera to come out of the pen to throw fresh and protect that lead, you bring him in. Right? Right?
This time, wrong: Mo didn't have it, and the O's tied it up.
I hate extra innings. If you're gonna win, do it in 9, so I'm not too tired to celebrate. If you're gonna lose, do it in 9, so I'm not tired AND pissed off.
Here's what the Yankees blew on Wednesday night:
* 2nd: A-Rod on 3rd, Swisher on 1st, 1 out. Andruw Jones struck out, Eduardo Nunez grounded to short.
* 3rd: Curtis Granderson walked, 2 out. Mark Teixeira grounded to 3rd.
* 5th: Derek Jeter singled, 2 out. Granderson struck out.
* 6th: A-Rod singled with 1 out. Thrown out trying to stretch it to a double, 2 out. Robinson Cano singled. Swish struck out. Insert "George Carlin word" of choice here.
* 7th: Jones draws a leadoff walk. Brett Gardner pinch-runs. Nunez sacrifices him to 2nd, 1 out. Francisco Cervelli flies to center. Jeter grounds to 3rd. You can't waste leadoff walks like that!
* 8th: Teix walks with 1 out. A-Rod grounds into an around-the-horn double play, 3rd to 2nd to 1st. And the A-colytes grouse when Jeter does that.
* 10th: Russell Martin singles with 1 out. Jeter and Granderson both strike out. This is when I decided it was no longer a matter of if the Yankees would lose, but when and how. I figured it would be on a what-the-hell play. You know the kind I mean.
* 12th: Chris Dickerson leads off with a single. Gardner sacrifices him to 2nd, 1 out. Looks good, right? Nunez grounds to 3rd, Dickerson can't advance, man on 2nd, 2 out. Martin grounds to short but beats it out, and then steals 2nd. So men on 2nd & 3rd with 2 out. Jeter up. Captain Clutch, not so much: A weak grounder to 3rd, the kind of hit we've been seeing to much of from him the last year or so.
* 13th: Granderson hits a leadoff single. Teix singles him to 3rd. 1st and 3rd, nobody out! This is it, the Yankees are going to win! No, it's not, A-Rod pulls a Carlos Beltran and takes a called 3rd strike. Robinson Cano is intentionally walked. Bases loaded, 1 out. Dickerson strikes out. Gardner grounds to 1st.
* 14th: Nunez hits a leadoff single. He steals 2nd. Man on 2nd, nobody out. This is it, right? Wrong. Martin hits a foul pop to 1st. Jeter hits another weak infield grounder, this time to 2nd, advancing Nunez to 3rd. Granderson grounds to short.
Think about that for a moment: It may have been 14 innings, but the Yankees stranded 14 runners -- 7 of them got as far as 2nd base, 10 of them got on base with less than 2 outs. You can't do that!
Top of the 15th. I am one very tired and very unhappy uncle. Teix leads off with a single. Don't get your hopes up, Mike, A-Rod is up. Will it be a strikeout, a popup, or a double play? None: He singles, too. So men on 1st and 2nd with nobody out, and Cano up. The Orioles pull pitcher Jeremy Accardo, replacing him with Michael Gonzalez. Still, the next 3 hitters are Cano, Dickerson and Gardner. Surely, one of them will get the big hit, right? The way this game has gone thus far, probably not.
Cano does! A hit! Center fielder Adam Jones mishandles it! Teix scores! A-Rod scores! Cano gets all the way to 3rd! It's 3-1 Yankees, and still nobody out!
Gonzalez hits Dickerson in the face with a pitch. Stay classy, Baltimore.
A.J. Burnett, of all people, pinch-runs for Dickerson, who turns out to be fine. Gardner hits a sac fly that scores Cano. Jeter had been the designated hitter, then moves to short for the bottom of the 15th, replacing Nunez, so now the Yankees have had a pitcher as a pinch-runner and the pitcher forced to bat... and bat 6th.
Fortunately, Hector Noesi, making his major league debut, pitched 3 strong innings before working himself out of a jam (the depleted Yankee bullpen left him, and Joe Giradi, no choice) in the bottom of the 15th. Final(ly) score, Yankees 4, Orioles 1.
WP: Noesi (1-0). LP: Accardo, 2-1.
The funny part was that there was this leather-lung, probably right underneath the press box because you could hear him over the radio all game long, yelling, "LET'S GO YANKEEEEEEEES!" In the 14th, Suzyn Waldman said, "You'd think he'd get tired." Sterling chuckled.
I wonder if they had a 14th-inning stretch? I have seen it done.
*
Last night, the Yanks and O's finished up the 2-gamer on the Inner Harbor. The man who built the 1st Yankee Dynasty, "Colonel" Jacob Ruppert, said his idea of a perfect day was when the Yankees scored 8 runs in the 1st inning, and then slowly pulled away.
He would have liked last night's game, if not thinking it "perfect." A Jeter double, a Granderson triple (1), a Teix groundout (2), A-Rod struck out, Cano was hit by a pitch (another purpose pitch? Why couldn't Buck have been this aggressive when he was managing the Yankees? He could've had Ken Griffey Jr. or Edgar Martinez plunked in that Playoff in '95), Martin walked, a wild pitch, Jorge Posada (remember him?) walked to load the bases. Swish got the kind of hit that ends slumps, doubling (3, 4 & 5). Five runs before the Birds even came to bat.
The Yankees scored 4 more in the 4th, to knock Brad Bergesen (1-5) out of the box. Gardner and Jeter -- who are
you
callin' an old man? -- hit back-to-back triples, and Teix, the native of nearby Annapolis, Maryland who grew up an Oriole fan, knocked one out later that inning for his 285th career home run. He'll reach 300 before the season is out.
Now, the only question was, would the Yankees get 5 full innings in before the umpires called it due to rain? CC Sabathia (4-3) efficiently set the O's down to make it an official game. He tossed 8 innings, 7 hits, no walks, 9 strikeouts, and, most importantly, gave the exhausted bullpen a nice rest before Amaury Sanit, a Cuban defector born on the 4th of July (in 1979), allowed the O's to get on the board in the bottom of the 9th. Yankees 13, Orioles 2.
*
So the Yankees come home to start -- ugh -- Interleague play again, with 3 in The Bronx against The Other Team. I'll have more on that later.
The Yankees are currently 23-19, officially a game behind the Rays, but even in the All-Important Loss Column. The Scum are a game and a half back (1 in the AILC), the Toronto Blue Jays, pesky or otherwise, 2 1/2 back (2), and the O's 5 back (4).
Jeter 2970 30
Rivera 572 29
A-Rod 621 142