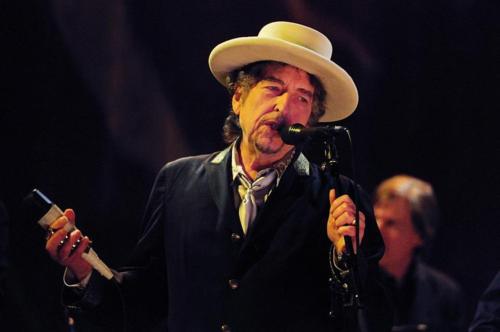 Happy 70th Birthday to Robert Allen Zimmerman, a.k.a. Lucky Wilbury, a.k.a. Bob Dylan.
Top 10 Bob Dylan Songs About Sports
As with previous entries for Elvis Presley and The Beatles, most of this is joking. Bob has a sense of humor. He even wrote a song titled "Jokerman." And, in "All Along the Watchtower," he had a man he called The Thief tell a man he called The Joker, "There are many among us who feel that life is but a joke."
10. "Idiot Wind." Seems to blow a lot on ESPN. And I'm not just talking about during
Pardon the Interruption
, when Tony Kornheiser (who is
not
a teenage girl) tells Michael Wilbon that, tonight, as usual, instead of a sports broadcast (on ESPN or otherwise), he's going to watch
American Idol
. At which point Wilbon will say, "Tony, watch sports! Be a
man
!"
9. "Positively 4th Street." You think you got next on the West 4th Street Courts in Greenwich Village? "You got a lot of nerve to say you got a helping hand to lend. You just want to be on the side that's winning!"
8. "Highway 61 Revisited." Okay, the Minnesota Twins didn't "put some bleachers out in the sun and have it out on Highway 61" when they built Target Field, but U.S. Route 61 does go through nearby St. Paul, only a short drive away.
7. "License to Kill." Apparently, Pedro Martinez thinks he's the hero of this story.
6. "Rainy Day Women #s 12 & 35." For Ricky Williams: "I would not feel so all alone: Everybody must get stoned!"
5. "Tangled Up In Blue." The current state of the finances of the Los Angeles Dodgers. Or would that be tangled up in red? (Tape or ink.)
4. "Catfish." The one Dylan song (that I know of) that is actually about sports, in honor of James Augustus Hunter, the first free agent: "Catfish, million-dollar man, nobody can throw a ball like Catfish can." Dylan even has Catfish striking out his once and future teammate, Reggie Jackson.
Note: As one of my regular readers points out: Yes, Dylan wrote "The Hurricane," about imprisoned boxer Rubin "Hurricane" Carter. But that song isn't really about sports. It's about a man imprisoned for a crime he (probably) didn't commit, and the pursuit of justice in the case. That the subject of the song happened to be an athlete is, for all intents and purposes, an afterthought.
3. "Blowin' In the Wind." Or, the story of how the San Francisco Giants had to get out of Candlestick Park before they could win a World Series. This is something for the Wrigley-bound Chicago Cubs to consider.
2. "Don't Think Twice, It's All Right." All too often, including in the world of sports, some people won't even think once. Which leads us to...
1. "Like a Rolling Stone." Scottie Pippen, 1999. Alex Rodriguez, 2007. Kobe Bryant, 2008. Tiger Woods, 2009. Terrell Owens anytime. How does it feel to be on your own? (Cue Drew Rosenhaus: "Next question!") That A-Rod and Kobe did win after that doesn''t make it any less of a good analogy.
While "When I Paint My Masterpiece" is a great song, it is not about the impressionistic sports-themed artwork of LeRoy Neiman.