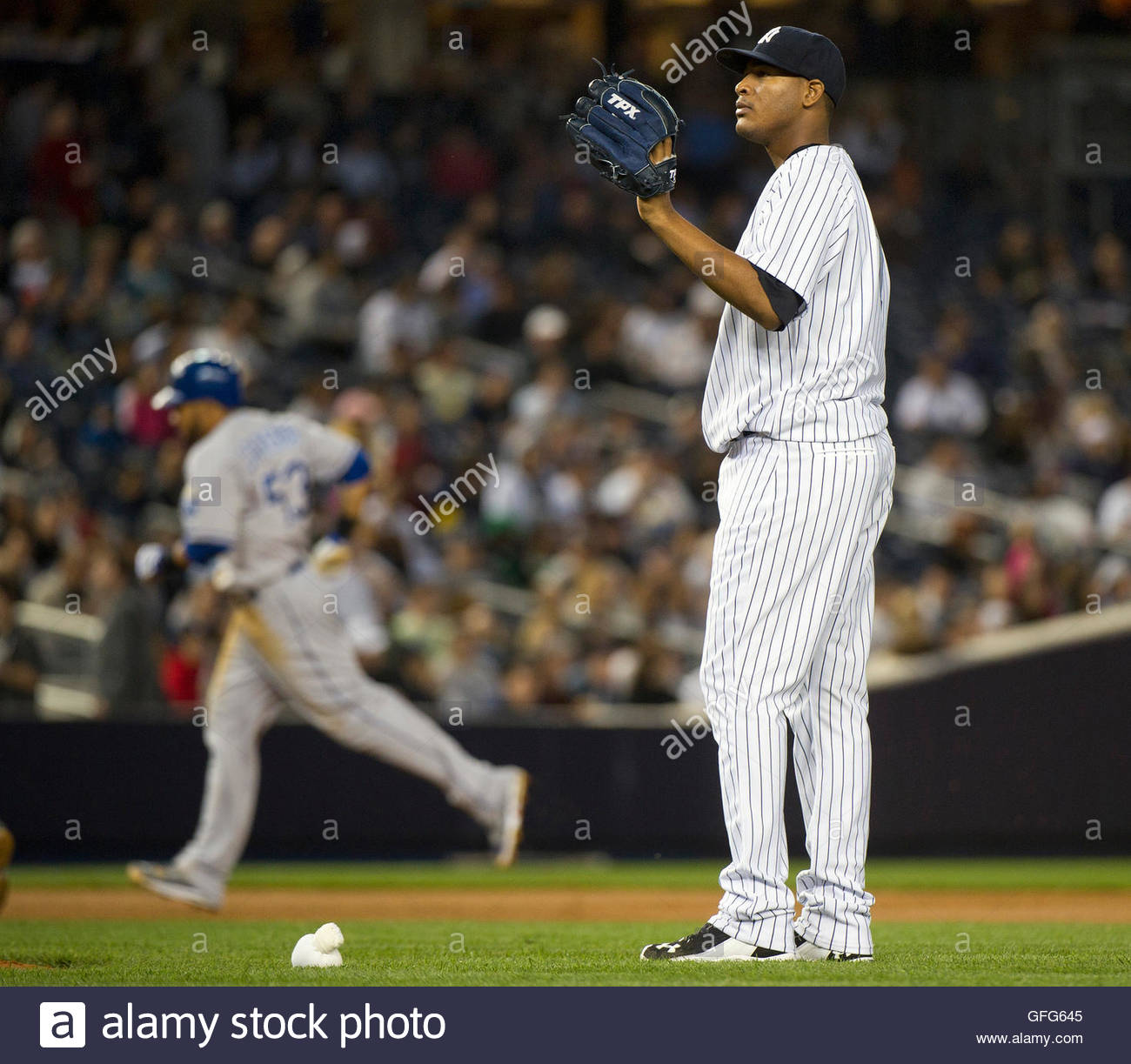 The Yankees have now lost 8 of their last 12, and fallen out of 1st place. Robinson Cano returned last night from his accidental beaning the night before, and made a key error in the 2nd inning. In fact, the 2nd inning was a disaster, both for starter Ivan Nova and for the defense. It looked like the Yankees might get out of it down only 1-0, but it ended 6-0.
Included in that Royal rally was a Melky Cabrera double. Then Melky homered in the 4th. Sure, rub it in: After all, the trade for Melky was designed to bring back the execrable Javier Vazquez. (Pardon me while I bang my head against the wall.)
(Ow.)
The Royals tacked on another run in the 4th, and the Yankees just weren't hitting. Going into the bottom of the 5th, it was 8-0 K.C., and Royal starter Sean O'Sullivan was pitching a perfect game.
I was already thinking about comparing this to the 2 most embarrassing regular-season Yankee games I can remember: The no-hitter thrown by 6 Houston Astros in June 2003, and the 22-0 clobbering the Cleveland Indians gave us in September the next season. Both at home. (Funny, no one seems to remember that, in each case, the Yanks took the other 2 games in those series.)
And, of course, there was the embarrassment of losing the 1st-ever Interleague game with the Mutts on June 16, 1997 (I was there, Upper Reserved Section 2, Andy Pettitte got rocked, 6-0), and the steroid-induced humiliation by The Scum in October 2004 (I was not there, but stuck it out to the inevitable end on TV). But losing a perfect game? By a pitcher I'd never heard of? On the Royals? At home?
I had the title for today's post all picked out, forgetting that today would be a Friday the 13th:
"Worst. Yankee. Game. Ever."
Sean O'Sullivan. I went to East Brunswick High School with an athlete with that name. Very good defensive lineman on our 1984 team that went undefeated and won the State Championship. What's that, we lost the State Championship Game? Never let the facts get in the way of a good story. Anyway...
This Sean O'Sullivan retired the 1st 13 Yankees he faced. Fortunately, as I said, Robbie Cano, who had been listed as "day-to-day," came up and knocked one out. Perfect game over, no-hitter over, shutout over.
Disaster over? Not by a long shot. The inning went on, and a Francisco Cervelli double drove in 2 runs and a Jeter sac fly drove in 1, and suddenly it was 8-4, and we had a ballgame again.
But that damn Hosmer doubled home a run in the top of the 6th. He plays 1st base, which is appropriate, because, before Wednesday night, if you'd mentioned his name to me, I would've said, "Who?" "Who" was on 1st.
A-Rod finally broke out of his homer drought by hitting Number 619 in the bottom of the 8th, but it was a typical pre-2009 A-Rod homer: Nice, Alex, try hitting one when it will do some good.
Final score, Royals 11, Yankees 5. WP: O'Sullivan (2-2). LP: Nova (3-3).
Losing 2 out of 3 at home to the Royals? This is bad.
Cheer up, Yankee Fans: Today is Friday the 13th!
However... The Scum come to town. That's right, the Red Sox! That ought to get the Bombers' attention.
What got my attention was that, earlier today, Carlyle was sent down to Triple-A Scranton. A mercy killing, perhaps. Hector Noesi was called up. He was scheduled to pitch for Scranton tonight, which means he should be ready to go in any of these 3 games, and you know how Yankee-Red Sox games go: You can
never
have too many pitchers ready. Especially at Fenway, although this series will be at Yankee Stadium II.
Maybe the Red Sox will stay, "Don't stick your Noesi in our business!"
Tonight, at 7:05, on YES, Bartolo Colon pitches against Clay Buttholes. I mean, Buchholz.
Tomorrow, at 7:10, Fox doing its
Game of the Week
in prime time, CC Sabathia against Super Punk, Josh Fuckitt. I mean, Beckett.
Sunday night, at 8:05, on ESPN, Freddy Garcia against Uncle Fester. I mean, Jon Lester.
As you can tell, I hate the damn Red Sox. All that teaching about loving thy neighbor and not using profanity goes out the fucking window when those assholes are involved.
Jeter 2963 37
Rivera 572 29
A-Rod 619 144
Magic Number (N/A)
*
Days until the Red Bulls play again: 2, this coming Sunday night, home to Chivas USA, "the other Los Angeles team." While the Galaxy have U.S. World Cup hero Landon "I'm brilliant on the pitch, but at home I'm so dumb I let Bianca Kajlich get away" Donovan and former Manchester United legend and failed England Captain David "I'm too sexy for Milan" Beckham, Chivas -- Spanish for "Goats," the nickname of its Mexican parent club, Club Deportivo Guadalajara -- has as its biggest star former Red Bull, and New Zealand international, Andrew Boyens, plus U.S. international Heath Pearce.
Days until the next Yankees-Red Sox series begins (after this one, that is): 25, starting Tuesday, June 7, at Yankee Stadium II.
Days until the Red Bulls play another "derby": 29, on Saturday, June 11, against the team that should be considered their biggest rivals, the New England Revolution, at Red Bull Arena. Just 4 weeks. The next play the team that is usually considered their biggest rivals, D.C. United, on Saturday, July 9, at Red Bull Arena. And they next play their closest rivals, the Philadelphia Union, on Thursday night, October 20, at Red Bull Arena.
Days until Derek Jeter collects his 3,000th career hit: 44 (estimated to come on June 26 -- his 37th birthday). A little over 6 weeks.
Days until the next North London Derby: As yet unknown. The 2011-12 Premier League season begins on August 13, so it can't be any earlier than that. The schedule -- sorry, forgot to speak English there, the fixture list -- is usually released in the 2nd week in June.
Days until Rutgers plays football again: 111, on Thursday, September 1, home to North Carolina Central. Just 16 weeks.
Days until East Brunswick High School plays football again: 117, on Friday night, September 9, and the opponent and location are TBD. Just 17 weeks.
Days until the Devils play another local rival: As yet unknown. The next season's schedule hasn't been released yet, save for the season-openers at the neutral but hockey-loving site of Helsinki, Finland, games that will include the Rangers. That will be on October 7. Figure the Devils' season opener will be the next day, which is 177 days from now. Figure they'll probably play a local rival, either the Rangers, the Islanders, or the Flyers soon thereafter, maybe a week after, so, tentatively, I'm going to say the number of days is: 155.
Days until the Rutgers-Army football game at Yankee Stadium: 183. Just 6 months.
Days until the next East Brunswick-Old Bridge Thanksgiving clash: 295.
Days until the last Nets game in New Jersey: 345 (estimated, as the 3rd Sunday in April 2012 is the 22nd). Less than 1 year, unless new owner Mikhail Prokhorov decides he'll stay in the Prudential Center, the great new arena he's already got.
Days until the 2012 Olympics begin in London: 441 (July 27).
Days until Alex Rodriguez collects his 3,000th career hit: 752 (estimated).
Days until Alex Rodriguez hits his 700th career home run: 874 (estimated).
Days until Super Bowl XLVIII at the Meadowlands: 996 (tentatively scheduled for February 2, 2014, although it could end up being moved back a week or 2).
Days until Alex Rodriguez hits his 756th career home run to surpass all-time leader Hank Aaron: 1,494 (estimated).
Days until Alex Rodriguez hits his 763rd career home run to become as close to a "real" all-time leader as we are likely to have: 1,608 (estimated).