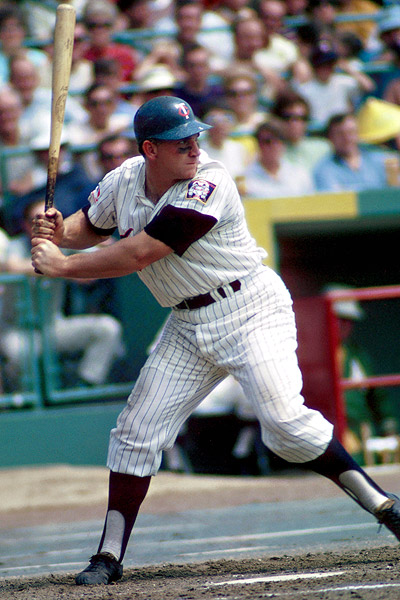 A tough last year or so for baseball legends. Since Opening Day of last year, we've lost...
* "Yankee Family" members George Steinbrenner, Ralph Houk, Bob Sheppard, Clyde King, Bill Bergesch, Duane Pillette, Gil McDougald, Fred Sanford (not the Redd Foxx character), Frank Verdi, Ryne Duren, Dale Roberts, Tom Underwood, Oscar Azocar, and Freddy "Sez" Schuman.
* National League New York figures Duke Snider, Gene Hermanski, Cliff Dapper, Billy Loes, the aforementioned Clyde King, Danny McDevitt (Dodgers), Bobby Thomson, Clint Hartung, Rudy Rufer (Giants), Bob Shaw, Greg Goossen, Wayne Twitchell, Joe Frazier (not the boxer) and Bergesch (Mets).
* Pitching legends Bob Feller, Robin Roberts, Cal McLish, Mike Cuellar and Woodie Fryman.
* World Series-winning managers Sparky Anderson and Chuck Tanner.
* World Series-building executives Joe L. Brown, Bill Lajoie, Al LaMacchia and Mel Queen Jr. (also a pretty good pitcher, whose father Mel Sr. pitched for the Yankees), and Pennant-building executive Lou Gorman.
* All-Star players Marty Marion, Phil Cavarretta, Walt Dropo, Eddie Joost, Gus Zernial, George Crowe, Ron Santo, Mitchell Page and Jose Lima.
* Beloved broadcasters Ernie Harwell, Nellie King, Dave Niehaus, and, of course, Santo qualifies in this category as well.
* Former umpire Satch Davidson, behind the plate for Hank Aaron's 715th homer and Carlton Fisk's "Fenway Twist" homer.
* Former Congressman and Arlington, Texas Mayor Tom Vandergriff, the founding father of the Texas Rangers.
* Longtime New York sportswriter Maury Allen, who wrote acclaimed biographies of Joe DiMaggio, Casey Stengel, Roger Maris and Reggie Jackson.
* Longtime sports cartoonist Bill Gallo.
* And
Ball Four
figures Goossen, Jim Pagliaroni and Jerry Stephenson of the 1969 Seattle Pilots.
*
Now, add to this sad litany, Harmon Clayton Killebrew Jr. With a name like that, he should have been a Senator.
Actually, he was. And he needed a Senator to get there.
He was born on June 29, 1936, and would have turned 75 next month. A native of Payette, Idaho, he was All-American in both baseball and football (as a quarterback) in high school. He was seen by one of his home State's U.S. Senators, a Republican named Herman Welker, who told Clark Griffith, the Hall of Fame pitcher who owned the Washington Senators, who signed him. Killebrew played for the Senators from 1954 to 1960, when Griffith's nephew/adopted son, Calvin Griffith, moved them to the Minneapolis-St. Paul area, and renamed them the Minnesota Twins.
Prior to the move, in 1959, Killebrew led the American League with 42 home runs, tying the record, set by teammate Roy Sievers, for Washington players that, with the passing of the "New Senators" and the arrival of the Nationals, still stands.
Killebrew appeared on the TV show
Home Run Derby
, as did Senator teammates Jim Lemon and Bob Allison. Killebrew dethroned Mickey Mantle as the show's champion, and also defeated Rocky Colavito of the Cleveland Indians, before being defeated by Ken Boyer of the St. Louis Cardinals. (Of the 19 players who appeared on that show, prior to the 1960 season, 8 are still alive: Colavito, Hank Aaron, Ernie Banks, Bob Cerv, Al Kaline, Willie Mays, Frank Robinson and Gus Triandos.)
The Twins finished 2nd to the Yankees in 1962, won the Pennant in 1965, and won the AL Western Division in 1969 and 1970. They would not reach the postseason without Killebrew on the roster until 1987.
On August 3, 1962, he was the 1st batter ever to hit a baseball over the left field roof at Tiger Stadium in Detroit. Only 3 others would accomplish this feat.
On May 24, 1964, he hit the longest measured homer at Baltimore Memorial Stadium, 471 feet to deep left center. The ball landed in the far reaches of the bleachers. Frank Robinson, 2 years later, pulled off what turned out to be a unique feat, hitting a fair ball completely out of Memorial Stadium, but it landed 451 feet from home plate, not quite as long as Killebrew's blast that remained within the confines of the stadium.
On June 3, 1967, Killebrew hit a 520-foot home run, the longest ever hit at the Twins' Metropolitan Stadium, and believed to be the longest in Twins history. That event is commemorated at the Mall of America, built on the site after the Met was torn down in 1985, including a plaque marking home plate, and one red-painted seat from the Met, which was placed at the location and elevation of the landing spot of the home run.
Killebrew led the AL in home runs in 1959, '62, '63, '64, '67 (shared with Carl Yastrzemski) and '69, in the last year hitting a career-high 49 homers, still a Senators/Twins franchise record in spite of their 1982-2009 tenure at the Metrodome, a.k.a. the Homerdome.
He hit his 500th career home run on August 10, 1971, at the Met, against Mike Cuellar of the Baltimore Orioles. He was only the 9th player to do it, and only the 5th righthanded hitter. The 573 home runs he hit from 1954 to 1975 still rank him 1st among righthanders in AL play. (Babe Ruth still leads all AL players with 708 of his 714 coming in the AL, and Aaron, Mays and Robinson have more among NL righthanders.)
Mickey Mantle and Harmon Killebrew at an Old-Timers' Game.
Between them, these 2 men hit
1,109 home runs.
In 9 seasons, he had 100 or more RBIs, peaking at 140 (also in 1969). In 11 seasons, he was named to the All-Star Game. He was named AL Most Valuable Player in 1969, and just missed in '62, '67 and '70.
His Number 3 was the 1st retired by the Senators/Twins franchise. Old Shakopee Road in Bloomington, which separated Metropolitan Stadium (also the original home of the NFL Vikings) from the Metropolitan Sports Center (former home of the NHL's Minnesota North Stars and the ABA's Minnesota Muskies), was renamed Killebrew Drive. There are also Killebrew Drives in his hometown of Payette, and in Alexandria, Virginia, a subway ride away from his Senators exploits.
Killebrew was a one-dimensional ballplayer: His .256 lifetime batting average is the 2nd-lowest of any non-pitcher in the Baseball Hall of Fame (only Ray Schalk, an apparently wonderfully-fielding catcher, has a lower one), and his bulk and lack of speed made him a born designated hitter, having been tried regularly at left field and 3rd base before settling in at 1st base by 1965, before the DH rule came in for 1973 and he spent the rest of his career as one.
Nevertheless, he was elected to the Hall of Fame in 1984, the 1st Twin so honored. In 1999,
The Sporting News
named him Number 69 on their list of the 100 Greatest Baseball Players. (At the time, of the 100, 52 were still alive; now, 43 are, including former Yankees Yogi Berra, Whitey Ford, Reggie Jackson, Dave Winfield, Rickey Henderson, Wade Boggs, and brief Yankee Gaylord Perry.)
Harmon Killebrew and Rod Carew
at the opening of Target Field, 2010.
In spite of his nickname, "The Killer," Harmon Killebrew was universally regarded as one of the game's good guys. He died today after a long battle with cancer. He was 74, and the game will miss him.
Later today, I'll do an updated list of which members of the Hall of Fame, by team, are still alive.