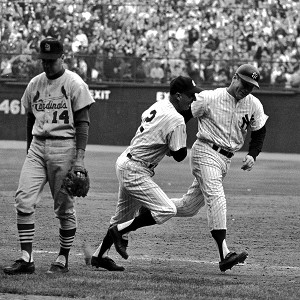 We didn't get one in this World Series. That's okay, though -- unless you're a Cleveland fan.
1. October 5, 1949: Tommy Henrich, New York Yankees, Game 1, off Don Newcombe of the Brooklyn Dodgers, at the original Yankee Stadium in The Bronx.
Henrich's blast was not only the 1st walk-off home run in postseason history but remains one of just 2 that came with the score 0-0. Nicknamed "Old Reliable" for his clutch hitting, played alongside Joe DiMaggio and Charlie Keller in one of the greatest outfields ever assembled. The home run also seems to have put a hex over Newcombe, who had taken a 4-hit shutout into the 9th: He'd make 4 more World Series starts in his career, and allow 20 runs in 14 innings.
2. September 29, 1954: Dusty Rhodes, New York Giants, Game 1, off Bob Lemon of the Cleveland Indians, at the Polo Grounds in Manhattan.
To many, the 1954 Indians seemed unbeatable, winners of 111 games with a rotation that featured Lemon, Early Wynn, Mike Garcia and veteran Bob Feller. In the 8th inning of the opener, Willie Mays made his famous catch to keep the game tied. Lemon was in his 10th inning of work when Leo Durocher sent Rhodes -- who hit .341 in part-time duty that season -- in to hit for Monte Irvin with two runners on and one out.
Rhodes didn't hit it far, but the right-field wall at the Polo Grounds was only 258 feet down the line. His home run had just enough distance. Rhodes would later add game-tying pinch-single and home run in Game 2 and a two-run single in Game 3 as the Giants pulled off the sweep. "I couldn't buy a drink in New York after that '54 Series," Rhodes once said.
3. October 6, 1957: Eddie Mathews, Milwaukee Braves, Game 4, off Bob Grim of the Yankees, at Milwaukee County Stadium.
One of the forgotten great World Series games, the Yankees led the Series 2 games to 1 when Elston Howard's 2-out, 3-run homer off Warren Spahn tied the game in the 9th inning. The Yankees added another run in the 10th on Hank Bauer's RBI triple to take a 5-4 lead.
Bob Grim, the Yankee closer who had gone 12-8 with a league-leading 19 saves that year, came on. He hit Nippy Jones, hitting for Spahn, to lead off the inning. The pitch was originally called a ball, and then overturned when Jones showed umpire Augie Donatelli a shoe-polish mark on the ball. After an RBI double, Mathews launched his game-winning home run. The Braves went on to win in 7 games.
4. October 13, 1960: Bill Mazeroski, Pittsburgh Pirates, Game 7, off Ralph Terry of the Yankees, at Forbes Field in Pittsburgh.
The granddaddy of them all. His home run off the ivy-draped wall not only won the World Series but capped off
maybe the greatest baseball game ever played
.
5. October 10, 1964: Mickey Mantle, Yankees, Game 3, off Barney Schultz of the St. Louis Cardinals, at Yankee Stadium.
Mantle was a wreck by the time the 1964 World Series rolled out, playing on a bad knee and through a bum shoulder that required offseason surgery. His error earlier in the game allowed the Cardinals to score their only run in a 1-1 game. Schultz, a 37-year-old knuckleballer, warmed up and Mantle declared in the dugout,
"I'm gonna hit one outta here."
Mantle swung at the 1st pitch, and crushed into the upper deck. It was his 16th career World Series home run, breaking Babe Ruth's record. The Cardinals would win in 7 games, however, although Mantle hit 2 more home runs.
6. October 21, 1975: Carlton Fisk, Boston Red Sox, Game 6, off Pat Darcy of the Cincinnati Reds, at Fenway Park in Boston.
Actually, since this one happened after midnight (12:34 AM), it was on October 22. Its a little overrated -- the Red Sox did lose Game 7, after all -- but Fisk's 12th-inning home run came in the midst of a brilliant game and hard-fought, exciting World Series with a lot on the line. Everybody knows about Boston's curse at the time, but Reds were also trying to win for the first time since 1940 after their superstar-laden lineup had failed to win in 1970, 1972 and 1973.
Add it up, throwing in the iconic image of Fisk willing the ball fair it crossed over the Green Monster, and you have a home run that will be
remembered for a long time
.
7. October 15, 1988: Kirk Gibson, Los Angeles Dodgers, Game 1, off Dennis Eckersley of the Oakland Athletics, at Dodger Stadium in Los Angeles.
Gibson's home run is so legendary
, so awesome, that it almost makes us forget how Orel Hershiser carried that Dodgers that postseason: 3-0, one save, 1.05 ERA in 42.2 innings, .171 average allowed.
8. October 18, 1988: Mark McGwire, Oakland Athletics, Game 3, off Jay Howell of the Dodgers, at the Oakland-Alameda County Coliseum.
Two games after Kirk Gibson's home run, McGwire's game-ender gave A's fan hope. Alas, Tim Belcher won Game 4 and Orel Hershiser won Game 5 and the Bash Brothers had gone down. For both Gibson and McGwire, their home runs were their sole hit of the Series.
9. October 26, 1991: Kirby Puckett, Minnesota Twins, Game 6, off Charlie Leibrandt of the Atlanta Braves, at the Metrodome in Minneapolis.
The Twins trailed the Braves, 3 games to 2. Puckett told the story years later to Tim Kurkjian: "I went to the clubhouse, and I gathered (everyone) up. I said, 'Everybody together, we're going to have a short meeting.' Everybody comes in, and I said, 'Guys, I just have one announcement to make: You guys should jump on my back tonight. I'm going to carry us.'"
He did
.
10. October 23, 1993: Joe Carter, Toronto Blue Jays, Game 6, off Mitch Williams of the Philadelphia Phillies, at the SkyDome (now the Rogers Centre) in Toronto.
Williams was a big reason the Phillies got to the postseason in the first place, and nailed down the Pennant-clinching outs in the National League Championship Series against the Atlanta Braves. But he had already blown 3 saves that postseason when Jim Fregosi called upon him to protect a 6-5 lead in Game 6 of the World Series.
He walked Rickey Henderson on 4 pitches. Devon White flew out after a tough 9-pitch at-bat. Paul Molitor singled to center. And then Carter hooked the ball to left field
and touched 'em all
. Blue Jays 8, Phillies 6.
11. October 26, 1999: Chad Curtis, Yankees, Game 3, off Mike Remlinger of the Atlanta Braves, at Yankee Stadium.
This is how the Yankees won games in those days: It wasn't just Williams and Jeter coming up with the big hits. Curtis had homered in the 5th inning off Tom Glavine, and then won the game in the 10th. The Yanks completed the sweep the next day.
12. October 31, 2001: Derek Jeter, Yankees, Game 4, off Byung-Hyun Kim of the Arizona Diamondbacks, at Yankee Stadium.
Another one that happened after midnight: 12:03 AM on November 1, making Jeter baseball's 1st "Mr. November," after he'd been a "Mr. July" and a "Mr. October" the season before, the only man to be named MVP of both the All-Star Game and the World Series in the same season.
He hit Kim's 61st pitch of the night
into the right-field bleachers
, after Tino Martinez had already tied the game with a 2-run homer off him in the bottom of the 9th. You probably won't be surprised to discover this: Since then, 15 relievers have thrown more pitches in a postseason game, but all were long guys who entered before the fifth inning. And, yes, Bob Brenly brought him to pitch the next night, and Scott Brosius hit his own game-tying 2-run homer in the 9th.
13. October 22, 2003: Alex Gonzalez, Florida Marlins, Game 4, off Jeff Weaver of the Yankees, at Pro Player (now Hard Rock) Stadium, Miami Gardens.
Weaver had posted an unseemly 5.99 ERA during the season, but Joe Torre brought him in the 11th inning of a tie game. ''I mean, if he's not in the game there, he shouldn't be on our roster,'' Torre said after Gonzalez beat Weaver in the 12th inning to tie the Series. No kidding, he shouldn't be on the roster, Joe!
Where was Mariano Rivera, who went unused in the game, you ask? He had thrown 23 pitches in Game 3 (although he went unused in the 1st 2 games), and perhaps Torre was saving him for the save situation that never came.
As for Weaver, it was the last pitch he threw in pinstripes. By the way, the bigger story at the time: Many believed it was the final game of Roger Clemens' career. He even doffed his cap to the Marlins' crowd, tears welling up in his eyes, as he received a standing ovation after coming out of the game. "It was a very touching moment," Marlins manager Jack McKeon said. "He's a class act. We're gonna miss guys like him." (I'm thinking that maybe Roger should have actually retired.)
14. October 23, 2005: Scott Podsednik, Chicago White Sox, Game 2, off Brad Lidge of the Houston Astros, at U.S. Cellular Field in Chicago.
You could make a case that this was the least likely home run in World Series history, and certainly the least likely walk-off home run. Podsednik, after all, had batted 568 times all season, and hit exactly zero home runs.
The Astros had tied the game in the top of the inning on Jose Vizcaino's 2-out, 2-run single, setting up Podsednik's home run. In his previous appearance, in the NLCS, Lidge had served up a mammoth, game-losing home run to Albert Pujols of the Cardinals.
He said that home run wasn't on his mind
. "Unfortunately, because I happened to give up home runs in back-to-back games, it may look like I was. But the fact is, I threw a fastball to Podsednik that I wanted to throw. He may have hit it out. But that had nothing to do with Albert Pujols."
The count was 2-1. He didn't want to fall behind 3-1. Podsednik was sitting on the heater. "I was thinking that he was probably going to challenge me with a fastball," he said. "And I said, 'Hey, let's put a good swing on this fastball.'"
15. October 27, 2011: David Freese, St. Louis Cardinals, Game 6, off Mark Lowe of the Texas Rangers, at Busch Stadium in St. Louis.
In 1986, the Boston Red Sox led by 2 runs in the 10th inning, and were 1 out away from winning Game 6, and thus the Series for the 1st time in 68 years, but lost the game, before losing the Series in Game 7. In 2011, the Rangers topped that -- or bottomed it: They lwere 1 out away from winning Game 6, and thus the Series for the 1st time in their franchise's 51-season history (40 seasons in Texas), and blew 2-run leads in both the 9th and the 10th, before Freese won it for the Cardinals in the 11th, and the Cards won Game 7, too.
In World Series play, thus far, no Game 2 or Game 5 has been won by a walkoff home run. Only Mantle in '64, Fisk in '75, McGwire in '88 and Jeter in 2001 did it for teams that ended up losing the Series.