The Brooklyn Nets visit Arizona to play the Phoenix Suns this Saturday night. The Knicks visit on December 13.
Before You Go.
AZcentral.com, the website for Phoenix's largest newspaper, the Arizona Republic, is predicting low 80s for Thursday afternoon, and high 50s for the evening. So the legendary Arizona "dry heat" could be an issue. Once you get on the plane, you'll want to ditch your winter coat.
Arizona's infamous Daylight Savings Time issue has been settled: The State is on Mountain Time when New York is on Daylight Savings Time, and on Pacific Time when we're on Standard Time. This isn't the DST time of year. So you'll be on Mountain Time, 2 hours behind New Jersey and New York City. Adjust your timepieces accordingly.
If you're thinking of making a side trip into Mexico, you should know that it's a 4-hour drive at the least. No public transportation. You'll need a passport, and you'll also need Mexican driving insurance, which you might be able to get at the Mexican consulate in New York or Phoenix. In other words, it's not really worth the trip.
Tickets.
The Suns are averaging 17,262 fans per home game this season, about 92 percent of capacity. So, despite being Arizona's oldest team (and, if you believe the Diamondbacks' 2001 title was a fluke or a cheat, the State's most successful team), getting tickets will probably
not be hard.
Suns tickets are among the cheapest in the NBA. Seats in the lower level, the 100 sections, are $140 between the baskets, and $68 behind them. In the upper level, the 200 sections, seats are $102 between the baskets and $30 behind them.
Getting There.
It's 2,458 miles from Times Square downtown Phoenix. In other words, if you're going, you're flying.
You think I'm kidding? Even if you get someone to go with you, and you take turns, one drives while the other one sleeps, and you pack 2 days' worth of food, and you use the side of the Interstate as a toilet, and you don't get pulled over for speeding, you'll still need nearly 2 full days to get there. One way.
But, if you really, really want to...

You'll need to get on the New Jersey Turnpike. Take it to Exit 14, to Interstate 78. Follow I-78 west all the way through New Jersey, to Phillipsburg, and across the Delaware River into Easton, Pennsylvania. Continue west on I-78 until reaching Harrisburg. There, you will merge onto I-81. Take Exit 52 to U.S. Route 11, which will soon take you onto I-76. This is the Pennsylvania Turnpike, the nation's first superhighway, opening in 1940.
The Turnpike will eventually be a joint run between I-76 and Interstate 70. Once that happens, you'll stay on I-70, all the way past Pittsburgh, across the little northern panhandle of West Virginia, and then across Ohio, Indiana and Illinois, into Missouri.
At St. Louis, take Exit 40C onto Interstate 44 West, which will take you southwest across Missouri into Oklahoma. Upon reaching Oklahoma City, take Interstate 40 West, through the rest of the State, across the Texas Panhandle and New Mexico, into Arizona. At Flagstaff, take Interstate 17 South, which will take you into Phoenix.
If you do it right, you should spend about an hour and 15 minutes in New Jersey, 5 hours and 30 minutes in Pennsylvania, 15 minutes in West Virginia, 3 hours and 45 minutes in Ohio, 2 hours and 45 minutes in Indiana, another 2 hours and 45 minutes in Illinois, 5 hours in Missouri, 6 hours in Oklahoma, 3 hours in Texas, 6 hours and 15 minutes in New Mexico, and
5 hours and 30 minutes in Arizona.
That's about 42 hours. Counting rest stops, you're probably talking about 55 hours.
That's still faster than Greyhound, averaging around 68 hours, including a 1:45 bus-change in Richmond, a 1:15 stopover in Charlotte, an hour's bus-change in Atlanta, an hour's stopover in Birmingham, a 45-minute stopover in Jackson, Mississippi, an hour's stopover in Shreveport, a 1:30 bus-change in Dallas (that's right, changing buses 3 times each way), and a 1:15 stopover in El Paso.
It's $544 round-trip ($418 with advanced purchase).
The station is at 2115 East Buckeye Road, adjacent to Sky Harbor International Airport.
Number 13 bus to downtown.
Th
e way Amtrak has it set up now, it's so convoluted that I can't even recommend looking it up. Their downtown Union Station has been permanently closed, making the nearest station the one in Maricopa, 34 miles south of downtown.
Flights to Phoenix are actually among the cheapest to any big-league city. I
f you order your tickets now, nonstop flights between Newark and Sky Harbor, out Saturday and arriving hours before tipoff, and leaving Friday, can be had for around $900. The city's light rail system can get you downtown in 36 minutes.
Once In the City
. Of the 4 major league sports teams that call Phoenix home, the Suns are the only ones still using the city's name, rather than the State's name -- apparently from a Native American word meaning "small spring" -- as their geographic identifier. Nevertheless, Phoenix is the capital of the State of Arizona.
The State House in Phoenix,
apparently in 2012, the 100th Anniversary of Statehood
Jack Swilling, a Confederate veteran who founded the place in 1867, accepted the suggestion of a fellow settler, an Englishman named Lord Duppa: Since it was on the site of a previous Indian civilization, it should be n
amed Phoenix, for the mythical bird that rose from its own ashes. The city was incorporated in 1881, making it the youngest city in American major league sports. Along with New Mexico, Arizona gained Statehood in 1912, the 47th and 48th States of the Union.
Home to just 100,000 people in 1950, Phoenix saw huge growth in the 2nd half of the 20th Century, thanks in large part to the growth of the air-conditioning industry, which made living in such a terribly hot place tolerable: 440,000 by 1960, 580,000 by 1970, 800,000 by 1980, and it surpassed the 1 million mark in the early 1990s.
All this made it a target for expansion teams or teams looking to move: The Suns arrived in 1968, the NFL's St. Louis Cardinals in 1988 (after the Philadelphia Eagles had to quash a moving-there rumor earlier in the decade), and the original Winnipeg Jets in 1997 (after the WHA had the Phoenix Roadrunners in the 1970s -- they lost the Roadrunners but got the Coyotes).
T
oday, Phoenix is home to 1.5 million people, with 4.4 million in its metropolitan area.
The sales tax in Arizona is 5.6 percent, but it's 8.3 percent within the City of Phoenix. ZIP Codes for Arizona start with the digits 85 and 86, and the Area Codes are 602 (for Phoenix), 480 and 623 (for the suburbs).
Central Avenue is the source street for east-west house numbers; oddly, the north-south streets are numbered Streets to the east, and numbered Avenues to the west. Washington Street divides addresses into north and south.
A single ride on Phoenix buses and Valley Metro Rail is $2.00, with an All-Day Pass a bargain at $4.00.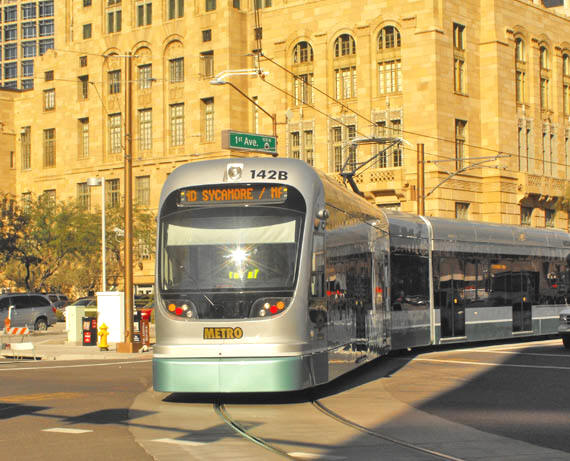 A Valley Metro Rail train
Going In.
The Talking Stick Resort Arena is named for a luxury hotel & casino on Native American property in nearby Scottsdale. Previously, it was named the US Airways Center, and the AmericaWest Arena for a previous airline.
The Suns and the Arena Football League's Arizona Rattlers have played here since it opened in 1992, and the WNBA's Phoenix Mercury since their inception in 1997. The NHL's Phoenix Coyotes played here from 1996 to 2003.
The hockey team is now named the Arizona Coyotes. The Suns are the last major league team in the State still using the city's name, Phoenix, as their identifier, rather than the State's name, Arizona.
The arena's address is 201 E. Jefferson Street, 2 blocks from Chase Field, home of MLB's Arizona Diamondbacks, at 401 E. Jefferson Street. Both buildings can be reached on Metro Light Rail via the Jefferson Street & 3rd Street station. The Jefferson Street Garage provides parking for both buildings. Parking can be had for as little as $5.00.
The arena under its former name, the US Airways Arena
If you're entering from the light rail station or the Jefferson Street Garage, you'll most likely be entering from the east or the north. The court is laid out north-to-south. The seats are purple, in line with the Suns' logo, and so the arena is nicknamed the Purple Palace.
Yes, the seats are purple.
Since the Suns' arena is downtown, it gets far more concert dates than the Coyotes' arena.
The reason the Coyotes left the downtown arena in the first place is because its retrofit meant losing about 2,000 seats for hockey (some due to removal to fit a rink in, some due to obstructed views -- one of the nets couldn't be seen), resulting in poor revenue.
The Talking Stick Resort Arena is also a regular host for "professional wrestling," and has hosted fights by Hispanic boxers, including Oscar de la Hoya and the final professional fight of Julio Cesar Chavez.
Food.
As a Southwestern city, you might expect Phoenix to have Mexican, Spanish, Western and Southwestern food themes. Which is the case. Tortas del Sol is behind Section 112, and Tortas el Ray at 119.
Levy Restaurants runs the arena's concessions.

Links & Lagers specializes in sausages and sausage hoagies, at 106 and 221. ZZ's To Go serves salad, pizza, sandwiches and pasta at 119. Fractured Prune Doughnuts is at 101, but they serve many flavors, not just prune.
BrewMaster's Pub is a walk-in lounge at 119. The Coop specializes in chicken and garlic Parmesan fries.
And the arena also features the Coors Light Zone Patio, in the style of a beer garden, with barbecue-style food.
Team History Displays.
By far the oldest major league sports team in Arizona, the Suns have some history, and they've usually been at least good. But they've never been great enough to put it all together. They
haven't won a World Championship yet, making them the oldest NBA team to have not done so. But they won the Western Conference in 1976 and 1993, and have won their Division 6 times: In 1981, 1993, 1995, 2005, 2006 and 2007. (They reached the Finals in 1976 despite not finishing 1st in their Division.)
Unlike the Suns, the Mercury have won their league -- 3 times, in 2007, 2009 and 2014. They also won the WNBA's Western Conference and made the Finals in 1998.
And, for some reason, Google Images has a photo
of the Mercury's banners, but not of the Suns' banners.
The Suns' are not as prestigious, but they are more numerous.
The Suns have a Ring of Honor in their arena, honoring 15 men, including a whopping 10 retired numbers:
* From the early days, but not making it to 1976: 42, forward Connie Hawkins.
* From the 1976 Conference Champions: 5, guard Dick Van Arsdale; 33, center Alvan Adams; 44, guard Paul Westphal; head coach John MacLeod.
* From the 1981 Division Champions: MacLeod, Adams, and 6, guard Walter Davis.
* From the 1993 Conference Champions: Westphal as head coach; 7, guard Kevin Johnson; 9, forward Dan Majerle; 24, forward Tom Chambers; 34, forward Charles Barkley.
* From the 2005, 2006 and 2007 Division Champions: 13, guard Steve Nash.
* Spanning the eras: Former owner, coach and executive Jerry Colangelo; former coach Cotton Fitzsimmons; and trainer Joe Proski.
Johnson, Majerle and Barkley -- the only Ring each has
UPDATE: The Suns have announced that Al McCoy, broadcaster since 1972, will be added.
In 1999, Suns fans voted on an All-Century Team. Westphal was named as a player on the 2nd Team and head coach of the 1st Team. The 1st Team was Adams, Johnson, Chambers, Barkley, and guard Jason Kidd. The 2nd Team was Hawkins, Westphal, Davis, Majerle, and center Mark West from the 1993 team.
In 2008, Suns fans voted on a 40th Anniversary Team. The guards were Van Arsdale, Westphal, Davis, Johnson and Nash. The forwards were Hawkins, Chambers, Barkley and forward Shawn Marion from the 2000s' Division titlists. The centers were Adams and 2000s' Division titlist Amar'e Stoudemire, recently of the Knicks.
There are 9 people in the Basketball Hall of Fame who are associated with the Suns. Hawkins, Barkley and Colangelo were elected largely on the basis of their time with the Suns. Gail Goodrich was taken by the Suns in the 1968 expansion draft, but after just 2 years was sent back to the Lakers, whom he helped win the 1972 NBA title. Another '72 Laker titlist was Pat Riley, who played just 1 season with the Suns, but it was the 1976 Finals season.
Gus Johnson played for them only in 1972. Dennis Johnson was famously traded by the Seattle SuperSonics to the Suns, even-up for Westphal, and was part of their '81 Division winners, before going to the Boston Celtics and winning 2 titles with them on top of the 1 he won in Seattle. Already in the Hall when she got the job, Ann Meyers has been a Vice President of the Suns since 2005. And Shaquille O'Neal was elected to the Hall this year, but only played 1 season with the Suns. Nash could join them. He is already the 1st and, for the moment, the only basketball player yet elected to Canada's Walk of Fame.
Barkley was the only player named to the NBA's 50th Anniversary 50 Greatest Players in 1996 who had spent any time with the Suns, although Shaq did so later.
Tom Van Arsdale, Dick's twin brother, was a 3-time NBA All-Star, but had his best years with the Cincinnati Royals, before wrapping up his career playing the 1976-77 season alongside Dick. Wearing Number 5 for most of his career, like Dick, he switched to 4 in Phoenix.
The Mercury have retired Michelle Timms' Number 7. Cappie Pondexter (better known with the New York Liberty) and Diana Taurasi (still with them) were named to the WNBA's 15th Anniversary 15 Greatest Players in 2002.
There is an Arizona Sports Hall of Fame, and it has elected Dick Van Arsdale, Adams, Barkley, Fitzsimmons and Colangelo.
Stuff.
The Team Shop is located on the ground floor of the north side of the arena. Suns, Mercury and Rattlers merchandise can be purchased there.
Perhaps, due to Arizona's Western heritage, you can find cowboy hats with the team's logo on them.
It is open from 10 AM to 5 PM on non-game days.
There aren't many books about the Suns, despite nearly a half-century of play. After the 1993 Conference title, Lee Shappell published Phoenix Suns: Rising to the Top with the "Team of Oddities." Sports Illustrated's Jack McCallum covered their Steve Nash all-offense-and-no-defense years, and wrote Seven Seconds or Less: My Season on the Bench with the Runnin' and Gunnin' Phoenix Suns. And in 2013, Howard A. DeWitt published The Phoenix Suns: The View From Section 101.
Since the Suns haven't yet won an NBA title, there's no commemorative DVD package. And their 40th Anniversary passed in 2008 without a team history DVD. Maybe the upcoming 50th Anniversary will change that. The only videos I found about them on Amazon.com were VHS cassettes about their 1993 Conference title season.
During the Game.
A November 13, 2014 article on DailyRotoHelp
ranked the NBA teams' fan bases, and listed the Suns' fans at 15th, on the plus side of the league's exact middle, praising their showing up no matter what, and their rather generous reactions to the departures of Shaq and Nash.
Wearing Knicks or Nets gear in Phoenix will not endanger your safety. The Suns' biggest rivals are the Los Angeles Lakers, the Dallas Mavericks and the San Antonio Spurs, not either of the New York teams. For the most part, Arizona fans are okay, not making trouble for fans of teams playing the NFL Cardinals, NHL Coyotes or MLB's Diamondbacks, either. In fact, their biggest rivalry is intrastate: The University of Arizona vs. Arizona State University. It's a heated rivalry... but it's a dry heat.
This Saturday's game against the Nets will not feature a promotion, but the December 13 game against the Knicks is Phoenix Night, and the Suns will be giving away posters.
The Suns hold auditions for National Anthem singers, instead of having a regular singer. Their introduction song is "Zombie Nation" by Kernkraft 400. There's not much in the way of fan chants, except the very ordinary "Let's go, Suns!"
The mascot is Go the Gorilla. He was the 1st NBA mascot to do trick dunks, preceding Charlotte's Hugo the Hornet by years. This makes him perhaps the most famous NBA mascot, unless you want to count Lucky the Leprechaun, and the Celtics didn't have a live Lucky until recently.
UPDATE: On April 8, 2017,
Andrew Lynch ranked the NBA mascots for Fox Sports' website
. He ranked Go 3rd, saying, "The Gorilla is a legend, through and through."
After the Game.
Phoenix does have crime issues, but you should be safe as long as you stay downtown. It's incredibly unlikely that Suns fans will bother you, and the fact that the Knicks and the Nets aren't rivals to them helps.
As for anything New York-friendly, the closest I can come at this time is a place called Tim Finnegan's, the local Jets fan hangout, but that's 11 miles north of downtown, at 9201 North 29th Avenue. It appears that the local football Giants fan club meets at the Blue Moose, at 7373 East Scottsdale Mall, 13 miles northeast of downtown. I've also heard that
Loco Patron, at 1327 E. Chandler Blvd., is a Giants fan hangout, but that's 21 miles south.
I've read that a Yankee Fan hangout is at LagerFields Sports Grill, at 12601 N. Paradise Village Pkwy. W., 14 miles northeast of downtown. Alas, I can find nothing Mets-specific in the area.
If you visit Phoenix during the European soccer season, as we are now in, the best "football pub" in Arizona is the George & Dragon Pub, which opens at 7:00 AM on matchdays. 4240 N. Central Avenue, about 3 miles north of downtown. Bus 13 to Buckeye Road & Central Avenue, then transfer to Bus ZERO to Farrington Lane. Unless you're a Liverpool fan, or you'd prefer to stay downtown, in which case you can go to the Rose and Crown, at 628 E. Adams Street, 2 blocks north of the ballpark.
Sidelights.
Phoenix's sports history is relatively brief, and not very successful. But there are some notable locations.
* Chase Field. The Arizona Diamondbacks have played since their 1998 inception at Chase Field, a
retractable-roof stadium, originally named Bank One Ballpark, and having that name during what remains the Diamondbacks' only World Series thus far, 2001. It looks like a big airplane hangar, without much atmosphere. True, there is that pool in the right-center-field corner... but what's a pool doing at a
ballpark?
Chase Field is at 401 E. Jefferson Street, 2 blocks east of the Suns' arena, and also uses the Jefferson & 3rd light rail station.
UPDATE: Major League Baseball is now concerned enough about developments at Chase Field that it might force the Diamondbacks to move.
* University of Phoenix Stadium and Gila River Arena. The
Glendale Sports & Entertainment District, in the Phoenix suburb of Glendale, consists of The University of Phoenix Stadium,
home to the Arizona Cardinals since 2006; and the Gila River Arena, home to the Coyotes since 2003.
The complex is about 17 miles northwest of downtown Phoenix.
T
he official address of the stadium is 1 Cardinals Drive, and that of the arena is 9400 W. Maryland Avenue. Number 8 bus from downtown to 7th & Glendale Avenues, then transfer to Number 70 bus, to Glendale and 95th Avenue, then walk down 95th. If you drive in, parking starts at $10.
New York Tri-State Area sports fans know the stadium as the place where the Giants derailed the New England Patriots' bid for the NFL's first 19-0 season. The Cardinals defeated the Philadelphia Eagles there in January 2009 to advance to Super Bowl XLIII. The stadium is also home to the Fiesta Bowl.
(There is an actual University of Phoenix, on the ground, not just on the Internet. But that's not here.)
It's hosted 3 matches of the U.S. soccer team, most recently a 1-0 loss to Colombia in the Copa America this past June 25.
* Arizona Veterans Memorial Coliseum. The Grand Canyon State's 1st home to big-league sports, opening in 1965, was home to the Suns from their 1968 arrival until 1992, and to the World Hockey Association's Phoenix Roadrunners from 1974 to 1977. Like the Capital Centre outside Washington and the Saddledome in Calgary, it was built with a saddle-shaped roof.
Elvis Presley sang at the Coliseum on September 9, 1970, and again on April 22, 1973. Early in his career, on June 9, 1956, he sang at a grandstand at the adjoining Arizona State Fairgrounds. The next day, he sang at the Rodeo Grounds in Tucson. He also
sang at the Tucson Community Center on November 9, 1972 and June 1, 1976.
(While individual ex-Beatles have performed in Arizona, the band as a whole did not do so on any of their 3 North American tours.)
T
he Coliseum still stands, and

is part of the State Fairgrounds complex. 1826 W. McDowell Road. Northwest of downtown. Number 15 bus to 15th & McDowell, then 3 blocks west.
* Phoenix Municipal Stadium. This ballpark was home to the Phoenix Giants/Firebirds from its opening in 1964 until 1991, and is the current spring training home of the Oakland Athletics, the Diamondbacks' Rookie League team, and Arizona's State high school baseball championship. 5999 E. Van Buren Street, 8 miles east of downtown. Take the Light Rail to Priest Drive/Washington station, then a short walk up Priest. The Phoenix Zoo is adjacent.
* Scottsdale Stadium. This stadium was home to the Firebirds in their last years, 1992 to 1997. Its seating capacity of 12,000, 4,000 more than Phoenix Municipal, was meant to showcase the Phoenix area as a potential major league market. It's the San Francisco Giants' spring training site, and replaced a previous stadium on the site that dated to 1956, used as a spring training home for the Giants, A's, Red Sox, Orioles and Cubs -- sometimes all at the same time.
Because it was the Cubs' spring training home, thus leading to Phoenix becoming "Chicago's Miami," where retirees from the city tend to go (paging Michael Wilbon of the Washington Post & ESPN's Pardon the Interruption & NBA coverage), it was where former Cub catcher Randy Hundley hosted the very first baseball fantasy camp. Those of you who are
Met fans, you might remember Randy's furious reaction to Tommie Agee scoring on a controversial umpiring call at home plate at Shea in September 1969. You might also remember Randy's son, former Met catcher Todd Hundley.
7408 E. Osborn Road, at Drinkwater Boulevard, 12 miles northeast of downtown. Light Rail to Veterans Way/College station, then transfer to Number 72 bus to Osborn, then walk 2 blocks east.
* Arizona State University. The University of Arizona is 114 miles
away in Tuscon, but ASU is just a 24-minute Light Rail ride, 10 miles southeast of downtown. The station is at 5th Street & Veterans Way, and is 2 blocks away from Sun Devil Stadium and the Wells Fargo Arena (formerly the ASU Activity Center), home to their football and basketball teams, respectively.
Sun Devil Stadium was built in 1958, and ASU still plays there rather than move to the larger, more modern (but well off-campus) University of Phoenix Stadium.
The Cardinals played there from 1988 to 2005, and the Fiesta Bowl was held there from 1971 to 2006.
The arena was previously known as the ASU Activity Center.
Elvis sang there on March 23, 1977.
The Dallas Cowboys treated it as a second home field when they played the Cardinals (mainly because there always seemed to be more Cowboy fans there), and won Super Bowl XXX there, when the world learned A) it was possible for the Pittsburgh Steelers to lose a Super Bowl, and B) Terry Bradshaw was a smart quarterback compared to Neil O'Donnell. It also hosted 2 U.S. soccer team matches in the 1990s.
Packard Stadium, opened in 1974, is home to the ASU baseball program, one of the most successful college baseball teams, east of the stadium and arena, at Rural Road and Rio Salado Parkway. The Sun Devils have won 5 National Championships, most recently in 1981. Their legends include Reggie Jackson, Barry Bonds, and current MLB stars Dustin Pedroia and Andre Ethier. Notable ASU and Met alumni include Gary Gentry, Duffy Dyer, Lenny Randle, Craig Swan, Hubie Brooks, Paul Lo Duca and Ike Davis.
ASU's Gammage Auditorium, at the other end of the campus, hosted one of the 2004 Presidential Debates between George W. Bush and John Kerry. 1200 S. Forest Avenue.
The US Airways Center, Wells Fargo Arena, University of Phoenix Stadium, and the University of Arizona's McKale Center have all hosted NCAA basketball tournament games, but, as yet, the State of Arizona has never hosted a Final Four -- although the University of Phoenix Stadium certainly could. UA has been in the Final Four in 1988, 1994, 1997 and 2001, winning it all in 1997; but ASU has never gotten any closer than the Sweet 16, in 1995.
* Arizona Science Center. Phoenix is not a big museum center. And while there have been Native Americans living in Phoenix for thousands of years, and Spaniards/Mexicans for hundreds, its Anglo history is rather short. No Arizonan has ever become President (although Senators Barry Goldwater and John McCain got nominated), so there's no Presidential Library or Museum. And it doesn't help history buffs that the city only goes back to 1867, and Statehood was gained only in 1912.
But the Science Center is at 4th & Washington, just a block from the ballpark and 3 blocks from the arena. And Arizona State has a renowned Art Museum.
The tallest building in Phoenix, and in all of Arizona, is the Chase Tower, bounded by Central Avenue and Van Buren, 1st and Monroe Streets.
That it's only 483 feet, and that no taller building has been built in the city since it opened in 1972, says something about this city, but I'm not sure what. But the city seems to be intent on growing outward, not upward.
Television shows set in Phoenix, or anywhere in Arizona, are few and far between. The High Chaparral, another Western created by Bonanza creator David Dortort, ran on NBC from 1967 to 1971, and is fondly remembered by some.
But the best-remembered show is Alice, starring Linda Lavin as one of several waitresses at fictional Mel's Diner, running on CBS from 1976 to 1985. Although the show was taped in Hollywood (Burbank, actually),
that once-famous "14-ounce coffee cup" sign is still used outside a real working diner in Phoenix. It was Lester's, until
the owner agreed to change the name to "Mel's Diner" for the publicity. Today, it's Pat's Family Diner, at 1747 NW Grand Avenue, 2 miles northwest of downtown.
Number 15 bus to 15th Avenue & Pierce Street, and then walk one block east to Grand, Pierce, and 12th.
There are also still-in-business diners in Ohio and Florida that use the same sign design. "Pickup!"
Movies set in modern-day Arizona usually show the Grand Canyon or the Hoover Dam. Notable on this list is Superman: The Movie, in which Lex Luthor destroys the Dam; and
Thelma & Louise
, in which Geena Davis and Susan Sarandon drive a 1966 Ford Thunderbird into the Canyon rather than be captured by the FBI, enacting a distaff version of
Butch Cassidy & the Sundance Kid
.
National Lampoon's Vacation
and
Natural Born Killers
also used Arizona as a backdrop.
The vast majority of movies set in Arizona have been Westerns, including the 1957 and 2007 versions of
3:10 to Yuma
, the 1950 film
Broken Arrow
(not the later John Travolta film of the same title), Paul Newman's
Hombre
,
Fort Apache
(not the later Newman film set in The Bronx),
Johnny Guitar
,
A Million Ways to Die In the West, No Name On the Bullet
, and all the films based on the 1881 Earps vs. Clantons gunfight, including
My Darling Clementine
in 1946,
Gunfight at the O.K. Corral
in 1957,
Tombstone
in 1993 and
Wyatt Earp
in 1994.
If you're a Western buff, and you want to see the site of the legendary gunfight, the official address is 326 East Allen Street, Tombstone, AZ 85638. Reenactments are held daily. Be advised, though, that it's 184 miles southeast of downtown Phoenix, a 3-hour-plus drive, and ain't no Greyhound or Amtrak service, stranger. It's also just 50 miles from the Mexican border.
*
If you go to Phoenix to see the Knicks or the Nets play the Suns, you won't be subjected to Arizona's usual intense heat, and you can probably see a basketball game relatively cheap. Have fun!