November 10, 1766, 250 years ago:
William Franklin, colonial Governor of New Jersey (and son of Benjamin), signs the charter of Queen's College, which had been granted by Britain's King George III. Thus is founded what became Rutgers, The State University of New Jersey.
Top 10 Things to Know About Rutgers University
1. Colonial College.
Rutgers is 1 of 9 "colonial colleges" in America, founded before independence in 1776. Only 2 of them are still known by their original names:
* 1636, New College, Cambridge, Massachusetts, across the Charles River from Boston. Harvard University.
* 1693, College of William & Mary, Williamsburg, Virginia.
* 1701, Collegiate School, New Haven, Connecticut. Yale University.
* 1742, College of Philadelphia, Philadelphia, Pennsylvania. The University of Pennsylvania.
* 1746, College of New Jersey, Princeton, New Jersey. Princeton University.
* 1754, King's College, New York, New York. Columbia University.
* 1764, College of Rhode Island, Providence, Rhode Island. Brown University.
* 1766, Queen's College, New Brunswick, New Jersey. Rutgers University.
* 1769, Dartmouth College, Hanover, New Hampshire.
2. Colonel Rutgers.
Queens College ran out of money in 1825, just as its new administration building was completed. Henry Rutgers, a veteran of the War of the American Revolution, a graduate of King's/Columbia, and an elder in the Dutch Reformed Church, then running the school, contributed some money to keep it open.
In the hopes that the childless bachelor would leave them more money when he died, Queen's College renamed themselves "Rutgers College." He died in 1830, and left them nothing.
His name stayed on the school, and the administration building has kept its nickname of Old Queens. The school's marching band still plays a tune known as "The Colonel Rutgers March." And an eatery on the Busch campus is named Henry's Diner.
Old Queens, opened 1825
3. Land-Grant College.
In spite of its urban presence (New Brunswick, Newark, Camden), under the Morrill Act of 1862, which funded educational institutions by granting federally controlled land to the States for them to sell, to raise funds, to establish and endow "land-grant colleges," for the purpose of teaching agriculture, science and engineering, Rutgers is the only land-grant college in New Jersey.
4. The First Football Game.
Rutgers hosted what is generally recognized as the 1st college football game, against Princeton, on a field that is now covered by the parking lot behind the College Avenue Gym on College Avenue. Rutgers won, 6 goals to 4.
Arnold Friberg's painting The First Game,
commissioned for the Centennial celebration in 1969
The game is essentially a very large soccer game, with a round leather ball, and 25 men on a side. The Rutgers men, finding the color inexpensive to obtain, wrapped scarlet red cloth around their heads like turbans, so that they could tell each other apart on the field. Thus did they invent school colors and, in a way, the football helmet.
RU still advertises itself as "The Birthplace of College Football" and "Where It All Began." That was in 1869. What have they done in the 147 years since?
Well, for one thing, they built this stadium. Twice.
5. The State University.
In 1956, several colleges, some already under the Rutgers banner, became part of the system known as Rutgers, The State University of New Jersey:
* Rutgers College, the main campus, centered on College Avenue, north of downtown New Brunswick.
* Douglass College, known until 1955 as the New Jersey College for Women, making Rutgers co-ed. It is centered on George Street, south of downtown in New Brunswick. Its 1st dean and later its namesake, Mabel Smith Douglass, disappeared after going rowing on Lake Placid, New York in 1933. In 1963, her remarkably preserved and easily identifiable remains were found. She was interred in Green-Wood Cemetery in Brooklyn -- where Henry Rutgers was also buried.
* The Rutgers School of Environmental and Biological Sciences. Originally known as the Rutgers College of Agriculture, it is adjacent to the Douglass Campus. It was later renamed for one of its professors, George Hammell Cook, founder of what became the U.S. Geological Survey. With its current name, you can understand why people still call it what it was named from 1975 to 2007: Cook College.
* The Busch Campus, across the Raritan River in Piscataway, on the west side of State Route 18. It includes several athletic facilities, including Rutgers Stadium (original version built 1938, new version opened on the same site in 1994 and now named High Point Solutions Stadium), and Yurcak Field, the soccer and lacrosse stadium.
It also includes the Robert Wood Johnson Medical School, named for the Johnson & Johnson CEO, as is the former Middlesex General Hospital in New Brunswick, which is also part of the UMDNJ system now.
The Busch Campus was a country club until it was purchased, allowing the stadium to be built, and known as the University Heights Campus. The original golf course is intact. Charles L. Busch donated $10 million to the University for biological research after he died in 1971, and the Campus was then renamed for him.
* The School of Arts and Sciences of Rutgers University, formerly Livingston College, also across the Raritan, on the east side of Route 18. It includes the rest of the athletic facilities, including the arena, the Louis Brown Athletic Center (usually still called by its old name, the Rutgers Athletic Center or The RAC), and the baseball complex. It was named for William Livingston, the 1st post-colonial Governor of the State.
* Rutgers-Newark. The part of the school in New Jersey's largest city began in 1908 as the New Jersey Law School. It merged with other schools to become the University of Newark in 1936. In 1946, it was brought under the Rutgers banner. (It should not be confused with NJIT, the New Jersey Institute of Technology, formerly Newark College of Engineering, or NCE, which is, effectively, next-door, as is Essex County College. That's why that part of Newark, as was Rutgers' Busch Campus, is known as University Heights.)
It includes Rutgers Business School and Rutgers School of Law. (Seton Hall University, whose main campus is in nearby South Orange, also has its law school in Newark.) While the main campus, whose teams are called the Scarlet Knights, compete in NCAA Division I, Rutgers-Newark competes in NCAA Division III, and its teams are called the Scarlet Raiders.
* Rutgers-Camden. Founded in 1925 as the College of South Jersey and the South Jersey Law School, they were merged with Rutgers in 1950. It also competes in NCAA Division III, and its teams are called the Scarlet Raptors.
6. Streptomycin.
This antibiotic, which gained fame as a treatment for tuberculosis, may be RU's greatest contribution to the world, far more so than "American football." It was first isolated on October 19, 1943, by Albert Schatz, a graduate student, in the laboratory of Selman Waksman, in a research product funded by Merck and Company.
Schatz and Waksman
Waksman and his staff discovered several other antibiotics, including neomycin. In 1952, Waksman was awarded the Nobel Prize in Physiology or Medicine. Schatz, who had to sue Waksman in order to get his proper credit, tends to get forgotten.
7. Alexander Library.
The main library for the school, named for esteemed lawyer, State Treasurer, and University trustee Archibald S. Alexander, opened in 1956, on the site of Neilson Field, the school's football field from 1892 to 1938. In spite of RU's seemingly excessive focus on sports, show me another school that tore down a football stadium and put a library on the site!
Seriously: If there is another, I'd like to know.
8. Arts.
In addition to partnering with the 3 performing arts centers on Monument Square downtown -- the State Theatre, the George Street Playhouse (even though it's actually on Livingston Avenue, as are the others) and the black-themed Crossroads Theatre -- RU is also home to the New Jersey Film Festival, annually screening at Scott Hall on the Voorhees Mall.
9. Famous Alumni.
They include (listed with their year of graduation):
* Acting: Paul Robeson 1919, Avery Brooks 1973, Sheryl Lee Ralph 1975, James Gandolfini 1983, Judy Gold 1984, Kristin Davis 1987, Calista Flockhart and Jane Krakowksi 1988 (both stars of
Ally McBeal
), Bill Bellamy 1989.
* Music: Robeson, Ozzie Nelson 1927, Lisa "Sister Souljah" Williamson 1986, Matt Pinfield 1988, Soraya Cuevas 1991 (who used only her first name as a singer). Several bands got their start playing New Brunswick clubs, including the Looking Glass, the Smithereens and the Bouncing Souls.
* Journalism: Martin Gronsky 1936, Milton Viorst 1951, Gene Lyons 1952, Bernard Goldberg 1967, Mike Taibbi 1971, Natalie Morales 1994.
* Authors: James Blish 1942, Michael Shaara 1951, Judith Viorst 1952 (wife of the aforementioned Milton), Robert Pinsky 1962, Janet Evanovich 1965, Junot
Díaz 1991,
Gregory Pardlo 1999. Joyce Kilmer, the New Brunswick-born poet who wrote "Trees" and was killed in World War I, attended as part of the Class of 1908, but did not graduate.
* Science: The aforementioned scientists Selman Waksman 1915 and Albert Schatz 1942, neonatalogy pioneer Louis Gluck 1930, fiberoptics co-inventor Peter Schult 1964, and astronaut Terry Hart 1978.
* Business: Home Depot founder Bernard Marcus 1951, former GEICO chairman Jack Byrne 1953, and Weight Watchers CEO Sharon Fordham 1975. You could also include economist Milton Friedman 1932 in this category.
* Sports, including, but not limited to:
** Baseball: Jeff Torborg 1963, Eric Young Sr. 1989 and Todd Frazier 2007.
** Basketball: Bob Lloyd and Jim Valvano 1967 (they were not just teammates, but roommates), Phil Sellers 1976, Eddie Jordan 1977, Hollis Copeland 1978, James Bailey 1979 (the last 4, members of RU's 1975-76 team that went undefeated, 31-0, and reached the NCAA Final Four, before losing), Roy Hinson 1983, John Battle 1985, Sue Wicks 1988, Dahntay Jones (played the 1998-99 and 1999-2000 seasons before transferring to Duke), Tammy Sutton-Brown 2001, Cappie Pondexter 2006, Kia Vaughn 2009, Epiphanny Prince 2010, and, with some regret, former NBA Commissioner David Stern 1963.
** Football: Robeson again, Homer Hazel 1925, Alex Kroll 1962, Deron Cherry 1981, Bill Pickel 1983, Harry Swayne and Tyronne Stowe 1987, Jay Bellamy 1994, Ray Lucas 1996, Shaun O'Hara 2000, L.J. Smith 2003, Raheem Orr 2004, Joe Porter 2007 (the former Green Bay cornerback should not be confused with Pittsburgh linebacker Joey Porter), Brian Leonard 2007, twin brothers Devin and Jason McCourty 2009, Mohamed Sanu 2012, and, perhaps the best player of them all, but now, with some regret, Ray Rice 2008.
** Soccer: Peter Vermes 1987, Alexi Lalas 1991 and Carli Lloyd 2004.
** You can also include sports administrator Sonny Werblin 1932, ESPN founder Bill Rasmussen 1960, and sportswriters Jerry Izenberg 1952 and Steven Goldman 1994.
* Politics:
** Vice President Garret Hobart 1863.
** Cabinet members: Secretary of Energy Hazel O'Leary 1963, FBI Director Louis Freeh 1971.
** U.S. Senators: Senator James Schureman 1775 (also a Continental Congressman), Frederick Frelinghuysen 1836, Clifford Case 1925, Bob Torricelli 1974, Elizabeth Warren 1976, Bob Menendez 1989 (his Juris Doctor degree, an undergraduate at St. Peter's College in Jersey City).
** U.S. Congressmen: Jacob Wortendyke 1839, Ed Patten 1927, Peter Rodino 1937, Herb Klein 1950, Matt Rinaldo 1953, William Hughes 1955, Jim Howard 1958, Scott Garrett 1984.
** Governors: William Newell 1836, Foster Voorhees 1876 (for whom Voorhees Mall on the main campus is named), Richard Hughes 1931 (no relation to William), Jim Florio 1967.
** And former State Attorney General Anne Milgram 1992 (with whom I attended East Brunswick High School, although I didn't know her; I knew her sister Lynn a little).
* Others: Sculptor George Segal 1963, chef Mario Batali 1982 (he worked at New Brunswick's iconic eatery Stuff Yer Face in its early years and was friends with Gandolfini), fashion designer Marc Ecko 1994. At least one fictional character is said to be a Rutgers graduate, although I don't think the school would want to claim him: Cartoon character Mr. Magoo.
Robeson, who left football to practice law, to act, and to be one of the great social activists of the mid-20th Century, is probably the Rutgers graduate who is the most famous around the world, but is often, as the Bible would say, a prophet without honor in his own country. RU embraces him, though: The student center at the Newark campus, with its majority-black student body, is named for him. And fellow RU graduate Avery Brooks wrote a play about him, and starred in its initial run, at the aforementioned George Street Playhouse.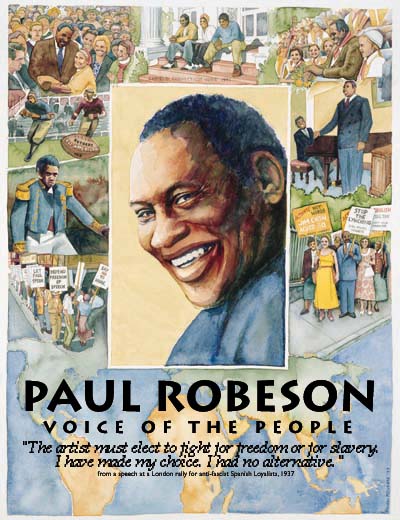 10. Me -- But Not Me.
Contrary to the impression I seem to give, based on my frequent postings about the school, I was never a Rutgers student. I have simply grown up and lived with the school nearby -- for 25 years now, I have literally lived within walking distance of at least one campus -- and remain a fan of the school and its teams.
I don't discuss my own college experiences on this blog, because I don't want to be reminded of them, for reasons that I don't care to share.
Happy Anniversary, RU. The Rutgers250 celebrations answer the question in the Alma Mater in the negative, but, for all its flaws, the school is still an important and productive part of life in New Jersey.
Said song was, like our National Anthem, based on an old British drinking song, perhaps appropriate for RU. It was "On the Banks of the Old Dundee," which is in Scotland. RU student Howard Fuller rewrote it for the school in 1873:
My father sent me to old Rutgers
and resolv'd that I should be a man.
And so I settled down
in that noisy college town
on the banks of the old Raritan.
On the banks of the old Raritan, my friends
where old Rutgers evermore shall stand.
For has she not stood
since the time of The Flood
on the banks of the old Raritan.