Warning: If you are a Penn State fan, and are still a defender of Joe Paterno...
Well, then you're probably too stupid to be able to read, so, no problem.
Rutgers played the 1st college football game in 1869. Penn State started playing football in 1887. They first met in 1918. They meet for the 27th time this Saturday night at 8:00, at High Point Solutions Stadium (a.k.a. the new Rutgers Stadium) in Piscataway, Middlesex County, New Jersey.
Here is the complete record, every game played between the Scarlet Knights and the Nittany Scum:
November 9, 1918:
Just 2 days before the Armistice ends World War I, Rutgers College (as they were known at the time) and Pennsylvania State University play each other in football for the 1st time. The game is in State College, Pennsylvania, at Beaver Field (roughly on the site of the current Nittany Parking Deck, and the field was probably as hard as that concrete now is), and Rutgers wins, 26-3.
For Rutgers against Penn State, it will never be so good again. Indeed, it will be 32 years, 5 Presidents and another entire World War before they even play each other again.
November 18, 1950:
RU and PSU play again. PSU wins 18-14.
November 17, 1951:
They play each other in New Jersey for the 1st time, at the old Rutgers Stadium, on whose site the current High Point Solutions Stadium was built, on the University Heights Campus (now the Busch Campus) in Piscataway. Penn State 13, Rutgers 7.
November 15, 1952:
Penn State 7, Rutgers 6 at Beaver Field.
November 14, 1953:
Penn State 54, Rutgers 26 at Rutgers Stadium.
November 13, 1954:
Penn State 37, Rutgers 14 at Beaver Field.
November 12, 1955:
On the day that the events of the 1st
Back to the Future
film come to a climax (and those of the 2nd), Penn State beats Rutgers 34-13 at Rutgers Stadium. The teams don't play again for another 22 years.
September 2, 1977:
Fresh off their undefeated season the year before, but having not been invited to a bowl game larger than the Independence Bowl -- which they stupidly turned down -- Rutgers realizes it has to upgrade its schedule if it wants to be taken serious in what it's now calling "bigger-time football."
So they play Penn State again, at the relatively new Giants Stadium in the Meadowlands of East Rutherford. This is also the 1st time Rutgers plays against a team with Joe Paterno as head coach.
And, for the 1st time since October 11, 1975 (34-20 to Lehigh), RU lose. For the 1st time since November 2, 1974 (9-7 to Connecticut), they lose "at home." And for the 1st time since November 24, 1973 (42-0 to Colgate), they are blown out at home. Penn State wins 45-7. "Bigger time" has not yet come for the Scarlet Knights.
The announced crowd of 64,790 was then the biggest official home crowd in the 108-year history of Rutgers football, although it may have sounded like a home game for Penn State.
September 9, 1978:
Penn State 26, Rutgers 10. This is the 1st game Rutgers plays at Beaver Stadium, which opened in 1960.
September 15, 1979:
Penn State 45, Rutgers 10. This is Penn State's 1st game at Rutgers Stadium in 24 years, making it Paterno's 1st game there as head coach.
September 18, 1982:
After 2 seasons apart, Penn State comes back to Piscataway, and wins 49-14.
October 1, 1983:
RU gets a "home game" 2 seasons in a row, but it does no good. Penn State wins 36-25 at the Meadowlands. This 11-point deficit is the closest Rutgers has come to beating them in 31 years, but that is small consolation. Only 32,804 turn up, a crowd that could almost have fit into the original Rutgers Stadium.
September 8, 1984:
Penn State wins 15-12 at Beaver Stadium, the closest Rutgers has come since the Truman Administration, but still a loss.
September 28, 1985:
In front of 54,560 at the Meadowlands, the Knights lose to Penn State 17-10.
October 4, 1986:
Penn State wins 31-6 at Beaver Stadium.
October 10, 1987:
Penn State wins 35-21 at Beaver Stadium.
September 24, 1988:
Finally, for the 1st time in 70 years, Rutgers beats Penn State. The score is 21-16, and it happens in Happy Valley, in front of 85,531 fans. Penn State mounted a late comeback, led by Tony Sacca, a quarterback from Delran, Burlington County, New Jersey, but the Scarlet defense made a courageous stand and stopped the Lions.
Along with the 2006 win over Louisville,
it is arguably the most treasured football game in Rutgers history.
Just 5 months later, Rutgers would beat Penn State for the Atlantic 10 Conference basketball title, which remains that program's biggest win since the Final Four season of 1975-76.
October 17, 1989:
Seeking revenge for the 1st time... ever, really, since after the 1st game they didn't play again for 32 years, Penn State comes into the Meadowlands and beats Rutgers 17-0, in front of 57,688 fans, the majority of whom were rooting for Penn State.
September 28, 1990:
Penn State 28, Rutgers 0 at Beaver Stadium.
October 19, 1991:
Penn State wins 37-17 at Beaver Stadium.
October 3, 1992:
Penn State 38, Rutgers 24 at Giants Stadium. The crowd of 72,203 remains a record for a Rutgers "home" game, but, again, the Penn State fans easily outnumbered the Scarlet faithful.
September 25, 1993:
Penn State 31, Rutgers 7 at Beaver Stadium.
September 24, 1994:
Penn State wins 55-27 at Beaver Stadium. This is the most points that Penn State had ever scored on Rutgers. Since the 1988 loss at Happy Valley, Paterno had driven his team to punish Rutgers, beating them by an average score of 34-14. Apparently, Ol' Ratface was just getting warmed up.
September 23, 1995:
Penn State 59, Rutgers 34, in front of 58,870 fans in a nationally-televised game at the Meadowlands. Penn State scored 8 touchdowns. That's right: Eight touchdowns. The last was on a 58-yard pass following a fake handoff, with 1 minute and 6 seconds left, and the Lions
already up by 18 points
. There was no excuse for this. Paterno was just trying to be an asshole, to show that his team was Penn State, and that he could do whatever he wanted, and never be punished for it.
Or was there an excuse for it? The spread, going into the game, was 20 points. The pass ensured that Penn State covered the spread. The Penn State quarterback was Mike McQueary. He would be rewarded with a place on Paterno's staff.
Years later, it was McQueary who caught Jerry Sandusky in the act, and whose testimony brought Sandusky and Paterno down. Making him, I suppose, the John Dean, if not the Joe Valachi, of Penn State.
But Sandusky's defense team attacked McQueary's character, saying he had a gambling problem, and that his rub-it-in touchdown against Rutgers was to cover the spread and win a bet -- something which, if known at the time, would have gotten Penn State put on probation, costing it scholarships, making it ineligible for the conference title and bowl games, and possibly costing Paterno his job long before those things did happen to Penn State.
It would be another few years before we found out just how much Paterno was covering up in Happy Valley -- and another few years after that before we found out that his players' crimes (including an armed robbery) paled in significance compared to those of his most trusted assistant coach.
At any rate, when the time came for the postgame handshake between the coaches,
Graber got in Paterno's rodentlike face and said, "I didn't think you played like that."
Paterno, outraged that someone would call him on the 30-year lie that was his squeaky-clean image, yelled back at Graber, "Awwww, bullshit!"
Hey, Paterno was the expert on bullshit. Graber was the one who kept his cool, and refused to swear, not Paterno.
"Oh no you didn't!" Oh yes he did.
Anyway, with Rutgers having joined the Big East for the 1991 season, and Penn State having joined the Big Ten for the 1993 season, conference scheduling requirements put an end to the rivalry for 19 years, until the Big East began falling apart, and Rutgers, not wanting to be stuck in a minor league (as they effectively were for so long as an "Eastern Independent" until the Big East was founded), accepted a lifeline from the Big Ten.
November 4, 2011:
The Jerry Sandusky scandal breaks. Paterno knew, but kept him around. Like the man he supported to the end, Richard Nixon, the question became, "What did he know, and when did he know it?" And, like Tricky Dick, Ol' Ratface was a criminal who had to go.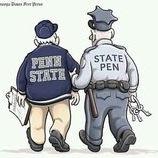 Five days later, Paterno announced he was retiring at the end of the season. Within hours, the University denied him the right to go out on anything resembling his own terms, and fired him. Hundreds of Penn State students rioted in support of a man who had covered up his knowledge of what used to be known as "unspeakable acts."
Within days of this, it was announced that Paterno had lung cancer. He died on January 22, 2012, 39 days after he was fired. Paterno won 409 games as a head coach, making him the all-time leader in what used to be known as Division I-A, now the Football Bowl Subdivision (FBS). The previous leader was Bear Bryant, with 323 wins, 232 of them at the University of Alabama. Bryant was once asked what he do in retirement, and said, "Quit coaching? I'd croak in a week." He died 28 days after coaching his last game. Bryant did a lot of things wrong in his coaching career, but nothing like what Paterno did.
July 30, 2014:
With the matchup being revived in the coming season, the rivalry was reborn, and it wasn't Rutgers who started it.
Bill Belton of Sicklerville, Camden County, a graduate of Winslow Township High School, told a reporter for the Penn State-themed website OnwardState.com, "Rutgers recruited me, but I wanted to play big-time football, so I came to Penn State."
"Big-time football"? There are currently 31 Penn State players on NFL rosters. There are currently 18 Rutgers players on NFL rosters -- and that doesn't count Ray Rice, who isn't on one, but, before his exile, was better than any from either school. True, 18 is not 31, but it's a big-time number.
"Big-time football"? Rutgers has never played in a New Year's Day bowl. But Penn State hasn't played in one since the 2008-09 season. And Rutgers has never been made ineligible for a bowl. At least, not officially.
"Big-time football"? In Belton's 4 years at Penn State -- 2011, '12, '13 and '14 -- Penn State went 31-19, and went to 2 bowl games, winning 1. Over that same stretch, Rutgers went 32-20, going to a bowl game all 4 years, winning 2 of them. In league play, Penn State finished 2nd, 2nd, 3rd and 6th. Rutgers finished 1st, 4th, 4th and 6th. In other words, competitively speaking, Penn State and Rutgers were pretty much equal. And Rutgers achieved this without being able to recruit with Penn State's pre-scandal reputation.
When Bill Belton said that stupid statement, he was entering his senior year. He was not drafted by any of the 32 NFL teams. He was signed by the Jets, but cut in training camp. He has never played a down of pro football. Wow, that Penn State tenure really helped you, didn't it?
September 13, 2014:
Rutgers plays its 1st official Big Ten Conference football game, and Penn State plays its 1st game at High Point Solutions Stadium, formerly "the new Rutgers Stadium." In front of a crowd of 53,774 -- a full house and then some, if official capacity is to be believed -- Rutgers blows a 10-0 2nd half lead at home, and Penn State wins 13-10.
This was the 1st time social media was available after a Rutgers-Penn State game, and, naturally, the Penn State fans rubbed it in like the scum they are. Rutgers would finish 3-5 in their 1st season in the Big Ten, Penn State 2-6. Ol' Ratface and his pederast pal may have been gone, but as far as the rivalry between the Scarlet Naughts and the Nittany Scum was concerned, nothing had changed.
September 19, 2015:
Penn State 28, Rutgers 3, in front of 103,323 spectators, all but a few thousand of them Paterno's yokels, at Beaver Stadium.
The current record: Penn State has won 24 games, Rutgers only 2.
November 19, 2016:
The Scarlet Knights and the Nittany Lions play each other again, in Piscataway, just 11 days after Pennsylvania gave its Electoral Votes to Donald Trump, in an election that could well have been called "The Revenge of Joe Paterno's Fans." (Paterno was a longtime Republican donor, and one of his sons ran for Congress as a Republican -- and lost. But he also had a son and a daughter who are Democrats.)
RU goes in at 2-8, having already lost to Michigan 78-0, Michigan State 49-0, Ohio State 48-0, and Pac-12 opponent Washington 48-13. Penn State goes in at 8-2, ranked Number 9 in the country, having already beaten Ohio State, then ranked Number 2, and hung 62 points on Purdue.
The game will be the Big Ten Network's Saturday night showcase. It could be a Saturday night massacre.
However, if this were an English soccer game, some "footy fan" might say, "Penn State are going to rape Rutgers."
And they say Americans don't know about irony.