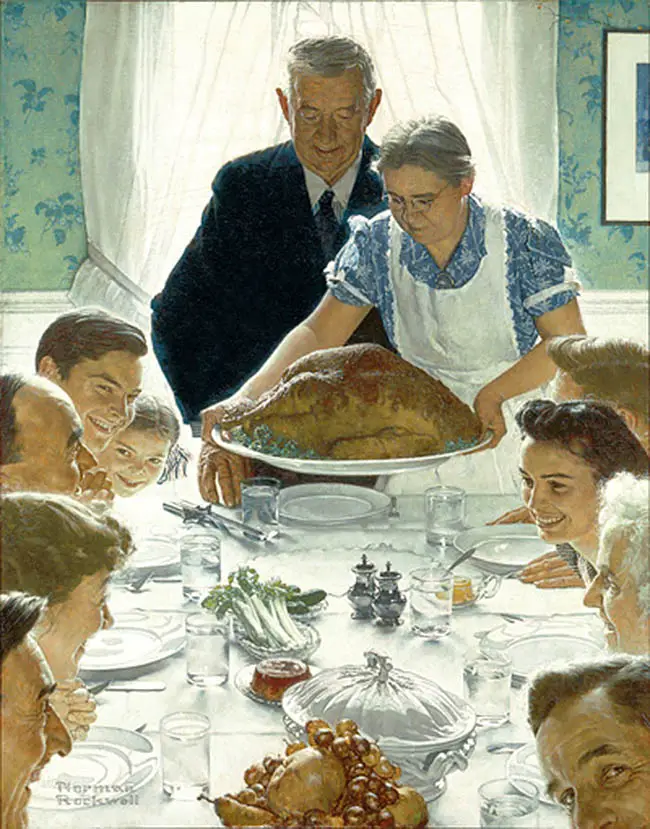 1970 to 1973: Thanksgiving is held at my maternal grandparents' house in Nutley, North Jersey. Grandma is in charge.
1974 to 1978: After my grandparents moved, it was held at their new house, in a retirement community in the Jersey Shore town of Brick. Always invited were the elderly couple that were friends in North Jersey, then moved down there, and recommended the community to them. They were invited because they had no children to spend the holiday with, and their siblings were already dead. They were terrific people.
My parents would leave me there, and I would spend the weekend over, with Mom or Dad picking me up on Sunday night.
1979 to 1983: My sister is added to the mix.
1984 to 1986: Grandpa died, so there was one less. By now, Grandma and I would usually take a short trip on the Friday or Saturday after, sometimes to Smithville, a kind of mini-Colonial Williamsburg just north of Atlantic City.
1987: A car crash a few days earlier led to me spending the holiday in the hospital. Stitches in my mouth meant that I couldn't really eat, anyway. So it was turkey soup. I was released the next day.
It was still a better holiday than Halloween in a New York hospital when I was 5 -- and if my mother tells you I had a wonderful time that day, let me remind you that she frequently remembers things wrong.
1988 to 1993: Normal service was restored.
1994 to 1996: By this point, the elderly couple involved were no longer coming: The husband had died, and the wife was in cognitive decline, and she and Grandma fell out. I don't even remember hearing when she died.
This was also the year that the 2 high schools in Old Bridge were consolidated, and began playing my alma mater, East Brunswick, on Thanksgiving. EB won the 1st game, but lost badly in 1995 and 1996. I told Grandma that, from now on, if EB wins, I will eat turnips at the dinner. She was proud of her turnips.
1997 to 2005: As it turned out, I never had to be held to that promise -- and not because EB won. In 1997, at age 73, Grandma announced that she was now too old and tired to do the whole shebang. She would still have me over for Thanksgiving weekend, and still make enough Thanksgiving stuff for the two of us for the weekend, including those wonderful sandwiches with turkey, stuffing and cranberry sauce.
But, from this point onward, we would eat Thanksgiving dinner at a restaurant. It was a different one in or around Brick every year, and most of them did it well.
Finally, in 2005, EB won again. The restaurant did not offer turnips.
2006 to 2008: Grandma died in 2006. By this point, my sister was married, and we had Thanksgiving dinner at her in-laws'. This included my twin nieces' 1st 2 Thanksgivings, in 2007 and 2008.
2009: By this point, my sister and her husband had split up, and we had Thanksgiving dinner at her apartment in South River, a 10-minute drive from the East Brunswick house.
Despite going on to win the State Championship the following weekend, the EB football team lost to Old Bridge on Thanksgiving. (That also happened in 2004.) And I haven't been to an EB-OB "Battle of Route 18" since. That would have been unthinkable to me not that long before, no matter how bad the game turned out to be.
2010: My sister found a new boyfriend, whom she later married, and he invited us to Thanksgiving dinner at his mother's house in Rochelle Park, North Jersey. It was nice.
It was also my 1st online Thanksgiving, where I used Twitter to find out that, wonder of wonders, miracle of miracles, the Big Green had actually beaten the Purple Bastards! (It hasn't happened since.)
2011 to 2013: Thanksgiving dinner was again held at my sister's apartment.
2014: Dad died at the start of Summer, and the 2nd husband walked out at the end of it. My sister wasn't in the mood to put together a dinner for the remaining family, especially since she'd just bought her first house, and she didn't think the house was ready for a big meal. (By Christmas, she'd decided that it was.) But she was more determined than ever that the remainder of the family be together for the holiday.
A couple with 4 kids that she'd met at the local swim club, who lived a couple of blocks from Mom and me, was spending the 4-day weekend at Cape May, at the southern tip of New Jersey, and suggested that we do the same. And so, for the 1st time, we went away for Thanksgiving.
It was a great idea. I was able to relax for the first time since Dad died. Mom had her first good time since it happened as well -- and treated me like an adult. The girls loved it. We decided to make it a tradition.
2015: My sister had reconnected with an old boyfriend, he'd moved in with his daughter, and another baby was on the way, and she didn't feel like going on a trip. So, with help, the dinner was at her house.
2016: With the new baby now 6 months old, we were ready to go away again. But the hotel we stayed at in 2014 was dilly-dallying on its Thanksgiving setup, so my sister decided on someplace else. In Ocean City. The one on the Eastern Shore of Maryland, not the one in South Jersey.
I love Ocean City, New Jersey. I'd been to Ocean City, Maryland once before. I probably shouldn't have gone at that time: I hadn't slept well, I didn't have enough money, and it was really hot, and I wasn't taken with the place. It's 25 miles south of Rehoboth Beach, Delaware, which I like very much, but it seemed more like Atlantic City, except tackier -- and redneckier. (It's not only south of the Mason-Dixon Line -- a big chunk of South Jersey also is -- it's further south than Washington, D.C.) Hopefully, I got the wrong impression last time, and it'll be okay this time.
And, oh yeah: Go, Bears, go! We are E.B.! Beat Old Bridge!