The New York Knicks visit the Charlotte Hornets on November 26, the Saturday after Thanksgiving. The Brooklyn Nets do so after the New Year, on January 21 and February 7.
Before You Go.
Being in the South, it's going to be warmer in Charlotte than in New York. The
Charlotte Observer
is predicting low 70s for daylight, but mid-40s for evening. Bring a light jacket.
Charlotte is in the Eastern Time Zone, so you won't have to fiddle with your timepieces. It is in North Carolina, a former Confederate State, but you won't need your passport or to change your money.
Tickets.
The Hornets averaged 17,388 fans per game last season. That's only a little over 91 percent of capacity, so your chances of getting a ticket are better than for most teams.
Tickets in the lower level, the 100 sections, are $108 between the baskets and $83 behind them. In the upper level, the 200 sections, they're $46 between and $35 behind.
Getting There.
It's 634 miles from Times Square in New York to downtown Charlotte. It's in that tricky range: A bit too close to fly, a bit too far to go any other way.
If you're going to drive, take the New Jersey Turnpike/I-95 all the way from New Jersey to Petersburg, Virginia. Exit 51 will put you on I-85 South, and that will take you right into Charlotte.
You'll be in New Jersey for about an hour and a half, Delaware for 20 minutes, Maryland for 2 hours, inside the Capital Beltway (Maryland, District of Columbia and Virginia) for half an hour if you're lucky (and don't make a rest stop anywhere near D.C.), Virginia for 3 hours, and North Carolina for 4 hours. Throw in traffic at each end, rest stops, preferably in Delaware, near Richmond and near Raleigh, and it'll be close to 14 hours.
Greyhound has 7 buses a day leaving from Port Authority to Charlotte, but only 2 of them are no-changeover routes. It costs as much as $306 round-trip (though it can be as low as $146 on advanced purchase), but those prices are considerably higher than normal due to it being Thanksgiving weekend. Usually, it costs about half that. The station is at 601 W. Trade Street, 9 blocks west of the arena.
Amtrak actually isn't a good option. Their New York-to-New Orleans train, the Crescent, leaves Penn Station at 2:15 PM and arrives in Charlotte at 2:20 the next morning. And their other option, the Carolinian, leaves New York at 7:05 AM and arrives at 8:12 PM, meaning you'll have to leave the day before the game -- in this case, the day after Thanksgiving. The Carolinian leaves the next morning at 7:00 and arrives at 8:47 PM, while the Crescent leaves at 1:46 AM and arrives at 1:46 PM. Round-trip fare is usually around $250, but, because the holiday has trains so booked up, it's $710. The station is at 1914 N. Tryon Street, a mile and a half north of downtown. Take the Number 11 bus in.
Perhaps the best way to get from New York to Charlotte is by plane. After all, lots of routes change planes at Charlotte Douglas International Airport (named for Ben E. Douglas Sr., the 1st directly-elected Mayor). And a round-trip fare can be had for $635. The airport is 8 miles west of downtown, and the Number 5 bus can get you downtown in about 25 minutes.
Once In the City.
Although both North Carolina and South Carolina were named for the King of England at the time of their initial settelments, King Charles I, Charlotte was named for a Queen, the wife of King George III. For this reason, the city is known as the Queen City of the Southeast. (Cincinnati is the Queen City of the Midwest, and Seattle the Queen City of the Northwest.)
Founded in 1755, Charlotte is one of the fastest-growing metropolitan areas in the country, with a city population of about 840,000, making it the largest city in the Carolinas and the 5th-largest city in the South (the 2nd-largest behind Jacksonville if you don't count Texas), and a metropolitan area population of about 2.5 million, ranking it 23rd among the 30 NBA markets.
The street grid isn't north-south-east-west, at least not geographically. Rather, it's on a diagonal. However, Trade Street separates street addresses from north and south, and Tryon Street separates them from east and west. Their centerpoint intersection is sometimes known as "Trade & Tryon," "Independence Square" or just "The Square."
The Charlotte Area Transportation System (CATS) runs buses, the LYNX Blue Line light rail system, and the CityLYNX Gold Line streetcar service. The fare is $2.20.
LYNX Blue Line
The sales tax in North Carolina is 4.75 percent, but it rises to 7.25 percent in Charlotte. ZIP Codes for Charlotte start with the digits 280, 281 and 282. The Area Code is 704, overlaid with 980.
Going In.
The official address of the Spectrum Center is 333 E. Trade Street, at Caldwell Street. If you drive in, parking can be had for as little as $5.00. If you're using public transportation, use the CTC/Arena stop. Most likely, you'll be going in through the arena's west or south gates.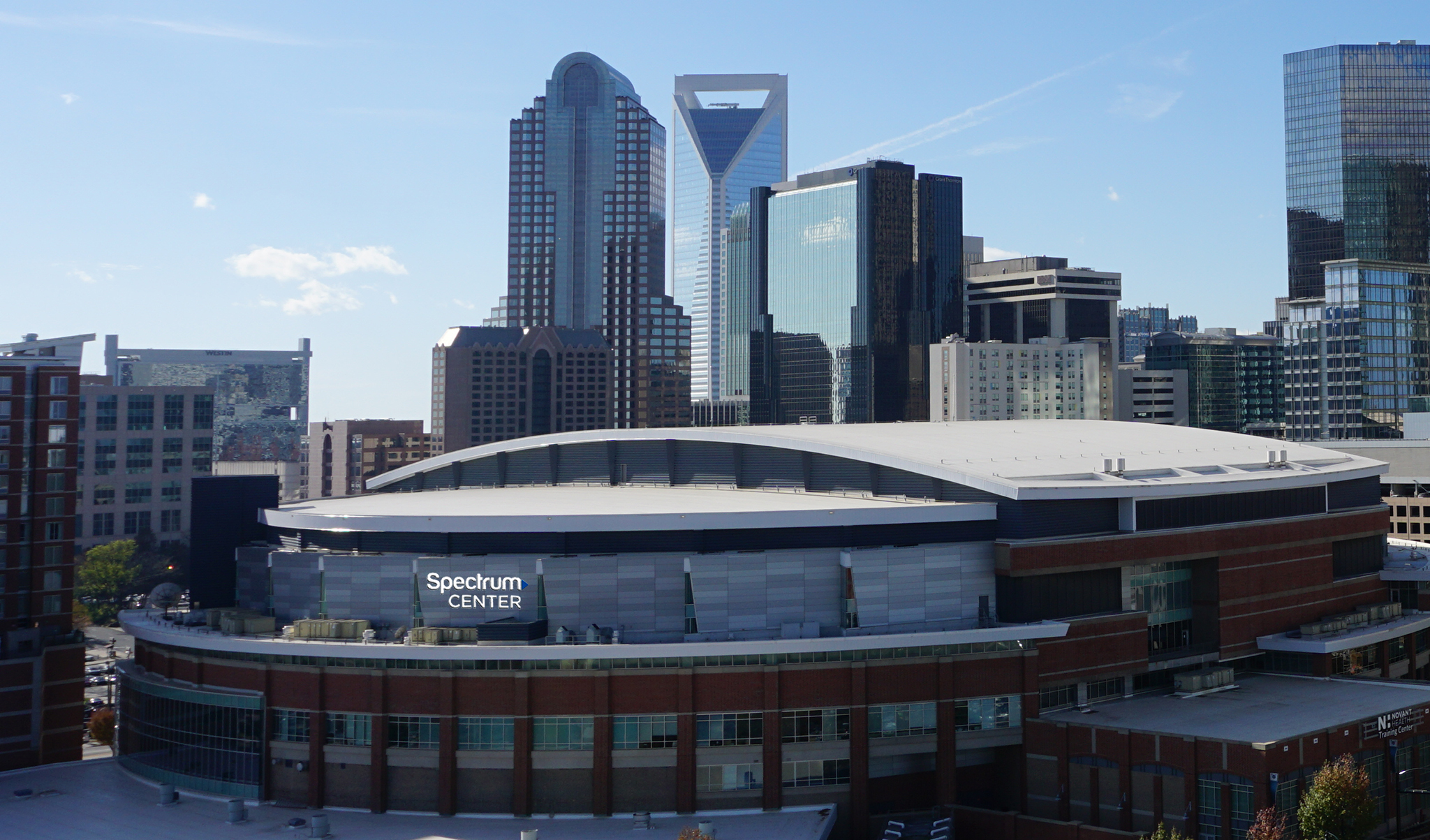 The arena opened in 2005, and was named Charlotte Bobcats Arena until 2008. The expansion team was named after its 1st owner, Robert L. Johnson, the TV executive who became America's 1st black billionaire -- yes, before Oprah Winfrey -- and the 1st black majority owner of a major league sports franchise. But the name made sense for an additional reason, as the bobcat is indigenous to the Carolinas. Johnson sold the team to Michael Jordan in 2010. Charter Communications recently bought Time Warner Cable from Time Warner, and renamed the arena for their cable service, Spectrum. This may confuse some of you who remember the old Philadelphia arena of 1967 to 1996, The Spectrum.
The Hornets name, which had also been used by a minor-league baseball team and the city's entry in the ill-fated World Football League of 1974-75, refers to the American Revolution, when the British commander Lord Cornwallis the Carolinas "a veritable hornet's nest of rebellion."
In addition to the Bobcats/new Hornets, it also hosted the WNBA's Charlotte Sting in their last season, 2006; and minor-league hockey's Charlotte Checkers from 2005 until this year, when they moved to a smaller arena, the Bojangles Coliseum. It also hosted the 2012 Democratic National Convention, which renominated President Barack Obama.
The court is aligned north-to-south -- or, more precisely from a literal geographic standpoint, northeast-to-southwest. In keeping with the "hive" theme, it has a honeycomb pattern.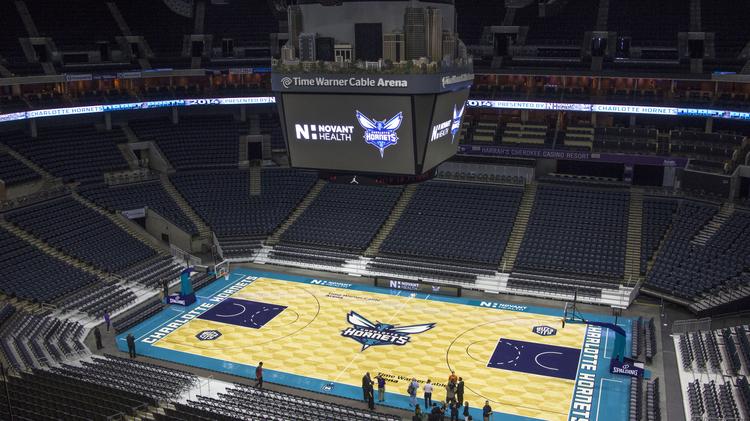 Food.
This is the South, tailgate party country, and North Carolina is among the places in this country particularly known for good barbecue. Tailgating is usually not done before NBA games, but the arena website is a little vague on concessions. Here's what they have to say about food options:
Spectrum Center partnered with industry-leader Levy Restaurants to develop food offerings unlike anything the community has experienced before. We created an incredibly diverse menu with something for everyone; from unexpected items to fan favorites on the concourses to restaurants and social areas for premium seatholders. To find out more about our fan favorites on the concourse and our restaurants and lounges for premium seat holders, click here
Throughout the arena, guests will find traditional event-goer favorites such as char-grilled hamburgers, hot dogs with regional toppings and chicken sandwiches along with more unique items such as house made veggie burgers, Niman ranch sausages, house braised short rib sandwiches and homemade ice cream shakes.
And we thought about the Little Sports Fan too – A kids' menu offers hot dog or crispy chicken in a combination meal that includes chips and a choice of drink.
In addition to the permanent eating areas on the Club and Uptown Concourses, Spectrum Center also offers several portable stands where guests can feast on everything from carved meat sandwiches to bratwurst and flavored popcorn.
Team History Displays.
Of all 30 NBA teams, only 2 have never won at least a Division title: The Hornets and the Memphis Grizzlies. (The New Orleans Pelicans have won one under the New Orleans Hornets name). Therefore, the Hornets don't have any title banners. The old version (the one that's now the Pelicans) won 5 Playoff series, but the furthest they got in the Playoffs was losing to the Milwaukee Bucks in Game 7 of the Eastern Conference Semifinals in 2001. And the Bobcats/new Hornets have made the Playoffs only twice, in 2010 and 2014, winning exactly zero Playoff games. Not since 2002, the last season of the old Hornets, has a Charlotte team won a Playoff game.
The Hornets have 1 retired number, 13, for guard Bobby Phills, who played for the original version of the Hornets from 1997 until 2000, when he was killed in a car crash. Only 2 Hornets players have yet been elected to the Basketball Hall of Fame: Centers Robert Parish, who played only 2 seasons for them; and Alonzo Mourning, who played only 3. (Dave Cowens coached them from 1996 to 1999, and Larry Brown from 2008 to 2010, but both were already in the Hall before they got to the Bobcats.) Neither has yet had his number retired by the Hornets. Nor do the Hornets have a team hall of fame.
When Mourning came into the NBA in 1992, he did a Nike commercial that imagined the honors he would go on to receive. One was the retirement of his jersey. Ironically, the commercial was half-right: His Number 33 has been retired, but by the Miami Heat, not the Hornets. Nor has Larry Johnson, a Hornet before he was a Knick and made nationally famous by his "Grandmama" commercials for Converse, seen his Number 2 raised to the rafters; but then, he's not in the Hall of Fame yet, either.
Stuff.
The Hornets Fan Shop is on the Trade Street (south) side of the arena. The arena website mentions that it sells not only Hornets merchandise, but Jordan brand items. Just so you know who's in charge. (Of course, that means that, in 5 years, Jordan the owner has won nothing, not even a single Playoff game, which must truly gall Jordan the player. Then again, Bill Russell was a lousy coach when he didn't have Bill Russell playing for him.)
With a lackluster history, there aren't many books written about the Hornets. In 1989, Joe Drape published
In the Hornets' Nest: Charlotte and Its First Year in the NBA
. Original owner George Shinn, with collaborator Jim Nelson Black, ripped off the Mets and Tug McGraw for the title of his team memoir,
You Gotta Believe! The Story of the Charlotte Hornets
. Even that was all the way back in 1996. For something more recent, Jim Whiting recently published the Hornets' edition of the NBA's
A History of Hoops
series.
Team DVDs are out of the question. Not only have the Hornets never reached the NBA Finals (or even the Conference Finals), so there's no commemorative official videos, but they technically didn't exist for their 20th (2008) and 25th (2013) Anniversaries. Perhaps the 30th (2018) will lead to an official team history, even if they haven't done anything special by then. (Although a moved team "returning" is certainly special.)
I looked the Hornets up in the Movies & TV section of Amazon.com, and the only Hornets-related video I could find was a VHS commemorating their 1st season:
Hornets Hysteria
. The Hornets were the team coached by one of the main villains, Dennis Farina's coach character, in the movie
Eddie
, in which Whoopi Goldberg plays a fan who, through a weird series of events, is named head coach of the Knicks, and they have to beat the Hornets in the last game of the regular season to make the Playoffs.
During the Game.
A November 13, 2014 article on DailyRotoHelp
ranked the NBA teams' fan bases, and listed the Bobcats/new Hornets dead last, in 30th place. That's understandable, since they're the newest franchise: It's not that they have a bad reputation, it's that they have hardly any reputation.
But they were only without a team for 2 seasons, 2002 to 2004, so these are basically the same fans that the old Hornets had, and there wasn't anything particularly notable about them, either: No great moments of class, no shocking moments of misbehavior, no intimidation (clean or otherwise). They were "just sort of there." Which, I suppose, is better than having a bad reputation.
Unless you're going to a basketball game between Duke University and the University of North Carolina -- especially at Duke -- North Carolina fans, in any sport, don't have a rough reputation. Your safety is unlikely to be an issue.
A special note to Knicks fans: The Hornets' current head coach is former Knicks assistant Steve Clifford, one of his assistants is Patrick Ewing, and one of their current players is briefly famous Knick Jeremy Lin.
This Saturday's game against the Knicks is Hornets T-Shirt Night. The Hornets hold auditions for singing the National Anthem, rather than having a regular singer. They have cheerleaders, named the Charlotte Honey Bees. But the most famous person associated with the Hornets -- aside from Jordan, and how many people associate him with them? -- never shows his face.
Hugo the Hornet was introduced as the Hornets' mascot on their debut, and became famous for being lowerd from the arena ceiling, and, at least once a game, removing his wings and padding, to become the stripped-down "Super Hugo" that would perform stunt dunks, like the Phoenix Suns' Gorilla.
He went with the team to New Orleans, and when the Bobcats arrived in 2004, their mascot was named Rufus D. Lynx, as
Lynx rufus
is the scientific name for the bobcat. Rufus became popular, but not as much as Hugo. When the franchise got the Hornets name back, effective at the end of the 2013-14 season, Rufus was retired, and a new-look Hugo was introduced. It remains to be seen if Rufus will return, as some former mascots have done.
Hornets fans haven't yet come up with a chant more imaginative than "Let's go, Hornets!" Chris Miller (no relation to the former Atlanta Falcons quarterback) recorded a theme song, "Hornets Fever." Other songs frequently played during Hornets games are "Let's Do It Again" by the Staple Singers, "Don't Bring Me Down" by Electric Light Orchestra, "Every Little Step" by Bobby Brown, "Feel So Real" by Steve Arrington, and "Just Another Day" by New Jersey's own Queen Latifah (an All-State basketball player at Irvington High under her birth name of Dana Owens).
After the Game.
Charlotte is not notorious for having a crime problem. It's still a city, so you should be aware of the possibility. But, most likely, you will be safe, and if you drove in, so will your car.
There are several restaurants within a short walk of the arena, but finding one with an obvious sports connection in the name might be hard. Lebowski's Neighborhood Grill was rated by Yelpers as Charlotte's best sports bar, but it's at 1524 East Blvd., over 2 miles from the arena, and not reachable by the LYNX system. And I can't find a reference to any bar in the Charlotte area that is home to a local fan club for any New York team.
If your visit to Charlotte is during the European soccer season, as we are now in, your best bet to watch your club play is at Ri Ra, 208 N. Tryon Street, downtown. Another possibility is the Valhalla Pub & Eatery, at 317 S. Church St., 4 blocks from the Panthers' stadium and 6 blocks from the Hornets' arena. However, it's a Liverpool bar, so it's a question of how you feel about Scousers, real and pretended.
Sidelights.
Charlotte's sports history, at least as far as the major league level is concerned, is not very long, having only gotten their 1st team that could remotely be considered major league.
* Bank of America Stadium. After playing their 1st season at Clemson University's Memorial Stadium in Clemson, South Carolina, the NFL's Carolina Panthers moved into this Uptown stadium (originally named Ericsson Stadium for the mobile phone company) for the 1996 season. They've reached the Playoffs 6 times, including 3 NFC Championship Games and a Super Bowl loss, in their 1st 20 seasons. 800 S. Mint Street at W. Stonewall Street. Number 2 bus from downtown.
* American Legion Memorial Stadium. It doesn't look like much, just a concrete horseshoe seating 21,000 people. But this relic is the city's leading high school football stadium, and, in 1974 and '75, was the home of the city's 1st pro football team, the World Football League version of the Charlotte Hornets.
Despite its age (it opened in 1936), it still hosts high school sports, and the Charlotte Hounds of Major League Lacrosse. 310 N. Kings Drive at Armory Drive. Number 27 bus from downtown.
* Bojangles' Coliseum. Previously known as the original Charlotte Coliseum, the Independence Arena and the Cricket Arena, this arena went up in 1955, and is now named after the fast-food fried chicken franchise. When it opened, it had the world's largest dome, but didn't hold that title for long.
This Coliseum was the home base of the Carolinas' 1st team that could have been called major league: The Carolina Cougars of the American Basketball Association, from 1969 to 1974. At the time, none of the Carolinas' cities were large enough to support a team by itself so, management used several home courts, including this one, Reynolds Coliseum in Raleigh, and the Winston-Salem Memorial Coliseum. This path would be followed by the ABA's Virginia Squires (Norfolk, Hampton, Richmond and Roanoke) and Texas Chaparrals (the forerunners of the San Antonio Spurs played in Dallas, Fort Worth and Lubbock).
In 1973, with Larry Brown -- who would later be named to the ABA's All-Time Team -- in his 1st season as a head coach anywhere, the Cougars, led by Billy Cunningham, Joe Caldwell, Gene Littles, Roger Brown and Steve "Snapper" Jones, reached the ABA Finals, but lost them to the Indiana Pacers.
Despite some success on the court and at the box office -- both rare for ABA teams -- it was thought that a "regional franchise" could not succeed in the NBA, with whom merger talks were ongoing, so the team was moved to what was then a larger market, St. Louis. On occasion, the Hornets will wearing Cougars "throwback" uniforms.
The Charlotte Checkers brought minor-league hockey there in 1956, left in 1977, returned in 1993, left for the larger new Bobcats (Time Warner Cable) Arena in 2005, and this fall they returned, and are now the major tenant in the Carolinas' 1st major sports building. Elvis Presley sang there on June 26, 1956; April 13, 1972; March 9, 1974; March 20, 1976; and February 20 and 21, 1977. (The Beatles never performed in the Carolinas.)
2700 E. Independence Blvd. Number 27 bus to Chipley Avenue, then walk 3 blocks up Chipley.
* Site of Charlotte Coliseum. When "The Hive" (a nickname now transferred to the new arena) opened in 1988, it seated just under 23,000, making it the largest arena in the NBA. (The Detroit Pistons played many years at the Silverdome and the Seattle SuperSonics many home games at the Kingdome, but neither was meant to be a permanent facility.) And the Hornets filled it, getting 364 consecutive home sellouts -- just under 9 full seasons.
With this photo, you can see how far it was from the heart of Charlotte.
Founding owner George Shinn -- whose son Chris Shinn is lead singer of the rock band Live -- moved the team to New Orleans in 2002, because he thought he could no longer live in the Carolinas due to the local anger over his sex scandals, as fans stopped going to games, just to spite him. He ended up selling the team in 2010, and it shouldn't surprise anyone that the Hornets name wasn't given to the replacement team until after that. He also owned the Charlotte Knights baseball team, and the Raleigh-Durham Skyhawks of the short-lived World League of American Football. (Playing at N.C. State's stadium, they've been called the worst team in pro football history.) He also tried and failed to get an NHL expansion team for the Norfolk area in 1997.
This Coliseum hosted the NCAA Final Four in 1994, with Arkansas winning the title, beating Duke, despite Durham-based Duke having (for all intents and purposes) home-court advantage. The only other time a Final Four has been held in the Carolinas, a "home team" did win: Raleigh-based North Carolina State over Milwaukee's Marquette at the Greensboro Coliseum in 1974.
The WNBA's Charlotte Sting played home games there. They won the WNBA's Eastern Conference in 2001. Dawn Staley was named to the league's 15th Anniversary 15 Greatest Players, and Andrea Stinson had her Number 32 retired. The Coliseum was used for the basketball-themed films
Eddie, He Got Game
and
Juwanna Mann
.
A new arena, downtown (as the Coliseum and the Coliseum before it most definitely were not) with better luxury boxes was seen as a prerequisite for getting a replacement franchise, and so the Bobcats only played their 1st season there, 2004-05. Ironically, the Coliseum's last major use was as a refugee center for people made homeless by Hurricane Katrina's near-destruction of New Orleans in 2005. It was demolished in 2007 -- after only 19 years, a disgraceful waste, but Camden Yards really did change the game in 1992 when it came to stadium and arena construction -- and mixed-use development is currently under construction on the site.
100 Paul Buck Blvd. Number 501 bus to Tyvola Station, then transfer to Number 60 bus to N. Falls Drive, then walk up Tyvola Parkway and Yorkmont Road. The street leading to the arena site is still named Hive Drive.
* Charlotte ballparks. The original Charlotte Hornets were a minor-league baseball team, on and off from 1892 to 1973. Prior to the building of their most familiar ballpark, they won the Southern League Pennant in 1902, 1916, 1923, 1931 and 1938.
From 1937 to 1972, they were owned by the Griffith family as a farm team of the Washington Senators/Minnesota Twins franchise. In 1940, they opened a new ballpark, named Griffith Park after team owner Clark Griffith. When he died in 1955, his nephew Calvin Griffith inherited the franchise. He wasn't willing to stick his own name on the Senators' D.C. ballpark, but renamed the Charlotte facility Calvin Griffith Park. At this stadium, they won the South Atlantic League Pennant in 1946, 1947, 1952 and 1957, and the Southern League Pennant in 1969 and 1971.
Founded in 1976 as a Class AA team, the Charlotte Knights have been a Class AAA team since 1993, and a Chicago White Sox farm team since 1990. They won Pennants at Griffith Park, renamed Jim Crockett Sr. Park, after the new owner, and won SL Pennants in 1980 and 1984, before the park burned down in 1985 -- due to arson, although not an insurance scam. George Shinn bought the team in 1987, and moved them after the 1989 season. 400 Magnolia Avenue, in the Dilworth section of the city, about 2 miles south of downtown. Number 10 bus to East Blvd., then a half-mile walk down South Blvd. and Magnolia.
Shinn built Knights Castle, later renamed Knights Stadium across the State Line, 16 miles south of downtown Charlotte. A stadium seating 10,002, it was intended to showcase the Charlotte area as a future site for a Major League Baseball team, either expansion or moved. And the Knights did do well there, getting as many as 15,427 fans for a 2007 game with the Durham Bulls. They won International League Pennants there in 1993 and 1999, and a Division title as recently as 2012.
In 1990, MLB chose Charlotte as 1 of the 10 Semifinalists for the 2 new teams they wanted for the 1993 season. But, in spite of a decent ballpark by Triple-A standards and a growing fanbase, MLB did not choose Charlotte as 1 of the 6 finalists, also eliminating Nashville, Phoenix and Sacramento. In mid-1991, they rejected Buffalo, Orlando, Tampa Bay and Washington, and chose Denver and Miami. Charlotte did not even submit an application in 1994 for the 1998 expansion that went to Phoenix and Tampa Bay.
Knights Stadium closed after the 2013 season, and will soon be demolished. 2280 Deerfield Drive, Fort Mill, South Carolina. Not reachable by public transportation, unless you want to take a train to a bus and then walk 4 miles from the closest bus stop.
BB&T Ballpark (named for a bank) opened in 2014. It seats 10,200, slightly more than Knights Stadium, and has a nice view of downtown Charlotte, which is actually called Uptown. However, there is no room to expand it to 35,000 or more seats, as a major league ballpark would need, so, despite the inabilities of the Tampa Bay Rays and Oakland Athletics to get new ballparks thus far, the new Uptown Charlotte ballpark pretty much eliminates the Carolinas from future contention, unless MLB expands again in the next few years. 324 South Mint Street at W. Martin Luther King Jr. Blvd., 2 blocks north of the Panthers' stadium.
According to
an April 23, 2014 article in The New York Times
, the Yankees are actually the most popular MLB team in Charlotte, a little bit ahead of the Atlanta Braves, the closest team at 246 miles away. (The Washington Nationals are the next-closest, 402 miles.) The closest NHL team is the Carolina Hurricanes, 160 miles away.
The Charlotte Independence play in the United Soccer League, the 3rd tier of American soccer. Their home field is a 4,300-seat stadium at Ramblewood Soccer Complex. 10200 Nations Ford Road, about 10 miles south of downtown, near the Carolina State Line. Public transportation is probably not worth it.
Until Atlanta United begins play (243 miles away) in the Spring of 2017, the closest Major League Soccer team will remain D.C. United, 404 miles away in Washington.
Due to population as much as to the size of the ballpark, I wouldn't count on Charlotte getting an MLB team anytime soon: It would rank 28th among MLB markets. And, unless the 'Canes want to become a "regional team," as was experimented with in pro basketball in the 1970s and '80s (most recently with the Boston Celtics in Hartford in 1995), Charlotte won't get an NHL team either, as they'd rank 22nd -- 3 places ahead of where Raleigh is now. Combining the 2 markets would jump it to 15th, but the logistics of alternating between Charlotte and Raleigh would make the move too risky.
The U.S. national soccer team has never played a game in Charlotte. There have been 6 such games played in North Carolina: 3 in High Point, and 1 each in Greensboro, Cary and Davidson.
UPDATE: In 2017, the Western New York Flash of the National Women's Soccer League moved, and became the North Carolina Courage. WakeMed Soccer Park, 201 Soccer Park in Cary, 8 miles west of downtown Raleigh. Bus 300.
Auto racing is
not
a sport. But, if you think it is, the NASCAR Hall of Fame is at Brevard & Stonewall Streets. Stonewall station on LYNX.
Charlotte has the University of North Carolina at Charlotte as a "mid-major" college basketball team, but in terms of college football, here's the distances to the closest Football Bowl Subdivision (formerly "Division I-A") teams: Wake Forest University, 82 miles away in Winston-Salem, North Carolina; University of South Carolina, 99 in Columbia; Clemson University, 139 in Clemson, South Carolina; University of North Carolina, 140 in Chapel Hill; Duke, 141 in Durham; North Carolina State, 160 in Raleigh; Virginia Tech, 173 in Blacksburg; University of Tennessee, 231 in Knoxville; and East Carolina, 247 in Greenville, North Carolina. (Wake Forest's Wait Chapel hosted Presidential Debates in 1988, between George H.W. Bush and Michael Dukakis, and in 2000, between George W. Bush and Al Gore.)
In addition to the old Charlotte Coliseum in 1956, Elvis Presley sang in Charlotte earlier in the year, doing (believe it) 4 shows at the Carolina Theater on February 10, 1956: 2:30, 4:30, 7:00 and 9:00. 224 N. Tryon Street, downtown.
In addition to Charlotte -- and Raleigh, which I've covered in my guide for the Hurricanes -- Elvis sang at the following North Carolina locations: In New Bern, at the Shrine Auditorium in New Bern on May 14 and September 13, 1955; in Asheville, at the City Auditorium on May 17 and September 16, 1955, and at the Asheville Civic Center on July 22, 23 and 24, 1975; in Thomasville at the High School Auditorium on September 17, 1955; in Wilson at Fleming Stadium on September 14, 1955, and 3 shows at the Charles L. Coon Auditorium on February 14, 1956; in Greensboro, 4 shows in 1 day at the National Theater on February 6, 1956, and at the Greensboro Coliseum on April 14, 1972; March 13, 1974; July 21, 1975; June 30, 1976; and April 21, 1977; in High Point, 4 shows in 1 day at the Convention Center on February 7, 1956; in Williams, at the High School Auditorium on February 15, 1956; in Winston-Salem, 3 shows in 1 day at the Carolina Theater on February 16, 1956; in Lexington, at the YMCA Gym on March 21, 1956; and in Fayetteville, at the Cumberland County Memorial Arena in Fayetteville on August 3, 4 and 5, 1976.
If you're paying attention, you saw that he did 4 shows in 1 day on February 6, 7, 8 and 10, 1956. That's 16 shows in a span of 5 days. He was 21. It was easier to do that than to do 2 in 1 day when he was packing on the pounds in his early 40s in 1975, '76 and '77.
Charlotte features some downtown museums. The Levine Museum of the New South is about Southern life since the American Civil War, and it doesn't shy away from racial issues. 200 E. 7th Street at College Street. Discovery Place, a child-oriented science museum, is 2 blocks away at 301 N. Tryon Street at 6th Street.
Bechtler Museum of Modern Art is at 420 S. Tryon Street at 1st Street. The Mint Museum Uptown is not, as its name might suggest, a museum dedicated to money. Rather, it's a former mint converted into an art museum. 500 S. Tryon Street, across 1st Street from the Bechtler Museum.
Bank of America Corporate Center, at 871 feet, is not only the tallest building in town, but the tallest building between Philadelphia and Atlanta. 100 N. Tryon Street at 5th Street.
Charlotte has never produced a President. The Carolinas have produced 3. No one is precisely sure where Andrew Jackson was born -- not even whether it happened in North or South Carolina, only that it was in the Waxhaw region along the State Line. He was the 1st President born in a log cabin, but that cabin is long-gone. Andrew Jackson State Park, at 196 Andrew Jackson Park Road in Lancaster, South Carolina, is considered the likeliest place. It's about 33 miles south of Charlotte and not reachable by public transportation.
James K. Polk State Historical Site is in Pineville, which, like Charlotte, is in Mecklenburg County, North Carolina. It's about 12 miles south, at 12031 Lancaster Highway. It's easier to reach without a car: The Number 20 bus can get you to within half a mile.
Andrew Johnson was born in the State capital of Raleigh, 167 miles to the northeast. His birthplace was a log cabin (which didn't help him as much as it helped his predecessor, Abraham Lincoln) on the grounds of Casso's Inn, where his father worked, at Morgan Street and Fayetteville Street, across from the State House. It was moved to Mordecai Historic Park at 1 Mimosa Street, a mile north of downtown. Number 1 Bus.
All 3 Carolina-born Presidents have their main historical sites in Tennessee: Polk is buried on the State House grounds in Nashville; Jackson's home, The Hermitage, is in the Nashville suburbs; and Johnson's Museum is in Greeneville.
Yankee Legend Jim "Catfish" Hunter was from Hertford, North Carolina, 315 miles east of Charlotte, in the coastal Inner Banks region, and is buried in Cedarwood Cemetery there, on Hyde Park Road. Another major baseball legend, though not a New York one, Willie Stargell, is buried at Oleander Memorial Gardens, at 306 Bradley Drive, in Wilmington, 206 miles east of Charlotte. (Wilmington is also the hometown of Michael Jordan and David Brinkley.) And, considerably closer to Charlotte, about 25 miles north, football legend Reggie White is buried at Glenwood Memorial Park in Mooresville.
A few TV shows have been filmed in North Carolina, most notably
Dawson's Creek
in Wilmington.
The Andy Griffith Show
, of course, was set in the fictional North Carolina town of Mayberry and based on Griffith's hometown of Mount Airy, but was filmed in Southern California.
Shows set in Charlotte are few and far between. Currently,
The Carmichael Show
, based on the standup comedy of Jerrod Carmichael, is airing on NBC.
Homeland
has had scenes shot in Charlotte. Scenes from the
Hunger Games
films, whose "District 12" includes the Carolinas, have been shot in Charlotte.
*
Charlotte had no major league sports teams as recently as the Summer of 1988. By the Fall of 1996, it had the NBA and the NFL, and MLB in the future is not yet out of the question.
It's true that North Carolina isn't the hotbed of professional basketball that it is for the college game. But a Knicks vs. Hornets or Nets vs. Hornets game could be a fun experience.