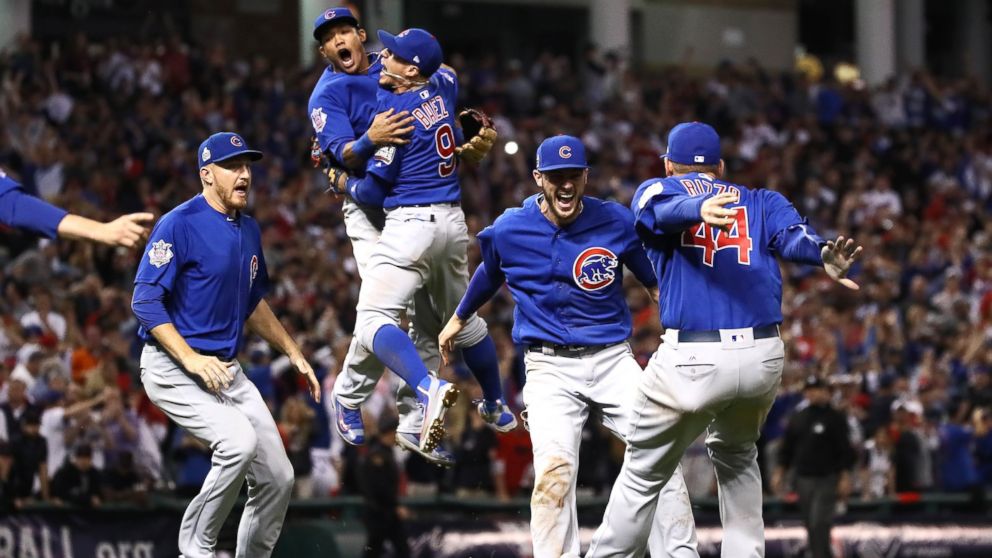 Let's not kid ourselves: Game 7 of the 2016 World Series was not a great baseball game. It was a very sloppy baseball game, which both teams threatened several times to give away.
This was my worry: That it would be remembered for a goat, not a hero. That Chicago Cubs fans, or Cleveland Indians fans, would moan for the rest of their lives about a bad pitch, an error, a freak play, a dumb decision by their manager, or, and this turned to be very possible after 9 innings, the weather.
But no. As many mistakes as were made on each side, when the tarp came off to start the 10th inning, both teams went into it with, for all intents and purposes, an equal chance to win. In other words, as sloppy as it was, the chance for a result that was totally fair was in place.
And it was won, rather than lost. And it was won with heroes: Ben Zobrist and Miguel Montero, whose hits drove in the winning runs in the top of the 10th; and Mike Montgomery, who came in to get the last out, and prevent possibly the most painful choke in the Cubs' long history.
No, it was not a great
game
. But it
was
great
theater
. Particularly when you consider both teams' histories, both desperately wanting to put an end to their images as losers and chokers.
It was great theater. This is why baseball is the greatest game of them all.
*
There are now 1,756 players who have been on the World Series roster of a winning team. John Lackey (2002 Angels, 2013 Red Sox), Jon Lester (2007 and 2013 Red Sox), David Ross (2013 Red Sox) and Ben Zobrist (2015 Royals) are now among the 450 players to have won at least 2. Lackey and Lester are now among the 140 players to have won at least 3. Now that Derek Jeter, who had 5, is retired, the active leader, with 4, is pitcher Javier Lopez (2007 Red Sox; 2010, 2012 and 2014 Giants).
Lackey, Lester, Ross and Zobrist are now among the 137 players to have won the World Series with 2 different teams, and among the 56 to have won it with teams in both Leagues.
Although the White Sox won it in 2005, just 11 years ago, there is still no player who has ever won the World Series with both Chicago teams.
*
November 3, 1836:
Vice President Martin Van Buren is elected the 8th President of the United States. He essentially rode the coattails of his friend and boss, President Andrew Jackson, to victory. It also helped that the Whig Party was regionally split: Van Buren won 170 Electoral Votes, William Henry Harrison 73, Hugh White 26, Daniel Webster 14, and Willie P. Mangum 11.
Mangum won only South Carolina, Webster only his native Massachusetts, and White only Georgia and his native Tennessee -- which probably ticked fellow Tennesseean Jackson off.
In the popular vote, Van Buren won almost 51 percent, Harrison 36, White a little under 10, Webster less than 3, and Mangum wasn't actually on the ballot anywhere, but won South Carolina's Electoral Votes anyway.
November 3, 1868:
Ulysses Simpson Grant, U.S. Secretary of War and the leading General of the Union during the American Civil War, is elected the 18th President of the United States. He defeats Horatio Seymour, a former Governor of New York. Grant won nearly 53 percent of the vote, Seymour 47. The Electoral Vote was not nearly as close, 214 to 80 in Grant's favor.
November 3, 1869:
The Hamilton Football Club is founded in Hamilton, Ontario, Canada. This is the forerunner of the Hamilton Tigers, who in 1950 merged with the Hamilton Wildcats to become the Hamilton Tiger-Cats. This could, if you choose to define it this way, make the "Ticats" the oldest continuously operating professional sports team in North America.
Before the merger, the Tigers won 5 Grey Cups, the championship of Canadian football: 1913, 1915, 1928, 1929 and 1932. Since the merger, they've won 8: 1953, 1957, 1963, 1965, the Canadian Centennial Cup in 1967, 1972, 1986 and 1999. This is a total of 13. (The 1943 Grey Cup won by the Hamilton Flying Wildcats, as they were known during World War II since they were sponsored by the Royal Canadian Air Force, is generally not counted in the total.)
November 3, 1896, 120 years ago:
Governor William McKinley of Ohio is elected the 25th President of the United States, defeating Congressman William Jennings Bryan of Nebraska. McKinley won 51 percent of the popular vote, and Bryan nearly 47. McKinley won 23 States to Bryan's 22. Those figures make it sound close. But McKinley won bigger States, so he won the Electoral Vote 271-176.
The Panic of 1893 doomed President Grover Cleveland's hopes of winning a 3rd term. But Bryan, at 36 the youngest major-party nominee ever, favored the free coinage of silver, as a means of ending the nastiest depression the nation had yet suffered, rather than sticking to the gold standard.
At the Democratic Convention at the Chicago Coliseum, he said, "You shall not press down upon the brow of labor this crown of thorns. You shall not crucify mankind upon a cross of gold." Effectively, he was the Bernie Sanders of his time.
But that scared a lot of people, including a lot of Democrats. Cleveland refused to use whatever political capital he had left to endorse him, and a lot of "Gold Democrats" supported McKinley, who promised "a return to the full dinner pail." (The expression "a chicken in every pot" had been in existence for about 300 years.) In addition, in the inner cities, where lots of Catholics, many of them the sons of immigrants, worked in factories, many of them were told by their bosses, "If Bryan wins on Tuesday, don't come in on Wednesday" -- not that they would be fired, but that the factory would have to close.
*
November 3, 1900:
Adolf Dassler is born in Herzogenaurach, Bavaria, Germany. His father worked in a shoe factory, and he and his brother Rudolf joined their father. They supplied many of the athletes in the 1928 Olympics in Amsterdam, and supplied Jesse Owens for the 1936 Olympics in Berlin.
Both brothers joined the Nazi Party, although Rudolf was more into it. Both were captured in World War II, but both survived. Adolf, or Adi, and Rudolf, or Rudi, fell out after the war. Rudi formed his own company: Puma. Adi founded his own: Adidas, short for "Adi Dassler." He died in 1978.
November 3, 1908:
William Howard Taft, Secretary of War, is elected the 27th President of the United States, defeating Bryan. Taft gets 51.6 percent of the popular vote, and wins the Electoral Vote 321 to 162.
Theodore Roosevelt chose not to run for what would have been a 3rd term, and chose Taft, who would really have preferred to have been named Chief Justice of the U.S. Supreme Court. TR warned Taft to not let the press take his picture on the golf course. Despite this warning, and his weight, which made him look ridiculous on the golf course, it happened, and TR called him onto the carpet.
Taft was a physical heavyweight, over 330 pounds, our heaviest President. He was no lightweight intellectually, either: A graduate of Yale, including of its law school. He stood up for himself, and said, "Mr. President, you play tennis. That's a more elitist sport than golf!" TR said, "Yes, but I
don't
let the press take my picture while I do it!"
Taft won anyway, mainly because Bryan was running for the 3rd time, and the issue that had first vaulted him to prominence, the free coinage of silver, was no longer as effective when there wasn't a depression on, as there was when he first ran in 1896. One of the Taft slogans was, "Vote for Taft this time. You can vote for Bryan anytime."
Taft would run his Presidency far from what TR had intended, and TR tried to regain it in 1912. But, as the incumbent, Taft controlled the party machinery. TR ran as a 3rd party candidate, and finished 2nd. They split the Republican vote, and Democrat Woodrow Wilson got elected as a plurality candidate. Wilson appointed Bryan his Secretary of State, but Bryan resigned in 1915, because he was a pacifist, Wilson seemed to be inching too closely to going to war.
Roosevelt and Taft patched things up, and Wilson's successor, Warren Harding, appointed Taft to be Chief Justice -- the only President to also have served on the Supreme Court. Today, "Teddy 26" and "Bill 27" are part of the Washington Nationals' "Racing Presidents."
Also on this day, Bronislau Nagurski is born in Rainy River, Ontario, and grows up in International Falls, Minnesota. "Bronko" wasn't big by today's standards, but, at 6-foot-3 and 230 pounds, he was enormous for his era. He could do it all: Block, run, catch, tackle, even throw every once in a while. He helped the Chicago Bears win the NFL Championship in 1932 and 1933, and, during the manpower shortage of World War II, came out of retirement to help them do it again in 1943.
He was a charter inductee into the Pro Football Hall of Fame in 1963. The University of Minnesota retired his Number 72, the Bears his Number 3. He was named to the NFL's 1930s All-Decade Team and its 75th Anniversary Team. When John Madden named his "All-Madden All-Millennium Team" in 1999, the 1st 3 names he chose were Jim Thorpe, and the 1932 and '33 Chicago running tandem of Red Grange and Nagurski -- the prototypes, respectively, of the modern speedy halfback and big, bruising fullback.
He was also heavyweight wrestling champion in the 1930s. Think of Dwayne "The Rock" Johnson sticking with football, and wrestling in the off-season. Although Bronko never became an actor, unless you count "professional wrestling" as acting, but Bronko was dead serious about it: He made more money at that than he did at football.
In a 1984 interview with
Sports Illustrated
writer Paul "Dr. Z" Zimmerman, when asked what position he would play if he were coming up in the present day, he said, "I would probably be a linebacker today. I wouldn't be carrying the ball 20 or 25 times a game."
The definitive Nagurski story tells of a touchdown he scored against the Washington Redskins at Wrigley Field. The Redskins didn't move to Washington until 1937, Nagurski's last season (not counting his war-induced 1943 comeback), and the teams didn't play at Wrigley in the regular season, only in the NFL Championship Game, and this story is not mentioned in connection with the title game, which leads me to think it's apocryphal:
He brushed off 2 linebackers and practically ran through a cornerback and a safety, then bounced off a goalpost and, head still down, ran right through the end zone, headfirst into the brick wall of Wrigley's outfield. He got back to the huddle for the extra point, and said, "That last guy gave me a pretty good lick."
After his retirement from wrestling, he returned home to International Falls, and opened a service station.
A local legend claims that Nagurski had the best repeat business in town because he would screw customers' gas caps down so tight after filling their tanks that no one else in town could unscrew them.
In spite of the roughness of his era, and how much he contributed to it (although he was never accused of playing dirty), he lived until 1990, age 81. His son, Bronko Nagurski Jr., played at Notre Dame, and won the 1963 and 1965 Grey Cups with the Hamilton Tiger-Cats.
November 3, 1909:
Ferenc Hepp is born in
Békés

, Hungary. "The Father of Hungarian Basketball" was an important administrator in European hoops. He died in 1980, and was elected to the Basketball Hall of Fame the next year.
*
November 3, 1918:
Robert William Andrew Feller is born in Van Meter, Iowa. Bob Feller debuted with the Cleveland Indians in 1936, right after high school graduation. He stayed through 1956, except for spending the entire 1942, '43 and '44 seasons, and most of '45, in the U.S. Navy during World War II. As he put it, "Anybody who says sports is war has never been in a war."
Even missing prime seasons, he won 266 games, including 3 no-hitters, and struck out 2,581 batters. His 348 strikeouts in 1948 were believed to be a major league record until Sandy Koufax got 382 in 1965 and Nolan Ryan got 383 in 1973. Later, it was discovered that Rube Waddell had not 343, but 349 in 1904, so Feller never actually held the record. But he was the 1st American League to strike out 17 in a game, and the 1st in either league to strike out 18.
He was a member of the Indians' 1948 World Champions and their 1954 Pennant winners. He was elected to the Hall of Fame in his 1st year of eligibility, and his Number 19 was the 1st one retired in all of Cleveland sports. A statue of him stands outside Progressive Field.
I met him at the Trenton Thunder's ballpark on June 6, 1994, as part of a 50th Anniversary commemoration of the D-Day invasion. He lived until 2010.
November 3, 1926, 90 years ago:
Two of the top players of the last decade -- in the case of one, of the last 2 decades -- resign as player-managers. George Sisler, arguably the greatest 1st baseman who has ever lived to this point, resigns as manager of the St. Louis Browns, but will remain a player. Dan Howley is named his replacement.
On the same day, Ty Cobb resigns as manager of the Detroit Tigers, and announces his retirement from baseball. Soon after, a 3rd legend retires as a player-manager, Tris Speaker of the Cleveland Indians.
Unlike Sisler, for whom everything seems to have been above-board, it soon came out that the Georgia Peach and the Grey Eagle were coerced into retirement because of allegations of game-fixing brought about by Dutch Leonard, a former pitcher managed by Cobb. Leonard claimed proof existed in letters written to him by Cobb and Smoky Joe Wood, the former ace pitcher and hero of the 1912 season before injury wrecked his career, who'd been Speaker's teammate on the Boston Red Sox and again with the Indians.
Commissioner Kenesaw Mountain Landis held a secret hearing with Cobb, Speaker and Wood. A second secret meeting among the AL directors led to the unpublicized resignations of Cobb and Speaker. Rumors of the scandal led Judge Landis to hold additional hearings, in which Leonard, interestingly, refused to participate. (Was he bought off? Or intimidated into silence? Or had he been lying all along, and did he realize that Landis, a former federal judge, would see through him?)
Cobb and Wood admitted to writing the letters, but claimed that a horse-racing bet was involved, and that Leonard's accusations were in retaliation for Cobb's having released him from the Tigers, thereby demoting him to the minor leagues. Speaker denied any wrongdoing.
On January 27, 1927, Judge Landis cleared Cobb and Speaker of any wrongdoing, because of Leonard's refusal to appear at the hearings. Landis allowed both Cobb and Speaker to return to their original teams, but each team let them know that they were free agents, and could sign with any club they wanted.
Speaker signed with the Washington Senators for 1927, and Cobb with the Philadelphia Athletics. Speaker then joined Cobb in Philadelphia for the 1928 season, the last in the majors for each of them. (Sisler played on until 1930.) Cobb said he had come back only to seek vindication, and to say that he left baseball on his own terms.
Cobb's replacement as Tiger manager was George Moriarty, a former Tiger infielder who was, until then, an American League umpire. He remains the only man to hold the positions of player, umpire, scout and manager in Major League Baseball. He will also become the grandfather of Michael Moriarty, who becomes an actor, best known for playing a baseball player in the film
Bang the Drum Slowly.
Speaker's successor in Cleveland is Jack McCallister, and having succeeded Speaker is about the only noteworthy thing about him.
November 3, 1928:
George Harry Yardley III is born in Hollywood, California, and goes to Stanford University, where he joins Phi Beta Kappa. Sounds like the beginnings of a lawyer. Or, perhaps, an engineer, which he did become after his basketball days were over.
But first, George Yardley was a basketball star, a 6-time NBA All-Star, reaching the NBA Finals with the Fort Wayne Pistons in 1955 and '56. He was with the Pistons when they moved to Detroit in 1957, and retired after the 1960 season, with the Syracuse Nationals, the 1st player to voluntarily retire after having scored at least 20 points per game in his last season. (Alex Groza was banned when his role in the 1951 point-shaving scandal came out, but Yardley willingly stepped aside at age 31.)
He made a brief comeback with the Los Angeles Jets in the 1961-62 American Basketball League. He was elected to the Basketball Hall of Fame in 1996. Sadly, he died from Lou Gehrig's disease in 2004.
*
November 3, 1933:
Michael Stanley Dukakis is born in Brookline, Massachusetts. He played baseball, basketball and tennis, and ran cross-country, at Brookline High School. He was elected Governor of Massachusetts in 1974, lost his bid for re-election in 1978, regained the office in 1982, and won again in 1986.
In 1988, the Democratic Party nominated him for President. It looked like he was going to win. At their Convention at the Omni arena in Atlanta, he said, "This election is not about ideology. This election is about competence!"
And then he ran one of the most incompetent general election campaigns ever, and Vice President George H.W. Bush made it about ideology, and Dukakis got just 45.6 percent of the popular vote, and 111 Electoral Votes -- no Democratic nominee has done nearly so poorly since. (Four years later, Bill Clinton would get 43 percent of the vote in a 3-way race, but every Democratic nominee since has gotten at least 227 EVs.)
"The Duke" did not run for Governor again in 1990. Now 83 years old, he has since been a college professor and an advocate for improved public transportation.
November 3, 1936, 80 years ago:
President Franklin D. Roosevelt defeats his Republican opponent, Governor Alfred M. Landon of Kansas, winning 46 out of 48 States, all but Vermont and Maine. He wins 523 Electoral Votes, Landon just 8.
Top 5 Reasons You Can't Blame Alf Landon for Losing 46 States in the 1936 Election
5. The Curse of Herbert Hoover.
The American people did not trust the Republican Party.
4. Landon's Supporters.
There were crazy people on the right wing back then, too, and they made the GOP look not like the bunch of moderates their big names claimed to be, and Landon actually was, but like a bunch who couldn't be trusted.
3. The Media.
The major newspaper chains were all Republican-owned, and behind Landon. And in an era when they were the entirety of the media, Landon might have been a great candidate. He was smart, honest, and understood that he served the public, not the other way around. But this was now the era of radio and newsreels. He wasn't well-suited to it. FDR was.
2. The Republican Field.
The GOP didn't have anyone else who could beat FDR, either. Most of their big guns who had been elected in the Congressional elections of 1918, '20, '24 and '28 had been beaten in the elections of 1922, '26, '30, '32 and '34.
1. Franklin Delano Roosevelt.
He was the master politician of his era, and his New Deal worked. Not perfectly, of course, but for the people for whom it did work, it was the difference between destitution and a living.
*
November 3, 1945:
Kenneth Dale Holtzman is born in St. Louis. Debuting with the Chicago Cubs in 1965, this Jewish lefthander was called "the new Sandy Koufax." In Koufax's 3rd-from-last regular-season appearance, on September 25, 1966, Holtzman's Cubs beat Koufax's Dodgers, 2-1.
He didn't become the new Koufax, but he did go 174-150 in his career -- more wins than Koufax, although Koufax's career ended early due to elbow trouble. Included were 2 no-hitters (half as many as Koufax), in 1969 and 1971. He still holds the record for most games won by a Jewish pitcher.
He was a 2-time All-Star. With the Oakland Athletics, he won the World Series in 1972, '73 and '74. In the 1974 Series, he hit a home run, something only 1 pitcher has done in Series play since (Joe Blanton of the 2008 Phillies). He also won a Pennant with the Yankees in 1976 and another World Series with them in 1977. He later became an insurance salesman, and is still alive.
Also on this day,

Gerhard Müller

is born in

Nördlingen, Bavaria, Germany

. A forward,

Gerd Müller was part of the Bayern Munich dynasty of the 1970s, leading the Bundesliga in scoring 7 times, winning 4 Bundesliga titles, 4 DFB-Pokals, and 3 straight European Cups in 1974, '75 and '76. He helped West Germany win Euro 1972 and the 1974 World Cup. The greatest of all German attacking soccer players is still alive, but suffering from Alzheimer's disease.
November 3, 1948: Rainer Zobel is born in Wrestedt, Lower Saxony, Germany. A midfielder, he helped Bayern Munich win 3 straight Bundesliga titles (winning the German league in 1972, '73 and '74) and 3 straight European Cups (1974, '75 and '76).
He went on to manage Bundesliga teams Stuttgarter Kickers, Kaiserslautern and Nuremberg, but is better known for managing in the Middle East, including with Egypt's leading team, Al Ahly of Cairo, and Iran's leading team, Persepolis of Tehran.
November 3, 1949: Larry Holmes (apparently, his entire name) is born in Easton, Pennsylvania. A sparring partner for both Muhammad Ali and Joe Frazier, he beat Ken Norton to be recognized as Heavyweight Champion of the World by the World Boxing Council in 1979. The WBC recognized Norton after Ali lost to Leon Spinks, because Spinks didn't have enough professional fights to qualify under their rules.
Holmes had already beaten Earnie Shavers on the way up in 1978. He beat Mike Weaver in 1979, and clobbered an aging and unprepared Ali in 1980. In 1981, he beat Spinks, Trevor Berbick and Renaldo Snipes. In 1982, he won thrillers over Gerry Cooney and Randall "Tex" Cobb -- the latter so nasty a fight that it led ABC's Howard Cosell, who was as good at broadcasting boxing as he was obnoxious in any other sport, to declare he would never broadcast another professional fight. (He kept that promise, although he did the amateur bouts at the 1984 Olympics.)
"The Easton Assassin" kept going, edging Tim Witherspoon, destroying Smokin' Joe's son Marvis Frazier, knocking out James "Bonecrusher" Smith and beating Carl "The Truth" Williams. He was 48-0, 1 win away from tying Rocky Maricano's record. Finally, Leon's brother, Michael Spinks, beat him twice, and then Mike Tyson floored him.
He foolishly kept going all the way until 2002, his final record being 69-6. Although he isn't as addled as some other boxers are at his age, I have, for years, noticed a slurring of his speech.
*
November 3, 1951: Dwight Michael Evans is born in the Los Angeles suburb of Santa Monica, California. The right fielder won 8 Gold Gloves for the Boston Red Sox, tied for the American League home run lead in the strike-shortened season of 1981, was a 3-time All-Star, and was a key member of the Sox' 1975 and 1986 Pennant winners.
Unfortunately for them, a beaning in 1978 left him with post-concussion syndrome, and he tried to come back too soon, and was practically useless down the stretch, to the point where the question of who would play left field, Carl Yastrzemski or Jim Rice, and who would play 1st base, Yaz or George Scott, was settled when Rice was moved over to right. "Dewey" did not play in the Playoff game against the Yankees.
He hit 385 home runs in his career -- 3 more than Rice, who's in the Hall of Fame, and was not known as a good fielder. So why isn't Evans in the Hall of Fame?
You want to hear something even dumber than that? When I first visited Boston, I came out of South Station, and saw a sign for "Dewey Square." Not realizing it was named for George Dewey, the naval hero of the Spanish-American War, my first thought was, "Wow, this city is so crazy about its baseball team, they named a square after Dwight Evans."
November 3, 1953: Baseball's rules committee restores the 1939 rule which says that a sacrifice fly is not charged as a time at bat.
Also' the committee votes for the "no gloves on the field rule." Hank Greenberg' who proposed the change' says, "Aside from the possibility of hindering the play' gloves on the field look sloppy." It also made it easy for opposing players to sneak creepy-crawly or otherwise disgusting things in the glove of an easily scared player, such as the Yankees' Phil Rizzuto.
The committee also makes a rule that any runner will be called out for deliberately running the bases backwards or even taking a lead off the base in the wrong direction.
A new balk rule is instituted which gives the batter an option: If he gets a hit after a balk is called' he has the option of accepting the outcome of the pitch' instead of being limited to the advance of the runner(s). This is the baseball equivalent of a football team that is the beneficiary of a penalty having the option to decline it, if the outcome of such is more advantageous to them than the outcome of the penalty.
Rule suggestions rejected include the re-legalization of the spitball' 2 bases for an intentional walk' and the option of declining ball 4.
Also on this day, Larry Darnell Herndon is born in Sunflower, Mississippi. In the 1984 World Series, he hit a home run to win Game 1 for the Detroit Tigers, and caught the last out in the clinching Game 5. In 1987, his home run on the last day of the regular season clinched the AL East for the Tigers. He later served as their hitting instructor.
November 3, 1954:
The Yankees tour Japan, and draw a record crowd of 64'000 when they play the 1st game against the All-Japan Stars in Osaka. Andy Carey slugs 13 home runs' and catching prospect Elston Howard bats .468 on the 25-game tour. Each has thoroughly impressed the Yankee brass, and both get promoted to the Yankees for 1955 -- in Howard's case, making him the 1st black player for the Yankees in a regular-season game.
November 3, 1955: Phillip Martin Simms is born in Springfield, Kentucky, and grows up in nearby Louisville. His first few years as the Giants' quarterback were as rough -- with results and the fans' reactions -- as Terry Bradshaw's with the Pittsburgh Steelers. But, like that earlier "Blond Bomber," he led his team to a Super Bowl. In Super Bowl XXI, he threw 25 passes and completed 22 of them, an 88 percent completion percentage that remains a record for the NFL championship game under any name.
He got the Giants to the 1990 NFC Championship Game, but was injured, and it was Jeff Hostetler who led them to victory there and in Super Bowl XXV -- an injury that did not cost him a 2nd ring, but may well have cost him, thus far, election to the Pro Football Hall of Fame.
He is now a color commentator of CBS' NFL broadcasts. His son Chris Simms went into both family businesses, quarterbacking for the University of Texas and the Denver Broncos, and analyzing for CBS; and his son Matt Simms was a quarterback at the University of Tennessee and is on the practice squad for the Atlanta Falcons.
November 3, 1956, 60 years ago: Robert Lynn Welch is born in Detroit. The 2-time All-Star pitcher had a fine career record of 211-146, and won the World Series with 3 different teams: As a pitcher for the 1978 Los Angeles Dodgers and the 1989 Oakland Athletics, and as the pitching coach of the 2001 Arizona Diamondbacks.
Although he won 27 games (tied for the most of any pitcher in the major leagues since 1968), the AL Cy Young Award and the Pennant in 1990, he is best remembered for the 1978 World Series. A rookie at the time, Welch was called on to close out Game 2, and struck out Reggie Jackson with the bases loaded. But Reggie got his revenge with a long home run in the clinching Game 6.
Welch was one of the first athletes to write a book telling of a battle with alcoholism, Five O'Clock Comes Early. He was a pitching coach in the A's organization in 2014, when he accidentally fell in his bathroom in his house in the Los Angeles suburb of Seal Beach, California, and, literally, broke his neck and died. He was 57.
November 3, 1960: The Veterans Memorial Coliseum opens in Portland, Oregon. From 1960 to 1984, it was the home of the basketball team at Portland State University. From 1960 to 1975, it was the home of the Western Hockey League's Portland Buckaroos. Since 1976, it has been the home of the WHL's Portland Winterhawks, noted for having the same Indian Head logo as the NHL's Chicago Blackhawks. In 1965, it hosted the NCAA Final Four, in which UCLA beat the University of Michigan for the title.
But it is best known as the 1st home of the NBA's Portland Trail Blazers, the 1st major league team ot call Oregon home. The Blazers arrived in 1970, and in the 1976-77 season, "Blazermania" took hold, as Bill Walton led them to the NBA Championship. They never played to another unsold seat at the arena.
That sounds amazing, until you consider that it only seated 12,888 people, too small for the growing league that was the 1980s NBA. Not until 1995 was it replaced, with the Rose Garden across the street. (Portland is "The Rose City.") That arena is now named the Moda Center. The Coliseum still stands, home to Winterhawks hockey and Blazers practices.
November 3, 1963: Ian Edward Wright is born in Woolwich, Southeast London. A son of Jamaican immigrants, he got off to a late start in his soccer career, not debuting in the Football League until 1985 with local club Crystal Palace. But he became one of the best strikers in England, and led them into the 1990 FA Cup Final, where they lost to Manchester United.
That got the attention of George Graham, the manager of Arsenal -- which also got their start in Woolwich, in 1886, before moving to Islington in North London in 1913. Wrighty helped Arsenal win the FA Cup and the League Cup in 1993 (England's 1st-ever "Cup Double"), the UEFA Cup Winners' Cup in 1994 (although he missed the Final due to yellow card accumulation), and the Double of the Premier League and the FA Cup in 1998 (again missing the Final, though he was in decline by this point).
He was one of the first English footballers to dance in celebration of his goals. He scored 185 of them for Arsenal, breaking the club record set by 1930s star Cliff Bastin, and has since been surpassed only by Thierry Henry.
He is now a pundit on BBC soccer broadcasts. His sons Bradley Wright-Phillips and Shaun Wright-Phillips both play for the New York Red Bulls.
*
November 3, 1964:
Philadelphia voters approve a bond issue raising $25 million to pay for a new stadium that will house both the Phillies and the Eagles. Due to cost overruns, a 1967 measure will be needed to authorize an additional $13 million, bringing the final price tag to approximately $50 million, making Veterans Stadium one of the most expensive ballparks ever built to that point. Various delays will keep The Vet from opening for 6 1/2 years, before it does so on April 10, 1971.
As bad as The Vet was in its last few years, it served its purpose: It saved the Phillies and Eagles from moving out of Philadelphia. Until then, the Phils were playing at Connie Mack Stadium, formerly named Shibe Park, which seated only 33,608 and was stuck in the North Philadelphia ghetto, which was just struck by a race riot the summer before the 1st bond issue, which certainly didn't help the atmosphere in the stands as the Phils lost 10 straight games to blow what looked like a sure Pennant.
And the Eagles were playing in Franklin Field, a much nicer stadium that seated 67,000 at the time, but was built in 1923 with absolutely straight grandstands, providing bad sightlines if the ball was at the other end of the field; no luxury boxes, and a poor lighting system.
Both teams needed a modern stadium, and, while the "cookie-cutter" trend got old in a hurry, and The Vet did as well, without it, the Phillies might, today, be in Denver or Seattle or Toronto, while the Eagles, instead of
almost moving to Phoenix, as they apparently were considering for the 1985 season
, due to owner Leonard Tose's financial woes, might have actually done so.
Also on this day, President Lyndon B. Johnson wins a full term over Senator Barry Goldwater of Arizona. LBJ wins 486 Electoral Votes to Goldwater's 52, and 61 percent of the popular vote, an all-time record. This was because Goldwater was seen as crazy, too far to the right, to the point where he only won his home State, Arizona (barely), and 5 Southern States due to LBJ having signed the Civil Rights Act of 1964 and Goldwater having opposed it (on, he said, constitutional grounds).
Top 5 Reasons You Can't Blame Barry Goldwater for Losing 44 States in the 1964 Election
5. The Curse of Herbert Hoover.
Hoover died a few days before the election, reminding voters of what happened the last time a man that conservative was nominated for President: The Great Depression.
4. Goldwater's Supporters.
Although he wasn't racist himself, he was an arch-conservative and an ardent anti-Communist, and had the support of the John Birch Society, the era's version of today's Tea Party lunatics who will believe any conspiracy theory. This made Goldwater look more conservative than he actually was.
3. The Cold War.
Goldwater thought it would be his winning card. Instead, it was Johnson's, and he projected strong, stable leadership, and cast Goldwater as the guy who might too easily go to a war that would be catastrophic even for the "winner." Which leads us to...
2. Lyndon Johnson.
He ran a great campaign, leaving nothing to chance, including the infamous commercial known as
The Daisy Spot
.
1. The Ghost of JFK.
Before John F. Kennedy was shot on November 22, 1963, a little less than a year before the election, he was popular, but not
that
popular. To the end of his life, Goldwater thought he could beat a living JFK in 1964. But in his memoir, he said that his chance at winning died when Kennedy did. LBJ wouldn't take JFK's brother and Attorney General Robert F. Kennedy as his running mate, but he did, essentially, make JFK his running mate, with the slogan, "Let Us Continue."
The Kennedy Administration might not have been "Camelot," as former First Lady Jacqueline Kennedy suggested in her one and only interview after the assassination, but it was like running against King Arthur: Goldwater had no chance against a martyred national hero.
*
November 3, 1965:
The Arizona Veterans Memorial Coliseum opens on the West Side of Phoenix, with a production of the Ice Follies. Like its namesake in Portland, it was the 1st home for major league sports in its State.
It was home to the NBA's Phoenix Suns from their debut in 1968 until 1992, and various minor league hockey teams, mostly named the Roadrunners, including the World Hockey Association version from 1974 to 1977. I find it interesting that Arizona's 1st "major league" hockey team was called the Roadrunners, and its current team is called the Coyotes. "Meep meep!"
The arena now known as the Talking Stick Resort Arena opened in downtown Phoenix in 1992, and the Suns moved in. As late as 2001, despite the 1997 arrival of the Coyotes, the Coliseum still hosted minor-league hockey. It still stands, and is mostly used for concerts now.
November 3, 1968:
Cardinals broadcaster Harry Caray is struck by a car while crossing a street in St. Louis. Both of his legs are broken' as are his nose and one of his shoulders.
He recovers, but while he does, it is revealed that he was having an affair with Susan Busch, the wife of Augie Busch, the son of Cardinal owner Gussie Busch. Harry never denied it, only saying, "I never raped anybody" -- essentially admitting it and calling Susan Busch a slut. (Augie would divorce her and marry Virginia, a lawyer. He has 2 children with each wife.)
Gussie fires Harry, and Harry heads to Chicago, and burnishes his already-potent legend by broadcasting for first the White Sox, then the Cubs. Today, it's hard to imagine Harry with any team but the Cubs, or to imagine anyone else as the voice of the Cardinals other than Jack Buck.
Also on this day, Paul Quantrill is born in London, Ontario. One of the few Canadian-born players to play for one of MLB's Canada-based teams, the relief pitcher was a Toronto Blue Jay from 1996 to 2001, and was an All-Star in the last of those years.
In 2004, he pitched for the Yankees, and, with Tom Gordon and Mariano Rivera, was part of the bullpen sequence that got nicknamed "QuanGorMo." But manager Joe Torre overused him in the regular season, and he did not pitch well in the Playoffs. He retired after the following season, with a record of 68-78. He now works in the Blue Jays' organization, and his son Cal Quantrill spent this past season in short-season A-ball in the organization of the last team for whom his father pitched. the San Diego Padres.
November 3, 1970:
The Phillies trade Curt Flood to the Washington Senators for 3 minor league players. The embattled outfielder had refused to go to Philadelphia after his 1969 trade from the Cardinals, saying that he was not a piece of property to be sold, becoming the first player to seriously challenge the reserve cause. He would quickly wash out with the Senators, unable to shake off the rust from missing the entire 1970 season.
November 3, 1971: Dwight Eversley Yorke is born in Canaan, Tobago. He helped Trinidad & Tobago win the 1989 Caribbean Cup at age 17, and played for his country in the 2006 World Cup at age 34. He won the League Cup with Birmingham-based Aston Vila in 1994 and 1996. With Manchester United, he won the Premier League in 1999, 2000 and 2001, also winning the FA Cup and the UEFA Champions League in 1999, England's only "European Treble." With Sydney FC, he won the 2006 A-League title.
His brother Clint Yorke was a renowned cricket player in the West Indies. Dwight famously had a contentious relationship with model Katie Price, a.k.a. Jordan, and they have a son, Harvey, a special-needs child.
Also on this day, Unai Emery Extegoien is born in Hondarribia, in northeastern Spain's Basque Country, near the border with France. The son, nephew and grandson of pro soccer players, his own playing career didn't amount to much more than theirs. But as a manager, he won the last 3 straight UEFA Europa League titles with Sevilla. This led to his being hired by Paris Saint-Germain, in their bid to retain the Ligue 1 (French league) title and win the UEFA Champions League.
November 3, 1981: Jermaine Junior Jones is born in Frankfurt am Main, Hesse, Germany. The son of a German mother and a U.S. Army soldier stationed in Frankfurt, he grew up in his father's hometown of Chicago, before his parents divorced, and his mother took him back to Frankfurt.
A midfielder, he played in Germany for hometown club Entracht Frankfurt, Bayer Leverkusen and Schalke, in England for Blackburn Rovers, and in America for the New England Revolution and the Colorado Rapids. (UPDATE: The Rapids have since traded him to the Los Angeles Galaxy.)
In 2009, having not yet chosen to play for Germany or America, he was eligible to play for either. He chose the U.S., and FIFA cleared him, opening the door for him to play for us in the 2010 World Cup. But an injury ruled him out, and he didn't make his senior U.S. debut until October 2010. He has since played for the U.S. in the 2011 CONCACAF Gold Cup, the 2014 World Cup and the
2016

Copa América.
November 3, 1985: Andrew Tyler Hansbrough is born in Columbia, Missouri, and grows up in Poplar Bluff, Missouri. In 2006, the University of North Carolina forward, who dropped his first name, became the 1st (and remains the only) Atlantic Coast Conference player to be named a First Team All-American as a freshman. In 2009, he led the Tar Heels to the National Championship. His Number 50 was retired.
Tyler Hansbrough's pro career hasn't been nearly as successful. He played on the Indiana Pacers, including briefly with his brother Ben. (Another brother, Greg, is a marathon runner.) He played last season with the Charlotte Hornets, and is now a free agent.
November 3, 1987: Colin Rand Kaepernick is born in Milwaukee, and grows up in Turlock, in California's Central Valley. In the 2012 season, he quarterbacked the San Francisco 49ers to the NFC Championship, but lost Super Bowl XLVII to the Baltimore Ravens. He has not been as successful since, and has lost his starting job to Blaine Gabbert.
He is better known for things that have nothing to do with his on-field performance. In the 2012 season, he began kissing his biceps, which became known as "Kaepernicking." But this season, he began kneeling on the sideline during the playing of the National Anthem, in protest of the many recent cases of police brutality. This has earned him a bit of praise, and also a lot of nasty blowback from racists.
I'd like the 49ers to win this season's Super Bowl. Not because I have any connection to them or to San Francisco (I don't), but because I want to hear his postgame speech.
November 3, 1989:
The NBA's expansion Minnesota Timberwolves play their 1st game. They lose 104-96 to the Seattle SuperSonics at Seattle Center Coliseum. Tyrone Corbin leads the T-Wolves with 20 points, while Dale Ellis of the Sonics leads all scorers with 33.
Also on this day, East Brunswick High School defeats Madison Central of Old Bridge, 10-9 at Jay Doyle Field in East Brunswick. (EB is my alma mater, and I was there for this one.) This ends Madison's 24-game winning streak. They'd beaten EB 33-0 in the 1987 Playoffs, 55-3 in the 1988 regular season, and 31-7 in the 1988 Playoffs. It is the biggest upset in EB's 56-year football history.
*
November 3, 1991, 25 years ago:
The Vancouver Canucks retire the Number 12 of Stan Smyl, a.k.a. the Stanley Steamer. They beat the Edmonton Oilers 7-2 at the Pacific Coliseum.
November 3, 1992: The Yankees trade center fielder Roberto Kelly and 1st baseman Joe DeBerry to the Cincinnati Reds, in exchange for right fielder Paul O'Neill.
At the time, I thought this was a great trade for both teams. O'Neill was a good hitter and a good fielder, who had done well in Cincinnati, playing for an equally fiery right fielder, his manager, Yankee Legend Lou Piniella. (Sweet Lou doesn't have his Number 14 retired or a Plaque in Monument Park, but he helped the Yankees win 4 Pennants and the YES Network gave him a Yankeeography, so I'm calling him a Yankee Legend -- capital Y, capital L.) Playing in Yankee Stadium, with the short porch in right field, I figured O'Neill would hit more home runs than in the more neutral confines of Riverfront Stadium, and that Yankee Fans would love his intense personality.
I was right on both counts, as Paulie was our right fielder for the next 9 years, effectively taking the spot that many fans thought that Jay Buhner should have still had. In those 9 years, the Yankees made the Playoffs 7 times, winning 5 Pennants and 4 World Series. (He also won the Series with the Reds in 1990.) Although his Number 21 hasn't been officially retired, it's hardly been given out since.
Last season, he got his Monument Park Plaque.
Jay Buhner for Ken Phelps has been mocked as a lousy trade. Think of it, instead, as Jay Buhner for Paul O'Neill: 5 Pennants for New York, none for Seattle.
I also figured that Kelly, a native of Panama and an All-Star in 1992, would find the Reds a better fit. He'd been held back by being a righthanded hitter in Yankee Stadium, where left-center and center fields, while not as pronounced as in the pre-renovation era, was known as Death Valley. Riverfront was not only friendlier to righthanders, but had artificial turf, accommodating his speed. I thought the Reds were getting a great player.
As it turned out, I was wrong on this count. Although he made another All-Star Team with the Reds in 1993, injuries plagued him, and while he was on postseason teams with the 1995 Los Angeles Dodgers, the 1997 Seattle Mariners, and the 1998 and 1999 Texas Rangers, he never played on a Pennant winner. In 2000, the Yankees brought him back, but released him in April, and he never played in the majors again.
A sad story? Not so fast. He managed in the minor leagues, and since 2008, he has been the 1st base coach and hitting instructor for the San Francisco Giants. With them, he now has 3 World Series rings, only 2 fewer than O'Neilly. Also on manager Bruce Bochy's staff are forer Yankees Dave Righetti Hensley "Bam Bam" Meulens and Joe Lefebvre. How about that?
Not that this gives the Reds any comfort: They still haven't won a Pennant, or even a National League Championship Series game, since 1990. "Curse of Paul O'Neill," Ohio Valley?
On the same day, Governor Bill Clinton of Arkansas is elected President of the United States, defeating incumbent President George H.W. Bush. It was a very nasty campaign (or so it seemed by the standards of the time), but, since leaving the White House after 2 terms, Bill has worked with both George Bushes on disaster relief. This built an odd friendship, to the point where both prefer Bill's wife Hillary for President this time -- though that could also be due to how Donald Trump treated Jeb Bush in this year's campaign.
To this day, many conservatives blame computer billionaire H. Ross Perot and his 3rd party campaign for throwing the election to Clinton. This is a stupid idea.
Top 5 Reasons You Can't Blame Ross Perot for George H.W. Bush Losing the 1992 Election
5. The Republican Convention.
We didn't call them "The Tea Party" back then, but the birth of the current crazy-conservative movement was at the Astrodome in that mid-August, highlighted (or should that be, "lowlighted"?) by Pat Buchanan, the newspaper columnist, conservative TV pundit, and former aide to Presidents Richard Nixon, Gerald Ford and Ronald Reagan completing his 1st run for President with an incredibly nasty speech. He declared, in his own words, "religious war," and closed by saying, "Take back our streets, take back our culture, and take back our country!" Sound familiar?
There was enough anti-single mother and anti-gay rights rhetoric to satisfy Buchanan's delegates, and to make Congressman Rick Santorum of Pennsylvania a Senator 2 years later and a viable Presidential candidate 20 years later. And there was enough sexism in general to make Donald Trump think, "Hey, I could be the Republican nominee for President someday."
All this made Bush, a center-right candidate and a centrist President, look like the leader of a party of far-right fanatics, hurting him in ways in which, unlike Barry Goldwater 28 years earlier, he wasn't hurting himself; but, like Goldwater, his supporters made him look more extreme than he really was.
4. George Bush.
He ran a lousy campaign. It wasn't just that he was so desperate to keep conservatives in the fold that he ran with some really ridiculous conspiracy theories against Clinton. By the last couple of weeks, he looked really tired in his speeches. He looked like he wanted to be anywhere but at his appearances. The look on his face said, "When can I get outta here, and go back to my boat in Kennebunkport? I want to stay President, but not if this is the price I have to pay."
3. Bill Clinton.
He ran a great campaign. He is the most natural politician the Democratic Party has had since Franklin Roosevelt -- even more so than Barack Obama.
2. It's the Economy, Stupid.
That was the Clinton campaign slogan thought up by campaign manager James Carville, and it worked. Trickle-down economics is a disaster every time it's tried, and the bill for the excesses of the 1980s had come due.
1. Perot Didn't Matter.
Exit polls taken on Election Night showed that about half of Perot's voters wouldn't have voted at all, and the other half were pretty much evenly split between Bush and Clinton. Perot finished 2nd in 2 States: Utah, ahead of Clinton; and, surprisingly, Maine, ahead of Bush, who had a home there.
It is possible that Perot siphoned off enough conservative (or, at least, non-liberal) votes to throw the following States to Clinton: Georgia, Kentucky, Montana, Nevada, New Hampshire, possibly New Jersey, and Ohio. That's a shift of 68 Electoral Votes, which would have turned a 370-168 Clinton win into a 302-236 Clinton win. And it could be just as easily argued that Perot siphoned enough votes to swing Arizona, Florida, North Carolina, South Dakota and Texas to Bush. That's 82 EVs: Clinton could have won 452-86.
*
November 3, 1993:
Cleveland pitcher Cliff Young is killed in a truck crash in Willis' Texas. He is only 29. He is the 3rd Indians pitcher to die this year, following Steve Olin and Tim Crews in the spring training boating accident that also badly injured ex-Met Bob Ojeda.
November 3, 1995:
The NBA's expansion Toronto Raptors play their 1st game. Unlike the Timberwolves, their debut is at home and a win. They beat the New Jersey Nets, 94-79. Alvin Robertson scores 30 for the Raps, the only major league sports team ever named for a dinosaur.
November 3, 1996, 20 years ago:
Kobe Bryant makes his NBA debut at The Forum in Inglewood, California. Just 18 years old, and the 2nd-youngest player in NBA history to that point, the son of former Philadelphia 76er Joe "Jellybean" Bryant plays just 6 minutes and does not score, nor does he record any assists, and just 1 rebound.
He does, however, play on the winning side: Shaquille O'Neal, the former Orlando Magic star also playing his 1st game for the Lakers, drops 35 points on the Timberwolves, and the Lakers win 91-85.
November 3, 2001:
The Arizona Diamondbacks even the World Series at 3 games apiece with a 15-2 win over the Yankees in Game 6. Randy Johnson gets the win for Arizona, while Danny Bautista drives in 5 runs. Arizona knocks out a Series-record 22 hits' and scores 8 runs in the 3rd inning, knocking Andy Pettitte out of the box.
November 3, 2004:
The Mets name Yankee coach Willie Randolph, who grew up in Brooklyn as a Met fan, as their new manager. The Phillies name Charlie Manuel as their new manager. One of these moves will work out only so well, and no more. The other will work out very, very well.
On this same day, Sergei Zholtok dies. He played for several team in his NHL career, most recently the Nashville Predators, and had gone back to his native Latvia to play during the NHL lockout. He suffers a heart attack while playing for Riga 2000 against Dinamo Minsk of Belarus, in Minsk. He was only 31.
November 3, 2007: Having coached 1,499 NHL games, including 4 straight Stanley Cups with the New York Islanders from 1980 to 1983, Al Arbour returns to coach his 1,500th game, at the request of Islanders coach Ted Nolan, At age 75, he became the oldest man ever to coach an NHL game. The Islanders beat the Pittsburgh Penguins 3–2, giving Arbour his 740th win.
The 739-win banner honoring him was brought down from the Nassau Coliseum rafters, and was replaced with one with the number 1500.
November 3, 2012:
The Nets make their Brooklyn debut, a little delayed due to Hurricane Sandy. The opponents are the Toronto Raptors, who played their 1st game at home to the Nets, 17 years to the day before.
This time, the Nets announce their freakin' presence with authority. Despite 28 points from the Raps' Kyle Lowry, the Nets win 107-100, led by 27 points from Brook Lopez. Attendance: 17,732.
UPDATE: November 3, 2020 may turn out to be the most important day in American history -- if Donald Trump is still in office by then.