The New York Jets visit the Houston Texans next Sunday at 1:00 PM Eastern Time.
Before You Go.
Most Americans hear "bayou" and think "Louisiana." But Houston is known as, among other things, the Bayou City. It can get hot, it can get humid, and it gets a lot of rain. Why do you think the world's 1st indoor stadium designed for baseball and football was built there? So while the Texans play in a stadium with a retractable roof, the weather could still be a factor.
The
Houston Chronicle
is predicting daytime temperatures in the high 60s, and nighttime temperatures in the low 50s, plus clouds, but probably now rain. A light jacket might be a good idea for the evening, but you won't need it for the game.
Houston is in the Central Time Zone, so you'll be an hour behind New York time. Although Texas is a former Confederate State, you will not need your passport, and you won't need to change your money.
Tickets.
The Texans are averaging 71,714 fans per game this season, slightly under their figure for last season, nearly a sellout. Being the NFL's newest team (whether you count moved teams as "new" or not), they don't having much of a tradition. But getting tickets may still be tough.
Seats in the lower level, the 100 sections, are $152 on the sidelines and $99 in the end zone. Seats in the upper level, the 600 sections, are $78 and $49. Every level in between is club seating, and prohibitively expensive.
Getting There.
It's 1,665 miles from Times Square in New York to downtown Houston, and 1,668 miles from MetLife Stadium to NRG Stadium. You're probably thinking that you should be flying.
The good news: Flying to Houston can be done for as little as $353. Considering how far it is, that is a bargain. The bad news: Your flight won't be nonstop: You'll have to change planes in either Dallas, Chicago or Charlotte to get to Houston George Bush Intercontinental Airport. (That's named for the father, not the son.) Bus 102 will get you from the airport to downtown in an hour and 20 minutes.
There are 2 ways to get there by train. One is to change trains in Chicago, and then change to a bus in Longview, Texas. The other is to change trains twice, in Washington and New Orleans, and then stay overnight in New Orleans. No, I'm not making that up. You don't want that -- and don't be fooled by the fact that Houston's Union Station and the ballpark are next-door to each other, because Amtrak uses a different station a mile away, at 902 Washington Street. Round-trip fare is $544, and that could be more than by flying. Maybe we should just forget Amtrak, and move on.
Greyhound has 8 runs a day from Port Authority Bus Terminal to Houston, averaging 42 hours, and requiring you to change buses in Atlanta and New Orleans. It's $491 round-trip, but it can drop to $392 with advanced purchase -- in other words,
flying could be less
. The Houston Greyhound station is at 2121 Main Street, a mile from the arena.
If you actually think it's worth it to drive, get someone to go with you so you'll have someone to talk to and one of you can drive while the other sleeps. You'll be taking Interstate 78 across New Jersey and into Pennsylvania to Harrisburg, where you'll pick up Interstate 81 and take that through the narrow panhandles of Maryland and West Virginia, down the Appalachian spine of Virginia and into Tennessee, where you'll pick up Interstate 40, stay on that briefly until you reach Interstate 75, and take that until you reach Interstate 59, which will take you into Georgia briefly and then across Alabama and Mississippi, and into Louisiana, where you take Interstate 12 west outside New Orleans. Take that until you reach Interstate 10. Once in Texas, Exit 770 will get you to downtown Houston.
If you do it right, you should spend about an hour and a half in New Jersey, 3 hours in Pennsylvania, 15 minutes in Maryland, half an hour in West Virginia, 5 and a half hours in Virginia, 3 hours and 45 minutes in Tennessee, half an hour in Georgia, 4 hours in Alabama, 2 hours and 45 minutes in Mississippi, 4 hours and 30 minutes in Louisiana and 2 hours in Texas. Including rest stops, and accounting for traffic, we're talking about a 40-hour trip.
Even if you're only going for one game, no matter how you got there, get a hotel and spend a night. You'll be exhausted otherwise. Trust me, I know: Trains and buses are not good ways to get sleep.
Once In the City.
Houston was founded in 1836 as Allen's Landing, and was renamed for Sam Houston, "the Father of Texas." There are 2.2 million people in the city proper, making it the 4th-largest in America, and 6.3 million in the metropolitan area, making it 5th. But with multiple teams, it's only the 10th-largest market in the NBA, and the 7th-largest in MLB and the NFL.
The weather in Houston is
so
bad! (How bad
is
it?) A "bayou" (BYE-yoo) is a body of water, typically found in a flat, low-lying area, and can be either an extremely slow-moving stream or river, often with a poorly-defined shoreline, or a marshy lake or wetland. And Houston is known as the Bayou City.
When people talk about "the bayou," they usually mean Louisiana. But Southeast Texas is also bayou country, and it frequently leaves Houston hot, humid and muggy. It's a breeding ground for mosquitoes. The Astrodome had to be built not just to promote Houston, or to protect people from the heat, but to protect them from the bugs. Sandy Koufax of the Los Angeles Dodgers said, "Some of those mosquitoes are twin-engine jobs."
Fortunately, just as there's an overhead walkway system in Minneapolis, and an "Underground City" in Montreal, in their cases to protect pedestrians from their cities' notoriously cold Winter, there is a "Houston Tunnel System," begun in the 1930s, and inspired by New York itself, by the system under Rockefeller Center. Regardless of how much this may help, remember to stay hydrated.
The sales tax in the State of Texas is 6.25 percent, but in the City of Houston it goes up to 8.25 percent. The city doesn't appear to have a "centerpoint," where the address numbers start at 1, but there is a Main Street, running northeast/southwest. ZIP Codes in the Houston area start with the digits 77. The Area Codes are 713, with 281, 346 and 832 as overlays.
Houston has not 1, not 2, but 3 beltways: Interstate 610, a.k.a. the Inner Loop; Beltway 8, a.k.a. the Sam Houston Tollway; and State Highway 99, a.k.a. the Grand Parkway.
There is a light rail system, called METRORail, but you probably won't need it to get from a downtown hotel to the arena. One zone is $1.25, and the price rises to $4.50 for 4 zones, so a daypass is a better bargain at $3.00.
Going In.
In 1965, the Astrodome opened, and was nicknamed "The Eighth Wonder of the World." It sure didn't seem like an exaggeration: The first roofed sports stadium in the world. (Supposedly, the Romans built stadia with canvas roofs, but that's hardly the same thing.) The Astros played there until 1999, and then moved into Enron Field/Minute Maid Park for the 2000 season. The AFL/NFL's Oilers played at the Astrodome from 1968 to 1996, when, with the "Luv Ya Blue" days long over and the "House of Pain" era already concluded, they moved to Tennessee to become the Titans. And the USFL's Gamblers played there in 1984 and 1985.
In 2002, the new NFL team, the Houston Texans, began play next-door to the Astrodome, just to the west, at Reliant Stadium, now named NRG Stadium for the Houston-based energy company. Like Minute Maid Park, it has a retractable roof. Suddenly, the mostly-vacant Astrodome seemed, as one writer put it, like a relic of a future that never came to be. (This same writer said the same thing of Shea Stadium and, across Roosevelt Avenue, the surviving structures of the 1964 World's Fair.)
Photo taken in the leadup to Super Bowl XXXVIII in 2004.
As you can see, the new stadium dwarfs the old one.
The NRG complex, including the Astrodome, is at 8400 Kirby Drive at Reliant Parkway -- about 9 miles southwest of downtown -- although the stadium's official address is One Reliant Park. Reliant Park station on METRORail.
Once, the Astrodome was flashy enough to be the site of movies like The Bad News Bears in Breaking Training and Murder at the World Series. (Both were released in 1977. In the latter, the Astros, who had never yet gotten close to a Pennant, played the Series against the Oakland Athletics, who had just gotten fire-sold by owner Charlie Finley.)
The Astrodome also hosted the legendary 1968 college basketball game between Number 1 UCLA (with Kareem Abdul-Jabbar, then still Lew Alcindor) and Number 2 University of Houston (whose Elvin Hayes led them to victory, before UCLA got revenge in that year's Final Four); the 1971 NCAA Final Four, with UCLA defeating Villanova in the Final; and the cheese-tastic 1973 tennis match between Billie Jean King and Bobby Riggs, the "Battle of the Sexes."
The Astrodome hosted 3 fights for the Heavyweight Champion of the World, with the defending Champion winning all 3 by knockout: Muhammad Ali over Cleveland Williams on November 14, 1966; Ali over Ernie Terrell on February 6, 1967; and Larry Holmes over Randall "Tex" Cobb on November 26, 1982.
Elvis Presley sang there on February 27, 28 and March 1, 1970 and on March 3, 1974. It hosted Selena's last big concert before her murder in 1995, and when Jennifer Lopez starred in the film Selena, it was used for the re-creation. In 2004, the same year NRG (then Reliant) Stadium hosted the Super Bowl (which was won by... Janet Jackson, I think), the Astrodome was used to film a high school football playoff for the film version of Friday Night Lights; the old Astros division title banners can be clearly seen.
Today, though, the Astrodome seems, like the Republican Party that held a ridiculously bigoted Convention there in 1992, stuck in the past, and not just because they renominated failed President George H.W. Bush. The former Eighth Wonder of the World is now nicknamed the Lonely Landmark, and while it served as a shelter for people displaced from New Orleans by Hurricane Katrina in 2005, since 2008, when it was hit with numerous code violations, only maintenance workers and security guards have been allowed to enter.
The stadium's future is not clear: Some officials are worried that demolishing it would damage the new stadium and other nearby structures.
UPDATE: On February 13, 2018, the Harris County Commissioners, the Dome's overseers, approved the Astrodome Revitalization Project, which will raise the stadium's floor and use the space underneath as a huge parking garage. Construction is expected to be completed sometime in 2020.
NRG Stadium was built roughly on the site of Colt Stadium, which was the baseball team's home in their first 3 seasons, 1962, '63 and '64, when they were known as the Houston Colt .45's (spelled with the apostrophe), before moving into the dome and changing the name of the team. Astrohall, built in 1971, was torn down in 2002 to make way for parking for the new stadium (which, after all, was built on Astrodome parking).
The climate-controlled Astrodome was necessary because of not just the heat and the humidity, but because of the mosquitoes.
Later, seeing the artificial turf that was laid in the Astrodome for 1966 after the grass died in the first season, due to the skylights in the dome having to be painted due to the players losing the ball in the sun, Koufax, he of the mosquito quip, said, "I was one of those guys who pitched without a cup. I wouldn't do it on this stuff. And Dick Allen of the Philadelphia Phillies, looking at the first artificial field in baseball history, said, "If a horse can't eat it, I don't want to play on it."
The Astrodome hosted a 1988 match between the national soccer teams of the U.S. and Ecuador, which Ecuador won. NRG Stadium has hosted 2 such matches, a 2008 draw with Mexico and a 2011 win over Panama. The Mexico team has made it a home-away-from-home, playing 10 matches there between 2003 and 2013. The stadium hosted the 2010 MLS All-Star Game, in which a team of MLS players lost to Manchester United.
NRG Stadium hosts the annual Texas Bowl, which more or less replaced the Bluebonnet Bowl, formerly an Astrodome fixture. It hosted the Final Four in 2011, when Connecticut beat Butler in the Final. It will host it again in 2016, and will host Super Bowl LI in 2017. (UPDATE: It will host the 2023-24 College Football National Championship Game.)
Since the Astrodome is to the east of NRG Stadium, that's the side of the stadium on which you are least likely to enter. If you come in from METRORail, you will have a half-mile walk west on Reliant Parkway, and you will most likely enter from the north gate. And I recommend METRORail, because parking is a whopping $33.
Tailgating is permitted, within the rules as spelled out on the Texans' website.
The field is is artificial, despite the retractable roof, and is laid out north-to-south, like most football fields, even though closing the roof makes this due-to-the-sun setup unnecessary.
Built to function as an intimate indoor arena but have the feel of the open air, the stadium rocks open-to-the-field concourses... Two colossal, 50-feet-by-277-feet HD screens sit pretty above each end zone, pumping up a crowd that admittedly plays home to a mixed bag of NFL fans (is anyone actually from Houston?). You'll find the loudest home-team crew in the "Bull Pen," a raucous bleacher section behind the north end zone.
Food. Being a "Wild West" city, you might expect Houston to have Western-themed stands with "real American food" at its ballpark. Being a Southern State, you might also expect to have barbecue. And you would be right on both counts.
Unfortunately, a major feature of NRG Stadium concessions is Papa John's Pizza. I understand Texas not caring that Papa John is a bastard to his employees, but they should at least care enough not to promote Peyton Manning, an AFC South Division rival quarterback!
They also have several stands each for Quizno Subs, Menchie's Frozen Yogurt, 5 Star Dogs (hot dogs), and a few other chains whose logos I can't quite make out on
their map
.
Team History Displays.
The Texans were founded in 2002. Barring a move in the next few years, they will remain, by any way you measure it, the NFL's newest team. So there isn't much history to display: A pair of AFC South title banners, and no players even remotely good enough to get their uniform numbers retired or be elected to the Pro Football Hall of Fame, nor named to the NFL Network's 2010 broadcast of its 100 Greatest Players -- not even a washed-up star returning home to close out his career.
Houston's pro football history is wrapped up in the Oilers and the USFL's Gamblers. George Blanda, Charlie Hennigan, George Webster, Miller Farr and Bob Talamini were named to the AFL's All-Time Team. Ken Houston and Billy "White Shoes" Johnson were named to the NFL's 75th Anniversary Team in 1994. Blanda, Houston and Earl Campbell were named to The Sporting News' 100 Greatest Football Players in 1999. Campbell and Bruce Matthews were named to the aforementioned NFL Network's 100 Greatest Players.
Stuff.
The Go Texans Store is in the southeastern corner of the stadium. The usual NFL fan gear can be found there. Since this is Texas, you might find cowboy hats, boots or belt buckles with the Texans logo on them.
As the NFL's newest team, books about the Texans are few and far between. Museum of Fine Harts Houston curator Anne Wilkes Tucker and legendary Houston sportswriter (first for the defunct Houston Post, now for the Chronicle) Mickey Herskowitz collaborated on First Down, Houston: The Birth of an NFL Franchise in 2002 and '03. Other than that, probably the best you can get is The Story of the Houston Texans by Gordon Pueschner, which came out in time for the 2009 season, thus missing the closest thing the Texans have yet had to "glory days."
As far team videos, you're out of luck: No Super Bowl win means no commemorative highlight video of either the game or the season; and, being a franchise whose last anniversary was their 10th, and whose greatest moment to date is a pair of wins in the Wild Card round of the Playoffs, an anniversary DVD would, for the moment, be a bit silly.
During the Game.
A recent
Thrillist
article on "
The Most Obnoxious Fans In the NFL
" ranked Texans fans 27th -- that is, the 6th-least obnoxious. I guess when you've only been around for 14 seasons, and the closest opposing team (the Dallas Cowboys) isn't a Division opponent, and you haven't had a shocking Playoff moment (in your favor or not), it doesn't bring up much nastiness.
UPDATE:
From September 1 to 7, 2017, during the NFL National Anthem protest controversy,
FiveThirtyEight.com
polled fans of the 32 NFL teams, to see where they leaned politically. Texans fans were said to be 5 percent more conservative than liberal, 2nd only to Tampa Bay.
If you were wearing Dallas Cowboy gear, or gear of the ex-Oilers, now the Tennessee Titans (who
are
an AFC South opponent), to a Houston Texans game, you might be in trouble. But Texans fans aren't especially hostile to New Yorkers, so safety won't be an issue.
The Texans' mascot is Toro the Bull. The Texans hold auditions instead of having a regular National Anthem singer. Their pregame introduction song is "Thunderstruck" by AC/DC. Their theme song is "It's Football Time In Houston" by country-signing native Clay Walker, their fight song is "Battle Red," their defense's theme song is "Bulls On Parade" by Rage Against the Machine (I'll bet that leftist band goes over
really
well in rural Texas), and an unofficial rap song titled "Houston" was recorded by locals Slim Thug, Paul Wall and ZRo, getting over 1 million YouTube views. But the team does not appear to have a postgame victory song.
The north end zone is the home of the Bull Pen, an attempt to mimic student sections at college football games. (I'd suggest soccer "ultras," but, in spite of back-to-back MLS Cups by the Dynamo, Houstonians might not get the reference.) They shout their players' last names during team introductions, shout, "Houston... Texans!" after each first down, and even have their own Pep Band. I guess, when (to borrow a saying from English soccer) "You ain't got no history," you come up with your own traditions.
After the Game.
Houston is a comparatively low-crime city, and as long as you behave yourself, the home fans will probably behave themselves, win or lose.
There's a Starbucks at NRG Center, the convention center, to the northeast of the stadium. Other than that, the closest restaurants are a Denny's at Main Street and South Loop West Freeway (the service road for Houston's beltway, Interstate 610), and, where Old Spanish Trail splits from Main Street, an Olive Garden, a Chipotle and a Sonic.
Lucky's Pub appears to be the go-to bar for New Yorkers living in the Houston area. It is at 801 St. Emanuel Street at Rusk Street, a 12-minute walk from the United Center, adjacent to BBVA Compass Stadium, the new home of MLS' Houston Dynamo. I've also heard that Twin Peaks is a Giant fans' bar, at 4527 Lomitas Avenue, about 4 miles southwest of downtown, Bus 041; and that Stadia Sports Grill is a Jet fans' bar, at 11200 Broadway Street in Pearland, 16 miles south of downtown, and unreachable by public transportation.

If your visit to Houston is during the European soccer season (which we are now in), and you want to watch your favorite club play, the best place to do so, because of its early opening, is BarMunich, 2616 Louisiana Street at Dennis Street, just south of downtown. Light Rail to McGowen.
Sidelights.
Houston's sports history is pretty much wrapped up in the decaying corpse of the Astrodome, whose history I've already discussed. But there are other sites worth mentioning.
UPDATE:
On February 3, 2017, Thrillist made a list ranking the 30 NFL cities
(New York and Los Angeles each having 2 teams), and
Houston came in 16th, just on the bottom side of the halfway mark. They wrote:
If you're going to eat meat, be it steak or ribs or burgers or kolaches filled with sausage, there is nary a better city in this country to get down in. If you're going to sit in traffic in the worst humidity I've ever experienced outside of a rainforest (I went to a rainforest once, NBD) in a city that would give LA a run for its money in sprawl, Houston is also very good at that.
* Minute Maid Park. The new home of the Astros opened in 2000, at 501 Crawford Street, attached to Union Station. The Astros were able to play on God's own grass for the 1st time since 1965, and under God's own sky for the 1st time since 1964. They have now reached the postseason there 4 times: The 2001 National League Division Series, the 2004 NL Championship Series, the 2005 World Series, and the 2015 American League Division Series. Preston Station on METRORail.
* Site of Sam Houston Coliseum. The Houston Aeros, with Gordie Howe and his sons Mark and Marty, won the World Hockey Association championships of 1974 and 1975, while playing here, before moving into the Summit in 1975 and folding in 1978. Elvis sang there on October 13, 1956, and the Beatles played there on August 19, 1965. It was built in 1937 and demolished in 1998.
It replaced Sam Houston Hall, where the 1928 Democratic Convention nominated Governor Alfred E. Smith of New York, who thus became the 1st Catholic nominated for President by a major party.
The Hobby Center for the Performing Arts is now on the site. 801 Bagby Street, at Rusk Street, downtown.
With even the minor-league Aeros gone, the closest NHL team to Houston is the Dallas Stars, 242 miles away, although some Houstonians would rather vote for a gay black Democrat than root for a Dallas team. If Houston ever did get an NHL team, it would rank 11th in population among NHL markets.
* TDECU Stadium and site of Jeppesen/Robertson Stadium. The Houston Oilers played at Jeppesen Stadium from 1960 to 1964. They won the 1960 AFL Championship Game there, won the 1961 title game on the road, and lost the 1962 title game there -- and, as the Oilers and the Tennessee Titans, haven't gone as far as the rules allowed them to since 1961.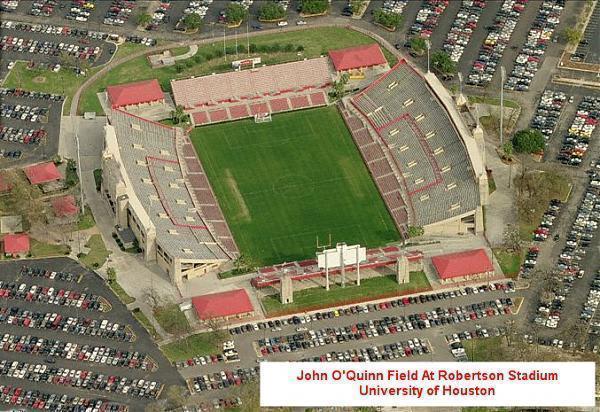 Built in 1942, it became Robertson Stadium, and was the former home of the University of Houston football team and the former home of MLS' Houston Dynamo, who won the 2006 and 2007 MLS Cups while playing there. The new John O'Quinn Field at TDECU Stadium (named for Texas Dow Employees Credit Union) has been built at the site. 3874 Holman Street at Cullen Blvd., 4 miles southeast of downtown. Number 52 bus.
* BBVA Compass Stadium. The new home of the Dynamo and the National Women's Soccer League's Houston Dash opened in 2012 at 2200 Texas Avenue at Dowling Street, within walking distance of downtown. It is also the home field of the football team at Texas Southern University. On January 29, 2013, it hosted its first U.S. national team match, a draw with Canada. (UPDATE: The U.S. women's team beat Mexico 6-2 there on April 8, 2018.)
* Rice Stadium. Home of Rice University football since 1950, the Oilers played the 1965, '66 and '67 seasons here. Although probably already obsolete by the 1973 season, it seated a lot more people than did the Astrodome, and so Super Bowl VIII was played there, and the Miami Dolphins won it -- and haven't won a Super Bowl since.
It has been significantly renovated, and now seats 47,000, down from the 71,882 that crammed in for the Super Bowl on January 13, 1974. University Blvd. at Greenbriar Street, although the mailing address is 6100 S. Main Street, 5 miles southwest of downtown. METRORail to Dryden/TMC, then walk or Number 084 bus.
* Site of Buffalo Stadium. Before there were the Astros, or even the Colt .45's, there were the Houston Buffaloes. The Buffs played at Buffalo Stadium, a.k.a. Buff Stadium, for most of their history, from 1928 to 1961, when the Colt .45's made them obsolete.
They were a farm team of the St. Louis Cardinals, and as a result in its last years Buff Stadium was renamed Busch Stadium. The Cardinal teams of the 1930s that would be known as the "Gashouse Gang" came together in Houston, with Dizzy and Daffy Dean, Joe Medwick, Pepper Martin and Enos Slaughter. Later Buff stars included Cleveland Indians 3rd baseman Al Rosen, Pittsburgh Pirates pitcher Wilmer "Vinegar Bend" Mizell, Negro League legend Willard Brown, Cardinal MVP Ken Boyer, and Phillies shortstop Ruben Amaro Sr.
Wanting to lure in more customers but also to beat the infamous Houston heat, lights were installed in 1930, 5 years before any major league park had them. The Buffs won 8 Texas League Pennants: 1928, 1931, 1940, 1947, 1951, 1954, 1956 and 1957. The stadium was at the southwest corner of Leeland Street & Cullen Blvd., about 2 1/2 miles southeast of downtown. A furniture store is on the site now. Number 20 bus.
* Toyota Center. The new home of the NBA's Rockets replaced the Summit. It took 8 years from Rockets owner Les Alexander's demand for a new arena until first tipoff, in which time NBA Commissioner David Stern announced that the Rockets would have to move without a new arena (not that there was anything wrong with the Summit, aside from a low number of luxury boxes), and NHL Comissioner Gary Bettman announced that Houston would not get an NHL team. But tip off the Rockets did, on October 30, 2003.
It's hosted the Rockets ever since, the WNBA's Houston Comets from 2003 until they folded after the 2007 season, and the Houston Aeros of the American Hockey League (not the old WHA team of the same name) from 2003 until 2013, when their parent club, the Minnesota Wild, moved them to Des Moines, where they became the Iowa Wild. It's also hosted wrestling, Ultimate Fighting, concerts (including by Houston native Beyonce, both with and without the rest of Destiny's Child) and the Latin Grammys.
1510 Polk Street, also bounded by Jackson, Bell and La Branch Streets. It's downtown, 5 blocks east of Main Street and the light rail, with Bell Street the closest station.
* Summit. Before the Toyota Center, the Rockets played at The Summit, later known as the Compaq Center, from 1975 to 2003, and the Comets from 1997 to 2003. Elvis sang at The Summit on August 28, 1976. It's been converted into the Lakewood Church Central Campus, a megachurch presided over by Dr. Joel Osteen. 3700 Southwest Freeway at Timmons Lane. Number 53 bus.
Before that, between their 1971 move from San Diego and the 1975 opening of The Summit, they played some home games at the Astrodome, some at the Astrohall, some at the Sam Houston Coliseum, and some at the Hofheinz Pavilion.
There's another notable sports site in Houston: The U.S. Military Entry Processing Station, in the Customs House, where Muhammad Ali, then living and training in Houston, had to report to fulfill his draft obligation. He did report there, on April 28, 1967, and refused to be drafted. (To be fair, they did call his birth name, Cassius Clay, not his legal name, Muhammad Ali.) Ali was convicted of draft evasion and stripped of the Heavyweight Title. He stayed out of prison on appeal, and case went all the way to the Supreme Court, which overturned the conviction.
The Customs House is still standing, and still used in part by the U.S. Department of Defense. 701 San Jacinto Street. Central Station on METRORail.
In addition to the preceding, Elvis sang at Hofheinz Pavilion on November 12, 1971; and June 4 and 5, 1975. He also sang at the City Auditorium on October 8, 1955 and April 21, 1956. It's better known as the venue where R&B singer Johnny Ace mistakenly shot himself before a show on Christmas Day, December 25, 1955. The Jones Hall for the Performing Arts replaced it in 1966. 615 Louisiana Street at Capitol Street, downtown.
Also, early in his career, Elvis sang in Houston at the Paladium Club (8100 S. Main Street, near the Astrocomplex) on November 26, 27 and 28, 1954; Cook's Hoedown (603 Capitol Street, around the corner from Jones Hall) on November 27 and December 28, 1954, and April 24 and August 7, 1955; Magnolia Gardens (12044 Riverside Street, no public transit) on April 24, May 22, June 19 and August 7, 1955; and Eagles Hall at 2204 Louisiana Street on January 1 and March 19, 1955 (2204 Louisiana Street, downtown). All of these have since been demolished.
Elvis sang near the University of Texas campus in Austin, 160 miles to the northwest, at Dessau Hall on March 17, 1955, the Sportscenter on August 25, 1955, the Skyline Club on January 18, 1956, and the Municipal Auditorium on March 28, 1977. And he sang near the Texas A&M campus, 100 miles to the northwest, at the Rodeo Grounds in Bryan on August 23, 1955 and the G. Rolle White Coliseum in College Station on October 3, 1955;
Elvis also sang in South Texas at the City Auditorium in Beaumont, 85 miles to the northeast, on June 20 and 21, 1955 and January 17, 1956; at the football stadium at Conroe High School, 40 miles to the north, on August 24, 1955; in Corpus Christi, 200 miles to the southwest, at the Hoedown Club on July 3, 1955 and the Memorial Coliseum on April 16, 1956; in Galveston, 50 miles to the southeast, at the City Auditorium on January 16, 1956; at the baseball field in Gonzales, 130 miles to the west, on August 26, 1955; at Woodrow Wilson High School in Port Arthur, 90 miles to the east on November 25, 1955; and at Southwest Texas State University (LBJ's alma mater, now "Texas State"), 165 miles to the west, on October 6, 1955.
There are other places that might be considered "South Texas" where he sang, but I'll include them with "West Texas" when I do this for the San Antonio Spurs.
The tallest building in Houston, and in all of Texas, is the JPMorgan Chase Tower, formerly the Texas Commerce Tower. It was built in 1982 at 600 Travis Street at Texas Avenue, downtown, and stands 1,002 feet tall, rising 75 stories above the concrete over the bayou. It is the tallest 5-sided building in the world.
Houston's version of New York's American Museum of Natural History is the Houston Museum of Natural Science, in Hermann Park, at Main Street and Hermann Park Drive. The Sam Houston Monument is a few steps away. The Houston Museum of Fine Arts is at 1001 Bissonnet Street, just 5 blocks away. Both can be reached by the Number 700 bus.
Of course, the name "Houston" is most connected with two things: Its namesake, the legendary Senator, Governor and war hero Sam Houston; and the Johnson Space Center, the NASA control center named after President Lyndon B. Johnson, who, as Senate Majority Leader, wrote the bill creating NASA and the Space Center, because he thought it would bring a lot of jobs and money to Houston (and he was right).
Aside from his Monument, most historic sites relating to Sam are not in the city that bears his name. As for reaching the Johnson Space Center, it's at 1601 NASA Parkway and Saturn Lane. The Number 249 bus goes there, so if you don't have a car, Houston, you won't have a problem.
Although Houston is the post-Presidential home for George H.W. and Barbara Bush, his Presidential Library is at Texas A&M University, 100 miles away in College Station. I don't know the Bushes' address, and, in the interest of privacy, I wouldn't print it here if I did.
UPDATE: Barbara Bush died on April 17, 2018. She was buried at the Library at TAMU. When George dies, he will be buried alongside her.
The Alley Theatre, downtown at 615 Texas Avenue, opened in 1968, and in 1976 hosted the Vice Presidential debate between Senators Walter Mondale and Bob Dole. This is where Dole named World War I, World War II, and the Korean and Vietnam Wars as "all Democrat wars" -- forgetting that the Republicans wanted America to get into all but World War II, and didn't want that one because they liked the Nazis' anti-union status; and that it was actually the Republicans who got us into Vietnam.
There have been a few TV shows set in Houston, but the only one that lasted was Reba, starring country singer Reba McIntire. But it was filmed in Los Angeles, so if you're a fan, you won't find the house in Houston. Films set in Houston, in addition to the sports-themed ones, include Brewster McCloud (which also used the Astrodome), Logan's Run (which used the Houston Hyatt Regency for some scenes), Telefon (set there but filmed in California), Terms of Endearment, Reality Bites, and, perhaps most iconically, Urban Cowboy.
*
Houston can be hot, but it's a good sports town, and, best of all, it's not Dallas. So there can be a good old time in the hot town tonight.