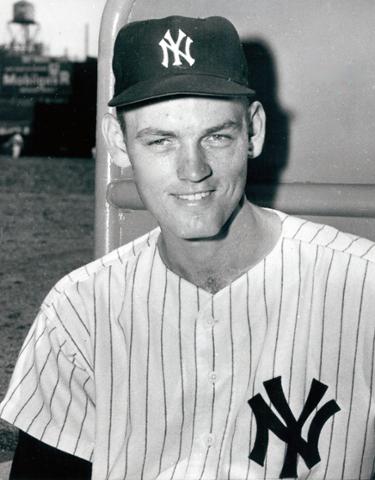 The Yankees of the 1950s were already retired and legendary by the time I was old enough to start paying attention to baseball in the late 1970s. Now that my nieces are old enough, those Fifties Yankees are getting to be fewer and fewer in number.
Norm Siebern was not one of the more celebrated of those Fifties Yankees. But the few we have left should be celebrated.
Norman Leroy Siebern was born on July 26, 1933 in St. Louis. He was signed by the Yankees out of high school in 1951, went into their minor-league system, and attended Southwest Missouri State University, which is now named Missouri State University, in Springfield. He played basketball there (then as now, it was legal to be a professional in one sport and a college athlete in another), and among his classmates and teammates there was a future Yankee teammate, Jerry Lumpe.
He made his debut for the Yankees on June 15, 1956. Batting 2nd, playing left field, and wearing Number 36, he singled off Mike Garcia in his 1st at-bat, and immediately scored on a Mickey Mantle home run. He went 2-for-4, and the Yankees beat the Cleveland Indians, 6-2.
A lefthanded hitter whose stroke seemed to be designed for Yankee Stadium, he split the 1956 season between the Yankees and their top farm club of the time, the Denver Bears of the American Association. He had one at-bat in the 1956 World Series. He spent the entire 1957 season with the Bears, helping them win the Pennant with one of the best seasons any minor-league team has ever had.
The Sporting News
named him its Minor League Player of the Year.
That got him called back up to the Yankees in 1958, wearing Number 25, and was in the majors to stay, batting .300 with 14 home runs and 55 runs batted in. He played in 3 games of that year's World Series, and was awarded one of the 1st American League Gold Gloves that year.
He had a decent season in 1959, but the Yankees had an uncharacteristically weak season, finishing 3rd, just 79-75. Some changes had to be made, and this made Siebern, among others, expendable. On December 11, he was traded, along with Hank Bauer, Don Larsen and Marv Throneberry -- each of those 3 a legend, although in Throneberry's case it was for his later ineptitude with the Mets, but he was considered a great prospect in the late 1950s -- to the Kansas City Athletics for Roger Maris, Joe DeMaestri and Kent Hadley. If you know anything about Yankee history, you know that Maris was the key.
*
Siebern benefited from the move to Kansas City, as he wasn't going to crack the Yankees' starting lineup without an injury. He was an AL All-Star in 1962, '63 and '64. His best season was in 1962, when he batted .308, hit 25 homers, and had 117 RBIs, all career highs. In 1964, he was traded to the Baltimore Orioles, then managed by Bauer, one of the men with whom he was traded. He led the AL in walks, and the O's only finished 2 games behind the Yankees.
After the 1965 season, the O's traded him to the California Angels for Dick Simpson, and won the 1966 World Series without him. But in 1967, he was acquired by the Boston Red Sox, and while he was clearly at the end of the line, he did help them win their "Impossible Dream" Pennant, and appeared in 3 games of the World Series. He retired after the 1968 season, with career totals of a .272 batting average, 132 homers and 636 RBIs.
After retiring as a player, he appears never to have worked in baseball again. He was married with 3 daughters, owned an insurance agency in Naples, Florida, and died there
on October 30, 2015 in Naples, Florida. He was 82.
This is the only photo I could find of him as a retired player.
Unfortunately, I couldn't find one showing him
wearing a uniform, a jersey, or even a cap.
With his death, there are now just 4
surviving players from the 1956 World Champion Yankees: Whitey Ford, Don Larsen, Charlie Silvera and Bob Cerv. And there are now just 7
surviving players from the 1958 World Champion Yankees: Ford, Larsen, Bobby Shantz, Bobby Richardson, Tony Kubek, Art Ditmar and Zach Monroe.