The New York Knicks visit Oklahoma City to play the Thunder a week from tomorrow. The Brooklyn Nets visit the following Wednesday.
The Nets formerly played in Newark, "Brick City," and Oklahoma City is known as "Bricktown," not to be confused with Brick Township on the Jersey Shore, which also (in their case, incorrectly) gets called "Bricktown" or "Brick Town."
Judging by how the fans of OKC have embraced their 1st real major league sports team -- the USFL's Oklahoma Outlaws played in Tulsa, as didthe WNBA's Tulsa Shock, and, besides, those are hardly major leagues -- it can safely be said that the people of Oklahoma City deserved their own team. But not the Seattle SuperSonics: They should have gotten either an expansion team or a team whose fans weren't supporting it.
But we should not hold Oklahoma accountable for that. Besides, it's not like they went out of their way to steal a team: It was the owner who bought the Sonics and moved them, because he didn't like Seattle's Key Arena.
No, don't hold Oklahomans responsible for stealing the Sonics -- they didn't. If you want to knock them for something, knock them for electing Tea Party dimwits to public office.
Before You Go.
Oklahoma is part of the Great Plains region. There aren't a lot of trees to shade you or to block the wind. As a result, it gets beastly hot in the summer, and brutally cold in the winter. This will be late November, so cold could have been expected.
However, the website for
The Daily Oklahoman
is predicting low 60s for Friday and Saturday afternoon, and low 40s for Friday night. And it could be wet: Rain is predicted for both days. And since you're liable to be outdoors for some of the time, you should bring a jacket and an umbrella.
Oklahoma City -- indeed, the entire State except for the westernmost Panhandle, which is on Mountain Time -- is in the Central Time Zone, 1 hour behind New York. Adjust your timepieces accordingly.
Tickets.
The Thunder averaged 18,203 fans per home game last season -- a sellout every game. They're the only game in town -- the Sooners are a 45-minute drive away -- and have been fully embraced by a populace used to following just the one sport, college football. Getting tickets will be tough.
The Thunder are restricting online ticket sales to residents of Oklahoma and the surrounding States:
*** VERY IMPORTANT !! *** Sales to the Oklahoma City Thunder 2015-2016 Home Games at Chesapeake Energy Arena will be restricted to residents of Oklahoma, Kansas, Arkansas, Missouri, and Nebraska. Residency will be based on credit card billing address. Orders by residents outside of this area will be cancelled without notice and refunds given. This restriction does not apply to resale tickets.
I guess they don't want opposing fans "taking over the ballpark." I'm not sure how big a problem that is. Maybe they got upset by fans coming in for the 2012 NBA Finals to root for LeBron James instead of the Thunder.
Tickets in the lower level, the 100 sections, are $191 between the baskets and $89 behind them. The 200 level is club seating, and available only to season ticketholders. The Balcony and Loft level, the 300 sections, has seats going for $95 between the baskets and $53 behind them.
Getting There.
It's 1,451 miles from Madison Square Garden to the Chesapeake Energy Arena. Knowing this, your first reaction is going to be to want to fly. (And, since I'm late again, it will be your only reasonable option.)
You won't get a nonstop flight. There are any number of cities in which you would have to change planes, depending on the airline: Charlotte, Chicago, Dallas, for example. But if you play your cards right, you could get a round-trip flight for under $500. Will Rogers World Airport is southwest of downtown, but there is no local bus service between them.
Amtrak isn't all that convenient to OKC. You'd have to board the
Cardinal
at Penn Station at 6:45 AM Eastern Time, then arrive at Union Station in Chicago at 10:05 AM Central Time the next morning, then there's a 3-hour, 40-minute layover until the
Texas Eagle
leaves at 1:45 PM, and it arrives in Fort Worth the next day at 1:25 PM, and then you'd have to change trains again, with a 4-hour layover -- in Fort Worth, not the despised but much more modern city of Dallas -- before taking the Heartland Flyer at 5:25, finally arriving in Oklahoma City at 9:23 PM. That's 62 hours and 38 minutes. And it's $510 round-trip. And the
Cardinal
doesn't even leave New York every day. Not worth the hassles. At any rate, the station is on Gaylord Blvd., between Reno and Sheridan Avenues, just 2 blocks from the arena -- sure, now, at the end, it's convenient.
On Greyhound, the trip is much shorter, about 39 hours, and you only have to transfer once, and, believe me, 4 hours in Chicago is good. (More hours in Chicago is better, but that's a story for another time.) It's also possible that your transfer may be in Kansas City. The round-trip fare is $372, but can drop to as little as $278 with advanced purchase. The station is at 1948 E. Reno Avenue at Martin Luther King Avenue, on the same street as the arena, but 2 miles to the east, so what it makes up for in convenience during the trip, it blows up at the end -- the opposite of Amtrak.
If you decide to drive, it's far enough that it will help to get someone to go with you and split the duties, and to trade off driving and sleeping. You'll need to get on the New Jersey Turnpike, and take Interstate 78 West across New Jersey, and at Harrisburg get on the Pennsylvania Turnpike, which at this point will be both I-70 and I-76. When the two Interstates split outside Pittsburgh, stay on I-70 west. You'll cross the northern tip of West Virginia, and go all the way across Ohio (through Columbus), Indiana (through Indianapolis) and Illinois. When you cross into Missouri, you'll be in St. Louis. Switch to Interstate 44 West, the Will Rogers Turnpike, and take that across southern Missouri and northeastern Oklahoma. Outside Edmond, you'll turn onto Interstate 35 South, then onto Interstate 40 West, taking Exit 150B for downtown Oklahoma City and the Arena.
If you do it right, you should spend about an hour and 15 minutes in New Jersey, 5 hours in Pennsylvania, 15 minutes in West Virginia, 3 hours and 45 minutes in Ohio, 2 hours and 30 minutes in Indiana, 2 hours and 30 minutes in Illinois, 5 hours in Missouri, and 3 hours and 30 minutes in Oklahoma before arriving. That's going to be nearly 24 hours. Counting rest stops, preferably 6 of them, and accounting for traffic at both ends, it should be about 30 hours.
Once In the City.
Oklahoma City, the capital of the State of Oklahoma, was founded in 1889 as a result of the Oklahoma land rush, after the former Indian Territory was legally (if not morally) opened up to white settlers. (As a result, their minor-league baseball team was long called the 89ers.) The name comes from the Choctaw tribe, meaning "red people."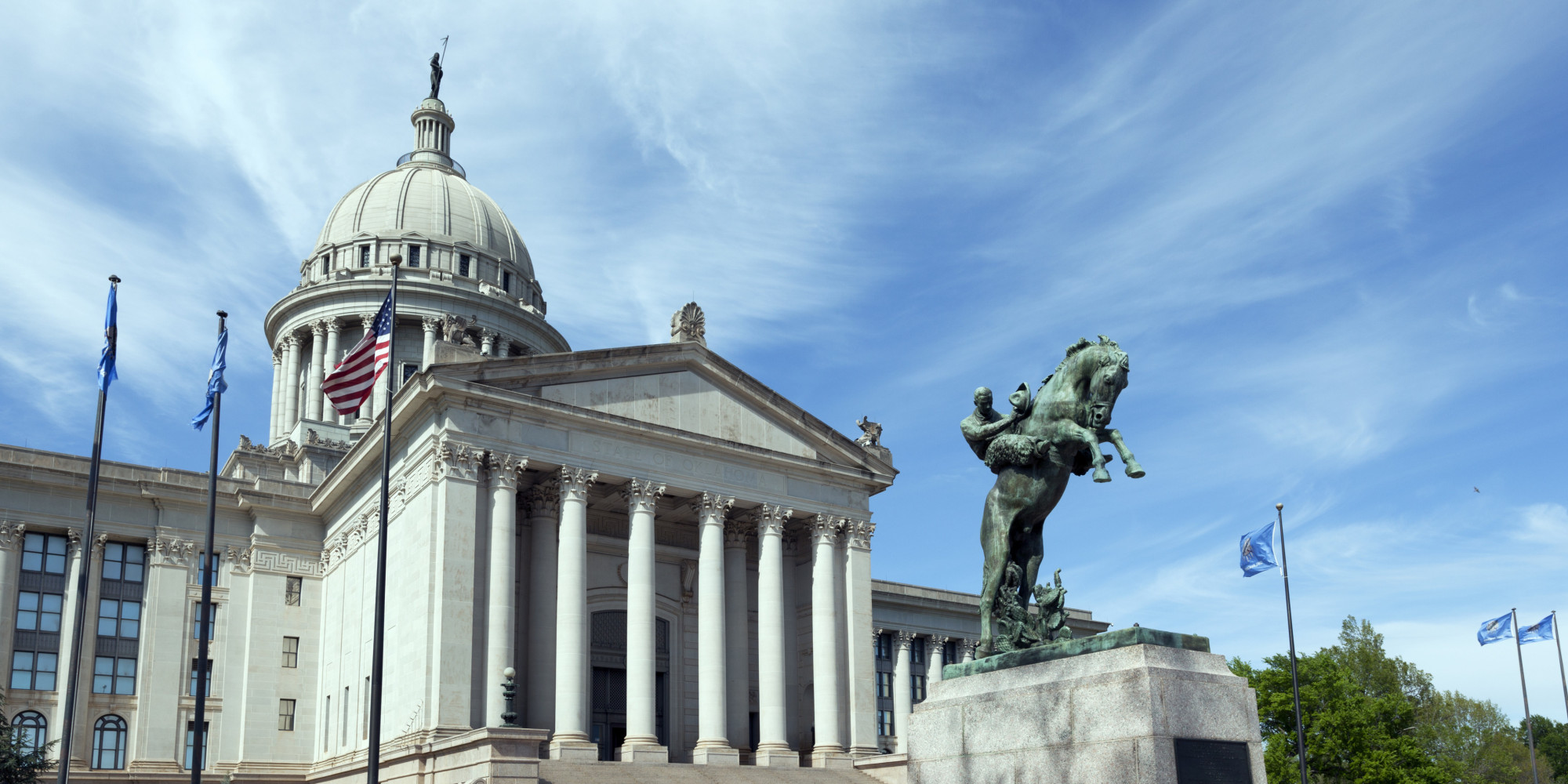 The State House. The statue is called Tribute to Range Riders,
and does not represent any particular person.
It's a decent-sized city, with about 580,000 people, but the metropolitan area is small, just 1.3 million. This makes it the 2nd-smallest market in the NBA, larger than only Salt Lake City, home of the Utah Jazz. It would also be the smallest in MLB, larger than only Buffalo in the NFL, and smaller than all U.S.-based NHL cities except Buffalo, though it would also be larger than Ottawa, Calgary, Edmonton and Winnipeg.
The sales tax in the State of Oklahoma is 4.5 percent, but in Oklahoma City it nearly doubles to 8.375 percent. Gaylord Blvd. divides street addresses into east and west, while Sheridan Avenue divides them into north and south. Oklahoma City doesn't have a subway or a light rail system (not surprising, they're more Southern than Midwestern), but they are planning a light rail system. EMBARK buses charge just $1.75.
Going In.
The Thunder's building opened in 2002 as the Ford Center, but became the Chesapeake Energy Arena in 2011. When the Thunder reached the NBA Finals in 2012, the exposure of the arena's name caused the namesake company's stock to surge. The address is 100 W. Reno Avenue, and the arena is bounded by Reno, Gaylord Blvd., 3rd Street and Robinson Avenue, which is known as Thunder Drive as it passes the arena. Parking is $8.00.
The building is in the usual post-Camden Yards style, with concourses for each level. The court is laid out northwest to southeast. It remains a college basketball center (having hosted the Big 12 Conference Tournament), and a site for pro wrestling and Ultimate Fighting. It has also hosted minor-league hockey, but currently does not.
Interior shot, showing the original Ford Center name
Food.
Levy Restaurants runs the concessions at Chesapeake Energy Arena. In addition to the usual array of stands selling typical sports-stadium food, they have, according to the arena's website:
* The Jack Daniels Old No. 7 Club is located on the 100 level concourse at section 114-115. Old No. 7 provides a trendy and unique atmosphere with full bar offerings and several beers on tap. A selection of appetizers are available in this local hot spot.
* The Center Court Carvery is located on the 100 level concourse at section 114-115 across from the Jack Daniels Old No. 7 Club. Center Court Carvery provides a unique, upscale dining experience with a full buffet at each game featuring carved meat options, an assortment of salads, potatoes, vegetables and breads. A carved sandwich option with one side is also available for those looking for something quick, yet filling. Center Court Carvery's buffets change nightly, so check back often to see what's on the cutting board at Center Court!
* Center Court Grill is the new urban hot spot for guests inside Chesapeake Energy Arena. Center Court Grill will be open 2 1/2 hours prior to every Thunder home game for ticket holders. The restaurant will also be open for ticketed concerts and other select ticketed events throughout the year. Center Court Grill features a menu that has a balance between grilled entrees, sandwiches and house-made BBQ.
Team History Displays.
As the newest
team
in the NBA, dating back only to 2008 (though one of its older
franchises
, dating back to 1967), the Thunder's history is nearly all that of the Seattle SuperSonics.
While it should be noted that they have made the Playoffs every full season since moving in -- 7 so far -- being stuck in the Western Conference with the Los Angeles Lakers, the Dallas Mavericks and the San Antonio Spurs has put a limit on their development. Indeed, since 1998, the count of Western Conference titles is as follows: L.A. 7, San Antone 6, Dallas 2, Golden State Warriors 1, OKC 1.
The Thunder have won their Division in 4 of the last 5 seasons, and hang 4 white banners with blue lettering to denote this. They also hang a blue banner with white lettering to denote their 2012 Western Conference title. As the Sonics, they previously won the 1979 NBA title; the West in 1978, 1979 and 1996; and the Pacific Division in 1979, 1994, 1996, 1997, 1998 and 2005, but they make no mention of this at the Arena. The Sonics' banners, and those of the WNBA's Seattle Storm, remain at the Key Arena at Seattle Center.
The Sonics retired 6 uniform numbers, and, with them in the rafters at the Key Arena, hung a banner for broadcaster Bob Blackburn. Except for 10, for guard Nate McMillan from their 1996 Western Conference Champions, all of those numbers (as well as Blackburn's honor) were from their 1978 Western Conference Champions and their 1979 NBA Champions: 1, guard Gus Williams; 19, guard Lenny Wilkens (who, by that point, was a non-playing coach, but did play 4 years for the Sonics); 24, forward Spencer Haywood; 32, guard Fred "Downtown" Brown; and 43, center Jack Sikma. The 20 of Gary Payton and the 40 of Shawn Kemp from the 1996 team might have been retired had the Sonics still been in Seattle when they retired.
Wilkens was the only Sonics player named to the NBA's 50th Anniversary 50 Greatest Players in 1996.
For the moment, none of those 8 numbers are worn by any Thunder players, nor have they been since the move. But neither do they hang in the arena's rafters, so their status is open to question. My guess is that the Thunder's management is waiting until Seattle gets a new (expansion or moved) team, at which point the Sonics' records and achievements will be officially given back to them, and the Thunder can then give those numbers out with a clear conscience. (Or a mostly-clear one: It's still an unfairly moved franchise, although, as I said, you can't blame the people of Oklahoma for that.)
Stuff.
Concession stands selling team merchandise are scattered throughout the arena. I can find no reference to where in the arena a team store is located, but I find it hard to believe that an organization as professional as the Thunder have been the last 6 seasons would not have at least one large one. Since Oklahoma likes to think of itself as a Western State, you may be able to buy cowboy hats with team logos on them.
As they are not yet a historic franchise, there aren't many books about the Thunder. Nate LeBoutillier has written
The Story of the Oklahoma City Thunder
as part of the NBA's
A History of Hoops
book series. (I wonder if it goes over the history of the SuperSonics, or if it just mentions them as the Thunder's predecessors.) As part of the NBA's
The Inspirational Story of Basketball Superstar...
series, Bill Redban has written books about Kevin Durant, Russell Westbrook and James Harden. These are, admittedly, unauthorized biographies.
There aren't yet team DVDs of the Thunder, but there is a movie about them:
Thunderstruck
, a cross between
Freaky Friday
and
Space Jam
, in which a kid unwittingly and magically exchanges basketball abilities with Kevin Durant, as in the kid becomes a high school basketball star, while Durant can't buy a basket. Amazon.com has
Sonicsgate: Requiem for a Team
, but that's more for the Seattle fan.
During the Game.
A November 13, 2014 article on DailyRotoHelp
ranked the NBA teams' fan bases, and listed the Thunder's fans 10th. Of course, it's worth noting that, aside from their 23-59 1st season, when the fans still came out due to the novelty, they've averaged 53 wins a season. So we don't yet know how their fans would react to a bad established team.
You do not need to worry about wearing Knicks or Nets gear as an opposing fan against the Thunder. Their main rivals are the Mavs and the Spurs, and their fans don't get rough with those guys, so they won't get rough with you.
Nevertheless, having just the 1 team in the 4 major league sports -- not even in MLS, and the WNBA's Tulsa Shock were a ways off -- the same effect applies to the Thunder as applies to NBA-only cities like San Antonio, Salt Lake City, Sacramento and Portland, where the team means everything. (To be fair, San Antonio also has a WNBA team, while Salt Lake and Portland have the WNBA and MLS.) As Bill Simmons, in a rare thoughtful moment for him, wrote for ESPN:
With the possible exception of Portland, no NBA team means more to its city. This goes beyond having the loudest fans. There's genuine devotion here. These people arrived a good 45 minutes early for last night's Game 1 — and by "these people" I mean "everyone with a ticket" — then clapped their way through pregame warm-ups with such infectious enthusiasm that I remember saying to a friend, "No way these yahoos keep this up for three hours, they're going to burn out." Wrong. You know what burned out? My eardrums. My head is still ringing.
Simmons speculated that the 1995 Oklahoma City bombing played a major part in the team's culture, noting that Thunder general manager Sam Presti has every new Thunder player visit the memorial to the event, and encourages players to look into the stands and consider that many of the team's fans were personally affected by the event.
On February 17, 2009, Rumble the Bison was introduced as the Thunder's mascot during the halftime of a game against, appropriately enough, the team that used the arena (then still named the Ford Center) as their temporary home after Hurricane Katrina, the New Orleans Hornets. Rumble was a big hit in that 1st season, and was awarded the 2008–09 NBA Mascot of the Year. Although I'm not sure having a mascot with a "beard" that covers up the team name on his jersey is a good idea. They also have the Thunder Girls cheerleaders.
Rumble don't wanna work. He just wanna bang on the drum all day.
The Thunder hold auditions for singing the National Anthem, instead of having a regular singer. The OKC-based band The Flaming Lips rewrote their song "Race for the Prize," giving it the title "Thunder Up," to use as a team fight song. The words "Thunder Up" have also become a team slogan.
Like fans of the Winnipeg Jets hockey team, Thunder fans tend to wear white T-shirts in the stands, providing a "Whiteout" effect that supposedly distracts opposing players. (How much it does so is debatable.)
After the Game.
In Oklahoma City, the violent crime rate is one of the highest in the nation. However, if you stick to the downtown area, you should be safe.
Most of the notable places to eat are to the northeast of the arena, across the railroad tracks and closer to the ballpark. Mickey Mantle's Steakhouse -- unlike the now-closed restaurant named for him on New York's Central Park South, it didn't open until after he died -- is across the street from the ballpark, at 7 S. Mickey Mantle Drive.
Bricktown Brewery, Spaghetti Warehouse, TapWerks Ale House, Pearl's Crabtown and the Wormy Dog Saloon (I swear, I am not making that name up) are along E. Sheridan Avenue. Jazmo'z Bourbon Street Café and Whiskey Chicks are along Reno Avenue.
If your visit to Oklahoma City is during the European soccer season, as we are now in, your best bet for a place to watch your club is Skinny Slim's, at 201 E. Main Street, downtown.
Sidelights.
Oklahoma's sports history includes Jim Thorpe, Johnny Bench, and Yankee Legends Mickey Mantle, Bobby Murcer and Allie Reynolds. And then there's all those college football legends, although not every OU and OSU legend was originally from Oklahoma.
* Chickasaw Bricktown Ballpark. Opened in 1998, this is the home of the Oklahoma City Dodgers, now the top farm team of the Los Angeles Dodgers. Previously, they were known as the 89ers and the RedHawks. They haven't yet won a Pennant since moving into the Class AAA Pacific Coast League (and Oklahoma isn't exactly on any coast), but they have won Division titles in 1999, 2002, 2004, 2005, 2008, 2010, 2013 and 2015.
Every street bordering the ballpark is named for a local legend. The official address is 2 S. Mickey Mantle Drive, but outside the ballpark it's Walnut Avenue. It runs along the 3rd base side. Reno Avenue runs along the 1st base side, where it is named Johnny Bench Drive. The right field side is Russell M. Perry Avenue, except next to the ballpark where it is Joe Carter Avenue, after the Toronto Blue Jays legend. And a street that only exists for a few blocks along the left field side is named for the aforementioned local band, Flaming Lips Alley. Statue of Mantle and Bench are outside the park.
Prior to the new ballpark opening, the team was known as the Oklahoma City 89ers, and competed in the Class AAA American Association. They played at All Sports Stadium, and won Pennants in 1963, 1965, 1992 and 1996. It was located in State Fair Park at 333 Gordon Cooper Blvd. at Eighty-Nine Drive, about 5 miles west of downtown. Number 38 bus from downtown.
According to
an April 24, 2014 article in The New York Times
, the most popular MLB team in Oklahoma City, according to Facebook Likes, is the Texas Rangers, which is not surprising, since they are the closest team, 209 miles away. However, they get only about 20 percent of the fans, and the Yankees and Red Sox are not far behind. By the time we got into Tulsa town, them bears was a-gettin' smart... Sorry, drifted into C.W. McCall's "Convoy" there. But before you get all the way from OKC to Tulsa, it becomes mainly St. Louis Cardinals territory. The Kansas City Royals? You need to get into northernmost Oklahoma, near the Kansas State Line, to find their fans, although that may have changed in the 7 months since the article, due to the Royals having won the Pennant last month.
According to
a September 5, 2014 article in The Atlantic Monthly
, when it comes to the NFL, the most popular team in the entire State of Oklahoma is the Dallas Cowboys. Cowboys territory also includes all of Texas except the part around Houston, and all but the northwesternmost part of New Mexico, and all but the southeasternmost part of Arkansas.
The Cowboys are 210 miles away. Fans of the Kansas City Chiefs and the St. Louis Rams, and even the Denver Broncos, not that far from the western tip of the Oklahoma Panhandle, need not apply for Oklahoma City football fandom. Dallas is also home to the nearest NHL team, the Stars, 204 miles away; and the nearest Major League Soccer team, FC Dallas, 189 miles away.
Because of its comparatively low metropolitan population, Oklahoma City would rank 31st in MLB, and 33rd in the NFL, in each case dead last. So don't expect them to be awarded a franchise in either league anytime soon.
* Site of Oklahoma City Bombing. In 1977, the federal government opened the Alfred P. Murrah Federal Building, named for a federal judge whom U.S. Chief Justice Earl Warren had called "one of the foremost figures in the American judiciary." He was not widely known outside Oklahoma, but nearly 20 years after his death, his name became ingrained into the American memory. Since 1963, Timothy McVeigh, who carried out the bombing, is the only prisoner ever executed by the federal government.
This wasn't the first plot to bomb the building: A man named Richard Snell, a member of a "Christian" extremist group, had threatened to blow the buildup up with a van bomb, perhaps inspiring McVeigh to use the same method. He was convicted of an unrelated murder, and his execution was set for April 19, 1995 -- the very day that the building was destroyed by a bomb anyway. The execution happened as scheduled.
A memorial to the 168 victims of the worst domestic terrorist attack in American history is now on the site. 200 NW 5th Street & N. Harvey Avenue, about 7 blocks north of the arena. A new federal building was built on a 2-city-block site, 1 block north and west of the former site. It carries out the same functions as the former building, hosting regional offices for the Social Security Administration, the U.S. Secret Service, the Drug Enforcement Administration, recruiting offices for the Army and the Marine Corps, and, most significant in McVeigh's mind, as he was seeking revenge for the Ruby Ridge incident of 1992 and the Waco incident exactly 2 years earlier on April 19, 1993, the Bureau of Alcohol, Tobacco and Firearms.
* Other Historic Sites. The State Capitol (or State House, if you prefer) is at 2300 N. Lincoln Blvd. at NE 23rd Street, about 3 miles northeast of the arena. Number 2 bus. The
Oklahoma History Center is to the immediate northeast of the State House, at
800 Nazih Zuhdi Drive at Lincoln Blvd. According to its website, "
The goal is to span the entire breadth of Oklahoma's diverse history from Native Americans to oil."
The Oklahoma City Museum of Art is a short walk from the Arena, at 415 Couch Drive at Walker Avenue. Contrary to an easy guess, it does not specialize in Western-themed and Native American art. If those interest you, you can visit the National Cowboy and Western Heritage Museum, at 1700 N. 63rd Street, off Grand Blvd., northeast of downtown. Number 22 bus.
The Beatles never performed in Oklahoma, but Elvis Presley did, including a few times before he was nationally known. He did 2 shows at the Oklahoma City Municipal Auditorium on October 16, 1955, and 2 more on April 19, 1956. (There's that date again.) It's now named the Civic Center Music Hall. 201 N. Walker Avenue at Lee Avenue, about a mile northwest of the arena.
He also performed at the Fair Ground Arena, next-door to the All Sports Stadium (and also since demolished) on November 16, 1970. He also performed at the Myriad Convention Center on July 2, 1973; July 8, 1975; and May 29, 1976. Seating 13,846, this arena, now named the Cox Convention Center, is across Reno Avenue from the Chesapeake Energy Center, which augmented it, rather than replacing it, as it still hosts lots of conventions.
The University of Oklahoma is in Norman, 23 miles south of Oklahoma City, and plays its football games at Gaylord Family-Oklahoma Memorial Stadium at Owen Field. Originally built in 1923, it now seats 82,112 people. Led by running back Tommy McDonald and center-linebacker Jerry Tubbs, from 1953 to 1957 the Sooners won 47 straight games, and that's still a college football record. (Both the last team and the next team to beat them was Notre Dame.)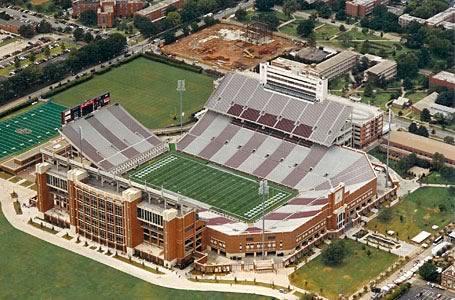 The stadium was the site of the 1971 "Game of the Century," when Oklahoma and Nebraska, a great rivalry which has fallen by the wayside as they've gone into separate leagues, played each other on Thanksgiving Day (the only major college football game scheduled for that day that year, thus the entire country could watch it), with the Sooners ranked Number 1 and the Cornhuskers ranked Number 2. Nebraska won, and went on to win the National Championship. But the Sooners have won 7 National Championships: 1950, 1955 and 1956 under Bud Wilkinson; 1974 and 1975 under Chuck Fairbanks; 1985 under Barry Switzer, and 2000 under current coach Bob Stoops.
Oklahoma has had 5 winners of the Heisman Trophy: 1952 running back Billy Vessels, 1969 running back Steve Owens, 1978 running back Billy Sims, 2003 quarterback Jason White and 2008 quarterback Sam Bradford. Their litany of football legends also includes Pro Football Hall-of-Famers Tommy McDonald and Lee Roy Selmon, and All-Pros Greg Pruitt, Joe Washington, Dewey Selmon, Tony Casillas and Keith Jackson (not the sportscaster, who did have to call some of his games). It also includes Bob Kalsu, a Buffalo Bills tackle who was killed in action in Vietnam; Brian Bosworth, the linebacker known more for his attitude and "style" than his playing; and, ironically, the 1949 quarterback who became the greatest coach ever at their biggest rivals -- not Oklahoma State, but the University of Texas: Darrell Royal.
The stadium is located at 180 W. Brooks Street & S. Jenkins Avenue. The OU (never "UO," even though that's more correct) campus can be reached from Oklahoma City via the Number 24 bus. The ride takes about an hour.
Oklahoma State University is in Stillwater, 67 miles northeast of Oklahoma City. They play at Boone Pickens Stadium, formerly named Lewis Field. Built in 1920, it was the oldest stadium in the former Big 8 Conference, and is now the oldest in the league currently (but erroneously) known as the Big 12. It seats 60,218, and is unusual among U.S. football stadiums in that its field is aligned east-to-west. (Most, including Owen Field, are north-to-south due to sun issues.) Oil baron T. Boone Pickens, an OSU alum, had donated $165 million to his alma mater to boost their athletic facilities.
Their stars have included 1940s halfback Bob Fenimore, Super Bowl-winning Dallas Cowboy and chewing tobacco spokesman Walt Garrison, 4-time Super Bowl-winning Pittsburgh Steeler tackle Jon Kolb, Cleveland Browns All-Pro tackle Jerry Sherk, 1988 Heisman Trophy winner Barry Sanders and current Dallas Cowboys All-Pro receiver Dez Bryant. In the 1940s, they had a 2-way end named Neill Armstrong. Note the extra L: This man did not walk on the Moon. Aside from his name, he's best known as the head coach the Chicago Bears fired in 1981 to make way for Mike Ditka.
The Cowboys have never won a National Championship, although they have won their conference 10 times, most recently taking the Big 12 title in 2011. Pickens Stadium is at 700 W. Hall of Fame Avenue & Hester Street. You're going to need a car to get there from Oklahoma City.
The OU-OSU rivalry, known as "The Bedlam Series," includes one of the most lopsided college football matchups, maybe the most lopsided among major rivalries: The Sooners have won 84 times, the Cowboys only 18, with 7 ties.
Oklahoma also has decent programs in baseball, track, wrestling, and basketball, having made the NCAA Final in 1947 and 1988 (though losing both times). Oklahoma State, known until 1958 as Oklahoma A&M, won the National Championship in basketball in 1944 and 1945, coached by Hank Iba, and led by one of the first 7-footers, Bob "Foothills" Kurland, who, despite his size and talent, never played in the NBA. They also reached the Final Four in 1949, 1951, 1995 and 2004. They also have the nation's most successful wrestling program (even more National Championships than the University of Iowa), built by coach Ed Gallagher.
OSU's Gallagher-Iba Arena opened in 1938, at the eastern end of Lewis Field/Pickens Stadium. It still uses its original basketball court, and is known as
"The Rowdiest Arena in the Country," "The Madison Square Garden of The Plains" and "Mr. Iba's House of Horrors." OU plays basketball at the Lloyd Noble Center.
Tulsa, Oklahoma's other major city, home to 400,000 people, is 106 miles northeast of Oklahoma City -- roughly as far apart as New York and Philadelphia, without the advantage of high-speed rail in between. And yet, Tulsa, the smaller city and not the State Capital, had a permanent "major league" team before OKC did, unless you count the temporary New Orleans-Oklahoma City Hornets. The WNBA's Tulsa Shock, formerly the Detroit Shock, played at the BOK Center, before moving to Dallas for the 2016 season. (BOK, at least officially, stands for Bank of Oklahoma.) Opening in 2008, it seats 17,839, a big arena for a city that size.
The University of Tulsa, whose teams are called the Golden Hurricane, play football at Skelly Field at Chapman Stadium, a 30,000-seat facility built in 1930 but heavily renovated since, so that it looks nothing like a stadium from that period. It was home to the Tulsa Roughnecks of the old North American Soccer League, winning the 1983 title. (Another team of that name has begun play in U.S. soccer's 3rd division, but in a smaller stadium.) The USFL's Oklahoma Outlaws played their one and only season there, in 1984. Steve Largent starred there for the Hurricane, Doug Williams for the Outlaws. S. Florence & E. 8th Streets.
Outside of sports, the most famous native of Oklahoma is probably Will Rogers. The ranch where he was born is on a lake northeast of Tulsa, at 9501 East 380th Road in Oologah. And the Will Rogers Memorial Museum is near it, at 1720 W. Will Rogers Blvd. in Claremore.
Yankee Legend Mickey Mantle was born in Spavinaw, 174 miles northeast of Oklahoma City; grew up in a shotgun shack at 319 S. Quincy Street in Commerce, 198 miles northeast; and played semipro ball, since Commerce High School didn't have a baseball team (though it did have a football team on which he excelled), in towns where 4 States come together: Oklahoma, Kansas, Missouri and Arkansas. Joplin, Missouri, just 28 miles northeast of his home, was the site of his 1st pro team, a Class C team (equivalent to Class A ball today) called the Joplin Miners. The house still stands, but while there's been discussions of turning it into a Mantle museum, it remains vacant. Mickey lived his adult life (the off-season part of it, anyway) in Dallas, 205 miles south of Oklahoma City, and is interred there.
Mickey's successor as Yankee center fielder (if you don't count the 2 years he switched positions with 1st baseman Joe Pepitone to ease the strain on his legs in those pre-DH days), Bobby Murcer, lived his whole off-season life in Oklahoma City, graduating from Southeast High School. Like Mantle, he attracted some attention from OU football, but chose baseball instead. Cincinnati Reds superstar Johnny Bench, although born in Oklahoma City, grew up 60 miles to the west, in Binger.
The greatest athlete ever to come from Oklahoma wasn't Mantle, or Murcer, or Bench, or the many great running backs at OU and OSU. It was Jim Thorpe, both the greatest football player and the greatest track and field performer of the 1st quarter of the 20th Century, and a man who once hit .317 in Major League Baseball. The only Oklahoma home of his known to still stand is one he owned from 1917 to 1923, and it's now a museum. 706 E. Boston Avenue in Yale, about 83 miles northeast of Oklahoma City, closer to Tulsa.
There has never been a President who was born or spent significant time in Oklahoma, and so there's no Presidential Library there. Dwight D. Eisenhower was born close to the State Line in Denison, Texas -- but grew up in Abeline, Kansas, and always considered himself to be from there. Herbert Hoover's Vice President was an Oklahoman, Charles Curtis, believed to be the 1st person of Native American descent to serve in the U.S. Congress (and he served in both houses). Typical for Vice Presidents, he tends to get forgotten; then again, Hoover should have been so lucky.
The Devon Energy Center, opening in 2012 at 844 feet, is tallest building in Oklahoma -- indeed, it's the tallest building between Chicago and Dallas. 280 W. Sheridan Avenue at Robinson Street.
Aside from
Thunderstruck
, the most notable movies set in Oklahoma are the 1940 version of John Steinbeck's
The Grapes of Wrath
,
The Outsiders, Far and Away, Twister
(as you might guess for a State known as "Tornado Alley"),
Elizabethtown
and
The Killer Inside Me
.
Cimarron
, made in 1931 off Edna Ferber's novel, and based on the 1889 land rush that created Oklahoma as we know it, was perhaps the 1st great Western of the sound film era. It was remade in color in 1960, shortly after NBC aired an unrelated Western series named
Cimarron City
. A few years later, CBS aired a Western series named
Cimarron Strip
.
The TNT crime drama
Saving Grace
was set in Oklahoma City, hometown of its creator Nancy Miller. While it used some location shots, it was largely filmed in Los Angeles and Vancouver. The HBO series
Carnivàle
was also set in Oklahoma, but filmed in Southern California.
*
Oklahoma is a long way from New York, but Oklahoma City is no one-horse town in the middle of nowhere. It's an interesting place, and a good place to watch a basketball game. Good luck to anyone going to see the Knicks or the Nets play the Thunder there this season.