Yesterday, the New York Giants scored 49 points away to the New Orleans Saints, and lost. And the Jets, away to the Oakland Raiders, also lost.
Boy, did the New York football teams pick the right day to look like idiots! Because the Mets completed their throwing away of the World Series.
So now, it's football season. And this coming Sunday afternoon, at 4:05 PM, the Giants will play away to the Tampa Bay Buccaneers.
Before You Go.
Unlike Tampa Bay's baseball and hockey teams, their football team plays outdoors. The weather could be a factor. Also, Florida must be where the cliche, "It's not the heat that's so bad, it's the humidity" began.
Indeed, even in early Florida, the
Tampa Bay Times
(formerly the
St. Petersburg Times)
and the
Tampa Tribune
are predicting mid-80s for daylight hours, and low 70s for evening. So if you're flying, pack summer clothes, get on the plane with a short-sleeved shirt and a jacket, and then remove the jacket at your hotel.
The Tampa Bay region is in the Eastern Time Zone, so you don't have to change your watch, or the clock on your smartphone. And while Florida is in the South, it was readmitted into the Union, so you won't need your passport, and you won't need to change to Confederate money.
Tickets.
You would think that, being a football team, the 1st major league sports team and the 1st team to win a World Championship in a football region, and also being in a football State, the Bucs would have good attendance.
But they don't: They averaged 59,659 fans per game last season, and only Oakland, St. Louis and Minnesota (the latter playing in a temporary stadium seating just 52,000 while their new stadium is built on the site of the Metrodome) had fewer. That 59,659 figure is about 90 percent of capacity, and only St. Louis did worse (86 percent).
Buccaneers tickets are among the cheapest in the NFL. In the Lower Level, seats on the sidelines are $99, and in the end zones $75. In the Upper Level, they're between $50 and $75 along the sidelines, and just $35 in the corners. There are no Upper Level seats over the end zones.
Getting There.
It is 1,136 road miles from Times Square in Manhattan to downtown Tampa, and 1,132 miles from MetLife Stadium to Raymond James Stadium. Sounds like you're gonna be flying.
If you don't mind changing planes in Philadelphia, Charlotte, or even overshooting Tampa and changing in Miami, you can get a round-trip ticket for under $700. Otherwise, it's going to be over $800, and you'll still have to change in Charlotte. The stadium is a short bus ride from the airport. (Tampa International Airport was originally named Drew Field, after John H. Drew, a land developer who gave it to the Army.)
If you want to take a side-trip to Disney World, you could fly to Orlando (which is 84 miles from Tampa) and rent a car, but I suspect that hotels will be cheaper in the Tampa Bay area, and get more expensive the closer you get to Disney.
Amtrak is longer, but a bit cheaper: $442 round-trip from Newark Penn Station. Amtrak's
Silver Star
train leaves Penn Station at 11:02 every morning, and arrives in Tampa at 12:23 the following afternoon. That's right, 25½ hours. It leaves Tampa at 5:17 PM (arriving in New York at 6:50 the following night).
Greyhound has 5 daily departures from Port Authority to Tampa. It takes 28 1/2 hours, and you'll
Round-trip fare is $468, but it can drop to as little as $207 with advanced purchase. You'll have to change buses twice, in Richmond and Orlando. And the layover in Richmond is 3 hours and 15 minutes. And I don't like the Richmond Greyhound station, and I doubt that you will, either. There's also hourlong layovers in Fayetteville, North Carolina and Jacksonville. The Tampa Greyhound station is at 610 E. Polk Street, 4 blocks from the Amtrak station.
If you do prefer to drive, see if you can get someone to split the duties with you. Essentially, you'll be taking Interstate 95 almost all the way down, turning onto Interstate 10 West at Jacksonville and then, after a few minutes, onto Interstate 75 South to Interstate 275 South. Take Exit 46B, and go west on Dr. Martin Luther King Jr. Blvd., County Route 574. It's about 3 miles, including over the Hillsborough River, past St. Joseph's Hospital, to U.S. Route 92, Dale Mabry Highway, on which you'll turn left. Steinbrenner Field, the Yankees' spring training facility, will be on your right, and Raymond James Stadium will be on your left.
It should take about 2 hours to get through New Jersey, 20 minutes in Delaware, an hour and a half in Maryland, 3 hours in Virginia, 3 hours in North Carolina, 3 hours in South Carolina, 2 hours in Georgia, and about 5 hours between crossing into Florida and reaching downtown Tampa.
Given proper 45-minute rest stops – I recommend doing one in Delaware, and then, once you're through the Washington, D.C. area, doing one when you enter each new State, and then another around Orlando, for a total of 7 – and taking into account city traffic at each end, your entire trip should take about 26 hours. Maybe you can do it in 24 if you speed and limit your rest stops to half an hour each, especially if one of you drives while the other sleeps, but I wouldn't recommend this.
Once In the City.
"Tampa" is believed to be a Native American name meaning "sticks of fire," while St. Petersburg, like the city of the same name in Russia that was known as Leningrad in the Soviet era, is named after the first Pope, the Apostle Peter.
Tampa, founded in 1849, is home to 380,000 people; St. Petersburg, founded in 1888, is home to 260,000; and the metro area as a whole 3.1 million. So, while neither city is big, it's a decent-sized market (and thus should be drawing more people for baseball and football games).
In Tampa, Whiting Street divides the city's streets into North and South, and the Hillsborough River into East and West. In St. Petersburg, Central Avenue divides the city into North and South, and while there appears to be no East-West divider, 1st Street seems to set off a section with Northeast addresses.
HART, Hillsborough Area Regional Transit, runs buses, $2.00 Local and $3.00 Express. PSTA runs $2.00 buses around St. Petersburg. So, if you want to go into St. Pete, taking the 100X bus from downtown Tampa ($3.00) and transferring to a bus in St. Pete ($2.00) will be $5.00 each way.
The sales tax in Florida is 6 percent. ZIP Codes in Tampa begin with the digits 335, 336 and 346; in St. Petersburg, 337; in nearby Lakeland, 338. The Area Code for Tampa is 813, 727 for the St. Petersburg side of the Bay, and 941 south of Tampa Bay.
Going In.
The official address of Raymond James Stadium is 4201 N. Dale Mabry Highway, about 5 miles northwest of downtown. The old Tampa Stadium was just to the north. Take Bus 14 to the West Tampa Transfer Center, and switch to Bus 45.
Dale Mabry was a Tallahassee native and Tampa resident, a Captain in the U.S. Army Air Service, the earliest forerunner of the U.S. Air Force, and a pilot in World War I. Unfortunately, he was also the pilot for the first large-scale air disaster in American history, piloting the
Roma
, a dirigible that crashed at Norfolk, Virginia in 1922, killing 34 people, including himself. (There were 11 survivors.) The cause was found to be mechanical failure, and it was the last U.S. airship to be filled with hydrogen; all American airships since, including the Goodyear Blimps, are filled with helium. Mabry, not at fault for the crash, is buried at Arlington National Cemetery.
Raymond James isn't a local politician, a football coach, or a figure from the Buccaneers' history. Rather, it's a locally-based financial services holding company, founded in 1964 by the merger of companies run by St. Petersburg broker Robert James and Edward Raymond. James' son, Thomas A. James, is executive chairman of the company, but is now retired from day-to-day operations.
Parking is plentiful at "Ray Jay" (but ya doesn't hasta call it "Johnson"), and can cost as little as $16. This being the South, and Central Florida being the home of Southeastern Conference titans the University of Florida, tailgating is not only permitted, it's encouraged. Escalator towers are at each corner.
The stadium opened in 1998. It has hosted Super Bowls XXXV in 2001 (the Giants lost to the Baltimore Ravens, unlike their win over the Buffalo Bills at the old Tampa Stadium 10 years earlier) and XLIII in 2009 (Pittsburgh Steelers over Arizona Cardinals). It is 1 of 4 stadiums in the running to host Super Bowl LIII in February 2019, and Super Bowl LIV in 2020, so it has a 50-50 chance of hosting one of them.
(UPDATE: It was not selected for either, but when the builders of the new Los Angeles stadium announced that it wouldn't be ready until the 2020 season, the NFL's rule that a stadium had to have at least 2 full seasons completed to host a Super Bowl, to make sure it had gotten all the kinks out, the League took Super Bowl LV away from them, and gave it to Tampa, for February 7, 2021.)
The University of South Florida also plays home games there. The stadium hosts the Outback Bowl on or around New Year's Day, and has been selected as the host for the College Football National Championship Game for the 2016 season, to be held on January 9, 2017.
MLS' Tampa Bay Mutiny played there from 1998 to 2001, and were then disbanded. Playing there, the U.S. national men's soccer team has won a friendly with Ecuador, 3-1 on March 25, 2007; won a friendly with El Salvador, 2-1 on February 24, 2010; lost a CONCACAF Gold Cup match to Panama, 2-1 on June 11, 2011; and won a World Cup Qualifier with Antigua & Barbuda, 3-1 on June 8, 2012. (UPDATE: They've since won a CONCACAF Gold Cup match over Martinique, 3-2 on July 12, 2017.) They also played 3 games at Tampa Stadium.
The women's team has won a friendly with South Korea, 1-0 on November 8, 2008; and won a friendly with France, 1-0 on June 14, 2014. (UPDATE: They've added a win in a She Believes Cup match with England, 1-0 on March 3, 2016.)
The field, like most NFL fields, is laid out north-to-south. The big scoreboard is at the north end, and the Pirate Ship, firing off cannons when the Bucs score, is at the south end, a.k.a. Buccaneers Cove. This is where mini-fan clubs of individual players are given tickets, as seen in the photo below.
Food.
The Tampa Bay region, discovered by Spanish explored Hernando DeSoto, is known for its Spanish and Hispanic heritage, particularly the so-called Cuban sandwich, featuring freshly sliced ham, pork, and Genoa salami on toasted Cuban bread with Swiss cheese, pickles and mustard.
On the 100 Level, DeSoto Deli is at Sections 107 and 132 (you'll notice that all of these are on each side of the stadium, on diagonals from each other), Pizza Plank at 109 and 134, The Galley at 110 and 136, Taste of Tampa at 112 and 137, Red Sail Spice at 114 and 139, Bay Burgers at 118 and 143, Chicken Coup at 103 and 129, Captain's Grill at 123 and 148, and Endzone Galley at 124 and 149.
On the 300 Level, First Down Deli is at 309 and 334, Pass the Pizza at 311 and 336, Sideline Salsa at 312 and 336, Grid Iron Grill at 304, 317, 329 and 341; and Goal Line Stand at 307, 314, 332 and 339.
Team History Displays.
The stadium does not have a public display of a banner or sign stating that the Buccaneers won Super Bowl XXXVII in 2003. Nor is there any mention of the NFC Championship they won for that 2002 season to get into said Super Bowl. Nor for their NFC Central Division titles of 1979, 1981 and 1999; nor for their NFC South Division titles of 2002, 2005, 2007; nor for their Wild Card Playoff berths of 1982, 1997, 2000 or 2001.
The Buccaneers have 3 uniform numbers officially retired: 63, for defensive end Lee Roy Selmon; 55, for linebacker Derrick Brooks; and 99, for defensive tackle Warren Sapp. Selmon was their 1st-ever draft pick, suffered through the misery of the 0-26 start to their history in 1976 and '77, played for them into the rise from that and in the 1979 NFC Championship Game, and remained with the team through 1984, their last remaining original player. Brooks and Sapp both joined in 1995, and took the team their long-term status as one of the NFL's true joke franchises to the Playoffs in 1997 and to the Super Bowl win. These are also the only 3 players, thus far, who have been elected to the Pro Football Hall of Fame based mostly on what they did for the Bucs.
In addition, the Bucs have not officially retired, but nor have they returned to circulation, the 42 of running back Ricky Bell, a star on the 1979 team who died of a brain tumor while still an active player; the 40 of Mike Alstott, a running back on the 1997-2007 Playoff teams and in the Super Bowl; and the 47 of John Lynch, a safety who was also a part of their turn-of-the-21st-Century glory days and their Super Bowl win.
None of these numbers hang by themselves as "retired numbers" anywhere in the stadium. What the Bucs do have is a Ring of Honor, which includes Selmon, Sapp, Brooks, Alstott, original head coach John McKay (who also coached Bell on a National Championship team at USC), 1979 quarterback Doug Williams, tight end Jimmie Giles who was his most frequent passing target, and offensive tackle Paul Gruber, who lasted from the bad old days of the late 1980s and through the 1990s, all the way up to the return to the Playoffs, but not to the Super Bowl. Gruber held the record for most games played for the Bucs, until surpassed by Brooks.
Previously, from 1991 to 1998, the Bucs had a Krewe of Honor at Tampa Stadium, honoring Selmon, Bell, Williams, McKay, and original team owner Hugh Culverhouse, who has not yet been inducted into the Ring of Honor. Perhaps that will happen with the team's 40th Anniversary next season.
Tampa Bay Buccaneer Ring of Honor
Selmon and Brooks were named to the NFL Network's 100 Greatest Players in 2010.
The Florida Sports Hall of Fame is located at Lake Myrtle Sports Park in Auburndale, 51 miles east of Raymond James Stadium. It has inducted 4 figures connected with the Bucs: Selmon, Brooks, Culverhouse, and broadcaster Gene Deckerhoff.
Stuff.
According to the Raymond James Stadium website:
RJS does not have a Buccaneers or USF team store. Merchandise is sold only on event days. On the main concourse there are four permanent merchandise booths located near sections 107, 114, 132 and 139. In each of the clubs there is one permanent merchandise store, located across from sections 211 and 235. In the upper concourse, permanent merchandise stands are located near Sections 330 and 341. Other locations may be available depending on the event. Check with Guest Services for a list of available merchandise booths.
I've never been to a Bucs' home game, but I wonder if these stands sell pirate hats and, like Rutgers University, the Scarlet Knights, foam swords.
Did I mention that the Bucs were, and may still be to some people, a "joke franchise"? This is reflected in the 1st 2 books that come up when you plug their team name into Amazon.com: Ted Mecklenburgh's
The Funniest Tampa Bay Buccaneers Joke Book Ever
, and Orlando-based standup comedian Rich Sims' new
Tampa Bay Buccaneers Football Dirty Joke Book: The Perfect Book For People Who Hate the Tampa Bay Buccaneers
.
Why would anyone hate the Bucs enough to write an entire book of jokes about them? They don't really have rivals. The Florida-Georgia rivalry doesn't translate into animosity between the Bucs and the Atlanta Falcons, nor to the other NFC South teams, the Carolina Panthers and the New Orleans Saints. The other Florida teams, the Miami Dolphins and the Jacksonville Jaguars, are in the AFC, so they can't meet in the postseason unless it's in the Super Bowl. Even the team they beat in their 1 Super Bowl, the Oakland Raiders, has many team they hate more.
In 2011, Denis M. Crawford wrote a book about he team's early days,
Hugh Culverhouse and the Tampa Bay Buccaneers: How a Skinflint with a Losing Team Made the Modern NFL
. Shortly after Super Bowl XXXVII, Scott Smith wrote a happier story:
World Champions: The Official Story of the 2002 Tampa Bay Buccaneers
.
The NFL released an official DVD highlight film of the Bucs' Super Bowl season, and a package featuring all their 2002-03 postseason games including the Super Bowl. In 1991, Mario Van Peebles starred in
Triumph of the Heart: The Ricky Bell Story
, and it's available on Amazon.com.
During the Game.
A recent
Thrillist
article on "
The Most Obnoxious Fans In the NFL
" ranked the Buccanneers' fans 29th out of 32 -- the 4th-least obnoxious fans, saying the following:
How do you know football is king in Florida? Because a team known for orange pants and futility has an infinitely better following than a team with two Stanley Cups in the past 11 years. When you suffer for years through game-day temps in the 90s and Vinny Testaverde QB ratings in the 70s, it breeds loyalty.
And that's what Bucs fans are: loyal. Never mind the team hasn't made a good draft pick since... okay, ever. Even after those three seasons when they were good, you never got big heads about it. Probably because you recognize that everyone still knows you as the team with orange pants.
Aside from miscounting the Cups -- the Lightning have been to 2 Stanley Cup Finals in 11 years, but are 1-1 in them -- this is about right.
Rays fans don't like it when the visiting fans "take over their ballpark." That won't be an issue, as Bucs fans do a better job of filling the place (although not a great one). If this were a game within the Florida/Florida State/Miami college football "hate triangle" you'd have issues while rooting for the visiting team. But it's Bucs vs. Giants. Don't be obnoxious to the home fans, and they'll leave you alone.
The team's mascot is a pirate named Captain Fear. The Bucs' cheerleaders are among the most highly-regarded in the NFL. They hold auditions for National Anthem singers, rather than having a regular singer. The original theme song of "Hey, Hey, Tampa Bay!" has been replaced by the hip-hop "Bucs Theme Song" by J. Skeete. But "TAM-pa-BAY!" is the best chant their fans have come up with thus far.
Captain Fear, probably the least-scary pirate since
The Pirates Who Don't Do Anything: A VeggieTales Movie.
After the Game.
The stadium is far from downtown Tampa, and is not in an especially high-crime area. And, as I said, Bucs fans do not tend to get violent. You might get a little bit of verbal if you're wearing opposing team gear, but it won't get any worse than that.
If you're looking for a place to relax with a postgame snack and drink, your nearby options are limited. South of the stadium, at the intersection of Dale Mabry Highway and Columbus Drive, there's a shopping center with a Burger King, a Chili's, a Moe's Southwest Grill, a Sonic, and a VariAsian Crazy Buffet. North of the stadium, there's a Panera at MLK Blvd. and Himes Avenue.
If you're looking to spend time with others from the Tri-State Area, Bobalouie's Grille & Sports Garden is the home of the New York Giants Fan Club of Tampa Bay. But it's at 1913 E. Bearss Avenue, on the north side of Tampa, about 12 miles northeast of the stadium and about 12 miles due north of downtown. The home of the New York Jets Fan Club of Tampa Bay, Peabody's Bar & Grill, is similarly far away, at 15333 Amberly Drive on the north side of Tampa, 14 miles northeast of the stadium, and also 14 miles northeast of the arena. I can find no listing for bars that serve as gathering places for Yankee or Met fans.
If you visit during the European soccer season (as we are now in), and want to see your favorite club play on TV, the best soccer bar in the Tampa Bay area is MacDinton's, in Hyde Park, about 2 miles over the Hillsborough River and west of downtown. 405 S. Howard Avenue at Azeele St. Bus 30 to Kennedy Blvd. & Howard Avenue, then 3 blocks south on Howard. Unless you're a Liverpool fan, in which case you might prefer Pokey's, at 100 E. Madison Street, downtown, near the Hillsborough River waterfront.
Sidelights.
Somebody once called Tampa "the San Diego of Florida." I think he owes San Diego an apology. But the Tampa Bay region does have some sites worth visiting.
UPDATE:
On February 3, 2017, Thrillist made a list ranking the 30 NFL cities
(New York and Los Angeles each having 2 teams), and Tampa came in 26th, in the bottom quarter. The author wrote:
There are nice things to be had here -- beautiful beaches in close proximity, the splendors of Cigar City Brewing, a few good restaurants (Edison: Food+Drink; Rooster & the Till; a place called Big Ray's with crazy-good fish sandwiches); it's just too bad nearly everyone I've met from Tampa (and I have cousins here, so I've met a bunch) is basically Kevin from the Netflix show
Bloodline
, but even more fidgety.
The Yankees' spring training home, George M. Steinbrenner Field (formerly Legends Field), is at Dale Mabry Highway and Tampa Bay Blvd., across from Raymond James Stadium.
North of Raymond James was Al Lopez Field, named for the Tampa native who was a Hall of Fame catcher and manager. Between them was the Buccaneers' first home, Tampa Stadium, known as The Big Sombrero because of its weird shape. It was built in 1967 with 46,000 seats, and expanded to 74,000 when the Bucs were expanded into existence in 1976. The Giants beat the Buffalo Bills in Super Bowl XXV there, and the Los Angeles Raiders beat the Washington Redskins in Super Bowl XVIII. It was demolished in 1999.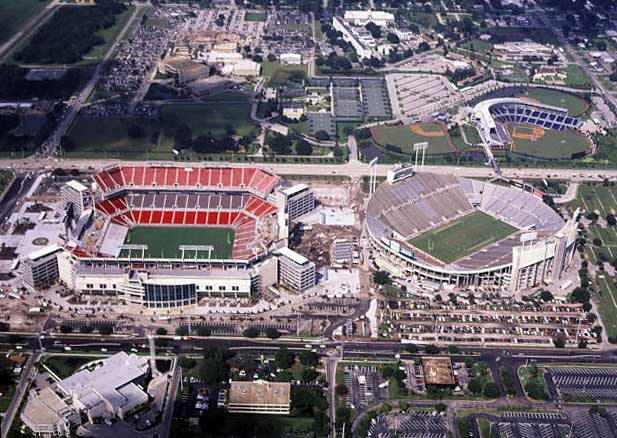 Raymond James Stadium (left) and Tampa Stadium (right),
with Al Lopez Field in the background, 1998
One of the legendary homes of spring training baseball, Al Lang Field (now Progress Energy Park), named for the Mayor who promoted St. Petersburg as a spring training site, is at 1st Street SE & 2nd Avenue S., 2 miles east of the Trop, in downtown St. Pete on the shore of Tampa Bay.
The spring home of the Yankees from 1947 to 1961, the Mets from 1962 to 1987, and the St. Louis Cardinals from 1947 to 1997, it is no longer used as a major league spring training or Florida State League regular season facility. In fact, it was supposed to be torn down so that the new Rays ballpark could be built on the site, but they haven't been able to get the funding, so Al Lang Field remains standing. It is the home of the new version the Tampa Bay Rowdies, in the new version of the North American Soccer League, the second division of North American soccer. From downtown Tampa, take Bus 100X to Bus 4.
Tampa-based teams have won Florida State League Pennants in 1920, '25 (Tampa Smokers), '57, '61 (Tampa Tarpons), '94, 2001, '04, '09 and '10 (Tampa Yankees). St. Petersburg teams have done it in 1975, '86 (St. Petersburg Cardinals) and '97 (St. Petersburg Devil Rays, who won a Pennant before their parent club had even played a game). The Clearwater Phillies won a Pennant in the same year as their parent club in Philadelphia, 1993, and won another under their current name, the Clearwater Threshers, in 2007, presaging their parent club's success.
The Amalie Arena, previously known as the Ice Palace, the St. Petersburg Times Forum and the Tampa Bay Times Forum, opened in downtown Tampa in 1996, and the NHL's Tampa Bay Lightning moved in for the 1996-97 season. It hosted the NCAA Frozen Four in 2012, and will host it again in 2016.The Republican Convention was held there in 2012, and Mitt Romney was nominated for President.
It is at 401 Channelside Drive, across Old Water Street from the area's premier museum, the Tampa Bay History Center, and both are across Meridian Blvd. from the Channelside Bay Plaza mall, the Florida Aquarium, and the American Victory Ship, symbolic of the American effort in the Spanish-American War of 1898. Tampa was a gathering and training center for that war.
To get to Tropicana Field, home of the Rays since their inception in 1998, you'll have to go onto Interstate 275, and cross the Howard Frankland Bridge – a bridge so traffic-ridden it's known locally as "Frankenstein" and "the Car-Strangled Spanner" – over Tampa Bay itself and into St. Pete.
Opened in 1990 as the Florida Suncoast Dome, and nicknamed the White Elephant because of its exterior color and lack of a tenant for the sport for which it was intended, the name was changed in 1993 when the NHL's Lightning came in, making the stadium the ThunderDome. But they were only there for 3 seasons, until the building now known as the Amalie Arena opened.
In their home opener, October 10, 1993, the Bolts set what was then an NHL record of 27,227 fans in the quirky seating configuration the place had at the time. So an expansion hockey team -- in Florida, mind you -- in the era before you could buy game tickets online, managed to outdraw a winning, Internet-era baseball team.
Anyway, when the Devil Rays (as they were known from 1998 to 2007) arrived, the stadium's name was changed to Tropicana Field -- but, make no mistake, this blasted thing (or thing that
should
be blasted) is a dome. In 1999, it became the only building in Florida (so far) to host an NCAA Final Four, and Connecticut beat Duke in the Final.
The Lightning played their 1st season, 1992-93, at Expo Hall, part of the Florida State Fairgrounds. It seats only 10,425 people, so it was never going to be more than a temporary home, but they outgrew it immediately, because, unlike the new Ottawa Senators, who came into the NHL at the same time and played at the Ottawa Civic Centre, which had almost exactly the same number of seats, they weren't horrible; indeed, they were rather respectable from the off. 4800 U.S. Route 301, about 8 miles northeast of downtown. It would take 3 buses to get there.
Tampa Bay does not have an NBA team, nor does it seem to be interested in trying for one, even though it would rank 20th in NBA markets. The Orlando Magic play 84 miles from downtown Tampa, while the Miami Heat are 279 miles away. Yet, according to
a May 2014 article in The New York Times
, mainly due to LeBron James (but also due to Shaquille O'Neal being much more recently in Miami than in Orlando), the Heat are more popular in the Tampa Bay region than the Magic are -- and the Los Angeles Lakers are nearly as popular as the Magic, probably because of Shaq and Kobe. If Tampa Bay did have an NBA team, the metropolitan area would rank 22nd in population among NBA markets.
Orlando is also the home of Orlando City Soccer Club, the closest Major League Soccer team. The University of Florida is 131 miles away in Gainesville, and Florida State University is 276 miles away in the State capital of Tallahassee.
Busch Gardens, with its African theme (for political correctness reasons, they can't call it "The Dark Continent" anymore), is at 10165 N. Malcolm McKinley Drive, 10 miles northeast of downtown. Take the Number 8 bus to 7th Avenue & 15th Street, then walk up 15th Street to 11th Avenue and catch the Number 18 bus, and take that to Busch Blvd.
Busch Gardens, the History Center, the Aquarium and the Victory Ship should provide you with some non-sports things to do in the Tampa Bay region. And, if you want to go there, Walt Disney World is 70 miles up Interstate 4, an hour and 15 minutes by car from downtown Tampa.
The Beatles never played a concert in the Tampa Bay region. Elvis Presley did: In Tampa, at the Fort Homer Hesterly Armory on May 8 and July 31, 1955, and on February 19 and August 5, 1956; and at Curtis Hixon Hall on September 13, 1970, April 26, 1975 and September 2, 1976; in St. Petersburg, at the Floridian Theater on August 7, 1956, and the Bay Front Center on September 3, 1976 and February 14, 1977; in Sarasota at the Florida Theater on February 21, 1956; and in Lakeland, at the Polk Theater on August 6, 1956, and at the Lakeland Civic Center on April 27 and 28, 1975 and September 4, 1976.
No President has ever come from Florida. Two men who served as Governor ran for the Democratic Party's nomination for the office, but neither came particularly close to the nomination: Reubin Askew dropped out after the 1984 New Hampshire Primary, and Bob Graham didn't even make it to calendar year 2004, much less the Iowa Caucuses.
Malio's, in downtown Tampa at 400 N. Ashley Drive at Kennedy Blvd., is a locally famous restaurant, known around there as George Steinbrenner's favorite. He had a private room there, as does the still-living Tampa native and Yankee Legend Lou Piniella.
The Tampa Bay region doesn't have a lot of tall buildings. The tallest, at 579 feet, is 100 North Tampa, named for its address at Whiting Street downtown, formerly named the Regions Building and the AmSouth Building.
Oh, and, get this: As New York is known as the Big Apple, Tampa likes to call itself the Big Guava. In the words of the immortal Jack Paar, I kid you not.
As far as I know, the only major-network TV show set in the Tampa Bay region has been
Second Noah
, ABC's 1996-97 series starring Daniel Hugh Kelly as a veterinarian at Busch Gardens. Quite a few films have been set there, though, including
Cocoon, Edward Scissorhands
and
A Time to Kill
.
*
So, if you can afford it, go on down and join your fellow Giant fans as the Big Blue Wrecking Crew take on the Men In Pewter. Enjoy the warmth -- and remember, it's not the heat that's so bad, it's the humidity!