According to Wikipedia, there are 13 men named Kenneth Johnson who are notable athletes. But one is an auto racer, and another is a professional wrestler, so it's really only 11 athletes.
I'm focusing on the most famous one, although what he's famous for is a little dubious.
Kenneth Travis Johnson was born on June 16, 1933 in West Palm Beach, Florida. A righthanded pitcher who stood 6-foot-4, weighed 230 pounds (making him huge for that era), and with an effective knuckleball, he was signed by the Philadelphia Athletics out of high school in 1952. But he was soon drafted into the U.S. Army to fight in the Korean War. When the war ended, he spent a year at the University of South Carolina, where he met Lynn Ergle, whom he married.
By the time he made his major league debut on September 13, 1958, they had moved to Kansas City. On that day, A's starter Jack Urban got rocked, so Johnson was brought out of the bullpen in the 1st inning. Wearing Number 27, he was no improvement, allowing 4 runs in 2 1/3rd innings, including a home run by light-hitting catcher (and ex-Yankee) Clint Courtney, and the A's lost to the Washington Senators, 8-5 at Kansas City Municipal Stadium.
The A's were going nowhere. (Actually, when Charlie Finley bought them in 1960, they were going a lot of places: Louisville, Dallas, Seattle. Finally, he settled on Oakland.) So, in 1961, they traded Johnson to the Cincinnati Reds, and, lo and behold, he was on a Pennant winner.
Wearing the Number 40 which he would wear for the majority of his remaining career, he went 6-2 with a 3.25 ERA for the Reds down the stretch, after going 0-4 with a 10.61 ERA for the A's to that point. He even got to pitch in the clinching game of the World Series. Okay, it was Game 5, and the Yankees won it 13-5, but, unlike his big-league debut, the defeat wasn't his fault: In the top of the 2nd, relieving Jim Maloney, who had already relieved Joey Jay, he got Elston Howard to line out to 3rd base, and got Moose Skowron to fly out to center. And his reward for pitching 2/3rds of perfect baseball in the World Series, against one of the best teams ever, the '61 Yankees? He got pinch-hit for and relieved. He never threw another postseason pitch.
*
In a span of just 5 months from May to October 1961, Ken Johnson went from one of the worst teams in baseball (the Kansas City A's) to a minor-league team (the Toronto Maple Leafs, for whom the hockey team was named) to a Pennant winner (the Cincinnati Reds) to another bad team. He was taken in the expansion draft, by one of the National League's new teams, the Houston Colt .45's. Hey, it could have been worse: He could have been taken by the Mets.
He went 7-16 for the expansion Colts in '62, and 11-17 in '63. On April 23, 1964, he was 2-0, and took the mound against his former team, the Reds, at Colt Stadium, which the Colt .45's used as a stopgap facility until their permanent stadium, the Astrodome, could be built next-door. The next year, it opened, and the name of the team was changed to the Houston Astros.
The Colts/Astros weren't very good in 1964, mainly because they were very young. They had a couple of solid veterans in future Hall-of-Famer Nellie Fox and 2-time batting champion Pete Runnels. But most of their players who turned out to be good ended up doing so later, and some for other teams: Joe Morgan, Jimmy Wynn, Jim Beauchamp, and future Met All-Stars Rusty Staub and Jerry Grote.
In contrast, the Reds had a very good team in 1964. The had Frank Robinson, future Hall-of-Famer; Vada Pinson, a multiple All-Star; Pete Rose, who would have made the Hall if he hadn't ignored baseball's warnings about gambling; Deron Johnson, an All-Star; Leo Cardenas, an All-Star; and Joe Nuxhall, once the youngest player in the game's history, now "The Old Lefthander," wrapping up what turned out to be a nicer career (1952-1965) than anyone could have imagined when he got smacked in his debut, not yet 16 years old (1944).
Nuxhall was the opposing pitcher that day, and he and Johnson traded goose eggs for 8 innings. Johnson walked a batter in the 1st inning, and walked another in the 5th, but those were the only 2 baserunners he'd allowed.
Nuxhall was effectively his equal, if less spectacularly. He allowed a single to Fox in the 1st, but he was caught stealing. He then walked Runnels, but stranded him. He allowed a single to Bob Aspromonte in the 2nd, but induced a double play to erase him. He allowed a single to Runnels in the 4th, but got another double play. In the 7th, he allowed a single to Fox, and there was no double play this time, as Cardenas made an error, allowing Runnels to reach. The Colts had men on 1st and 2nd with nobody out. Now, Nuxy got a double play, and a flyout to end it. He allowed a leadoff double to Wynn in the 8th, but retired the next 3 batters to keep it 0-0.
His wife Lynn, and sons Kenneth Johnson Jr. and Russell "Rusty" Johnson were at the game. "I knew it was close," Lynn said. "Every inning he would get them out. I was getting pretty nervous. Our youngest son, Rusty, wanted to go to the bathroom, and I wouldn't let him leave."
Nuxhall himself led off the top of the 9th with a groundout to 3rd. But Johnson hurt his own cause by throwing away a grounder that Rose had hit to him. Rose got to 2nd base. Johnson got Chico Ruiz to ground back to him, and he threw to 3rd to get Rose, but he was safe. Aspromonte, the Colts' 3rd baseman, then threw Ruiz out at 1st. Pinson then hit a grounder to 2nd, which should have been the 3rd and final out, completing the (word you can't say while one is in progress, for fear of jinxing the pitcher). But, of all players to make an error at this time, it was Fox, the team's earliest (though not 1st) Hall-of-Famer. Rose scored, and it was 1-0 Reds.
Johnson got Robinson to fly to left to end the inning, but the damage was done. The Colts weren't done, though: With 2 out in the bottom of the 9th, Runnels reached on an error by 1st baseman Johnson. (A born DH before there was a DH, Johnson would soon be replaced by Tony Perez, and the rest is history.) The tying run was on 1st, the winning run was at the plate, and maybe Johnson could win the game anyway. But the batter was the Houston right fielder, John Weekly, a man who lived up to his name with a .133 batting average at the time. Nuxhall struck him out looking to end it.
The totals on the ballgame: For the Reds, 1 run on no hits and 2 errors; for the Colt .45's, no runs on 5 hits and 2 errors. WP: Nuxhall (1-1). No save. LP: Johnson (2-1). Attendance on this Thursday night: 5,426. The time of the game, a brisk 1 hour and 56 minutes.
Ken Johnson had pitched a no-hitter, for a full 9 innings. And lost the game. This had never happened before, and has never happened since.
Fox, through tears, apologized to Johnson after the game. Runnels told him, "How many no-hitters were thrown last year? Who threw them? They'll remember yours."
For the record, 3 no-hitters were thrown in 1963, 1 by Johnson's own roommate, Don Nottebart, the 1st no-hitter in the history of the Houston franchise. So Runnels should have remembered. You might have heard of the guys who threw the other 2: Sandy Koufax of the Los Angeles Dodgers, and Juan Marichal of the San Francisco Giants. Also throwing no-hitters in 1964 were Koufax, and Jim Bunning of the Philadelphia Phillies, who threw a perfect game against the Mets.
On July 1, 1990, Andy Hawkins of the Yankees pitched 7 no-hit innings against the Chicago Whit Sox at Comiskey Park. But the Yankees hadn't scored, either. In the 8th, he walked 3 batters, and his fielders made 3 errors. The Yankees lost the game 4-0, but, at first, Hawkins was credited with a no-hitter. After all, he had pitched a complete game without allowing a hit.
A year later, Major League Baseball made a ruling that a pitcher could only be credited with a no-hitter if he pitched all of a team's game, went at least 9 innings, and didn't allow a hit. In other words, if he pitched 9 no-hit innings, and was relieved in the 10th, no no-hitter. If he pitched 9 no-hit innings, and kept pitching, and his team eventually won, but if he allowed a hit in the 10th, the 11th, or whichever inning, he didn't get credit for the no-hitter -- not even if he kept going into the 19th inning, having effectively pitched 2 no-hitters in 1 day. Even if he pitched 9 perfect innings, he wouldn't get credit for the no-hitter or the perfect game unless his team won, he was the only pitcher they used, and he stayed hitless (or perfect).
Not only did Hawkins lose credit for his no-hitter (he had pitched 8 innings), but Harvey Haddix, who pitched 12 perfect innings in a 1959 game but lost it all in the 13th, lost credit for his perfect game.
During the commercial break between the 8th and 9th innings of the Andy Hawkins Game, I switched from WPIX-Channel 11 to WWOR-Channel 9, to see if the Mets' announcers were talking about what was happening at Comiskey. They were, and Ralph Kiner mentioned that only 1 pitcher had ever pitched a complete-game no-hitter and lost: "I think it's Ken Johnson." Tim McCarver confirmed: "It is Ken." I'd never heard of Johnson at that point, but you can be sure that the name has stuck with me in the 25 years since the Andy Hawkins Game, which I still have on videotape somewhere.
I don't know if Ken Johnson and Andy Hawkins ever met. If they didn't, it's too late now.
*
Colts owner Roy Hofheinz, a federal Judge and a former Mayor of Houston, gave Johnson a $1,000-a-year raise, equivalent to $7,672 now. He was invited to come to New York to appear on the TV game show
I've Got a Secret
.
He went 11-16 in that 1964 season, and on May 23, 1965, the Astros traded him, along with Beauchamp, to the Milwaukee Braves for Lee Maye. He ended up having his best season, going 16-10 with a 3.42 ERA. He moved with them to Atlanta in 1966, and went 14-8 that year and 13-9 the next.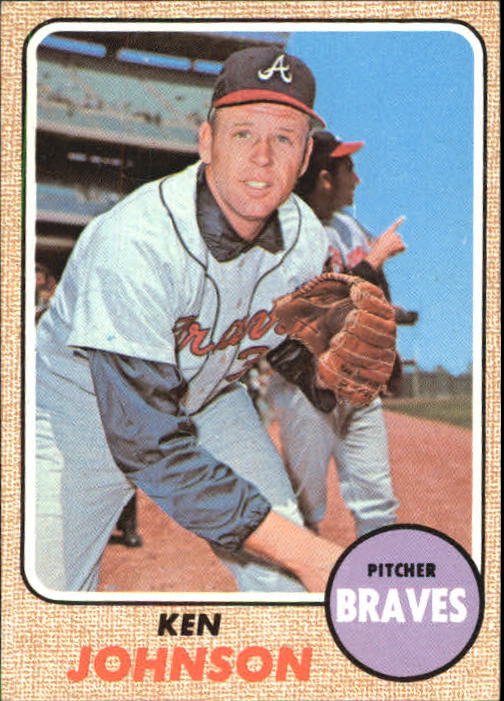 But he only won another 7 games in the major leagues. He had particularly bad luck in 1969. Still with the Braves, they sold him to the Yankees on June 10. He wore Number 54 for them, later made famous by Hall-of-Famer Goose Gossage. Not only did Johnson not get to pitch for the Braves in the 1st-ever NL Championship Series that October, but he missed being in attendance at Mickey Mantle Day by 2 days. These were not Mickey's Yankees: These were the Yankees of Joe Pepitone, Bobby Murcer, Mel Stottlemyre, Fritz Peterson, a young Roy White, and 20 guys named Jerry Kenney. Then, on August 11, the Yankees gave up on Johnson, selling him to the Chicago Cubs, allowing him to be a part of their infamous September Swoon.
The Cubs released him just before the 1970 season began, but he was picked up mere hours later by the Montreal Expos. They released him 20 days and 3 games later, and his career was over: 91-106, ERA 3.46, ERA+ 102, WHIP 1.199. He was a good pitcher with bad luck, never more so than on that humid Thursday night in Houston, early in the '64 season.
*
After leaving baseball, he worked for Palm Beach Atlantic University in his hometown, and later coached at Louisiana College in Pineville, where he spent the rest of his days. After his coaching, he ran a nursing service for his local Baptist church.
And and Lynn 3 children: Sons Kenneth and Rusty, and daughter Janet Johnson. He would live to see 6 grandchildren and 5 great-grandchildren.
Kenneth Johnson Jr. is a doctor, and this past Wednesday, confirmed that his father had died in Pineville the preceding Saturday, November 21, 2015, of a kidney infection. He had also battled Alzheimer's and Parkinson's diseases. He was 82 years old.
Unfortunately, I can't find a picture of him later than that Braves photo. Even more unfortunately, he was too ill to be honored by the Astros last year on the 50th Anniversary of his no-hitter. Nor could he be honored in Milwaukee this year on the 50th anniversary of the last Braves team in that city, or in Atlanta next year on the 50th anniversary of the first Braves team there. As far as I know, he was never invited back to any ballpark for any ceremony.
He deserved better than that. But at least his strange moment in baseball history is remembered. There have been 18,662 players to have played in at least 1 Major League Baseball game, and most of them end up being not particularly noteworthy.
"I pitched the best game of my life," Ken Johnson said at the time, "and still lost. A hell of a way to get into the record books."
Agreed. But he's in them. After all, if someone other than the man who had been the youngest player ever to appear in a big-league game (and later a beloved Reds broadcaster) had been the opposing starter, how well would we remember him?
But, i

n 2004, on the 40th Anniversary of his achievement, Johnson admitted to a local newspaper in Louisiana, "

Instead of the notoriety, I'd rather have won the game."