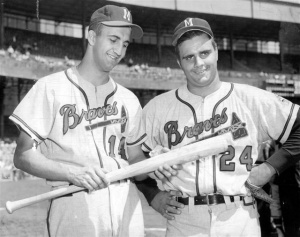 Frank Torre was supposed to die years ago. He was on his 2nd heart and his 3rd kidney. But his story was too good to end. Until now.
Frank Joseph Torre was born on December 30, 1931, in Brooklyn. He had 2 brothers and 2 sisters, but his father was a wife-beater. Standing up to his father, he told him to get out of the house, or he'd get beaten himself. The father packed his things and left. After that, Frank was the new father figure for younger brother Joe and sisters Marguerite and Rae. (Older brother Rocco had already moved out.)
How good a job did he do? Marguerite became a nun and a school principal. Rae became an executive at New York Telephone. And I don't have to tell you what Joe went on to do.
Frank graduated from St. Francis Preparatory School, then located in the Cobble Hill section of Brooklyn. (It's now in the Fresh Meadows section of Queens.) Graduates, aside from the Torre siblings, include: Vince Lombardi, former Rutgers stars and NFL players Bill Pickel and Marco Battaglia, current Rutgers coach Kyle Flood, former college football coach Gerry DiNardo, former Atlanta Falcons coach Dan Henning,
Big Brother
host and
The Talk
panelist Julie Chen, actor Peter Facinelli, and legendary New York cop Frank Serpico, best known for being played by Al Pacino in the film about how he exposed NYPD corruption.
Frank Torre was signed by the Boston Braves in 1951. But the U.S. Army called, and he spent the 1952 and '53 seasons in the Korean War. He played the '54 and '55 seasons in the minors, and by the time he reached the major leagues, the Braves had moved to Milwaukee.
*
He made his major league debut on April 20, 1956, at Sportsman's Park in St. Louis. Wearing Number 14, he entered the game in the 8th inning, as a defensive replacement for 1st baseman Joe Adcock. The Braves won, 5-4. He didn't get to bat until 2 days later, also in St. Louis, and grounded into a double play, although the Braves still won. He finally got his 1st hit on May 12, against the Cincinnati Reds at Crosley Field. Pinch-hitting for pitcher Chet Nichols in the 4th, he singled and drove home Billy Bruton. But the Reds still won, 10-6.
Adcock was too powerful a slugger for Frank to become the regular 1st baseman. If the designated hitter had been in effect back then, he probably would have been the 1st baseman and Adcock the DH. It wasn't until Adcock got hurt early in 1957 that Frank became the starter, and he led all NL 1st basemen in fielding percentage in 1957 and '58. The Braves won the Pennant both years. I don't think that's a coincidence.
Frank batted .300 in the 1957 World Series against the Yankees. He hit a home run off Tom Sturdivant in Game 4 and another off Bob Turley in Game 6. The Braves won in 7. He didn't do nearly so well in the 1958 Series, and that's probably one of the reasons why the Yankees got even.
But 1958 was his best season offensively. He batted .309 with 6 homers and 55 RBIs, all career highs. But that was it: He spent most of the 1960 season at Louisville, and 1961 at Vancouver. (The Braves switched Triple-A affiliations in 1961.) He returned to the majors with the Philadelphia Phillies, but was only a part-timers in 1962 and '63.
He played his last major league game on September 29, 1963. So did Stan Musial. The difference was, Stan the Man was almost 43, while Frank with no nickname wasn't quite 32. Frank's finale was at Dodger Stadium in Los Angeles. He singled off Don Drysdale in the 2nd, flew out to right in the 4th, and then, ironically given his debut, was pinch-hit for.
Frank was released by the Phillies, sparing him from having to play on their 1964 collapse. (Then again, maybe he could have made a difference.) He retired, worked as an executive with the Rawlings Sporting Goods Company, and later served as vice president of the Baseball Assistance Team (BAT), which provides financial assistance to old ballplayers down on their luck.
*
Joe, of course, became one of the top players of his era. Just missing a chance to play alongside his brother -- he was called up to the Braves in 1960, shortly after Frank was sent down -- he became an All-Star, moved with them to Atlanta, hit the first home run at what became Fulton County Stadium in 1966, and, as a St. Louis Cardinal, was the 1971 National League batting champion and Most Valuable Player. He then played for the Mets, managed them, managed the Braves to an NL Western Division title in 1982, and managed the Cardinals. After he was fired by the Cards, he thought his managing career was over: "I ran out of teams."
But it doesn't work that way. (After all, of all the managers who've led the Yankees to a Pennant, only Ralph Houk, Billy Martin and Joe Girardi actually played for them.) Joe was offered the Yankees' managing job for the 1996 season. Knowing how George Steinbrenner had treated managers (and others) in the past, Frank told his little brother, "You'd be crazy to take that job."
Joe wasn't crazy to take it, and George wasn't crazy to offer it. The Yankees got off to a good start in 1996. But all was not well. Frank's heart was giving out, and he needed a heart transplant. Then, while he was waiting for one, oldest brother Rocco died of a heart attack, while watching his brother's team on TV. Joe was prepared for the possibility of losing Frank, but Rocco's death was a complete shock.
The Yankees won the American League Pennant, and after 4,272 games as a major league player and manager without having reached a World Series -- then a record -- Joe's count reverted to 0. To make things even more interesting, it was against the defending World Champion Braves. The Yankees lost the first 2 games at Yankee Stadium, then took the next 3 in Atlanta -- Joe, having hit the 1st homer in Fulton County Stadium, managed and won the last 3 games ever played there.
All the while, Frank was at Columbia-Presbyterian Medical Center at 168th Street & Broadway in Manhattan's Washington Heights -- the site of Hilltop Park, the Yankees' first home. And on October 25, the travel day from Atlanta back to New York, a heart became available. Who would write such a script? The surgery was performed by the famous Dr. Mehmet Oz and Bronx-born Dr. Eric Rose. The Yankees won the Series in Game 6 the next night.
Joe would win the Series again in 1998, 1999 and 2000, and Pennants in 2001 and 2003. In 2005, they lost to the Los Angeles Angels of Anaheim, also managed by a catcher for the other team in their market, former Dodger Mike Scioscia. George Steinbrenner went out of his way to say that Scioscia had outmanged Joe. This was a defensible position. But Frank came to his little brother's defense, telling reporters, "Sit down in a room with him. "If you've got complaints with him, and you're unhappy with him and you don't want him to manage, work that out. Be face-to-face and upfront with my brother."
He added, "If you don't think that that was a shot not only at Joe, but the whole Yankee organization…if I was some player who busted my ass, even if I lost it, would bother me too. It doesn't make sense to do that. The backstabbing and all the behind-the-scenes junk that goes on only hurts the organization. It's almost like people cheering that they don't do well."
The medication he needed for his heart wrecked his kidneys. In 2007, he got a kidney transplant from his daughter Elizabeth. But the new heart and the new kidney could only take him so far. Frank Torre died today, at the age of 82.
With Frank's death, the following 13 men are still alive from the 1957 Braves, still the only Milwaukee team to win a World Series: Hall of Fame right fielder Hank Aaron, catcher Del Crandall, 2nd baseman Red Schoendienst, shortstop Felix Mantilla, Newark native infielder Bobby Malkmus, infielder Mel Roach, infielder Dick Cole, outfielder John DeMerit, and pitchers Gene Conley, Juan Pizarro, Taylor Phillips, Ray Crone and Joey Jay (who only appeared in 1 game that year, but would go on to become the ace of the 1961 Reds, and won their only victory in that year's World Series against the Yankees).