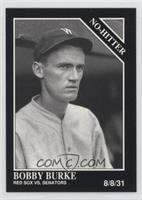 On Sunday, in the Washington Nationals' last game of the 2014 regular season, Jordan Zimmerman pitched a no-hitter. The Nats beat the Miami Marlins, 1-0.
It was the 5th no-hitter of the season, following gems by Josh Beckett and Clayton Kershaw of the Los Angeles Dodgers, Tim Lincecum of the San Francisco Giants, and a collective effort by 4 Philadelphia Phillies: Cole Hamels for the 1st 6 innings, Jake Diekman for the 7th, Ken Giles for the 8th, and Jonathan Papelbon for the 9th.
The last time a pitcher for a Washington team threw a no-hitter, it was Bobby Burke of the Senators, 5-0 over the Boston Red Sox at Griffith Stadium, on August 8, 1931. (It's also the first no-hitter for the franchise formerly known as the Montreal Expos since the perfect game pitched by Dennis Martinez in 1991.)
Burke was a 24-year-old lefthander from Joliet, Illinois, outside Chicago. He debuted with the Senators in 1927, would be with them as they won the 1933 American League Pennant (still the last one won by a Washington baseball team, unless you count the Negro Leagues' Homestead Grays), and last pitched in the majors with the 1937 Philadelphia Athletics. His career record was a rather ordinary 38-46, and he died in 1971, age 64.
He pitched the last Washington no-hitter, until this week, on August 8, 1931. That's 83 years, 1 month and 20 days. How long has that been?
*
In what we would now call Major League Baseball, there were no black players, no Asian players, and any Hispanic players were white. A few Cubans and Puerto Ricans had made it, but they were said to be "pure bars of Castilian soap," meaning their ancestry (or so we were led to believe) was all Spanish, not at all of native Caribbean (Indian) or black (former slave).
No ballparks had artificial turf, or domes (retractable or otherwise), or electric scoreboards (let alone electronic ones), or lights. Most didn't even have electric public-address systems: Announcers would come onto the field, and, through a megaphone, shout out the lineups to the 3rd base side, then walk across the field, and do the same for the 1st base stands.
There were no major league teams west of St. Louis, nor south of St. Louis, Cincinnati and Washington. There were American League teams in Philadelphia and St. Louis, and a National League team in Boston. Fenway Park in Boston and Wrigley Field in Chicago were the only major league ballparks then in use that are still in use now -- and neither was considered all that special at the time.
The National Hockey League consisted of the New York Rangers and Americans, the Montreal Canadiens and Maroons, the Boston Bruins, the Toronto Maple Leafs, the Detroit Red Wings and the Chicago Blackhawks. The National Football League was an afterthought. There was an American Basketball League, but, by today's standards, it can hardly be called a "major league." The defending World Champions were the Philadelphia Athletics in baseball, the Green Bay Packers in football, the Canadiens in hockey, and in the ABL, the Brooklyn Visitations.
The A's would win 107 games, a record for a Philadelphia baseball team, and take their 3rd straight American League Pennant. But, having beaten the St. Louis Cardinals in the previous year's World Series, they would lose to the Cardinals this time. The Cards already had some of the players who would form their 1934 World Champions, to be known as the Gashouse Gang, including Pepper Martin -- but, aside from a one-game callup the previous season, Dizzy Dean had not yet arrived.
Original 1869 Cincinnati Red Stocking George Wright was still alive. None of the defining players of my childhood had yet been born. Nor had most of the stars of the 1960s. Willie Mays was almost 5 months old. Joe DiMaggio was in high school, while Ted Williams and Bob Feller were in junior high. Stan Musial was in elementary school.
The Heavyweight Champion of the World was Max Schmeling -- and, at the time, few people had an issue with him holding the title, including Jews and African-Americans. No one, rightly or wrongly, associated him with fascism.
Indeed, at this point, few Americans had heard of the Nazi Party or Adolf Hitler. They had, however, heard of fascism and Benito Mussolini, but many favored him, because he had put down labor unions and performed an "economic miracle." These supporters would soon say the same things about Hitler.
The Olympic Games would soon be held in the U.S.: The Winter Games in Lake Placid, New York; and the Summer Games in Los Angeles. Soccer's World Cup had been held for the 1st time only a little over a year earlier, in Montevideo, the capital of Uruguay. The host nation had defeated neighbor and arch-rival Argentina in the Final. The American team reached the Semifinals, and has not matched this achievement since. (Best since then: The Quarterfinals in 2002.)
There were 48 States in the Union, and 19 Amendments to the Constitution of the United States. There was no Federal Deposit Insurance Corporation, no Civil Rights Acts, no Social Security, no Medicare, no, Medicaid, no Environmental Protection Agency. Abortion was only talked about if you were rich and discreet, and as for gay marriage, well, that was for Hollywood -- and not actually in the movies, either.
The President of the United States was Herbert Hoover, and while he didn't do much to cause the Great Depression, other than to keep in place the policies of his 2 immediate predecessors, Warren Harding and Calvin Coolidge, his efforts to stop it were feeble.
However, when Franklin Roosevelt, then Governor of New York, was elected in 1932, he built on Hoover's minimal efforts to form the New Deal, showing that Hoover was, in fact, on to something. But Hoover saw few results, and abandoned his efforts. It's unfair to say he did nothing to stop the Depression. But he did far too little, including too little of what seemed to be working. And his constant suggestions that prosperity would soon return didn't help, although he appears never to have uttered the infamous words, "Prosperity is just around the corner."
Coolidge, his wife, and the widows of Grover Cleveland and Theodore Roosevelt were still alive. FDR, as I said, was Governor of New York. Harry Truman was a County Commissioner in Missouri. Dwight D. Eisenhower was a Major in the U.S. Army, and executive officer to an Assistant Secretary of War.
John F. Kennedy had just entered the 9th grade at the Choate School in Wallingford, Connecticut. Lyndon Johnson had just become legislative secretary (today, we would say "chief of staff") to Texas Congressman Richard Kleberg. Richard Nixon had just entered Whittier College in southern California. Gerald Ford had just entered the University of Michigan. Ronald Reagan was at Eureka College in Illinois. George H.W. Bush was 7, and Jimmy Carter was about to be. Bill Clinton, George W. Bush and Barack Obama weren't born yet.
The Mayor of New York was Jimmy Walker, but he was soon to be in legal trouble that would force him to resign. The city in question, Washington, D.C., did not have a Mayor at that time. Instead, it had a Board of Commissioners, appointed by Congress; its President at that time was Luther Halsey Reichelderfer. Something tells me the most interesting thing about him was his name.
There were still living veterans of the American Civil War, the Crimean War, the 1861-67 French occupation of Mexico, and the 1857-59 Indian Mutiny. There were living survivors of the Trail of Tears of 1837, the Donner Party of 1847, the 1st American football game of 1869, and the 1st FA Cup Final of 1872.
Jane Addams and Nicholas Murray Butler were about to be awarded the Nobel Peace Prize. The Pope was Pius XI. The current Pope, Francis, then Jorge Mario Bergoglio, was 4 years old.
The Prime Minister of Canada was Richard "R.B." Bennett, and he wasn't having any more luck fixing the economy in his country than Hoover was in ours. A car hitched up to one or more horses, because the owner couldn't afford gasoline, was called a Hoover Wagon in America, and a Bennett Buggy in Canada.
The monarch of Great Britain, and thus the head of state of Canada, was King George V. His granddaughter, the future Queen Elizabeth II, was 5 years old. The Prime Minister of Britain was James Ramsay MacDonald, the 1st member of the Labour Party to reach the office. Previously, the Liberal Party had been Britain's leading left-of-center party. Ramsay MacDonald was 2 months away from being turned out of office in a Conservative landslide, returning Stanley Baldwin to the post of Prime Minister. There have since been 14 Presidents, 4 British monarchs, and 8 Popes.
North London club Arsenal was the defending titlist of England's Football League. There was no European competition at the time, so there was no way Herbert Chapman's Arsenal could measure themselves against the other reigning champions of European leagues, including Glasgow-based Rangers in Scotland, Athletic Bilbao in Spain, Hertha Berlin in Germany and Turin-based Juventus in Italy. West Midlands-based West Bromwich Albion were holders of the FA Cup.
Major novels of 1931 included
The Good Earth
by Pearl S. Buck,
The Glass Key
by Dashiell Hammett and
Roman Holiday
by Upton Sinclair. Eugene O'Neill's play
Mourning Becomes Electra
was about to premiere on Broadway. Frederick Lewis Allen published
Only Yesterday
, his chronicle of the 1920s that is still, nearly, a definitive work on American life in that "Roaring" decade.
Talking pictures were now the norm, although Charlie Chaplin's
City Lights
was a hit despite being silent. The classic gangster movie reached its apogee in 1931: James Cagney in
The Public Enemy
, Edward G. Robinson in
Little Caesar
, and, though its release was delayed until the next year, Paul Muni in
Scarface
. (The 1983 Al Pacino film of the same title is
very
loosely based on it.)
It was also the year horror movies burst into the mainstream, with
Dracula
, with Bela Lugosi as the Transylvanian vampire;
Frankenstein
, with Boris Karloff as the monster; and
Dr. Jekyll and Mr. Hyde
, with Frederic March in both roles.
Westerns were not yet huge, but that year's
Cimarron
, about the 1889 Oklahoma land rush, was a landmark in the genre. The 1st sound version of
Alice in Wonderland
appeared. There was a film titled
Iron Man
, starring Gary Cooper and Jean Harlow, but it was not a superhero film. Nor was it about Lou Gehrig, although Cooper would later play him in
The Pride of the Yankees
.
The Hays Code, supposedly enforcing morals in movies, was established the year before, but who was kidding who? This was the year of
Anna Christie
and
Mata Hari
with Greta Garbo,
An American Tragedy
with Sylvia Sydney,
Bachelor Apartment
with Irene Dunne,
Bad Girl
with Sally Eilers,
The Bad Sister
with a young Bette Davis,
Dishonored
with Marlene Dietrich,
Expensive Women
with Dolores Costello,
A Free Soul
with Norma Shearer,
Girls About Town
and
Guilty Hands
with Kay Francis,
Honor Among Lovers
and
Secrets of a Secretary
with Claudette Colbert,
Indiscreet
with Gloria Swanson,
Platinum Blonde
with Loretta Young,
Possessed
with a young Joan Crawford, and
The Sin of Madelon Claudet
with Helen Hayes.
Not until 1934 would the Hays Office get serious, and American movies would not get as chancy as these "Pre-Code" classics again until the late 1960s.
Television was still in the experimental stage, and most people's entertainment came from the radio. There weren't yet comic books as we understand them. There were comic strips, and The Shadow debuted earlier in 1931. Dick Tracy debuted a few days after the Bobby Burke no-hitter. Buck Rogers debuted 2 years earlier. But Flash Gordon, the Lone Ranger and some other pulp heroes were still a few years off. Superman, Batman, and most other superheroes, a few years after that.
C.S. Lewis and J.R.R. Tolkein were teaching at Oxford University. Ian Fleming had just started working for Reuters. None of them had yet published a book. Gene Roddenberry was 10 years old, Stan Lee 8, Rod Serling 6. George Lucas and Steven Spielberg were not yet born.
No one had yet heard of Doc Savage, the Lone Ranger, Perry Mason, Nero Wolfe, Mr. Moto, the Green Hornet, Scarlett O'Hara, the Dead End Kids, Gandalf the Grey, Bugs Bunny, Abbott & Costello, Casper the Friendly Ghost, Philip Marlowe, Tom Joad, Woody Woodpecker, Tom & Jerry, Bigger Thomas, Lazarus Long, Howdy Doody, Big Brother, Joe Friday, Holden Caulfield, Lucy Ricardo, Ralph Kramden, Matt Dillon, Ben Cartwright, The Doctor, Felix Unger and Oscar Madison, Michael Corleone, Hawkeye Pierce, Bird Bird, Monty Python, Dirty Harry, John Shaft, Archie Bunker, The Fonz, Rocky Balboa, J.R. Ewing, Hannibal Lecter, Marty McFly, Harry Potter, Jed Bartlet, Tony Soprano, Leroy Jethro Gibbs, Lisbeth Salander, Katniss Everdeen or Richard Castle.
The music industry was not yet what we would know. RCA Victor would produce the 1st 33 1/3 RPM long-playing (LP) record in 1931. Roy Rogers began his musical career. Louis Armstrong was already a star, Benny Goodman was already a successful session musician, and Glenn Miller was working as a trombonist and arranger with the Dorsey Brothers Band.
Just a few days before the Burke no-hitter, Bing Crosby made his solo radio debut. Frank Sinatra was expelled from A.J. Demarest High School in Hoboken for rowdiness and absenteeism -- in other words, they didn't like him when he didn't show up, and didn't like him when he did. (The school was later replaced by the current Hoboken High, and is now a vo-tech high school.) Bill Haley was 6, Chuck Berry was 4, and Johnny Cash and Elvis Presley weren't born yet.
Hit songs of the year included "All of Me," "As Time Goes By" (yes, the song that would be featured in
Casablanca
11 years later), "Dancing In the Dark" (a very different tune from the Bruce Springsteen song of the same title), "Dream a Little Dream of Me," "Goodnight, Sweetheart" (not to be confused with the 1954 doo-wop hit "Goodnight, Sweetheart, Goodnight"), "Heartaches" (which would become the Marcels' follow-up to their 1930s-revival classic "Blue Moon"), "I Apologize" and "Prisoner of Love" (both later brought back by Billy Eckstine, the latter also by James Brown), "I Don't Know Why" (later brought back by Clarence "Frogman" Henry), "Life Is Just a Bowl of Cherries," "Love Letters In the Sand" (later brought back by Pat Boone), "That's My Desire" (later brought back by both Dean Martin and Dion), and the song that became the unofficial theme song of the Great Depression, Bing's recording of "Brother, Can You Spare a Dime?"
Inflation was such that what $1.00 bought then, $15.76 would buy now. A U.S. postage stamp cost 2 cents, and a New York Subway ride 5 cents. The average price of a gallon of gas was 12 cents, a cup of coffee 10 cents, what would later become the traditional fast food meal (burger, fries and soda) 20 cents, a movie ticket 25 cents, a new car $640, and a new house $6,790. The Dow Jones Industrial Average closed that day at 134.94 -- it was the Great Depression.
The Empire State Building had opened in May, and become the tallest building in the world. There were no antibiotics, and organ transplants and a cure for polio were still a long way off:
If you got any kind of infection, you could easily die
.
There had been rockets, but, as yet, no space vehicles.
Less than half of all American homes had telephones. Computers? They were just an idea. Cacluators? Don't make me laugh: They were still adding machines, basically desktop cash registers.
There were no credit cards or automatic teller machines.
In the late Summer and early Autumn of 1931, Japan invaded the Manchuria region of China, beginning a war that would evolve into the Pacific Theatre of World War II. This was on top of China having suffered floods that may have been the worst disaster in human history, which may have killed up to 4 million people.
A hurricane killed about 1,500 people in British Honduras (now the Central American nation of Belize). Strikes were called by about 1,000 sailors in Britain's Royal Navy due to Depression-inspired decreased pay, and became known as the Invergordon Mutiny. It was resolved peacefully. Clyde Edward Pangborn and Hugh Herndon, Jr. completed the 1st nonstop flight across the Pacific Ocean, from Misawa, Japan to East Wenatchee, Washington, in 41½ hours.
The George Washington Bridge opened, connecting upper Manhattan with Fort Lee, New Jersey. And Al Capone was convicted of income tax evasion, and sentenced to 11 years in prison, ending the career of the biggest gangster America has ever known.
Thomas Edison, and jazzman Bix Beiderbecke, and Hall of Fame pitcher Jack Chesbro died. Regis Philbin, and Barbara Eden, and Angie Dickinson were born. So were legendary jockey Willie Shoemaker, and hockey superstar Jean Beliveau. A few weeks later, Mickey Mantle and Eddie Mathews would be born.
August 8, 1931. Bobby Burke of the Washington Nationals pitched a no-hitter. It would be over 83 years before another D.C.-based pitcher would toss one.
Now, Jordan Zimmerman of the Washington Nationals has done it. And the Nats had the best record in the National League. They won the NL Eastern Division 2 years ago, but bombed out in the Playoffs. Can they win Washington's 1st Pennant since 1933 (81 years)? Or its 1st World Series since 1924 (90 years)?
They've ended some droughts already, so it is possible. Stay tuned.