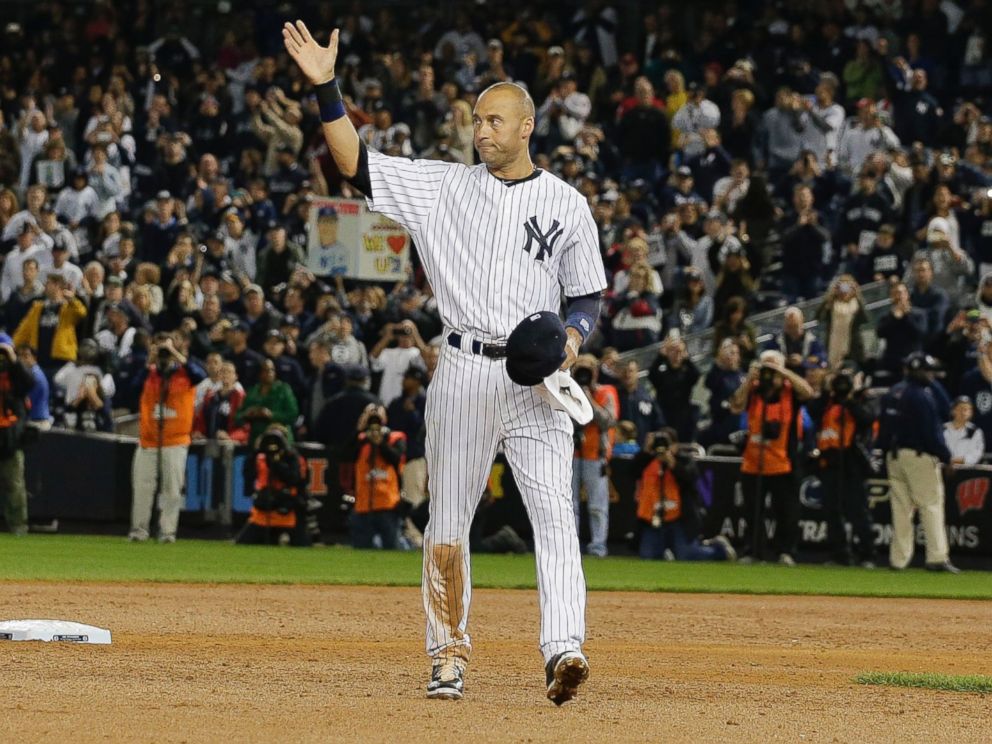 There was a threat of rain, and the thought that this game wouldn't be played at all -- it had no effect on the Playoff race, so neither the Yankees nor the Orioles had any reason to reschedule it, except for money. But the rain stopped, the clouds parted, and a rainbow appeared.
Good grief, even if the game itself had been unremarkable... If Derek Jeter had never existed, and a scriptwriter had written his story as we know it, no movie studio would buy it.
Hiroki Kuroda started the game for the Yankees, and it's likely to be his last appearance for the team, too -- maybe his last for any U.S. team, maybe his last anywhere. And it looked like he wasn't up to the occasion, allowing homers to the 1st 2 Baltimore Oriole batters, Nick Markakis and Alejandro De Aza.
But he settled down from there, and allowed just 1 baserunner, a single, over the next 8 innings. He hasn't walked a batter in almost a month and a half.
In the bottom of the 1st, Brett Gardner led off with a single, and Jeter hit a double off the wall that nearly went out, scoring Gardner. He advanced to 3rd on Kevin Gausman's wild pitch. And then Brian McCann hit a grounder to 1st that was bobbled, foiling the shift. Jeter scored, and the game was tied. An error doesn't count as a hit. But had it been an ordinary groundout, he would have gotten credit for the RBI, so he got credit for it anyway.
The game moved along quietly, except, of course, when Jeter batted. He grounded into a force play, short to 2nd, to end the 2nd inning. He struck out swinging in the 5th.
Stephen Drew led off the bottom of the 7th and struck out, but the ball got away from Oriole catcher Caleb Joseph, and Drew got to 1st. Ichiro Suzuki drew a walk. Pirela bunted them over, and beat it out to load the bases. Gardner grounded into a fielder's choice: Drew was out at the plate, but Ichiro reached 3rd, Pirela 2nd, and Gardner 1st.
Jeter came up, and with the game now being in the late innings, this could have been his last at-bat at Yankee Stadium. He hit a bouncer to shortstop J.J. Hardy, who showed he's no Derek Jeter. (Or, since he plays for the Orioles, no Cal Ripken, Mark Belanger or Luis Aparicio.) He threw the ball away, allowing Ichiro and Pirela to score. 4-2 Yankees.
Considering the Jeffrey Maier play in Jeter's 1st full season, it would have been fitting if his last Yankee Stadium at-bat -- and 2 of his last 4 -- had resulted in runs due to Oriole fielding blunders.
McCann hit a sacrifice fly to score Gardner, and it was 5-2. It was McCann's 75th RBI of the season, a pretty good total, but he's still batting only .233. Both RBIs came on non-hits.
David Robertson came out for the 9th, to nail down a win in Jeter's last home game. The fans chanted Jeter's name over and over again.
But Robertson walked Markakis to start the inning. He struck out De Aza, but Adam Jones, leading the O's in homers and always hitting the Yanks well, was up. Michael Kay said on YES that he didn't want Nelson Cruz coming up with men on base. Well, he got his wish, but not in the way he'd hoped: Jones hit one down the left-field line, just fair, and out, to make it 5-4.
Now Cruz was up with no one on base. Robertson struck him out. One out to go. But he served up a meatball to Steve Pearce, and he hit it out. Tie game.
No, we were all thinking, he
can't
blow this for Jeter. He got Hardy to fly out but damage had been done.
Bottom of the 9th. Jeter was due up 3rd. He would get 1 more plate appearance -- at least 1 more, because extra innings was a distinct possibility.
Jose Pirela led off, and singled to left. Antoan Robertson was sent in to pinch-run for him. Gardner bunted him over. Winning run on 2nd, just 1 out. The stage was set.
For the last time -- unless they play the recording when he comes out for Old-Timers' Day -- we heard the voice of Bob Sheppard introducing a player at Yankee Stadium: "Now batting for the Yankees, Number 2, Derek Jeter. Number 2."
Admit it: You thought Jeter might hit it out, too. He almost did that earlier in the game, missing a home run by 2 feet, instead it was a double off the wall and a game-tying RBI.
I thought, "If he hits one out here, the fans are going to blow the roof off the place."
It wasn't a home run, but they nearly blew the roof off. It was a classic Jeter hit, an inside-out swing that sent the ball to right field. There was a play at the plate, and Robertson slid in safely. There was no doubt about the call. Ballgame over, Yankees win, theeeeeeee Yankees win!
Yankees 6, Orioles 5. WP: In spite of himself, Robertson (4-5). No save. LP: Evan Meek (0-4).
Greeting Jeter after the game were former manager Joe Torre and former teammates Mariano Rivera, Jorge Posada, Andy Pettitte and Bernie Williams.
No Paul O'Neill or David Cone? They do both broadcast for YES.
As hard as it is to believe, career hit Number 3,463, though not a home run, will be every bit as memorable as the homer he hit for Number 3,000. After all, it won his last home game.
Attendance: 48,613. It looked like even the incredibly expensive seats were filled. When Mickey Mantle played his last game at Yankee Stadium, also on a September 25, in 1968, the attendance was a mere 5,723. That's right: The Mick's last game, and not even six thousand showed up. It was a midweek night game, a school night? So was this. And don't tell me that Jeter is a bigger legend than Mantle: He isn't. And don't tell me the Yankees were way out of the race in 1968: They were out of it this time, too. Mickey did get a hit, a single to center in the 1st -- but it was the only one Luis Tiant allowed, and the Yankees lost to the Cleveland Indians, 3-0. His last plate appearance was a walk.
The Yankees now being their final series of the season, a 3-game set in Boston, probably the least consequential Yanks-Sox series in Jeter's time at the club. Come to think of it, Mickey's last appearance was also against the Red Sox at Fenway Park, also on a September 28. He popped up to short, and left the game with an injury, never to play again. Not much of a way to go out.*
Jeter is not in the lineup tonight. Understandable. And he says he won't play shortstop at all this weekend, meaning that, if he appears at all, it will be as a designated hitter or a pinch-hitter.
It really wouldn't be right to see his last at-bat be in a road uniform, especially at Fenway Park.
After all, when
Ted Williams had his last at-bat at Fenway Park
-- famously, a home run, on September 26, 1960, 54 years ago today -- the Sox still had games to play, and he didn't want to play in them, and he didn't.
Duke Snider hit a home run in the 3rd-from-last game at Ebbets Field in 1957, and asked to be held out of the last 2 games, so that his last at-bat there would be a home run. He hoped no one else would hit one, so that he'd have the last one there. He got his wish.
One more note about Jeter's home finale: Instead of being in Washington with his teammates, Matt Harvey, the latest Met "ace," injured, was shown in the stands at Yankee Stadium.
That's likely to be as close as he'll ever come to a World Series game.
UPDATE: That turned out not to be the case.
Although they didn't come onto the field after the game, Reggie Jackson and Pittsburgh Steeler legend Franco Harris were also at the game.