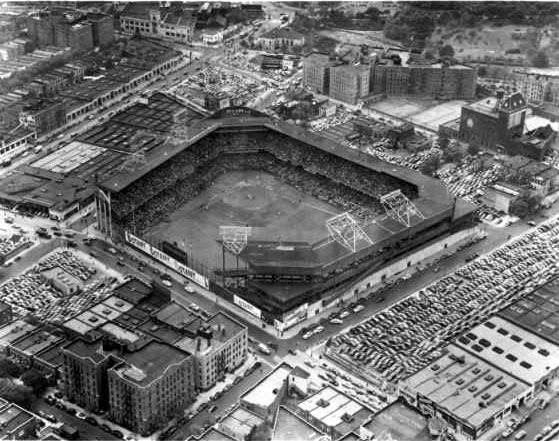 Yesterday, the Brooklyn Nets beat the Orlando Magic, 82-74, at their new home, the Barclays Center, in front of a crowd of 16,523 -- about 1,200 short of a sellout.
The Knicks' great start has overshadowed the Nets' arrival in Brooklyn -- perhaps the surest sign yet that the Knicks will never, ever,
ever
give up their role as the Tri-State Area's top basketball team.
After all, if the Nets couldn't do it in New Jersey in 2002 and '03, when they were reaching the NBA Finals and the Knicks were as bad as the franchise has ever been, when
will
they do it?
What they
have
done is bring major league sports back to Brooklyn. They opened on November 3, 2012, defeating the Toronto Raptors, 107-100 -- after their intended lid-lifter, against the Knicks, was postponed due to the effects of Hurricane Sandy and the ensuing nor'easter.
The last home game played by a major league sports team representing Brooklyn was on September 24, 1957, a 2-0 win for the Brooklyn Dodgers over the Pittsburgh Pirates at Ebbets Field, on a crowd depressed to 6,702 by the as-yet-unconfirmed rumor that the club was moving to Los Angeles, the aging of the roster to a 3rd-place finish, and the fact that it was on a Tuesday night against a middle-of-the-pack opponent. Danny McDevitt pitched a shutout.
You can see in the photo above why Walter O'Malley wanted out, of the ballpark if not out of the Borough entirely, as he would later claim. It had just 31,497 seats and 750 parking spaces. And no major highway access, so the people who did come by car had to go mostly on city streets. And even the nearest Subway station required a 10-minute walk. Even if he wasn't angry at the black neighborhood Flatbush was becoming, Ebbets Field was still obsolete and would soon be more a hindrance than a help to the Dodgers.
If O'Malley had gotten what he originally said he wanted, there would still have been a Dodger Stadium opening by 1962 -- but it would have been in Brooklyn, at Atlantic & Flatbush Avenues, across from the Long Island Rail Road Terminal -- where the Nets' Barclays Center is today.
September 24, 1957, to November 3, 2012. That's 55 years, 1 month and 10 days. How long has that been?
*
From the 1957 Brooklyn Dodgers, the following players are still alive: Don Newcombe, Carl Erskine, Don Zimmer, Roger Craig, Ed Roebuck, Jim Gentile, Randy Jackson (not the Jackson 5 singer or the
American Idol
host), Rod Miller, Fred Kipp, and Brooklyn natives Sandy Koufax and Joe Pignatano. Of these, Zim, Craig and Koufax would have significant roles on the 1st L.A. Pennant of 1959; but by their 1963 title, only Koufax would still be there.
From that year's New York Giants: Willie Mays, Red Schoendienst (not usually thought of as a Giant, but he was there in '57), Johnny Antonelli, Stu Miller, Mike McCormick, Ozzie Virgil Sr., Daryl Spencer, Gail Harris, Eddie Bressoud, Foster Castleman, Ray Crone, Al Worthington, Pete Burnside, Joe Margoneri, and John William McCall, who never appeared in the majors again, and, despite being from San Francisco and having the nickname of "Windy," would not appear for the Giants at Candlestick Park. Some of these players lasted to the Giants' 1st San Francisco Pennant in 1962.
From the '57 Yankees: Yogi Berra, Whitey Ford, Jerry Coleman, Don Larsen, Bobby Richardson, Tony Kubek, Bob Turley, Bobby Shantz, Johnny Kucks, Art Ditmar, Ralph Terry, Jerry Lumpe, Zeke Bella and Bobby Del Greco.
From the football version of the New York Giants, survivors of the 1957 team are: Frank Gifford, Sam Huff, Dick "Little Mo" Modzelewski, Harland Svare, Dick Yelvington, Bill Austin (not the player of the same name who would soon be an All-American at Rutgers), Bobby Epps, Bob Schnelker, John Martinkovic, Bob Clatterbuck, Ed Crawford, Walt Yowarsky, and 93-year-old former placekicker Ben Agajanian -- who, along with the devastating linebacker Hardy Brown, was 1 of only 2 men to play in the All-America Football Conference, the National Football League and the American Football League.
From the 1957-58 New York Knicks: Manhattan native and Iona graduate Richie Guerin, Willie Naulls, Kenny Sears, Mel Hutchins, Guy Sparrow (no relation to later Knick and Paterson, New Jersey native Rory Sparrow), and Brooklyn native Brendan McCann.
From the 1957-58 New York Rangers: Andy Bathgate, Harry Howell, Bill Gadsby, Dean Prentice, Leapin' Lou Fontinato, Dave Creighton, Gerry Foley, Jean-Guy Gendron, Andy Hebenton, Ivan Irwin, Danny Lewicki, Park MacDonald, Larry Popein, and Red Sullivan.
There were, as yet, no New York Jets, or Islanders, or New Jersey Devils, or Nets in any part of the Tri-State Area. Indeed, from the original 1982-83 Devils, Brent Ashton, Aaron Broten, Murray Brumwell, Dave Cameron, Joe Cirella, Larry Floyd, Paul Gagne, Jeff Larmer, Jan Ludvig, Shawn MacKenzie, Merlin Malinowski, Glenn Merkosky, Mike Moher, Randy Pierce, Joel Quenneville, Steve Tambellini and Pat Verbeek hadn't even been born yet.
There was a Major League Baseball team in Kansas City, but it wasn't the Royals, it was the Athletics. Prior to that, there were no major league teams west of St. Louis -- the Dodgers and Giants were about to change that. There were still none south of St. Louis, Cincinnati and Washington. There was a baseball team in Washington, but it was in the American League and it wasn't the Nationals, it was the Senators. There was a team in Milwaukee, and it was in the National League, but it wasn't the Brewers, it was the Braves.
Los Angeles, San Francisco, Oakland, San Diego, Seattle, Dallas, Houston, Denver, Phoenix, Seattle, Toronto, Atlanta, Miami and Tampa were all still minor-league cities. So was Montreal, for whom big-league ball has since come and gone.
Every Major League Baseball park had lights, except Wrigley Field in Chicago. But none of them had artificial turf, or a roof, retractable or otherwise. There was still an MLB team that had never played a black player, the Boston Red Sox.
Fenway Park in Boston and Wrigley Field in Chicago are the only 2 ballparks in use in 1957 that were still in use in 2012 -- or in 2000, for that matter. The NFL stadium still in use is Lambeau Field in Green Bay, and it just opened. And no NBA or NHL arena in use then is still used by the team that called it home in 1957-58, although a few are still standing.
And while the Cubs were already advertising their home ground as "Beautiful Wrigley Field," hardly anybody thought of Fenway as wonderful -- mainly because every team, except for Baltimore and Milwaukee, was playing in a stadium built before World War II. Having a ballpark that opened in 1913, as Ebbets Field had, was no big deal at that time: The Red Sox, Giants, Phillies, Senators, Tigers, Chicago White Sox, Cincinnati Reds and Pittsburgh Pirates were all then playing in ballparks built that year or earlier.
Ty Cobb, Tris Speaker, Nap Lajoie, and of the 1890s Baltimore Orioles, William Jones "Boileryard" Clarke, were still alive. So was at least 1 player from every team that had ever won the World Series, except for the 1905 New York Giants, whose last survivor, Bill Dahlen, had died in 1950. He, Hugh Duffy, Cy Young, Connie Mack and Honus Wagner had only been dead for a few years.
The defining baseball stars of my childhood? Carl Yastrzemski had just arrived at the University of Notre Dame. Pete Rose and Willie Stargell were in high school. Tom Seaver, Rod Carew and Steve Carlton were in junior high. Reggie Jackson, Thurman Munson, Johnny Bench, Nolan Ryan, Carlton Fisk and Mike Schmidt were in grade school. George Brett was in kindergarten.
Tom Coughlin, now head coach of the football Giants, was 11 years old. Terry Collins of the Mets was 8. Mike D'Antoni of the Knicks was 6. Joe Girardi of the Yankees, Avery Johnson of the Nets, John Tortorella of the Rangers, Jack Capuano of the Islanders and Peter DeBoer of the Devils weren't born yet.
There was an NFL team in Baltimore, but it wasn't the Ravens. It was the Colts, and they had yet to win a title. Few people outside Maryland had yet heard of their 2nd-year quarterback, Johnny Unitas. The NFL had already expanded to the West Coast, but not yet to the South, including Texas. Iconic teams such as the Dallas Cowboys, Oakland Raiders, Miami Dolphins and Denver Broncos did not yet exist. There were 2 teams in Chicago -- the Cardinals not yet having moved to St. Louis, let alone Arizona -- and, as I pointed out earlier, one in New York, the Giants.
The defending champions of the NFL were the Giants. The team that would win the NFL Championship in 1957 was the Detroit Lions -- who, since then, not only haven't won another title, but only once in those 55 years have they even gotten to the round of 4 (losing the 1991 NFC Championship Game 51-10 to the Washington Redskins).
In the NBA, the Boston Celtics had just won their 1st Championship. In the NHL, it was the Montreal Canadiens, and their star Maurice Richard was mere days away from becoming the 1st NHL player with 500 goals -- today, there are 42 players who have done that, 27 of them having exceeded the Rocket's former record of 544.
Wilt Chamberlain was starting his junior year at the University of Kansas, having gotten them to the National Championship game the previous spring, losing in triple overtime to North Carolina. Joe Namath had just started high school. Walt Frazier was in junior high school. Bobby Orr was in grade school. So was Kareem Abdul-Jabbar, and he was still Lew Alcindor. Lawrence Taylor, Magic Johnson, Larry Bird, Michael Jordan, Wayne Gretzky, Mario Lemieux, Patrick Roy, Steve Yzerman, Scott Stevens and Martin Brodeur weren't born yet.
The Heavyweight Champion of the World was Floyd Patterson. Two months earlier, he had defended his title at the Polo Grounds, knocking out Tommy Jackson. Muhammad Ali was 14 -- and he was still Cassius Clay. Mike Tyson, like Patterson a Brooklynite trained by Cus D'Amato, wasn't born yet.
The Olympic Games had never yet been broadcast on American television. They have since been held in America 5 times, Canada and Japan 3 times; twice each in Italy, Austria and France; and once each in Mexico, Germany, Russia, Bosnia, Korea, Spain, Norway, Australia, Greece, China and Britain.
Real Madrid of Spain had recently won the European Cup, beating Fiorentina of Florence, Italy, 2-0. The World Cup has since been held in Mexico and Germany twice, and once each in America, England, Sweden, Chile, Argentina, Spain, Italy, France, Japan, Korea and South Africa.
Manchester United, led by manager Matt Busby's "Busby Babes," won the Football League title, but were denied "The Double" in the FA Cup Final, when Birmingham-based Aston Villa beat them 2-1 when United goalkeeper Ray Wood was injured, and replaced by centreback Jackie Blanchflower, brother of Tottenham captain Danny. There were no substitutions allowed in those days, so United played from the 6th minute on with 10 men, until Wood, broken cheekbone and all, returned to the goal for the last 7 minutes (which was allowed under the rules of the time).
Villa haven't won the Cup since. United would make it to the next season's Final, but only after the greatest tragedy any British soccer team has ever suffered to its organization. (Not to be confused with a disaster in the stands.)
There were only 48 States: Alaska and Hawaii were both within 2 years of Statehood. There were then 22 Amendments to the Constitution of the United States. The Civil Rights Act of 1957 had just been passed, but segregation and enforced prayer in public schools were still legal. There was no Voting Rights Act, no Medicare, no Medicaid, no Fair Housing Act, no Environmental Protection Agency, no Title IX, and no legalized abortion. Gay rights? Seriously? Rock Hudson, Montgomery Clift, Tab Hunter and Richard Chamberlain were jammed into the closet.
The President of the United States was Dwight D. Eisenhower, and on the night of the last game at Ebbets Field, "Ike" cut short a vacation in Newport, Rhode Island (then considered a rich man's resort) to come back to Washington and announce on TV and radio that he had ordered the 101st Airborne to Little Rock, Arkansas, and federalized the Arkansas National Guard, to integrate that city's Central High School, to enforce the federal law that racial segregation in public schools was unconstitutional. It was Ike's finest hour -- since 1945, anyway.
Richard Nixon was Ike's Vice President. Herbert Hoover, Harry Truman, and Eleanor Roosevelt were still alive -- Grace Coolidge had died a few weeks earlier. John F. Kennedy and Lyndon Johnson were in the U.S. Senate, and Gerald Ford was in the U.S. House of Representatives. Jimmy Carter was running a peanut farm, George H.W. Bush an oil company, and the one and only film that co-starred Ronald Reagan and his wife, then still billed as Nancy Davis, had recently premiered:
Hellcats of the Navy
. Neither Carter, nor Reagan, nor Bush had ever yet run for office. Bush's son was 11. So was Bill Clinton. Barack Obama wasn't born yet.
The Governor of the State of New York was Averell Harriman. The Governor of New Jersey, about to be re-elected was Robert Meyner. The Mayor of the City of New York was Robert F. Wagner Jr., who somehow got re-elected a few weeks later, despite losing 2 Major League Baseball teams.
Under the law of the time, the man next in line to be Mayor was the President of the City Council. His name was Abe Stark, and he rose to prominence by having a sign advertising his clothing store at the base of the Ebbets Field scoreboard: "HIT SIGN WIN SUIT." Thanks to the fielding of the aforementioned Carl Furillo, and before that of Dixie Walker, Stark only had to award one free suit to an opposing player: Mel Ott of the Giants. Someone suggested that, due to Furillo having saved Stark from having to give out free suits, he should give Furillo one. He did.
Lester Pearson, Secretary of State of Canada, was just awarded the Nobel Peace Prize, for his efforts to end the previous year's Suez Canal crisis. In 1963, he would become his country's Prime Minister. The current Prime Minister was John Diefenbaker; of Britain, Harold Macmillan. Queen Elizabeth II was the monarch of both nations. That hasn't changed, but she was only 31 years old at the time.
The Pope was Pius XII. The current Pope, Benedict XVI, was then Father Joseph Ratzinger, a graduate student at Ludwig-Maximilian University in Munich. There have since been 11 Presidents of the United States, 11 Prime Ministers of Britain and 6 Popes.
Major novels of 1957 included Letter from Peking by Pearl S. Buck, The Wapshot Chronicle by John Cheever, The Guns of Navarone by Alistair MacLean, The Sandcastle by Iris Murdoch, Dr. Seuss' classics The Cat in the Hat and How the Grinch Stole Christmas, Ian Fleming's James Bond story From Russia with Love, and On the Road by Jack Kerouac, the defining novel of The Beat Generation. It had been published on September 5, 1957, just 19 days before the Ebbets Field finale.
Howl and Other Poems
by Allen Ginsberg, Kerouac's close friend and fellow Beat, had gone on trial for obscenity. I can see how it would be considered obscene. But, by far, the most obscene book of 1957 was
Atlas Shrugged
, by Ayn Rand. Who was an atheist, in case you didn't know. In fact, she despised Christianity, because of Jesus' message of helping the poor and the sick. Didn't stop her from accepting Social Security when she got old, though. "Who is John Galt"? An economic terrorist.
Only the preceding year had C.S. Lewis finished his
Chronicles of Narnia
series, and J.R.R. Tolkein his
Lord of the Rings
series. Ernest Hemingway, William Faulkner and John Steinbeck were still alive and writing novels. J.D. Salinger hadn't yet dropped out of the public eye, while Thomas Pynchon hadn't yet entered it or dropped out of it.
The fiction careers of Norman Mailer, James Baldwin, Kurt Vonnegut and Truman Capote were well underway. Joseph Heller had seen chapters of
Catch-22
serialized, but the entire novel wouldn't be published until 1961. John Updike and Ken Kesey had not yet been published. Maya Angelou had just entered pop culture -- as a singer, having recorded her 1st album, a collection of calypso songs.
Anne Rice was in high school. Stephen King and Tom Clancy were 10 years old. George R.R. Martin was 9. John Grisham was 2. J.K. Rowling wasn't born yet. No one had yet heard of Modesty Blaise, Arthur Dent, Jason Bourne or Kinsey Millhone.
No one had yet heard of Holly Golightly, Harry "Rabbit" Angstrom, Atticus Finch, John Yossarian, George Smiley, Jean Brodie, Modesty Blaise, The Doctor, Alex Portnoy, John Rambo, Spenser: For Hire, George Smiley, the Punisher, Rocky Balboa, T.S. Garp, Arthur Dent, Jason Bourne, Hannibal Lecter, Celie Harris, Kinsey Millhone, Forrest Gump, John McClane, Alex Cross, Bridget Jones, Robert Langdon, Bella Swan, Lisbeth Salander or Katniss Everdeen.
The superhero genre had gotten a boost, with a new version of speedster The Flash. But Stan Lee had yet to begin his Marvel Comics revolution, so, as yet, there was no Fantastic Four, Spider-Man, Hulk, Thor, Iron Man, X-Men or Daredevil.
Kerouac's
On the Road
will finally be released as a film in U.S. theaters on December 21, 2012. You know, the day that the Mayans predicted the end of the world. If Jack were still alive today, at age 90, he'd probably say, "Man, that figures."
But 1957 was a big year for movies. It began with the death of Humphrey Bogart and ended with that
of French film pioneer

Charles Pathé

. But it also featured the births of Mario Van Peebles, John Turturro,
Spike Lee, Paul Reiser, Daniel Day-Lewis, Judge Reinhold, Frances McDormand, Kelly McGillis, Cameron Crowe, Melanie Griffith, Denis Leary, Stephen Fry, Daniel Stern, Rachel Ward, Ethan Coen, Dolph Lundrgen, Michael Clarke Duncan, and Steve Buscemi, who will be in the aforementioned production of
On the Road
(but not as Kerouac/Sal Paradise or Neal Cassady/Dean Moriarty).
Gregory Peck and Lauren Bacall starred in
Designing Woman,
her 1st film after losing Bogie, which had nothing to do with the later TV series of a similar title. Alec Guinness and William Holden starred in
The Bridge on the River Kwai
, with its whistled "
Colonel Bogey March
" -- "DA dum... da da da DA DA DA, da da... "; Cary Grant and Deborah Kerr in
An Affair to Remember
; Jerry Lewis in his 1st film without Dean Martin,
The Delicate Delinquent
; Spencer Tracy and Katharine Hepburn in
Desk Set
; Rock Hudson in a film version of Hemingway's
A Farewell to Arms
; Dorothy McGuire and Fess Parker in
Old Yeller
; Doris Day and John Raitt (Bonnie's father, who'd been in the original Broadway version) in
The Pajama Game
; Grant, Frank Sinatra, and, in her big break as far as the U.S. was concerned, Sophia Loren in
The Pride and the Passion
; and Andy Griffith getting his big break in
A Face in the Crowd
, in which he plays the kind of character that Andy Taylor would have told Opie to stay away from -- and Ben Matlock never would have defended.
Gunfight at the O.K. Corral
, a stylized version of the 1881 Arizona shootout with no pretense of accuracy, featured Burt Lancaster as Wyatt Earp, Kirk Douglas as Doc Holliday, future
Star Trek
doctor DeForest Kelley as Morgan Earp, Jack Elam as Tom McLowery, and a young Dennis Hopper as Billy Clanton.
Can you imagine Tony Randall and Jayne Mansfield together? In 1957, they were, in
Will Success Spoil Rock Hunter?
Baseball star Jimmy Piersall's book
Fear Strikes Out
was adapted into a film that launched Anthony Perkins to stardom -- but playing someone mentally disturbed may have typecast him.
James Cagney played Lon Chaney Sr. in
The Man of a Thousand Faces.
Jimmy Stewart played Charles Lindbergh in
The Spirit of St. Louis
. Joanne Woodward, soon to be Mrs. Paul Newman, was in
The Three Faces of Eve
, although the subject of the book and film, Chris Sizemore, relapsed and would have 23 different personalities until she was finally cured. Akira Kurosawa transplanted Shakespeare's
Macbeth
to Japan, calling it
Throne of Blood
, with Japan's most popular postwar actor, Toshiro Mifune, in the role of the Scottish warlord-turned-royal usurper.
Sinatra starred in
The Joker Is Wild
, as Joe E. Lewis, a singer whose voice is ruined when a Mob enforcer punches him in the throat, but finds a second career as a comedian. Elvis Presley starred in
Loving You
and
Jailhouse Rock
.
And
Zero Hour!
starred Dana Andrews, Sterling Hayden, Linda Darnell, and football legend Elroy "Crazylegs" Hirsch. This is the film, intended to be serious, upon which the disaster spoof
Airplane!
was based. ("Airplane? What is it?" It's a motorized conveyance for traveling quickly through the air, but that's not important now.)
TV shows debuting for the 1957-58 season included
Perry Mason, Maverick, Leave It to Beaver, Zorro
,
Have Gun, Will Travel
, and, in what must have been shocking for the Ike Age, the 1st version of a show revived 1985-92 and again 1999-currently:
Divorce Court
. And NBC introduced its peacock logo, designed to show that the program you were watching was in color. Fat lot of good that did, as it would be over a decade before a majority of American homes had color TV sets.
Gene Roddenberry had already begun writing for television. George Lucas was 13 years old. Barry Nelson, on U.S. television in 1954, was still the only man to have played a live-action James Bond. George Reeves was starring in the TV series
The Adventures of Superman
. Robert Lowery was the most recent live-action Batman, and that was in the 1949 serial
Batman and Robin
.
William Shatner, Sean Connery and Roger Moore were already acting. Adam West had just appeared in his 1st film, a Boris Karloff horror film titled
Voodoo Island
. September 24 was a day before September 25, the birthday of Juliet Prowse, who was about to turn 21; Michael Douglas, 13; Mark Hamill, 6; Christopher Reeve, 5; and Heather Locklear, Will Smith, and Douglas' future wife Catherine Zeta-Jones, who weren't born yet.
No one had yet heard of The Chipmunks, Yogi Bear, Ben Cartwright, Fred Flintstone, Andy Taylor, Rob Petrie, George Jetson, Jed Clampett, Richard Kimble, Jacques Clouseau, Napoleon Solo, Underdog, Gomez Addams, Herman Munster, Willy Gilligan, Felix Unger and Oscar Madison, Maxwell Smart, Hawkeye Pierce, HAL 9000, Lieutenant Columbo, Monty Python, Scooby-Doo, Big Bird, Carol Brady, Mary Richards, Keith Partridge, Archie Bunker, Fred Sanford, Bob Hartley, Kwai Chang Caine, Theo Kojak, Arthur Fonzarelli, Barney Miller, Basil Fawlty, Howard Beale, J.R. Ewing, Mork from Ork, Jake and Elwood Blues, William Adama, Arnold Jackson, Ken Reeves, Mario and Luigi, Derek "Del Boy" Trotter, Sam Malone, Christine Cagney and Mary Beth Lacey, He-Man, Edmund Blackadder, Goku, the Teenage Mutant Ninja Turtles, the Thundercats, Bart Simpson, Hayden Fox, Zack Morris, Dale Cooper, The Seinfeld Four, Buffy Summers, Fox Mulder, Andy Sipowicz, Ross Geller and Rachel Greene, Doug Ross, Alan Partridge, Xena, Ash Ketchum, Carrie Bradshaw, Tony Soprano, Jed Bartlet, Master Chief, Jack Bauer, Omar Little, Michael Bluth, Leroy Jethro Gibbs, Rick Grimes, Michael Scott, Don Draper, Jax Teller, Walter White, Richard Castle and Leslie Knope.
Robert Kardashian was 13 years old. Bruce Jenner was about to turn 8. The woman each would end up marrying, then named Kristen Mary Houghton, was a toddler, about to turn 2.
The Number 1 song in America was "That'll Be the Day" by the Crickets, whose lead singer was Buddy Holly. The aforementioned Elvis Presley had dominated the year: By the time it was over, he would have 4 singles -- "Too Much," "All Shook Up," "(Let Me Be Your) Teddy Bear" and "Jailhouse Rock" -- that would hold the Number 1 spot for 33 of the calendar year's 52 weeks. John Lennon and Paul McCartney had just met in Liverpool. Bob Dylan was in high school. Freddie Mercury was 12. David Bowie and Elton John were 10. Billy Joel and Bruce Springsteen were 8. Michael Jackson, Prince and Madonna were born the next year.
Inflation has been such that what $1.00 would buy then, $8.14 would buy now. A U.S. postage stamp cost 3 cents, and a Subway ride in New York was 15 cents. The average price of a gallon of gas was 28 cents, a cup of coffee 32 cents, a McDonald's meal (cheeseburger, fries, shake) 49 cents, a movie ticket 61 cents, a new car $2,100, and a new house $12,220. The Dow Jones Industrial Average closed that day at 462.87.
Computers? Get outta here! They could take up the entire side of a building. And nobody expected them to get any smaller anytime soon. Steve Jobs, Bill Gates and Tim Berners-Lee were 2 years old. The tallest building in the world was the Empire State Building. Diners Club had introduced the credit card, but American Express had not yet popularized it. There were no

automatic teller machines.
In the early Autumn of 1957, in addition to the events previously mentioned, the Space Age began when the Soviet Union launched the world's 1st artificial satellite,
Sputnik 1
, sending the free world into a panic over the possibility that the Commies could now bomb us from space. (It never happened, but we didn't know that at the time.) A little later, the Soviets launched
Sputnik 2
, containing the 1st living space traveler, a female part-husky/part-terrier dog named Laika. The capsule was too hot, and she died from heatstroke. She was doomed anyway, as they expected her oxygen to run out after 6 days, which is what they reported as happening.
Toyota began exporting cars to America. In an unrelated story, the Ford Motor Company introduced the Edsel. It was a flop. The Mackinac Bridge in Michigan and the 1st tube of the Hampton Roads Bridge-Tunnel in Virginia opened.
West Side Story
debuted on Broadway. Just off Broadway, at the Park Sheraton Hotel (now the Park Central), where
The Jackie Gleason Show
(including his
Honeymooners
sketches) was filmed, America's biggest Mob boss, Albert Anastasia, was rubbed out.
King Haakon VII of Norway, and Christian Dior, and Louis B. Mayer died. Gloria Estefan, and Fran Drescher, and comedian and
Mr. 3000
star Bernard "Bernie Mac" McCullough were born.
September 24, 1957. For the last time, or so we thought, a major league sports team played a home game in Brooklyn.
Now, it has happened again. It remains to be seen whether this is a good thing, for either the team or for the Borough. So far, there is excitement. But will there be competitive results to their liking? Stay tuned.