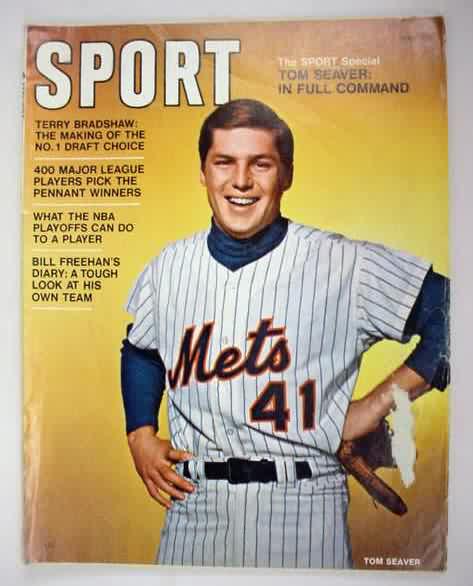 Today, the Most Valuable Player awards were to be announced for baseball's American and National Leagues.
No question, Miguel Cabrera deserved the American League's award: He won the Triple Crown, and his team won the Pennant. Easy choice, in spite of a superb season by Rookie of the Year Mike Trout of the Whatever They Called Themselves This Season Angels of Anaheim.
In the National League, for the 1st time since Johnny Bench in 1972, it went to a catcher, Buster Posey of the World Champion San Francisco Giants. No argument here, either.
For this list of the top 10 worst MVP picks,
I'm not going to base my decisions on whether a player was later outed for using steroids. For a good reason At the time, we didn't know. Whereas, every year, we
do
know who wins each League's Pennant.
It's why Joe DiMaggio was the AL MVP in 1941 and '47, Joe Gordon in '42, Phil Rizzuto in '50 and Yogi Berra in '51 – and not Ted Williams in any of those seasons. In each of those seasons, the Yankees won the Pennant, and Williams' Boston Red Sox did not.
Williams won 2 MVPs: 1946, when the Sox did win the Pennant; and '49, when the Yanks beat the Sox out by 1 game, but there really was no one single Yankee who stood out to the point where you could say, "This was, in lower-case letters, the most valuable player in the American League, so we should make him, in Capital Letters, the Most Valuable Player in the American League."
Maybe Joe Page, but in '49, no one was ready to make a relief pitcher the MVP, especially on a team that already had DiMaggio, Rizzuto and Tommy Henrich, and the rising Berra.
In contrast, a year later, on a team that hadn't come close to a Pennant in 35 years, Jim Konstanty of the Philadelphia Phillies got the NL MVP, ahead of teammates Richie Ashburn and Robin Roberts, both future Hall-of-Famers but then both young guys – hence the team nickname, the Whiz Kids.
Remember: It's "Most
Valuable
Player" – not "Most
Outstanding
Player." Giving it to Ted in '46 was obvious. Giving it to him in '49 is excusable. Giving it to him in '41, '42, '47, '50 or '51 – or even '48, when Lou Boudreau was both shortstop and manager of the World Champion Cleveland Indians (no, that's not a misprint) – would have been wrong, wrong, wrong.
For each of the sets of stats I'm giving, it's as follows: Batting average/on-base percentage/slugging percentage (now sometimes known as "the slashes"), OPS, OPS+, home runs, runs batted in (RBIs).
10. 1934 AL: Mickey Cochrane over Hank Greenberg. True, Cochrane had a good year, became the best catcher the Detroit Tigers ever had, and was also their manager. But Cochrane was .320/.428/.412, .840, 117, 2, 76. Only 76 RBIs for an MVP that wasn't a pitcher? In fact, that 117 was Cochrane's lowest OPS+ between 1927 and 1935. In contrast,
Greenberg was .339/.404/.600, 1.005, 156, 26, 139.
Yes, a Tiger deserved the MVP, because they won the Pennant, while the Yankees, with Lou Gehrig winning the franchise's 1st Triple Crown (and only Mickey Mantle has done it in Pinstripes since) and Lefty Gomez going 26-5 (among all New York pitchers, only Don Newcombe's 27 in 1956 has even matched it since). But it should have been Hammerin' Hank -- a man who had that nickname before Hank Aaron was even born.
9. Four separate Chicago Cubs:
9A. 1952 NL: Hank Sauer over Robin Roberts and Joe Black. Sauer had a great year, but his Cubs finished 5th, 77-77. Roberts won 28 games, a figure since only matched, let alone surpassed, by Denny McLain's 31 in 1968. But he finished 2nd in the voting, and the Phils finished 4th: By their standards, 87 wins was a great year, but they were 9 1/2 behind the Brooklyn Dodgers.
The Dodgers had Black, a Plainfield, New Jersey native who'd been in the Negro Leagues until that year, and he helped them beat out the arch-rival New York Giant by 4 1/2 games. He went 15-4 with a 2.15 ERA, a 171 ERA+, a 1.005 WHIP, and that year became the first rookie to start Game 1 of a World Series -- and he won it, beating the Yankees in a complete-game 4-2 victory.
Black finished 3rd in the MVP voting, pretty good for a reliever, and it would have then been a record if Konstanty hadn't won it in 1950. He did, at the least, win the Rookie of the Year award -- though he was already 28.
If you don't want to say a pitcher deserves the MVP, Gil Hodges led the Dodgers with 32 homers and 102 RBIs. And yet, his 142 OPS+ was only 2nd on the team, to the 149 of... Jackie Robinson, not really known as a slugger (19 homers, 75 RBIs, but a .308 BA).
9B. 1958 NL: Ernie Banks over Willie Mays and Hank Aaron. It's no fault of "Mr. Cub" that, as songwriter and Cub fan Steve Goodman put it, "The last time the Cubs won a National League Pennant was the year we dropped the bomb on Japan." That's 1945. The Cubs finished 5th in 1958, 20 games behind the Pennant-winning Milwaukee Braves.
So it doesn't really matter that Banks put up these sensational figures: .313/.366/.614, .980, 155, 47, 129. (Remember, at Wrigley Field, the wind blows out half the time, but it blows in the other half, so 47 homers there is great, but not as sensational as it looks.) Mays' figures were .347/.419/.583, 1.002, 165, 29 and 96. Aaron was .326/.386/.546, .931, 152, 30 and 95. So he had at least as good a year at the plate as Banks and Mays. And he won his 1st Gold Glove (in the first season that they were given out to players in both Leagues). And he won the Pennant.
So it should have been Hank, not Willie or Ernie, who got the MVP. This would have made back-to-back MVPs for the Hammer; instead, 1957 (when he literally won the Pennant, his walkoff homer sealing the clinching victory) was his only MVP, deserved or otherwise.
9C. 1959 NL: Ernie Banks over Eddie Mathews and Duke Snider. The Cubs finished 74-80, despite Banks having another great year: .304/.374/.596, .970, 156, 45, 143.
Aaron won the batting title, as he did in 1956, but Matthews finished 2nd in the MVP voting with these numbers: .306/.390/.593, .983, 168, 46, 114.
But it was the Dodgers, in their 2nd year in Los Angeles, winning the 1st Pennant and 1st World Series for any team west of St. Louis, so one of them should get the MVP. Wally Moon finished 3rd in the voting, behind Banks and Mathews, but the real MVP was the Duke of Flatbush, now back in his hometown. (Actually, he was, literally, straight outta Compton.) His numbers: .308/.400/.535, .935, 140, 28, 88. It was his last great season: He had 3 more good ones, and then got old in a hurry. Moon's numbers: .302/.394/.495, .890, 129, 17 and 74.
9D. 1987 NL: Andre Dawson over Ozzie Smith and Jack Clark. Dawson's great season after he was let go by the Montreal Expos was sensational, but the Cubs collapsed, going from being only 3 1/2 games out on June 23 to 9 out but still in 2nd place as late as July 11, to dead last and 18 1/2 games out at the end on October 4.
In contrast, the Pennant-winning Cardinals had Ozzie Smith finish 2nd in the voting and Jack Clark finish 3rd. Statistically, Clark had the better year.
8. 1986 NL: Mike Schmidt over Glenn Davis (2nd), Gary Carter (3rd), Keith Hernandez (4th), Kevin Bass (7th) and Mike Scott (10th). Schmidt's Phillies finished 21 1/2 games behind the Mets, but there was no single standout player on what was a very well-balanced team (from the neck down, anyway).
Carter had the edge in home runs (24-13) and RBIs (105-83), but Hernandez had it in the other major categories, including BA (.310-.255) and OPS+ (140-115). From the Houston Astros, winning the NL West, Davis and Cy Young Award winner Scott split their votes.
Schmidt had a great individual season at age 37: .290/.390/.547, .937, 153, 37 and 119, so naming him the Most Outstanding Player would have been totally justifiable. But Most Valuable? In 1980, when the Phillies finally won the whole thing, yes; in 1986, no.
7. 1947 NL: Bob Elliot over Ewell Blackwell, Johnny Mize, Bruce Edwards, Jackie Robinson and Ralph Kiner. No question, Elliot had a great year: .317/.410/.517, .927, 147, 22, 113. He arguably had a better year the next season, when the Braves won their last Pennant in Boston (but he only finished 13th in the voting, as Stan Musial had a monster year in spite of the Cards coming nowhere near first place).
But was he the most valuable player in the NL in 1947? Hardly, as Blackwell won 16 straight for the Cincinnati Reds (including coming within 2 outs of back-to-back no-hitters), Mize hit 51 home runs for the New York Giants, as did Kiner for the Pittsburgh Pirates, and Edwards and Robinson helped the Dodgers win the Pennant.
After the season, Dodger 1st baseman Dixie Walker, reflecting on having signed the failed petition to keep Robinson off the team, said that Robinson did more to help them win the Pennant than anyone other than Edwards. Bruce Edwards? To be fair, Edwards did give the Dodgers the best year any catcher of theirs had had since Mickey Owen dropped that 3rd strike in 1941, and he did make the All-Star Team.
But Robinson was the difference-maker: Above and beyond what he did for society at large, he was the biggest reason the Dodgers beat the Cards out for the Pennant.
6. Multiple Barroids.
The choice of Barry Bonds over Albert Pujols in 2002 is completely understandable, in that we didn't yet have the evidence that he was cheating, and Bonds and the San Francisco Giants did win the Pennant that year. And I won't quibble with the ones he got with the Pirates and in that first season with the Giants, 1993. But these are quite quibbleworthy:
6A. 2001 NL: Barry Bonds over Sammy Sosa *, Luis Gonzalez * and Albert Pujols. The Arizona Diamondbacks won the Pennant, and Gonzalez hit 57 home runs -- to win the Brady Anderson Award for "How the hell did this guy hit that many homers?"
Pujols won Rookie of the Year, and giving a player both MVP and ROY in the same season doesn't seem right. Although, in the AL that same season, Ichiro Suzuki got both, but that was doubly dumb, since the Seattle Mariners didn't win the Pennant, and he was no more a "rookie" in 2001 than Joe Black was in 1952.
Sosa finished 2nd in the voting, Gonzalez 3rd, and Pujols 4th. If you ignore the steroid use, or remember that you didn't really know then, it should be Gonzalez. If you want to throw the book at the cheaters, then, until evidence comes forward implicating him (I doubt that he did it), it's Pujols.
6B.
2003 NL: Barry Bonds over Albert Pujols (2nd
), Gary Sheffield * (3rd
), Jim Thome (4th
), Javy Lopez (5th
) and Mike Lowell (11th). The Giants did make the Playoffs, but it was the Florida Marlins who won the Pennant and the World Series. They had one player whose offensive stats stood out, Lowell: 128 OPS+, 32 homers, 105 RBIs.
6C. 2004 NL: Barry Bonds over Adrian Beltre (2nd
), Albert Pujols (3rd
), Scott Rolen (4th
) and Jim Edmonds (5th
). The Cardinals won the Pennant, but their MVP votes were split between Pujols, Rolen and Edmonds. Beltre's Dodgers won the NL West, so he was a justifiable candidate. Bonds, stats be damned, was not, because the Giants didn't make the Playoffs. I would have voted for Pujols.
5. 1937 AL: Charlie Gehringer over Joe DiMaggio. No question Gehringer was a great player, one of the top 5 or 6 2nd basemen who ever lived. And he led the major leagues with a .371 batting average that season, and had a 144 OPS+.
But Joe D was .346/.412/.673, 1.085, led the AL with 418 total bases, 151 runs, and 46 homers, and had 167 RBIs -- which wasn't enough to lead the League! (Gehringer's teammate Hank Greenberg had 183, one off Lou Gehrig's AL record which still stands.) And the Yankees won the World Series, while the Tigers, though in 2nd place with a respectable 89 wins, finished 13 games back.
4. Three A-Rods. This is not about steroids, this is about winning:
4A. 2003 AL: Alex Rodriguez over Carlos Delgado (2nd) and Jorge Posada (3rd). The Texas Rangers finished last, the Yankees won the Pennant. It should have been the Yankees' highest-finishing player, and that was Posada.
4B. 2005 AL: Alex Rodriguez over David Ortiz * (2nd), Vladimir Guerrero (3rd), Manny Ramirez * (4th), Travis Hafner (5th) and Paul Konerko (6th). The Yankees did win the AL East, but the Red Sox (Ortiz & Ramirez), Los Angeles Angels (Guerrero) and White Sox (Konerko) also made the Playoffs. The Angels and ChiSox made the ALCS, and the ChiSox went all the way. It should have been Konerko.
4C. 2007 AL: Alex Rodriguez over Magglio Ordonez (2nd), Vladimir Guerrero (3rd), David Ortiz (4th) and Mike Lowell (5th). gain, the Yankees did not win the Pennant. The Red Sox of Ortiz and Lowell did, and Ortiz had the better stats. We now know that he was a big fat lying cheating bastard -- but the combination of stats and title doesn't lie.
3. 1962 NL: Maury Wills over Willie Mays.
No question, Wills had one of the most memorable individual seasons in baseball history, setting a new record for stolen bases as the stat had been defined for the 20th Century, 104.
But who's kidding who? Mays' team won the Pennant. And check the numbers. Wills: .299/.347/.373, '720, 99 (that's slightly less than average), 6, 48. True, he was a leadoff man, but an MVP needs to have more than 48 RBIs, even in a pitcher's park like the newly-opened Dodger Stadium.
Mays: .304/.384/.615, .999, 165, 49 (leading the NL in homers), 141. Or, to put it another way: Mays didn't have 97 RBIs, he had 97 more RBIs than the guy who was named the MVP. I don't feel like looking this up and checking for sure, but I'll bet it's never otherwise happened since the modern MVP award was created in 1931.
And the Say Hey Kid did this while his personal life was falling apart, as he was going through a messy divorce.
But Wills played in Los Angeles with the L.A. media machine drumming up support for him, while Mays played in San Francisco. Can you imagine the MVP fuss that would have been made had these teams stayed in New York?
2. 1978 AL: Jim Rice over Ron Guidry. This vote was a disgrace, justifiable only if you believe a pitcher should never win the MVP. Rice got 352 points, including 20 1st-place votes; Guidry, 291 and 8 1st-place votes.
Seriously? The vote was settled in the bottom of the 9th of the Bucky Dent Game: Rice hit a fly ball that moved Rick Burleson to 3rd, but couldn't score him. Had he hit it just a little farther, it would have been a walkoff homer, and Guidry's incredible season would have gone for naught. Rice led the AL with a .600 SLG, .970 OPS, 157 OPS+, 213 hits, 15 triples, 46 homers, 139 RBIs, and 406 total bases, most in the AL since DiMaggio in '37. Most Outstanding Player? Pretty hard to argue against.
But "Most Valuable Player"? Only an idiot would say so. Ron Guidry went 25-3, the 25th being the Boston Tie Party. And it was no fluke, as he was in the middle of a 4-year stretch where he went
76-28. His ERA of 1.74 is the lowest of any Yankee in the post-1920 Lively Ball Era. (It also led the majors, and he led the majors in ERA the next season, too.)
His ERA+ was an insane 208. His WHIP was a mind-boggling 0.946. His hits per 9 innings was 6.1 He didn't have a no-hitter, but he had 3 2-hitters in the last few weeks. He tied an AL record for lefthanders with 9 shutouts. He set Yankee records for strikeouts in a game (18 vs. the Angels on June 17) and in a season (248 -- Whitey Ford still holds the club career record). Because of the way the schedule worked out, he only pitched once each in the AL Championship Series and the World Series, and was tired, but he got wins in both.
Think about it this way: Rice's "WAR" -- Wins Above Replacement -- was 7.4. In other words, if the Red Sox had an average player in left field in 1978, they would have gone from 99 wins to 92, from tied for 1st place with the Yankees after Game 162, to 7 out and 3rd place behind also the Milwaukee Brewers.
Guidry was 25-3. Even that out, to 14-14, and the 11-game drop from 100 puts the Yankees at 89 wins, and 4th place behind the Red Sox, Brewers and Baltimore Orioles. Now, does anybody still think Rice was more valuable in 1978 than Guidry?
Until Rice gives that MVP trophy to Guidry, I don't want to hear another goddamned Red Sox fan say Ted Williams was robbed -- in any season.
1. 1969 NL: Willie McCovey over Tom Seaver and Hank Aaron. McCovey had a great year, but the Giants lost the NL West title to the Atlanta Braves, for whom Aaron had a great year as well.
Seaver had the best, and most valuable, season any Met has ever had. His 25 wins have only been matched by one New York pitcher since, Guidry. His ERA was 2.21, only .01 higher than the year before, in spite of the pitcher's mound having been lowered from 15 to 10 inches for that season. Nobody knew what WHIP was then, but Seaver's was 1.039, and he led the NL in fewest hits per 9 innings: 6.7.
And he did that without being an overwhelming strikeout pitcher, at least in that season: He fanned 208 batters, but his 5 times leading the NL in strikeouts and his 8 seasons with more Ks than he had in '69 were all still to come. (His 289 Ks in 1971 remain a record for any NYC-based pitcher in the 60 feet, 6 inches era, 1893 to the present.)
To this day, no Met player has ever won the NL MVP -- not Seaver, not Tommie Agee in '69, not Rusty Staub in '73, not Dwight Gooden in '85, not any Met in '86, not Darryl Strawberry in '88, not Mike Piazza in 1999 or 2000, not Jose Reyes or David Wright in '06, none. Seaver did receive the Cy Young Award in '69, and would get it again in '71 and '75.
But when you consider what he meant to the franchise -- hell, one of his nicknames was "The Franchise" -- Tom Terrific's 1969 performance may have been the single most valuable season any New York ballplayer ever had.
Even more than Guidry in '78.
*
Days until the Devils play again: Who knows. All NHL games have been cancelled through November 30 -- and the Winter Classic, set to be played on New Year's Day between Detroit and Toronto at the University of Michigan's 111,000-seat stadium, has been canceled. As in 2004-05, we may not have a season at all.
Days until the Devils play another local rival: Who knows.
Days until East Brunswick High School plays football again: 1, tomorrow night, home to Freehold Township, in a "consolation game" for those teams that did not qualify for the State Playoffs, usually held between teams of similar records. Both teams go into the game at 2-6.
Because of continuing electricity issues from Hurricane Sandy, this past weekend, for the first time in EBHS' 52-season football history, a game was cancelled outright and forfeited. It's just as well: We haven't beaten Piscataway in 22 years, and we weren't going to do it this time even if our players had been able to get in all necessary practice time.
Days until Arsenal play another competitive match: 2. See the following answer.
Days until the next North London Derby: 2, this Saturday, at the Emirates Stadium. Beat The Scum! The return fixture will be on Saturday, March 2, 2013, at White Hart Lane.
Days until Rutgers plays football again: 2, this Saturday afternoon, away to the University of Cincinnati, a key game that may decide the Big East Conference title. This past Saturday, Rutgers came from 7-0 down to beat Army, 28-7 at home. Of course it's good to win, but what does it say about our future soldiers if they can't even beat Rutgers?
Days until the next East Brunswick-Old Bridge Thanksgiving clash: 7. Next Thursday morning, we get our annual Turkey Day beatdown by the Purple Bastards.
Days until the U.S. National Soccer Team plays again: 83,
on February 6, 2013, away to Honduras, in the last, "Hexagonal"
round of
CO
NCACAF World Cup Qualifiers, for the region that encompasses North America, Central America, and the Caribbean nations. If they finish 1st or 2nd in this group of 6 -- and they definitely should win, certainly should finish no worse than 2nd behind Mexico -- they qualify for the 2014 World Cup. Yesterday, a 93rd-minute strike from substitute Mix Diskerud -- a U.S. citizen born in Norway, where he plays for national power Rosenborg -- forged a 2-2 tie with Russia, in the southern Russian city of Krasnodar.
Days until the Red Bulls play again: Unknown for sure, since the 2013 MLS schedule has not yet been released. But, if the pattern holds, it will be on the 3rd weekend in March. If it is on the Saturday of that weekend, March 16, then that would be 132 days. About 4 months.
Days until the Red Bulls next play a "derby," against either the New England Revolution, the Philadelphia Union or D.C. United: Also unknown, until the schedule is released. Most likely, the season opener will not be against one of those teams.
Days until the Yankees play again: 137,
on Monday, April 1, at 1:05 PM, at home at Yankee Stadium II, against the Boston Red Sox. Under 5 months. Beat The Scum!
Days until the next Yankees-Red Sox series begins: See the previous answer.
Days until Alex Rodriguez collects his 3,000th career hit: 290 (estimated around September 1, 2013). Under 10 months.
Days until Super Bowl XLVIII at the Meadowlands: 444 (February 2, 2014). Under 14 months. Of course, we have no idea who the opposing teams will be. The possibility exists that either the Giants or the Jets could be in it -- or both. To this day, no team has ever played a Super Bowl in its own stadium -- in spite of multiple hostings by Miami, New Orleans and various California teams. Only 2 have done so in their home metro area: The 1979-80 Los Angeles Rams, whose home field was then the L.A. Coliseum, and they lost to Pittsburgh at the Rose Bowl in Pasadena; and the 1984-85 San Francisco 49ers, whose home field, then as now, was Candlestick Park, and they beat Miami at Stanford Stadium in Palo Alto, which had a much larger capacity than Candlestick.
Days until the 2014 Winter Olympics: 449 (February 7, 2014).
Days until the 2014 World Cup in Brazil: 574
(June 12, 2014). Under 19 months.
Days until Alex Rodriguez hits his 700th career home run: 639 (estimated, around September 15, 2014). About 22 months.
Days until the 2016 Olympics in Rio de Janeiro, Brazil: 1,359 (August 5, 2016). Under 4 years.
Days until Alex Rodriguez hits his 756th career home run to surpass all-time leader Hank Aaron: 1,415 (estimated -- I'm guessing around the end of 2016, around September 30).
Days until Alex Rodriguez hits his 763rd career home run to become as close to a "real" all-time leader as we are likely to have: 1,627 (estimated -- estimating 28 home runs a year, taking his recent injury into account, I'm guessing around April 30, 2017, at age 41). Under 4 1/2 years -- if he can. And even if he does, will he still be a Yankee when he does it? Your guess is as good as mine -- and his.