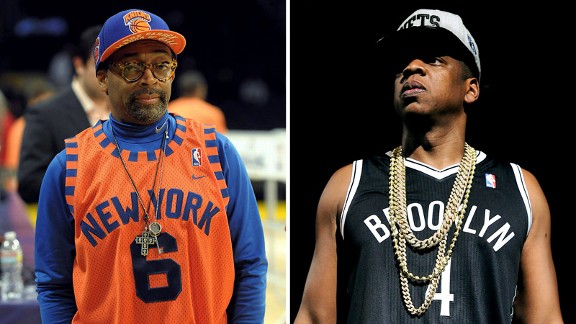 Last night, in overtime at the Barclays Center in Brooklyn, the Brooklyn Nets defeated their crosstown rivals, the New York Knicks, 96-89.
When the Nets were in New Jersey, I would have been thrilled at such a result.
Last night, I heard the news, and I searched and searched for a damn to give. I couldn't find one.
*
For 35 years, 1977 to 2012, I was a fan of the New Jersey Nets. I would root, root, root, for the home team. But they didn't win, and were a shame.
In the ABA, as the New York Nets, playing on Long Island, bouncing around until the Nassau Coliseum opened on February 11, 1972, they won the 1972 Eastern Division title, and won the league Championship in 1974 and 1976. But when the ABA-NBA merger happened, the Nets had to pay a $3.2 million entry fee to the NBA, and $4.8 million to the Knicks for territorial invasion. To pay for this, they had to sell the best player the franchise has ever had, Julius Erving. Once "Dr. J" was gone, the Nets went from the best team in what was essentially basketball's answer to Triple-A baseball to the worst team in the major league.
They moved to New Jersey, playing at the brand-new Rutgers Athletic Center starting in 1977, and then to the Meadowlands when the Brendan Byrne Arena opened in 1981. They played their last 2 seasons in New Jersey, 2010-11 and 2011-12, at the Prudential Center in Newark.
They won a Playoff series in 1984, against the defending NBA Champions, the Philadelphia 76ers, and took a pretty good Milwaukee Bucks team to 6 games in the next round. Until then, they didn't win a Playoff series until 2002, starting a string of 4 Atlantic Division titles in 5 years, 3 in a row, and back-to-back Eastern Conference titles, losing to the Los Angeles Lakers in 4 straight in the 2002 NBA Finals and in 6 to the San Antonio Spurs the next year.
Shortly thereafter, Bruce Ratner bought the team, and turned them into a lame duck. It took 8 years for the Nets to announce the move to Brooklyn, get the Barclays Center built, and finally make the move. The Montreal Expos, now the Washington Nationals, were a lame duck team for half that long.
So the Nets left me. True, they only moved 13.7 miles, from downtown Newark to downtown Brooklyn, but there is a State Line involved. And, unlike with the Giants (whose move from Yankee Stadium to the Meadowlands was also exactly 13.7 miles by one route) and the Jets (20 miles from Shea to the Meadowlands), the name of the team was also changed. It's a bigger culture shock. Essentially, Ratner and new owner Mikhail Prokhorov were telling us, "Brooklyn, once viewed as a place of the past, is now a place of the future, while it is New Jersey that is no longer desirable."
Bastards.
*
But is that a reason to take out my anger on the players? Essentially, they're the same players I rooted for in New Jersey.
No, they're not. It's a complete turnover from the Nets' glory days of 2002 to 2006. No more Jason Kidd, Kenyon Martin, Richard Jefferson, Vince Carter. Now, they've got... Kris Humphries? I don't know how Kim Kardashian could stand him for 48 minutes, let alone 72 days.
So now, I am a sports fan without an NBA team. I didn't leave the Nets, they left me.
They're not that far, really. Here's how the Nets compare, distance-wise from my residence, to the other teams in the Tri-State Area:
Rutgers football: 6 miles
Rutgers basketball: 6
New Jersey Devils: 25
New York Liberty (temporarily at Prudential Center): 25
New York Red Bulls: 26
New York Giants: 33
New York Jets: 33
New York Knicks: 36
New York Rangers: 36
Brooklyn Nets: 36
New York Yankees: 43
New York Mets: 46
New York Islanders: 64 (through April 2015, then it becomes 36)
In fact, the Barclays Center is 36.4 road miles from my place. Madison Square Garden is 36.0. It's almost identical.
But since I don't have a car, it's a bit harder. By public transportation, it would take me 45 minutes to get from my town's bus station to Port Authority, 5 minutes to get down to Subway level, and Penn Station and the Garden are one stop away. Throw in the 20 minutes it takes to get from house to station, and I can be at the front door of a Knicks game in 1 hour and 15 minutes. Whereas it's half an hour from Port Authority to Atlantic & Flatbush by Subway, making the total 1 hour and 40 minutes.
For comparison's sake, the Philadelphia sports complex is 67 miles away. By public transport, I can be at the Wells Fargo Center, home of the 76ers and Flyers, in 2 hours and 40 minutes.
*
So what are my options?
1. Stick with the Nets.
Advantages: I still know the team. They appear to be on the rise. I'll be in on the ground floor of something good. They're still close. They're putting their past behind them. They're got a (supposedly) nice new arena. And Beyonce might show up. Disadvantages: They abandoned me and my entire State. Siding with them now might make me look like a bandwagoner. For a team that's close, they're a bit of a pain to get to. They put their past behind them. While the arena may be nice, I've never been there (at least, not since construction began), and I'd be totally unfamiliar with it. And Jay-Z might show up.
2. Switch to the Knicks.
Advantages: I know the team. They're close. They're easier to get to from my place. Their past is a rollercoaster, but there is plenty of glory. They appear to be on the rise. The Garden, despite being the NBA's oldest arena, is undergoing a renovation that will keep it good. And Catherine Zeta-Jones might show up. Disadvantages: They messed my Nets up many times (John Starks vs. Kenny Anderson in 1993 being the worst example). Siding with them now might make me look like a bandwagoner. And Michael Douglas might show up.
3. Switch to the 76ers.
Advantages: I know the team a little. They're reasonably close. They're not especially hard to get to from my place. Their past is a rollercoaster, but there is plenty of glory. They appear to be on the rise. The Wells Fargo Center (presuming the name hasn't been changed yet again) is a great arena, and appears to have been one of the models for the Prudential Center. Disadvantages: They're not THAT close. Those packets that Philadelphia's subway tokens come in are really hard to open. And Howard Eskin might show up.
4. Switch to a different team.
Advantages: I can pick and choose. I can get a team that might be better than the Nets, the Knicks or the Sixers. Disadvantages: Said team will not be close at all, and very difficult to reach on a regular basis -- even if it were also a Northeastern team like the Washington Wizards (who I could learn to like) or the Boston Celtics (who I've been trained to hate for as long as I can remember, with good reason). I would definitely be a bandwagoner.
5. Stop following the NBA entirely.
Advantages: I would be tied to no team. I would not be disappointed by any team. I would not have to pay attention to David Stern, LeBron James, Kobe Bryant, or any of the league's other massive egos. I would not have to root for a Texas or Florida team to beat the Celtics. And I would not have to watch as the NBA, essentially, becomes a league designed to have 2 levels, one with 8 teams that could win the title, and one with 22 teams that are essentially feeder clubs for the 8. Disadvantages: The NBA does seem to be better than it's been for the last few years.
So which option should I take? All of them have pluses, and all of them have minuses. Should I stick with the Nets? Switch? If switch, to whom? Or drop the NBA altogether?
Decisions, decisions. Such is the life of an NBA free agent. Except, unlike LeBron, ESPN will show no interest in television my decision.