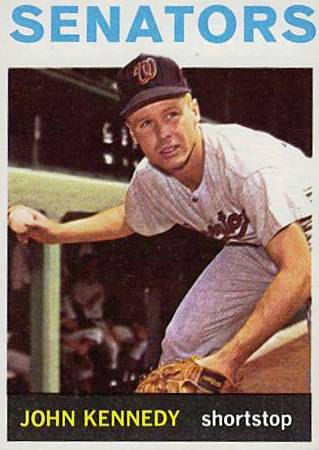 1B Conor Jackson
2B Tony Taylor
SS Jack Wilson
3B Travis Jackson
LF Shoeless Joe Jackson
CF Claudell Washington
RF Reggie Jackson
C Dan Wilson
DH Hack Wilson
PR Herb Washington
SP Babe Adams
SP Walter Johnson
SP Bullet Joe Bush
SP Whitey Ford
SP Billy Pierce
RP Jim "Mudcat" Grant
RP Brian Wilson
MGR Ron Washington
There actually was a John Kennedy who played in Washington in 1962 and '63. He also played for the Yankees in 1967, and if you know anything about how the Yankees played in Lyndon Johnson's one full term (April 1965 to September 1968), then you can guess that this John Kennedy wasn't good enough to make this team. I could have named Terry Kennedy as my catcher, but that would have been like asking what the name could do for me, instead of what I could do for the name.
Travis Jackson was mainly a shortstop, but I needed a 3rd baseman, and he did play the position in 307 major league games. I could also have gone with Adam Kennedy, although he's mainly been a 2nd baseman.
Hack Wilson was a terrible fielder, but a powerful hitter, so he's my DH.
Herb Washington was the track star that Charlie Finley made the A's "designated runner" in a brief 1970s experiment.
Mudcat Grant was a starter, but it was tough to crack a rotation anchored by the Big Train (who ran for Congress in D.C.'s Maryland suburbs as a Republican in 1940 -- but despite his popularity, lost in an FDR landslide) and the Chairman of the Board. So I put him in the bullpen. I could also put him in the broadcast booth.
Brian Wilson already qualifies for this team's pitching staff. C.J. Wilson, only if I need an emergency starter.
Like Richard Nixon, Trot Nixon earns a Dishonorable Mention. Austin Jackson does not yet displace Claudell Washington. If I were doing a football team, Bo Jackson would easily qualify; in baseball, not quite.
There has never been a Major League Baseball player with the family name of Fillmore, McKinley, Taft, Coolidge, Truman, Eisenhower or Reagan. Not surprisingly, none have been named Obama. Very surprisingly, none have had the last name Roosevelt. Also surprisingly, there were few named Madison -- I went with last names only, so Madison Bumgarner doesn't make it.
Players specifically named for Presidents don't count – not even Grover Cleveland Alexander (even though he was played in the movie by Ronald Reagan), or Calvin Coolidge Julius Caesar Tuskahoma McLish (a.k.a. Cal or Buster).
There has never been an MLB player with the last name of Romney. Hopefully, there will never be a President with that name, either. Even if he does have (at least, for a middle name used as a first name) the classic baseball term "Mitt." Keep your Mitt off the White House!