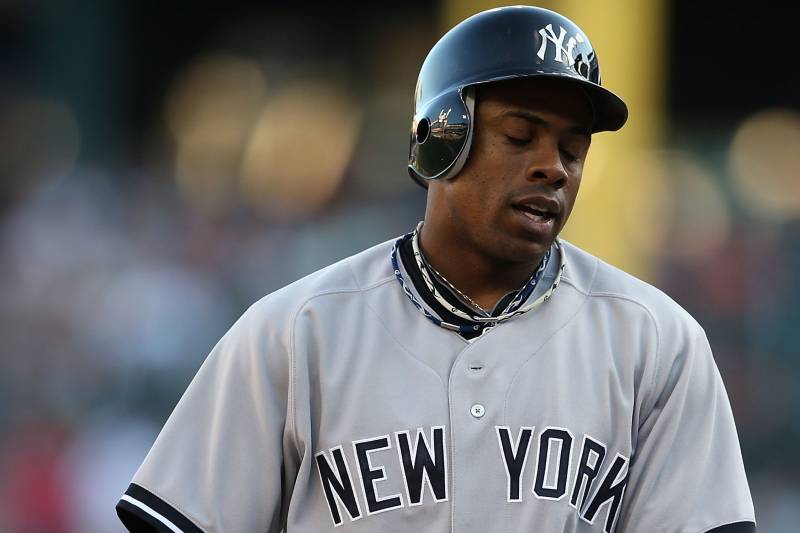 Phil Hughes (11-9) did not get out of the 5th inning last night. While Boone Logan and Clay Rapada pitched well in relief, both Cody Eppley and Joba Chamberlain (the latter really still getting his feet wet again) allowed additional runs.
And that made the difference. The Detroit Tigers got the runs they needed, including a home run from Miguel Cabrera. That same inning, Eric Chavez hit his 11th home run of the season off Rick Porcello (9-6), but it wasn't enough.
The Yankees got into the 9th trailing 6-3, and faced the Tigers' big, mean, fireballing closer, Jose Valverde, who was going for his 22nd save. An Ichiro Suzuki single and a Russell Martin double each drove home a run. But Curtis Granderson's popup ended it. Tigers 6, Yankees 5.
The Baltimore Orioles won last night, so the Yankees' lead in the AL East is down to 4 1/2 games, with 53 to play. There are 8 weeks remaining in the season. That means the O's would only have to gain a game every other week in order to catch us. And with the Wild Card play-in game coming into force this season, we do not want to be one of the Wild Card teams.
Porcello, from Morristown, New Jersey and a graduate of Seton Hall Prep, is a good pitcher. So is Justin Verlander, his teammate who beat the Yankees Monday night and is the defending AL Most Valuable Player. The Tigers have good pitching -- as we found out when they beat us in last year's AL Division Series. And they're only half a game behind the Chicago White Sox for 1st place in the AL Central.
The Texas Rangers are battling it out with the Yankees for best record in the AL. They also have good pitching -- apparently better since they chose not to re-sign Cliff Lee. Also in the AL West, the Oakland Athletics (shockingly, since they cut payroll, again, to feed their failed Moneyball monster) and the Whatever They're Calling Themselves This Season Angels of Anaheim also have good pitching.
The cliche that "The Yankees can't beat good pitching" is hovering over us again.
This ignores 2 things:
1. The Yankees also have good pitching -- usually. It's faltering now. Who's to say that it won't be good in September and October, and that it'll be the other Playoff teams' pitching that falters? Anybody who says that, isn't somebody we need to listen to.
2. The Yankee bats can break out at any time. When Alex Rodriguez comes back, and he may be joined this season by sparkplug Brett Gardner after all, the Yankees will have a lineup second to none, and with a lefty-right capability that no other team has. So the old cliche that "The Yankees can't beat lefthanders, especially in the Playoffs," which has been blown up many times (1958, 1978, 1996, 2000, 2009), remains full of shit.
Look, there
is
reason to be concerned. We've lost 12 of our last 18. But then, we had room to make this kind of mistake. This is hardly the time to panic.
We are the Yankees. We do not panic.
Tonight, CC Sabathia goes against Anibal Sanchez. Tomorrow afternoon, the series concludes with Hiroki Kuroda going against Doug Fister. Then the Yankees head across Southern Ontario to play those last-place, but still pesky, Toronto Blue Jays.
Tonight, 2 great clubs play at Yankee Stadium II -- but not baseball clubs. Soccer titans AC Milan of Italy and Real Madrid of Spain. Milan have won the European Cup/Champions League 7 times, last in 2007. Only Madrid have won it more, 9, last in 2002. Both teams, as usual, are loaded. Although, being a preseason friendly, the big stars may not play.
UPDATE: Most of the big stars did play. I know: I was there. Real Madrid won, 5-1.