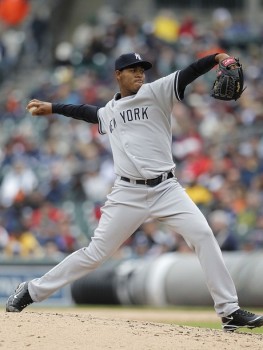 You would think that taking a 2-0 lead before ever throwing a pitch of your own would get you off to a win. That 2-0 lead, including Derek Jeter hitting the 1st pitch of the game out of the park (his 12th homer of the season), seemed to give the Yankees a lift in their game against the White Sox in Chicago last night.
Unfortunately, after winning 15 straight decisions over the last 2 seasons, Ivan Nova has now won only 1 of his last 8. He let the ChiSox tie the game in the 4th inning, let the bases get loaded, and then gave up a grand slam to a recent Chicago acquisition.
Which would be bad enough, but that new acquisition is former Red Sox star Kevin Youkilis.
I don't like him. Neither the change of team, nor the change of color in his Sox, has changed that.
White Sox 7, Yankees 3. WP: Former Minnesota Twins star Francisco Liriano, working his way back from nasty injuries (5-10). No save. LP: Nova (11-7).
Nova has got to turn this around, before we start calling him the Dominican A.J. Burnett.
The series with the White Sox concludes tonight, 8:10 our time (7:10 local time), with Phil Hughes starting for the Yankees, and Chris Sale for the home team.
The Yankees remain 4 games ahead of the Rays, who lost last night, but the Orioles won, to close within 5. The Magic Number to clinch the division, with the Rays' loss, dropped to 35.