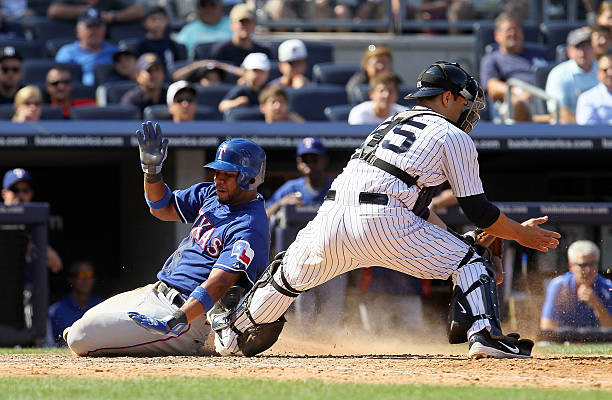 Last night, the Yankees and Rangers began the 3rd game of their 4-game series in The Bronx late, due to rain. When it was played, Freddy Garcia started for the Yankees -- and if you had told me before the series started that the Yankees would take 3 of the 4 against the 2-time defending American League Champions, I would have guessed this would be the one they would lose.
I would have guessed wrong. Freddy pitched pretty well, allowing only 2 runs in nearly 7 innings. Both were on home runs by Josh Hamilton, one in the 4th inning and one in the 6th.
After he hit the 1st one, a long drive into the 2nd deck in right field, I (at a New York bar) asked no one in particular, "How come nobody ever tests Hamilton for steroids?"
The guy next to me at the bar said, "Because the only thing that would turn up in his blood would be heroin."
Cheap shot. But not without merit, by Hamilton's own admissions.
Meanwhile, the Yanks had given Freddy the lead with 3 runs in the bottom of the 3rd, off Scott Feldman (6-8), who otherwise pitched well for Texas. Jayson Nix led off with a single, and stole 2nd. Derek Jeter singled, but Nix only got to 3rd. No matter: Nick Swisher, who is hitting the stuffing out of the ball lately, doubled home Nix, and got Jeter only to 3rd.
Is 3rd base coach Rob Thompson a little hesitant to send runners home? Because that's back-to-back at-bats when he could have.
Curtis Granderson then hit a sacrifice fly to get Jeter home. After Mark Teixeira struck out, Eric Chavez, still doing the business even though he wasn't expect to do much when we got him, singled home Swish.
Boone Logan, David Robertson and Rafael Soriano (29th save) pitched scoreless ball in relief of Garcia (7-5). Yankees 3, Rangers 2.
*
But this afternoon, there was a slugfest, and the Yankees were on the wrong end of it. Ivan Nova, again, did not have good stuff, allowing 4 runs in less than 6 innings.
But the Yankees fought back, including Andruw Jones' 13th homer of the year -- another veteran who was a nice surprise. But later on, he stranded 2 runners when he himself represented the tying run.
The Yankees tried 5 pitchers today: Nova, Cody Eppley, Logan, Joba Chamberlain (who was clearly not ready to come back) and Clay Rapada. None of them had anything. The Rangers racked up 16 hits.
Rangers 10, Yankees 6. WP: Tanner Scheppers (1-0). LP: Logan (4-1).
Not the way you want to go into a Red Sox series. The Scum come back to The Bronx tomorrow night.
They've become a circus -- or, as Squawker Lisa (see
Subway Squawkers
) calls them,
The Real Housewives of Boston
.
Real Housewives
? More like
Cape Cod
, a.k.a.
Jersey Shore North
.
Sox management gave manager Bobby Valentine a vote of confidence today, in light of the story that some players wanted him fired. They say he won't be fired in what remains of the season.
You know the old saying: The vote of confidence is soon followed by the kiss of death.