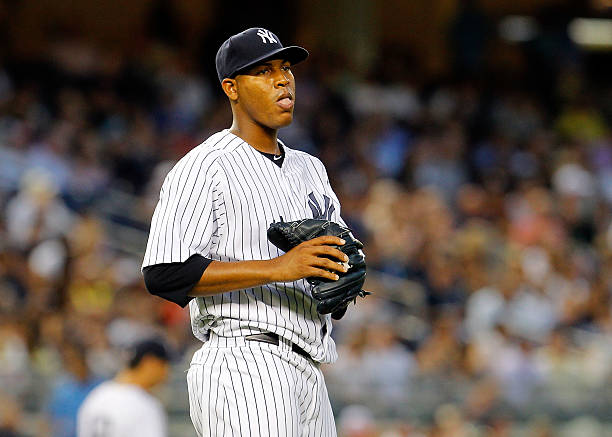 Your offense gives you the gift of a 5-0 lead after the 1st inning, you should be able to hold it. Ivan Nova didn't.
The Yanks' 5-run bottom of the 1st included Robinson Cano's 23rd home run of the season. Here's what the Baltimore Orioles' top of the 2nd included: Single, strikeout, strikeout, 2 strikes, almost an ordinary inning... then ground-rule double (5-1), single (5-3), single, walk, grand slam (5-7).
Final: Orioles 11, Yankees 5. WP: Chris Tillman (4-1). LP: Nova (10-5).
Nova hadn't lost a game in over a year until June. He's been a .500 pitcher since then. He's starting to look like a flash in the pan.
Which is not as powerful as a supernova. We need him to be Super Nova, so we can have champagne in the fall.
To make matters worse, last night, A.J. Burnett pitched a 1-hit shutout for the Pittsburgh Pirates.
The Yankees made a trade with the Pirates, sending them pitcher Chad Qualls (who did nothing for us) for infielder Casey McGehee, who can offer cover for the injured Alex Rodriguez at 3rd base and the (not as badly) injured Mark Teixeira at 1st base, and adds a righthanded bat. And Joba Chamberlain has been activated off the Disabled List. We were wondering if we'd ever see him pitch again.
The series with the Orioles concludes this afternoon, Phil Hughes vs. Chris Britton.
*
To make matters worse, the Red Bulls lost to Tottenham last night at Red Bull Arena. Having been humiliated by pathetic draws to half-strength Los Angeles and Liverpool sides (the latter at the Ravens' stadium in Baltimore), Tottenham started 8 of their usual starting XI, while Metro manager Hans Backe also started 8 of his usuals -- but not goalie Ryan Meara (still injured), and not the legendary Thierry Henry, who, contrary to what Daniel Levy, and before him Alan Sugar, think, has owned Tottenham for years. Henry didn't even suit up.
Essentially, Backe sent a boxer into the ring with one hand tied behind his back.
Tim Cahill, Captain of the Australian national side, played his 1st game after coming over from Liverpool-based club Everton, and challenged for a goal in the 7th minute, but Jan Vertonghen, the bastard Tottenham bought from Amsterdam's legendary club Ajax, knocked him down in the box. The referee correctly awarded a penalty, which Kenny Cooper converted. And backup goalie Bill Gaudette made some phenomenal saves. Metro went into the break up 1-0, and were still up 1-0 going into the 58th minute.
But Backe made some what-the-hell substitutions. This led to goals from the Welsh chimpanzee Gareth Bale in the 59th and the Icelandic bastard Gylfi Sigurdsson in the 64th. After shutting Bale down completely for 58th minutes, the new defense absolutely collapsed.
It was a disgusting performance. It was worse than Arsenal's 8-2 loss to Manchester United at Old Trafford last August. That was on the road, against a team that was expected to win, and Arsene Wenger had a squad beseiged by injury (6 starters missing including 3 defenders) and disloyalty (this was in the closing days of the Cesc Fabregas and Samir Nasri sagas), and, to make matters worse, Arsenal played the last 18 minutes with 10 men after Carl Jenkinson got a 2nd yellow card (by which point it was already 6-2 to the Fergiebastards).
This was worse. This was at home, against a struggling team, and Backe had a choice. He could start his best players. Aside from Meara, they were all healthy (and even Meara's injury shouldn't have mattered because, aside from that 5-minute collapse which was hardly his fault, Gaudette was sensational).
"Friendly," my ass: This was Tottenham. The fucking Spurs. And their vermin fans. When there's rats in your house, you call the exterminator. And you let him use all his weapons.
What the hell was Backe thinking?
It would have been different if it had been Liverpool, or Chelsea, or Man United, or some other English team that led me to also embrace my "local club." Then, I wouldn't have cared that it was Tottenham. Well, maybe, if I were a Chelsea fan. Definitely, if I were a West Ham fan.
But I am Arsenal. And I hate Tottenham. For many reasons, but they all boil down to one: They think they're hot shit, but they're only half right.
This was the 2nd time in a span of 2 years that Tottenham came to Red Bull Arena. In July 2010, they, Manchester City, and, because of the huge Portuguese community in the Newark-Harrison-Kearny region, Sporting Clube de Portugal (a.k.a. Sporting Lisbon) came for the New York Football Challenge, which Sporting won.
Both times, the Red Bulls led 1-0 at the half. Both times, Backe pulled his starters. (The 1st time, Henry played and scored in the 1st half, and Backe pulled him for the 2nd.) Both times, Spurs ended up winning, 2-1.
I hate Tottenham. Not as much as I hate the Red Sox or the New York Rangers... but now that Joe Paterno has gone to his ultimate reward, I now hate Tottenham more than I hate Penn State.