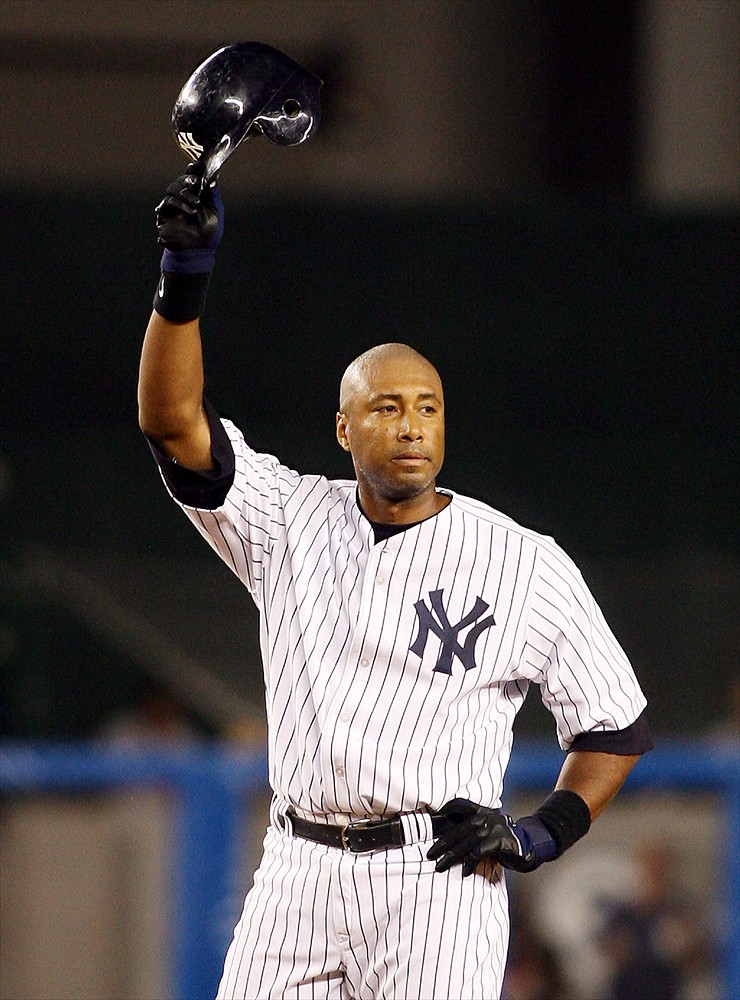 In all the fuss over Derek Jeter approaching 3,000 career hits, an anniversary was overlooked:
July 7, 1991, 20 years ago today:
The major league debut of Yankee Legend Bernie Williams.
He batted 8th and played center field, and went 1-for-3 with 2 RBIs. The Yankees lost, 5-3, to the Orioles in Baltimore. How long ago was this? The Yankees used only 2 pitchers, Wade Taylor and John Habyan. Jeff Ballard won it for the O's (5-9), and Mike Devereaux homered off Taylor (4-3).
Top 10 Bernie Williams Moments

10. October 1, 2006, Yankee Stadium, New York.
We didn't yet know it for sure, but we were probably sure this was going to be Bernie's last game – at least, in the regular season. I went to the old Yankee Stadium that day, and the Yankees were playing the Toronto Blue Jays. Joe Torre had a tradition in that he would let a player manage the last regular-season game of the season, assuming the Yankees had a Playoff berth wrapped up. This was Bernie's turn, and the Yanks and Jays were tied 5-5 going into the 9th inning.
Unfortunately, having gotten away with letting Scott Proctor pitch the 8th, he let Kyle Farnsworth pitch the 9th. Adam Lind hit a 2-run homer, and it was 7-5 to the Pesky Ones. In the bottom of the 9th, with Alex Rodriguez rested, and Derek Jeter, Hideki Matsui, Jorge Posada, Johnny Damon and Bobby Abreu all subbed midway through, Scott Downs struck out Kevin Thompson and Wil Nieves – not to be confused with Who's On First and What's On Second, but they might as well have been.
Bernie sent himself up to pinch-hit for designated hitter Miguel Cairo, and he doubled to right-center. It was Bernie's 2,336th and last hit, his 449th double. (He also had 55 triples and 287 home runs.) Too bad Andy Phillips, representing the tying run, struck out to end the game. Bernie played only 1 game in the postseason and did not get a hit.
9. November 21, 1996, NBC Studios, Burbank, California
– though the set was supposed to be Yankee Stadium. Bernie and Derek Jeter are in the batting cage with George Costanza (played by Jason Alexander). George has been told by his current girlfriend that, for medical reasons, she can't have sex. As a result of being so denied, knowing there's no point in concentrating on the subject, his brain develops to the point where he becomes brilliant, becoming a whiz with math, science and languages.
And, in his job with the Yankees, George explains to Bernie and Derek that there is a secret to hitting, and he's figured it out. He cranks one into Monument Park, saying, "It's not complicated."
Derek: "Who are you again?"
George: "George Costanza. Assistant to the traveling secretary." (And he cranks another one.)
Bernie: "Are you the guy who stuck is in that Ramada in Milwaukee?"
George: "Do you wanna talk hotels, or do you wanna win some ballgames?"
Derek: "Hey, we won the World Series."
George, with a snort: "In six games." (And he cranks another one.)
Met fans like to say that Keith Hernandez was better than Don Mattingly because, while Mattingly was only mentioned on
Seinfeld
, Hernandez appeared on it. Yeah, after he was retired. Bernie – and Derek, and Paul O'Neill, and Danny Tartabull, and Buck Showalter – all appeared on it while still with the Yankees.
8. September 27, 1998, Yankee Stadium.
Bernie goes 2-for-2 in the regular-season finale to finish with a batting average of .339 and win the batting title. O'Neill had won it in the strike-shortened season of 1994, but this was the 1st full-season Silver Bat for a Yankee since Don Mattingly in 1985.
7. October 16, 2003, Yankee Stadium.
The greatest game ever? Well, there's the 1978 Playoff with the Boston Red Sox, so this may not even be the greatest game in the history of the rivalry. Nevertheless, Bernie's single, scoring Jeter, was the 2nd of 4 straight hits that turned a 5-2 Boston Red Sox lead in the bottom of the 8th into a 5-5 tie, setting up Aaron Boone's Pennant-winning homer and sealing Grady Little's doom as Sox manager.
6. October 5, 1996, Rangers Ballpark, Arlington, Texas.
Bernie goes 3-for-5 with a home run and 2 RBIs, as the Yankees beat the Texas Rangers 6-4, to take the American League Division Series in 4 games. Bernie had also homered in Game 3. In all plate appearances in the series, he went 9-for-18 with 3 homers and 5 RBIs.
5. May 22, 2002, NBC Studios, Burbank
– although it was set in a theater in Manhattan. On the season finale of
The West Wing
(as with the
Seinfeld
episode, I'm citing the date it aired, rather than the date it was filmed, which I don't know), President Jed Bartlet (played by Martin Sheen) finds himself face-to-face with his Republican opponent, Governor Robert Ritchie of Florida (James Brolin). Ritchie mentions that he'd been to the Yankee game earlier in the day, saying, in response to Bartlet's preference for theater, "It's how normal Americans get their entertainment."
(To which Bartlet's communications director, Toby Ziegler, a Yankee Fan played by real-life Yankee Fan Richard Schiff, said, "I've been to 441 baseball games at Yankee Stadium, and there's not a single person there that's normal." Yes, I laughed.)
"No, I don't understand that," Bartlet said of Ritchie's "normal Americans" remark. "The center fielder for the Yankees is a classically-trained guitarist." In other words, it was possible for the highbrow and the common man to find common ground.
Granted, Bartlet didn't mention Bernie by name, and there are plenty of differences between the show's world and the real world (for one thing, in real life at this point, the President was more like Ritchie), but there's no reason to believe that Bartlet was referring to anybody but Bernie. Who else in Major League Baseball in 2002 could have been both A) a Yankee, B) a center fielder, and C) a classical guitarist? Even though we neither saw Bernie's face nor heard his name, this was far better than his
Seinfeld
appearance.
4. October 26, 2000, Shea Stadium, New York.
Bernie was 0-for-15 going into Game 5 of the World Series – and against the Mets, of all teams. But he homered off Al Leiter in the top of the 2nd, to put the Yankees on the board. Although the lead did not hold, the Yankees did win the game, and clinched the last Subway Series we are ever likely to see. He finished 2-for-18 for the Series, but so what? He helped the Yankees win.
3. October 13, 1999, Yankee Stadium.
Bernie takes Rod Beck deep in the bottom of the 10th, to give the Yankees a 4-3 win over the Boston Red Sox in Game 1 of the American League Championship Series. It is his 2nd walkoff homer in postseason play. No other player has ever done this. Not without steroids, anyway.
2. October 9, 1996, Yankee Stadium.
We all know the story: The Yanks trail the Baltimore Orioles 4-3 in the bottom of the 8th in Game 1 of the ALCS, when Jeter hits one deep to right-center, and it's ruled a home run. To this day, Oriole fans and all other Yankee Haters say there was interference from a fan in the stands. They forget that the Orioles lost all 3 games in that series, so they need to shut the front door.
The game goes to the bottom of the 11th, and, off former Met reliever Randy Myers, Bernie steps up, and John Sterling says this: "Swung on, and driven to deep left! It is high! It is far! It is gone! Yankees win! Theeeeeeee Yankees win!"
Sterling had used the line before, but, as far as I know, this was the 1st time he'd dragged the "The" out that much. More important, the Yanks had won the game, and Bernie had turned himself into a postseason legend: Only the 3rd Yankee, following Tommy Henrich in Game 1 of the 1949 World Series and Chris Chambliss in Game 5 of the 1976 ALCS, to hit a postseason walkoff homer.
At the postgame press conference, Torre was asked about the controversial Jeter homer. He said, "Did anybody see Bernie's home run? That wasn't all bad." Master of understatement.
1. September 21, 2008, Yankee Stadium.
Prior to the old ballyard's finale, a pregame ceremony featured several former Yankee greats – or, in the case of those who had died, their relatives. Since center field, due to Joe DiMaggio and Mickey Mantle, is the Yankees' glamour position, the center fielders were introduced last. No DiMaggio relatives were there, but Mantle's son David, and Bobby Murcer's wife, son and daughter, were introduced.
Bernie was thus the last Yankee Legend (aside from those playing in the game) introduced, and he got a huge hand. It was his 1st time on the field since he was sort of pushed out of the team 2 years earlier, and he deserved that ovation.