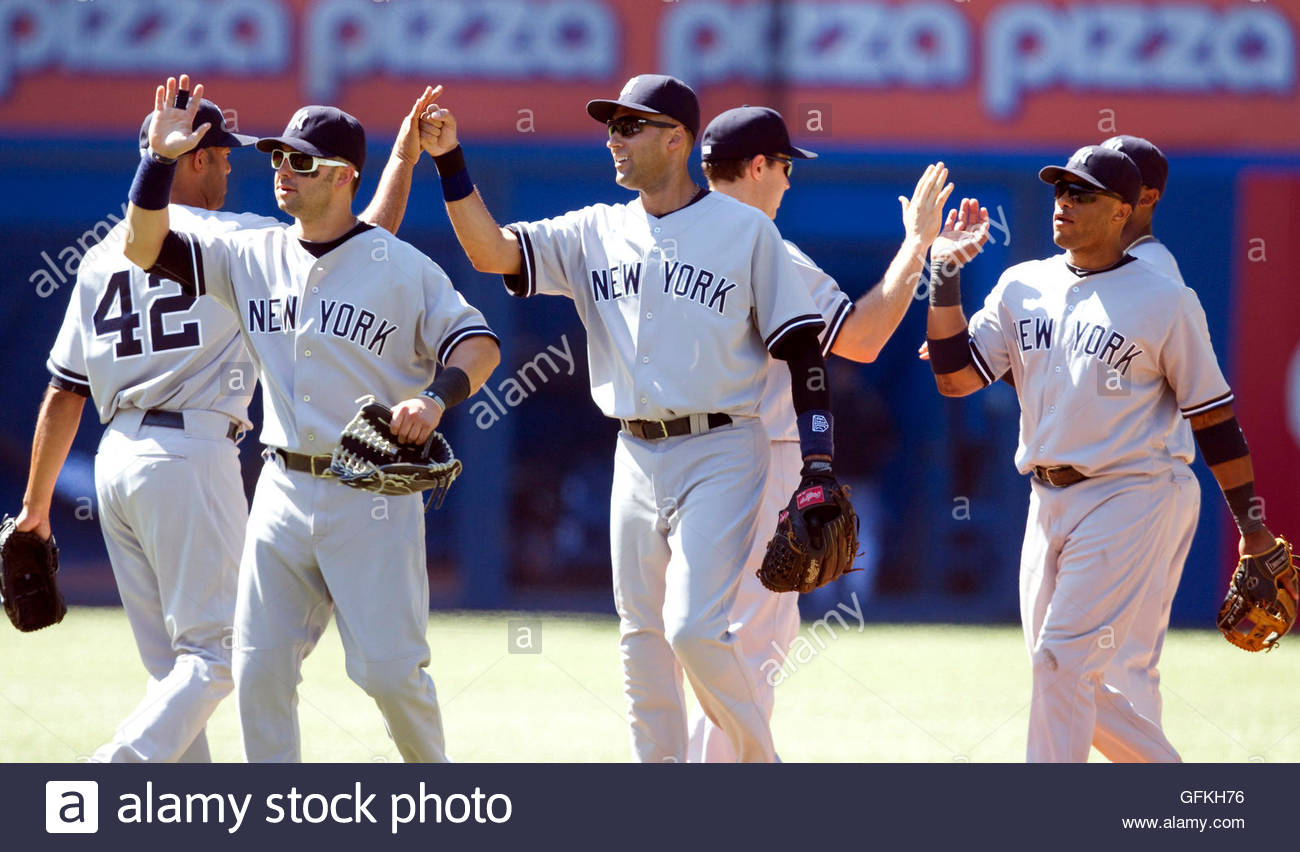 Since we last "spoke," I lost 10 pounds. All of it sweat during yesterday's Trenton Thunder game. I spent more money on drinks than on my ticket ($12 to $10). And while Manny Banuelos looked good, especially with his control, he ended up as the losing pitcher, leaving the game trailing the Reading Phillies 3-2, in a game the Thunder lost 4-3.
On Saturday, CC Sabathia did what CC Sabathia does: Shuts opposing teams down (14-4). 8 innings, 1 run, 3 hits, 3 walks. Mariano Rivera did what Mariano Rivera does: Pitches a scoreless 9 (23) -- although he did let 2 runners on, but finished the job. And the Yankee bats did what the Yankee bats do: Get enough runs for their pitchers. Against Ricky Romero (7-9), the Yanks got 2 runs in the 2nd, 1 in the 3rd and 1 in the 4th, and that was all they needed: Yankees 4, Toronto Blue Jays 1, at the Rogers Centre/SkyDome/SkyDump. Brett Gardner went 3-for-4, including 2 doubles.
Yesterday, the long-awaited first victory of the season for Phil Hughes (1-2), who outpitched Carlos Villanueva (7-2). The key for the Yankees was 4 runs in the 4th, including RBI doubles by Russell Martin and Curtis Granderson. Again, Gardner went 3-for-4. Cory Wade, David Robertson and Boone Logan each pitched a scoreless inning in relief of Hughes. Yankees 7, Blue Jays 2.
So it's a split of the 4-game series at the PeskyDome. They say if you can win 2 out of 3 at home (54 out of 81), and split on the road (41 out of 81), you'll make the Playoffs (95 out of 162). The Yankees are a game and a half behind the Red Sox, just 1 in the loss column. And, due to the fact that the Sox have played more games than the Yankees, the Yanks still have a Magic Number over them.
Jeter hits 3007 DONE
Rivera saves 582 19
A-Rod homers 626 137
A-Rod hits 2762 238
Magic Number 70 (to eliminate Scum, 63 for Rays, 56 for Jays, 53 for O's)
The Yankees start a 4-game series with the Tampa Bay Rays -- still over .500, but fading fast as most sensible people (read: Non-Yankee-Haters) expected -- in St. Petersburg, in a few minutes from this writing. A.J. Burnett and Alex Cobb are the opposing starters.
Following this series in Geezerland, the Yanks come home for a 10-game stand, against the Oakland Athletics, Seattle Mariners and Baltimore Orioles, before heading out on the road to play the Sox -- both sets, 4 with the White ones in Chicago, and then off to Scum Town to play the Red ones.
The season is ready to get serious. Come on you Bombers!