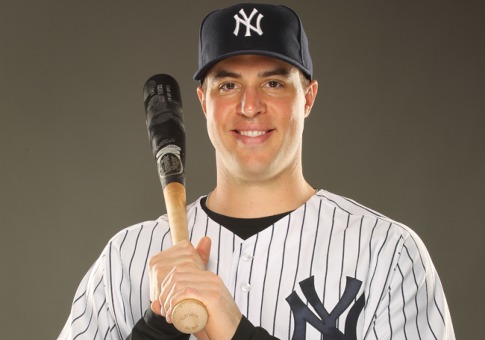 Mark Teixeira hit his 300th career home run yesterday. He has a lifetime batting average of .283, on-base .375, slugging .537, OPS .912, OPS+ 134 – meaning, over the course of his career, he's been 34 percent better than the average hitter.
He has 1,392 hits, including 314 doubles and the aforementioned 300 homers. He has 969 runs batted in, meaning, unless he suffers an awful injury, this season will see him chalk up his 1,000th career RBI. He's 31 years old.
Does Mark Teixeira belong in the Baseball Hall of Fame? Based on what he's already done, no – but it's not by as a long a shot as you might think.
Baseball-Reference.com
, a website which is your friend whether you know it or not, has a Hall of Fame Monitor, on which a "Likely HOFer" is at 100. Right now, with what he's already done through yesterday afternoon's game, Teix is at 94, which means he's not that far away. B-R also has a Hall of Fame Standards, which is weighted more toward career stats, and according to this the "Average HOFer" is at 50. Teix is at 26, which means he does have a ways to go.
B-R also has "10 Most Similar Batters," which are weighted not just toward similarities of stats but also toward players of the same position, to make it easier to compare apples with apples and oranges with oranges, or so to speak.
According to them, the 10 batters most similar to Teix are: Richie Sexson, Miguel Cabrera, Danny Tartabull, Hal Trosky, Matt Stairs, Wally Berger, Hank Sauer, Mo Vaughn, Kevin Mitchell and Tony Clark. (Funny how Mitchell's name comes up right before the Yankees play the Mets.)
Of those, all but 1 are retired (Trosky, Berger and Sauer played long ago and are dead), and none of those will ever make the Hall of Fame. The 1 who is still active is Cabrera, who is 28, already a 5-time All-Star, and has a lifetime batting average of .314, a whopping OPS+ of 148, and 264 home runs despite playing his whole career in pitchers' parks (Joe Robbie Stadium in Miami and Comerica Park in Detroit). It's way too soon to tell with him as well, and his disciplinary issues make him a question mark despite his impressive stats.
However, B-R can also look at 10 Most Similar Batters through the current age of the player in question. By that standard, these are Teix's 10 most similar: Carlos Delgado, Jeff Bagwell, Fred McGriff, Paul Konerko, Jim Thome, Kent Hrbek, Jose Canseco, Albert Belle, Rocky Colavito and Shawn Green.
Except maybe for Green, each of those guys looked at some point like they were on their way to the Hall. Thome, who has almost 600 and is believed to be clean, will make it. Delgado and McGriff, each of whom came close to 500 homers and is believed to be clean, have a chance of making it. Bagwell, the best hitter in Houston Astros history, will also make it, though they may wait until they can vote him in with his teammate Craig Biggio once Biggio becomes eligible. Konerko is closing in on 400 homers and has a shot. Canseco and Belle are too tainted. Colavito has, arguably, been unfairly denied. And Hrbek had too many injuries to allow him a long enough career to build up the big stats.
Based on this, I'm thinking that Teixeira, should he continue on this pace until he's 35, at the conclusion of the 2016 season, would have about 450 homers, 1,500 RBIs, over 2,000 hits, still an OPS+ of about 130, and certainly more than the 1 World Series ring he has now. He's generally seen as a good guy. There is no hint of scandal to him.
I think Teix will make it, although, as his Similar Batters suggest, there are pitfalls along the way.