Wow, that Johan Santana has really made a difference for the Mets, hasn't he?
I saw a picture of him wearing a leather jacket that looks like it was ripped off of "Life On Mars."
"My name is Sam Tyler. I was in an accident, and I woke up in 1973. The Mets are winning the Pennant, which makes me feel like I'm on a different planet."
Met fans were so sure that Santana was going to make the difference between the September 2007 disaster and the World Series. In 2 seasons, the Mets have had another September collapse leading to a regular-season finale humiliation, and a train wreck of a season with all kinds of injuries, including bone chips that have now ended the season of The Great Johan Santana.
Then there's Francisco Rodriguez, a.k.a. Frankie, a.k.a. K-Rod. The author of the blog "
The Musings and Prophecies of Metstradamus
" -- good title and usually well-written, though being a Met fan is clearly a sign of, to put it politely, compromised faculties -- has written:
I'm starting to get the feeling that Frankie Rodriguez is the Jamie Lee Curtis of the group ... the last one standing after Michael Myers has killed everyone else, while Billy Wagner is the guy who you thought died in the first half hour of the film, only to be that guy who finally drives a stake into the psychopath's heart when he's just about to kill Frankie, then tear both of his hamstrings.
He's referring to Michael Myers, the lead of the
Halloween
horror films -- not the comedian who starred in the
Wayne's World
segments of
Saturday Night Live
and the
Austin Powers
films. Nor the "submarine" lefthander who helped the Red Sox win a title * and then didn't help the Yankees much.
Shows what you know, Metstradamus: Jamie Lee Curtis is someone I wouldn't mind seeing in any clothes, or none at all -- and she's 50! By contrast, Francisco Rodriguez doesn't look good no matter what he wears!
You'd have to be a psycho to put up with the Mets -- and speaking of
Psycho
, it starred Jamie Lee's mother, the late great Janet Leigh, and she was something, too. Check her out in full blazing color in
Scaramouche
: Let's just say that French Revolution-era gowns were made for women like her. (Jamie Lee's father, and Janet's ex-husband, was actor Tony Curtis.)
The Mets, of course, have Susan Sarandon, who still looks great at 63... but the way we know she's a great actress is that anyone who watches the Mets as long as she has, and still "believes in the Church of Baseball" has
got
to be lying!
However, neither Johan Santana nor Francisco Rodriguez makes the following list. Nor do David Wright, Jose Reyes, Carlos Beltran or Alex Rodriguez -- for the simple reason that they are still active, and their stories are not yet complete, therefore they have not yet fully failed.
But there are always "false saviors" in sports, and the New York Tri-State Area has had a few of them. And the effect can be devastating.
If you doubt this, imagine if the Vancouver Canucks had won Game 7 of the 1994 Stanley Cup Finals, and Mark Messier eventually left the Rangers without winning a Stanley Cup. Instead of being the most beloved Ranger of all time, he would be the most hated.
There are no Giants, Islanders or Devils on this list. The Giants have never really had a guy who was given big hype when he arrived and failed to deliver. The Devils have been similarly lucky in this particular regard. And the Islanders haven't really tried to open the vault to get a big star capable of turning the franchise around, regardless of success or failure.
UPDATE: By 2013, Ilya Kovalchuk became the 1st such player for the Devils; and Santana, Wright and Reyes all made themselves fully eligible for this list.
Top 10 False Saviors in New York Sports
10. Bobby Bonds.
George Steinbrenner actually traded Bobby Murcer, already one of the most popular Yankees ever, to get him from the San Francisco Giants. Now, in late 1974, being traded even-up for Bobby Bonds was not an insult.
Far from it: He was a great combination of power and speed, hitting 331 career home runs and stealing 461 bases. One season, he missed becoming the 1st player ever to have 40 homers and 40 steals in a single season by just 1 one homer. And when you consider he played the 1st half of his career in windswept Candlestick Park, and was continually injured for much of the 2nd half of his career, you're looking at a player who could have made the Hall of Fame if things had broken right for him.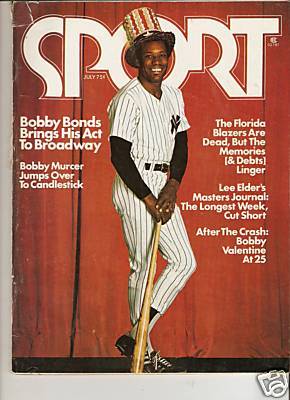 But his 1975 season was a bit of a disappointment. He didn't really fit in with New York, the pressure on him to be "the next Yankee superstar" was immense, and his lefty swing, while ideal for the short right-field porch at Yankee Stadium, was less effective in the symmetrical, windy Shea Stadium the Yanks had to use for 1 more season while The Stadium was being renovated.
On December 11, 1975, the Yanks sent Bonds to the California Angels for outfielder Mickey Rivers and pitcher Ed Figueroa -- and, on the same day, also sent pitcher Doc Medich to the Pittsburgh Pirates for pitcher Dock Ellis and a rookie second baseman named Willie Randolph. It may have been the greatest day of trading in Yankee history. Bonds would go on to excel while healthy, but be hurt so much that he became one of the most-traded players ever.
Today, the late Bobby Bonds is best remembered as the father of Barry Bonds. Which is a shame, and not because of anything Barry has done, good or bad: Bobby was a really good player who didn't get an even break. Which is why I put him at Number 10: He doesn't really deserve it. But the hype that went along with him means he has to be on this list.
9. Marvin Webster.
Known as "the Human Eraser" for his ability to block shots ("erasing" points from the board), he helped get the Denver Nuggets to the 1976 ABA Finals and the Seattle SuperSonics to the 1978 NBA Finals. Then the Knicks got him. On the cover of their October 16, 1978 issue,
Sports Illustrated
asked a big question.
That the answer turned out to be "No, not by a long shot" is hardly his fault. But that cover made quite an impression. Maybe he got hit by The Dreaded SI Cover Jinx. Sadly, both Marvin and his son, Marvin Jr., who briefly played at Temple, died of heart problems.
8. Phil Esposito.
"The Trade" meant bringing one of the greatest scorers and team leaders in hockey history to the Rangers, but it also meant sending 2 other Hall-of-Famers, Jean Ratelle and Brad Park, to the Boston Bruins, at the time still considered the Rangers' arch-rivals -- although the Islanders had just embarrassed the Rangers in the 1975 Playoffs, and the Bruins haven't really been a Ranger rival since.
Espo certainly had quite a bit left, and his talent and presence helped to make the Rangers marketable again, which was particularly important after the disasters (plural) of calendar year 1975, including the rise of the Islanders which eventually led to 4 straight Stanley Cups.
As the Rangers' Sasson ad campaign proved,
being marketable and knowing how to market yourself
are 2 very different skills.
Espo led the Rangers to the 1979 Cup Finals, beating the Isles in the Semis, before losing the Finals to the Montreal Canadiens. This was a very big deal, as the Rangers had been to just 2 Finals in the preceding 29 years.
Ultimately, though, Espo couldn't get the Rangers over the hump, either as a player, a head coach or a general manager. He was an honorable failure in New York, but the fact remains that he failed. And that Sasson jeans commercial... All he did for the Bruins, all he did to make the Rangers relevant again, saving Team Canada in the 1972 Summit Series... Sorry, Phil, but that commercial will live forever.
7. Ed O'Bannon.
He led UCLA to the 1995 National Championship, their only title without John Wooden as coach. The Nets drafted him, needing something big after collapsing from a team that had been pretty good in '92, '93 and '94 but was now ridden with dissension and injuries. How much of a risk could it be?
Let's just say that, of all the Nets' blown draft picks, this was the biggest bust when you consider performance divided by hype. Even the late Yinka Dare, a.k.a. the Three-Minute Egg, wasn't as bad from that perspective.
6. Rickey Henderson.
The Yankees picked him up for the 1985 season, and he shattered team stolen base records, hit a few big home runs, and solidified his reputation as the greatest leadoff hitter of all time. Unfortunately, he also failed to hit in several key situations, his "snatch catch" was bad enough when it worked and didn't work often enough to notice, and was, quite possibly, the biggest egomaniac in the history of sports.
The Yankees got rid of him in 1989, and when you rattle off the names of the Hall-of-Famers who played for the Yankees, it's easy to forget that Rickey was one of them. In fact, I recommend forgetting it. Essentially, Rickey did nothing for the Yankees, and, despite some impressive stats, the Rickey-in-Pinstripes experience was a total waste. If he'd cared more about the Yankees than about Rickey, 2 games out in '85, 5 1/2 out in '86, 9 out in '87, and 3 1/2 out in '88, might've been a very different story.
5. Jaromir Jagr.
If I were making this list for Washington, D.C. -- or even the Baltimore-Washington corridor combined -- "Dude Looks Like a Lady" might top the list. I think the reason he stayed so thin is that the only thing he ate as a Ranger was the Dolan family's money. He may have set a Ranger team record with 54 goals in 2006, but his Cup seasons with the Pittsburgh Penguins seemed like a lifetime ago.
He's scored 646 goals in his NHL career -- and, at 37, it might not be over yet -- but is there any other player in the 500 Goals Club, let alone with as many or more than Jagr, who is more lightly regarded?
UPDATE: Through the 2016-17 season, Jagr has 765 goals in NHL regular-season play, more than any player except Wayne Gretzky and Gordie Howe. But he has now played for 8 different teams, including the Rangers and the Devils (meaning he's now flopped for 2 local teams, which is rare), and since 1992 has reached the Stanley Cup Finals once, with the 2013 Boston Bruins. That 19-year gap between Finals appearances may be a record.
4. Randy Johnson and Roger Clemens.
I lump these 2 together -- I really wish I could lump them together -- because of the hype they brought to my team, and the results thereof.
When Johnson pitched for Seattle in the 1995 Division Series, he made the difference for the Mariners, every bit as much as Ken Griffey, Edgar Martinez or Tino Martinez. When he pitched for Arizona in the 2001 World Series, he saved the Diamondbacks' skins and beat the Yankees. Getting him seemed like a great idea, the old idea of, "Even if he does nothing for us, he won't be doing anything
to
us."
But the Big Unit was a big flop here. He put together the 2 most useless 17-win seasons any Yankee pitcher has ever had. He was moody at best, nasty at worst, and his injuries and his collapses in Game 3 of the Division Series of both 2005 and 2006 were unacceptable.
That he has gone on to pitch elsewhere, and well, and join the 300 Wins Clubs, and surpass Clemens to be 2nd on the all-time strikeout list makes it even sicker.
As for Clemens, it seems like an odd thing to say, calling him a "false savior" after what he did for the Yankees from 1999 to 2003. Ah, but I think you've guessed what I'm really talking about here. This list is not just about failure, it's about performance divided by hype. Remember the hype when he returned to the Yankees in 2007? Making the announcement at the 7th-inning stretch? Suzyn Waldman reacting to it as if it was the Summer of '64 and she'd just been kissed by a Beatle?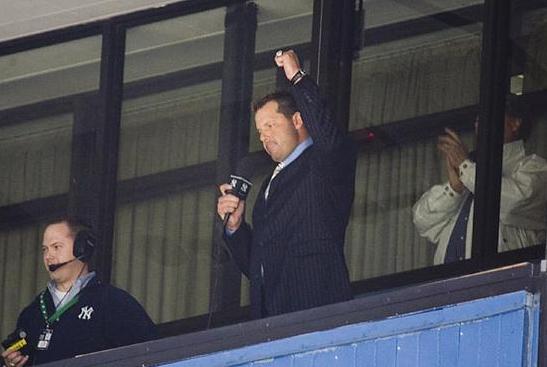 And the results? Well, let's just say that Tom Glavine wasn't the only 300-game winner to end his New York days on an incredibly sour note that season. As Yogi Berra might say, the good news is that Roger's meltdown happened in the Playoffs... but the bad news is that Roger's meltdown happened in the Playoffs. And he's never pitched in the major leagues again. Nor should he.
If I never saw either the Big Unit or the Rocket again, I could live with it.
3. Pedro Martinez.
If you believe Met fans, signing the Fenway Punk was the message that was sent to the rest of baseball that the Mets were serious about trying to win again, so come on and sign with the Mets!
It didn't work out, largely because Pedro kept getting hurt. And now, the Punk is doing a good job with the Philadelphia Phillies, who have become the Mets' rivals in ways the Atlanta Braves could never truly be.
Isn't that just like a player, to be great both before and after being a Met, but not during? Then again, the 1993 Mets should have taught you that: Eddie Murray, Bobby Bonilla, Vince Coleman, Jeff Kent, Tony Fernandez, Jeromy Burnitz. I almost made them a collective entry on this list.
2. Brett Favre.
The Jets have been unlucky in many areas, but they'd never really had a false savior until Brett Favre came along. Brett Favre got them to 8-3 in 2008, and it looked like they might win the AFC East and play a January game or two "at home" at the Meadowlands. Final record, 9-7, and Brett Favre was largely responsible.
Brett Favre got hurt. Brett Favre was totally useless. Brett Favre threw a season away. Make no mistake, Brett Favre should have retired after the previous season when he had the chance.
Brett Favre is no longer the Jets' problem. And getting Brett Favre might not turn out to be such a disaster: After all, if Mark Sanchez turns out to be a great pro quarterback, then it would be a direct result of the spectacularly failed Brett Favre experiment: It would make Brett Favre the Jets' Ken Phelps, and Sanchez the Jets' Paul O'Neill.
Who's the biggest false savior in New York sports history? It's not Brett Favre, he whose name always seems to be used in full. No, there can be only one.
1. Patrick Ewing.
When NBA Commissioner David Stern rigged the 1st-ever NBA Draft Lottery in 1985 to ensure that New York got the 1st pick -- excuse me, when Mr. Stern announced that the Knicks had won the 1st pick -- everyone knew the Knicks were going to take the most celebrated college basketball player of the first half of the 1980s, Patrick Ewing.
Ewing was the 7-foot center who had taken Georgetown University of Washington, D.C. to 3 National Championship Games -- but, in some unfortunate foreshadowing, had won only 1, losing the other 2 by 2 points each.
The question that Knick fans, desperate for a winner after a season that made the 2009 Mets look like the picture of health by comparison (in particular the spectacular knee injury to the great hope that had been Bernard King, as well as the difficulties of the aforementioned Marvin Webster), were asking at the time was not, "Will Patrick Ewing lead the Knicks to an NBA Title?" It was "How many NBA Titles will Patrick Ewing lead the Knicks to?"
Looking at this cover now, there are 2 questions:
1. "How could they have been so gullible?" And
2. "Wait, you mean, back then, shorts were actually short?"
At that moment, Michael Jordan, whose jumper had provided the winning margin over Ewing's Hoyas in the 1982 title game, had completed a not-especially-interesting rookie year for the Chicago Bulls. And Hakeem Olajuwon, who had lost 3 Final Four appearances with the University of Houston, including being the one team the Hoyas could beat in the Final, in 1984, had just finished his rookie year with the Houston Rockets. Isiah Thomas, who ended up as no friend of Knick fans, had finished his 3rd year with the Detroit Pistons, and was impressive, but the team results just weren't there.
No one yet knew that the player for a big-market team that would lift the NBA to new heights was going to be Jordan of Chicago -- although Earvin "Magic" Johnson of Los Angeles was already that guy, but Stern didn't grasp that. He thought it was going to be Ewing, and that it had to be in New York.
If I had told you at that moment that Jordan, Olajuwon and Thomas would, between them, play on 10 NBA Championship teams, and that Ewing would play on exactly none of them, you'd ask me what I was smoking. But I would have been right.
And it's not just that the Knicks as a team, and that Ewing as an individual, frequently choked. It's that Ewing tended to make predictions about the Knicks winning it all. It worked for Joe Namath and the Jets in January 1969. It worked for Mark Messier and the Rangers in May 1994. It never worked for Ewing and the Knickleheads. And, perhaps most damning of all, the Knicks reached their 2nd NBA Finals appearance of the Ewing era (in 1999, following 1994) with Ewing injured and unable to contribute.
You can say that the Knicks kept running into Jordan and the Bulls. That's a fair argument. But before those Bulls, nearly every great team had a center capable of dominating a game. The Bulls of 1991, '92 and '93 had at center... Bill Cartwright. The same Bill Cartwright who Ewing replaced as Knick center, because Cartwright wasn't good enough. The Knicks thought they could get rid of Cartwright once they brought in their big Hoss, but it was the Bulls who ended up with the bonanza.
The Bulls of '96, '97 and '98 had at center... Luc Longley. Like Cartwright, the big Australian was a good center, a solid team player and a decent man. But was anyone really intimidated by Cartwright or Longley? Yeah, apparently, one guy was: Patrick Ewing. The 1990s Bulls proved you could win an NBA Title without having a dominating center, even if your opponents did have a hyped-up center.
There are many reasons that the New York Knickerbockers have fallen short every season since 1973. (The Curse of Sam Tyler, maybe?) But for nearly half of that time, they put their eggs in the basket with the Number 33 on it. The hype was immeasurable. The results were miniscule. Patrick Ewing is the biggest, falsest false savior in New York sports history.
That doesn't make him a bad person -- I leave it to the dancers at Scores who knew how much he tipped to decide that -- but it does make him, as far as his professional basketball career is concerned, a failure. An expensive one, and not just in terms of the Dolan family's money.