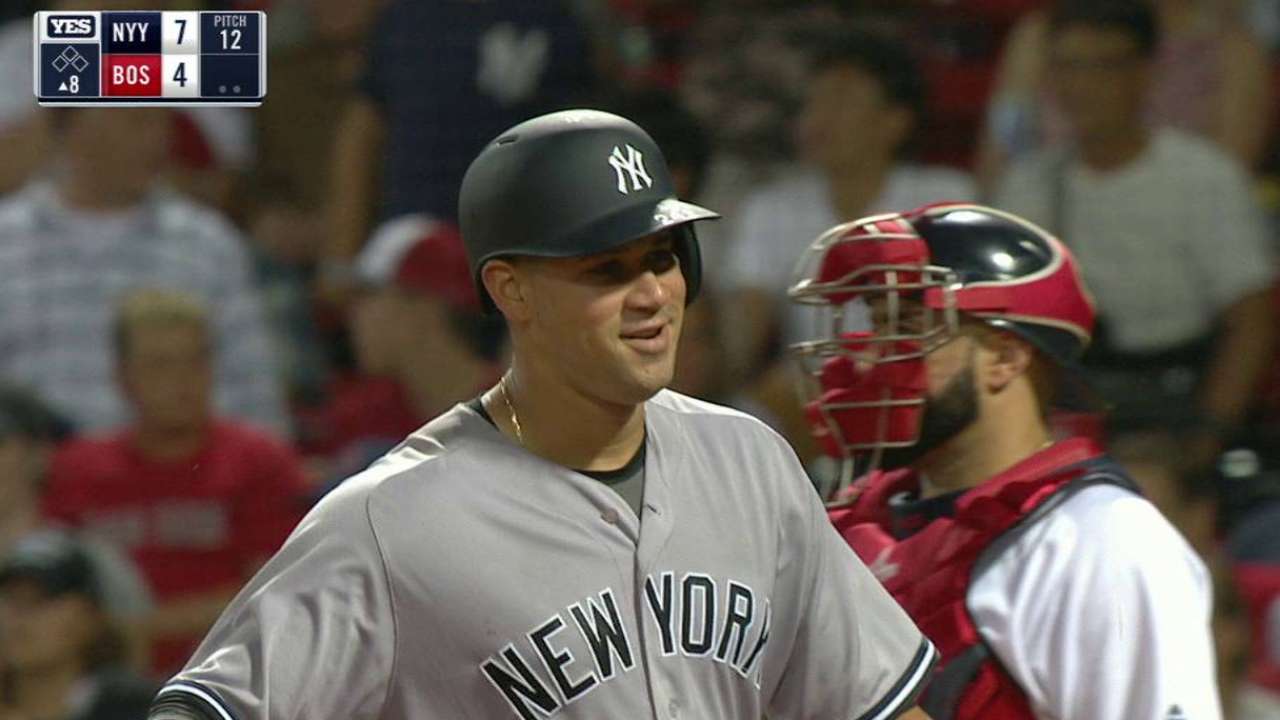 If I had told you before last night's game, against the Red Sox at Fenway Park, that Nathan Eovaldi would leave the game due to injury after only 1 inning, you might have guessed that manager Joe Girardi would have gone through the entire bullpen, and we would have lost badly.
You would have been half-right. Thankfully, the good half!
Chasen Shreve and Blake Parker -- a.k.a. "Why him?" and "Who's he?" -- each allowed a run, and it was 2-0 Sox after 4 innings. The Yankees got a run in the 5th, and Nick Goody pitched a scoreless 5th, but Tommy Layne allowed 2 runs in the 6th, to make it 4-1 Boston. Not terrible, and at the little green pinball machine in the Back Bay, hardly impossible. But, at the rate the Yankees have hit for almost 4 full years now, a 3-run deficit looked insurmountable.
Then Sox manager John Farrell removed starter Clay Buchholz, who had put together the best start of what has been a terrible season for him, for Fernando Abad. Big mistake. Didi Gregorius led off with a single. Gary Sanchez, who may have been a big find as a successor to catcher Brian McCann, followed with another. Austin Romine singled Didi home. 4-2.
Girardi sent Alex Rodriguez up to pinch-hit for Aaron Hicks. In what might be his next-to-last game, the New England crowd gave this player that they long hated a nice reception. He flew to right, and Brett Gardner struck out. Two out, and it looked like a nice little rally was over.
It wasn't. Ex-Red Sock Jacoby Ellsbury singled home Sanchez. 4-3. Chase Headley singled home Romine. 4-4. Farrell removed Abad for Junichi Tazawa, best known for giving up a walkoff home run in the 15th inning in his big-league debut in 2009. Another mistake. Tazawa walked Mark Teixeira to load the bases. Starlin Castro doubled home Ellsbury and Headley. 6-4 Yankees.
In the 8th, Sanchez hit his 1st major league home run. Romine drew a walk. Farrell replaced Tazawa with Robbie Ross. Rob Refsnyder singled. A wild pitch moved the runners over. Ross got Gardner to fly out, but walked Ellsbury. He threw another wild pitch, to bring home Romine. He got Headley to pop up, but he threw a 3rd wild pitch, bringing home Refsnyder.
Between them, Tyler Clippard, Adam Warren and -- a 5-run lead is never safe at Fenway, so Girardi did the right thing by bringing in his closer -- Dellin Betances pitched 3 scoreless innings to nail down the win. Yankees 9, Red Sox 4. WP: Clippard (3-3). No save. LP: Abad (1-6).
The series concludes tonight. Michael Pineda started against knuckleballer Steven Wright. Then, tomorrow, the Yankees return home to face the Tampa Bay Rays, and to play A-Rod's last game.
Come on you Bombers!