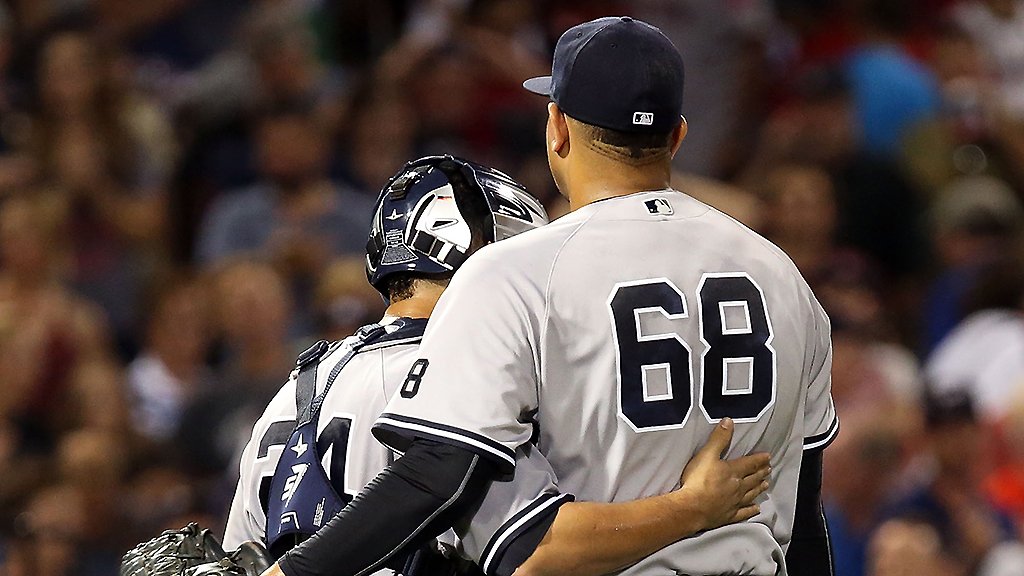 Before this series at Fenway Park started, I would gladly have accepted winning 2 out of 3.
We lost the 1st, but won the 2nd. The 3rd, last night, didn't get off to a good start. Michael Pineda allowed a run in the 1st inning. But the Yankees got it back in the 3rd, from a home run by Austin Rome, his 4th of the season. Pineda was shaky again in the 5th, but got out of the jam with only 1 more run allowed.
It was still 2-1 Boston going into the 8th. But rookie Gary Sanchez -- please, God, don't let Brian Cahsman mess him up, like he did to Joba Chamberlain and, apparently, also now to Rob Refsnyder -- led off with a single. Mark Teixeira struck out, but Aaron Hicks and Brett Gardner singled to load the bases. (Apparently, Sanchez is no faster than the catcher he may end up replacing, Brian McCann.)
Jacoby Ellsbury settled that, doubling to left, scoring Sanchez and Hicks, and giving the Yankees the lead. And you let him get away, Red Sox! Chase Headley was walked intentionally to load the bases and set up the inning-ending double play, but that didn't work, because Alex Rodriguez, of all people, was clutch. He hit a weak grounder that didn't get him on 1st, but it was enough to move up the runners and drive in another run.
Luis Cessa relieved Pineda in the 7th, and pitched 2 perfect innings. Dellin Betances worried us in the 9th, but ended up striking out he side to put The Scum away.
Yankees 4, Red Sox 2. WP: Cessa (2-0). SV: Betances (3). LP: Brad Ziegler (2-6).
The Yankees are now 6 1/2 games out of 1st place, and it's now the Toronto Blue Jays who lead the American League Eastern Division, 6 games ahead of the Yankees in the loss column. The Baltimore Orioles are half a game back, tied in the loss column. The Red Sox are 3 back, 2 in the loss column. (The Jays have played more games than the other teams.) The Yankees are 3 1/2 games, 4 in the loss column, behind the Red Sox for the 2nd AL Wild Card spot.
In other words, standings-wise, the Yankees are about where they were when Brian Cashman traded Carlos Beltran, Aroldis Chapman and Andrew Miller for Adam Warren and a hundred "prospects."
*
Tonight, the Yankees begin a 3-game home series against the Tampa Bay Rays. It is A-Rod's last game.
It will be, to say the least, interesting.