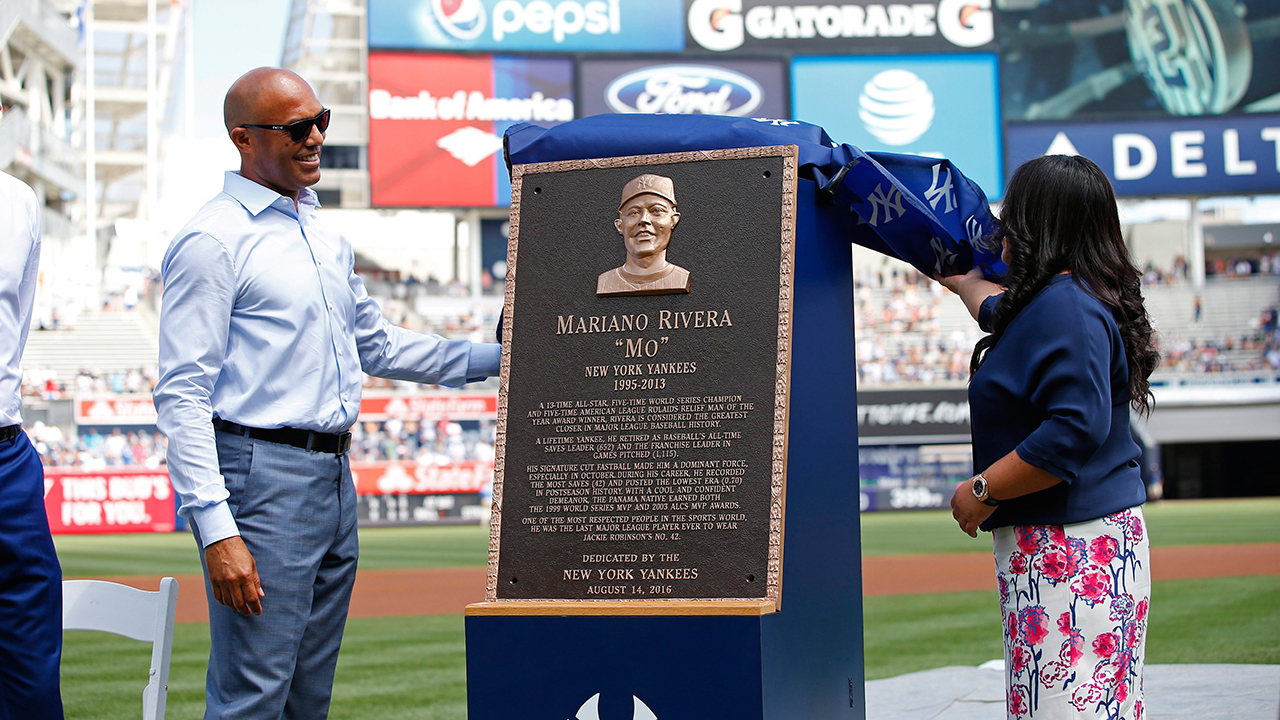 The Yankees tend to lose on Monument Park days. Yesterday, nearly 3 years after his retirement and that of his Number 42, Mariano Rivera got his Plaque, and the Yankees embarrassed him and the other returnees from the 1996-2003 Dynasty.
Luis Severino started, and, clearly, he's still got some kinks to work out. The Yankees only trailed the Tampa Bay Rays 2-1 after 3 innings, thanks to Aaron Judge making it 2 home runs in 2 career major league games. Then Sevy imploded, allowing 6 runs in the top of the 4th, and the game was essentially over.
The Yankees scored 2 runs in the bottom of the 4th, on Gary Sanchez's 2nd career home run. But Luis Cessa was no better in relief than Sevy was starting, allowing 4 Tampa runs in the top of the 7th, which ended any Bronx hope.
Rays 12, Yankees 3. WP: Jake Odorizzi (7-5). No save. LP: Severino (1-8). The Yankees took the 1st 2 games of the series, but not the 3rd.
*
The regular season has 45 games left -- 7 weeks. Here's the standings in the American League Eastern Division:
Toronto Blue Jays, 67-51
Baltimore Orioles, 66-51, 1/2 a game back (even in the loss column)
Boston Red Sox, 64-52, 2 (1)
NEW YORK YANKEES, 60-57, 6 1/2 (6)
Tampa Bay Rays, 47-69, 19 (18)
I often say that if you have fewer games behind than you have weeks left, then you still have a chance if you can gain back an average of 1 game per week. So far, the Yankees still have that chance.
The Yankees trail the Red Sox by 4 1/2 games, 5 in the loss column, for the 2nd AL Wild Card.
Tonight, the Yankees start a 3-game home series against the 1st place Jays. It is imperative that they take at least 2 out of the 3. Here are the projected starting pitchers:
* Tonight, 7:05 PM: Chad Green vs. R.A. Dickey.
* Tomorrow, 7:05 PM: Michael Pineda vs. Marco Estrada.
* Wednesday, 1:05 PM, the dreaded day game after a night game: An all-initials matchup between CC Sabathia and J.A. Happ.