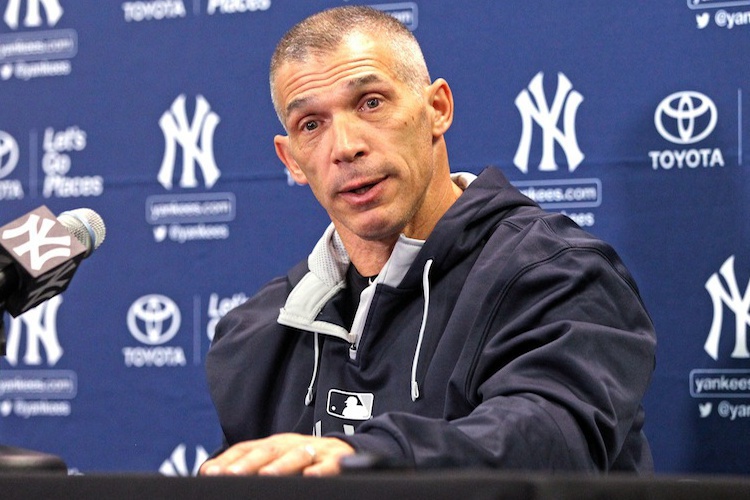 Q: If April showers bring May flowers, what do May flowers bring?
A: Pilgrims.
-- old joke
If April showers bring May flowers, what do August showers bring? Apparently, stupid managing by Joe Girardi. August showers bring Girardi's Folly.
This past Tuesday, the Yankees looked to be doing very well. Especially since they were playing 1st place Toronto, those pesky Blue Jays. They had already won the 1st game of the series, and were now leading the 2nd game 6-0 after 5 innings.
This included 3 home runs: 2 by rookie sensation Gary Sanchez, the 3rd and 4th of his career; and 1 by Didi Gregorius, his 16th of the season. Didi is now showing so much power, he's batting 3rd in the order.
Michael Pineda was pitching beautifully: 5 innings, no runs, 4 hits, no walks, 2 strikeouts. He had thrown 68 pitches. That's an average of 13.6 pitches per inning. At that rate, he should have at least gotten through the 7th inning. This would have made Girardi's job a lot easier.
Then the rain came. Had the umpires called the game, it would, due to 5 innings having been played, have been official, and a Yankee win.
Instead, the delay was 45 minutes, and the umpires gave the signal to play ball. And Girardi sent Anthony Swarzak out to relieve.
What a stupid thing to do. And I don't want to hear that Pineda is "injury-prone": If he can't go at least 6 innings, then he shouldn't be on the Yankees. And I don't to hear that he "stiffened up": This new Yankee Stadium has room in its clubhouse area for him to keep fresh by throwing warmup pitches. If that means he pitches only 6 innings instead of 7, so be it. But Pineda should have been left in there.
But instead of doing the smart thing, which would have been to send a very effective starting pitcher back out there, Girardi panicked, and turned to that damned binder of his again, and read that he had to take Pineda out, and put in Swarzak.
Swarzak allowed 4 runs on 4 hits before Girardi realized what a stupid thing he'd done by taking Pineda out. He removed Swarzak for Tommy Layne, who got the last out in the top of the 6th.
Tyler Clippard pitched a perfect 7th inning. Gee, maybe Girardi should have left him in for the 8th inning. But no: Girardi trusted Adam Warren. Never trust Adam Warren. I don't care how well he's done for the Yankees since we traded Aroldis Chapman for him and 3 guys who may never make it: I don't trust Warren any further than I can throw him. (And, as the saying goes, with my bad knee, I shouldn't be throwing anybody.)
Warren did exactly what I feared he would do when we brought him back: Turned a Yankee lead (in this case, 6-4) into a deficit. He got only 1 out. Girardi replaced him with Chasen Shreve, and he didn't get anybody out. Warren allowed 4 runs in the top of the 8th. So did Shreve.
That's 8 runs in 1 inning, because Brian Cashman traded 2 star closers, forcing Dellin Betances into the 9th; and because Girardi doesn't trust his starters, and because he can't manage a bullpen to save his life.
Blake Parker had to come in to get the last 5 outs of the game. But it was too late: With Pineda on the mound, it was 6-0 Yankees; with the bullpen, it was 12-0 Jays.
Blue Jays 12, Yankees 6. WP: Scott Feldman (6-4). No save. LP: Warren (4-3).
*
Then, on Wednesday, came the dreaded D-GANG: Day Game After a Night Game. CC Sabathia started, and, well, it looks like the Big Fella has had it. Instead of his usual 1 bad inning, he had 2, allowing 3 runs in the 2nd and 4 in the 5th.
Kirby Yates pitched a scoreless 7th, Layne a scoreless 8th, and Swarzak, by no means redeeming himself, a scoreless 9th. Sanchez hit another home run (his 5th), Starlin Castro hit one (his 15th), and Chase Headley hit one (his 11th). But it was all for naught.
Blue Jays 7, Yankees 4. WP: J.A. Happ (17-3, and looking like a Cy Young Award winner). SV: Antonio Osuna (27). LP: Sabathia (7-10).
*
The Yankees were 12 outs away from closing to within 4 1/2 games of the American League Eastern Division lead. Now, thanks to Cashman's dimwitted trades and Girardi's idiotic bullpen management, they're 7 1/2 games behind Toronto (7 in the loss column), with 42 games to play.
I've said that if you've got fewer games behind than weeks remaining, you have a legitimate chance at the Division. The Yankees are 7 1/2 games behind, and, after this weekend, there will be 6 weeks left.
Nice going, Brian and Joe. The Idiot Twins.
Tonight, the Yankees start a series in Anaheim against the Los Angeles Angels of... Oh, for crying out loud, just move to that new stadium they're building for the Rams. No, wait, then, you'd have to call yourselves the Los Angeles Angels of Inglewood.
Here are the projected pitching matchups:
* Tonight, 10:05 PM (7:05 local time): Masahiro Tanaka vs. Jered Weaver, brother of Jeff F.
* Tomorrow, 9:35 PM (6:35): Luis Cessa vs. Ricky Nolasco.
* Sunday, 3:35 PM (12:35): Chad Green vs. Jhoulys Chacin.
Headley won't be playing for a few days, due to a sore Achilles tendon. Brett Gardner won't play tonight, due to his ankle, but he might be back tomorrow.