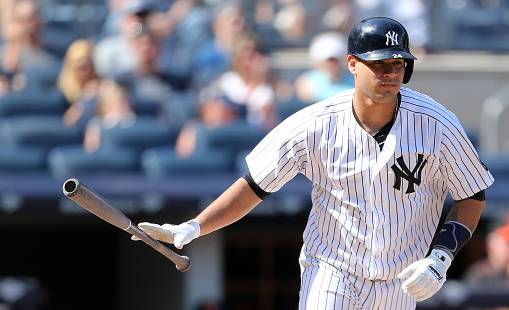 If the Yankees were really in the thick of the American League Eastern Division race, taking 2 out of 3 games of a home series with the Baltimore Orioles would be good news.
But we're not in the thick of it. We're on the thin outer edge of it. We needed a sweep, and we didn't get it.
On Friday night, the Yankees scored a lot of runs in support of rookie starter Luis Cessa. A 6-run explosion in the 2nd inning settled it. But none of the 3 home runs the Yankees hit on the night were in that inning: Mark Teixeira hit one in the 1st (it was his 11th of the season), Chase Headley in the 4th (his 12th), and rookie sensation Gary Sanchez in the 5th (his 10th).
Yankees 14, Orioles 4. WP: Cessa (4-0). No save. LP: Yovani Gallardo (4-6).
*
Saturday was the high-water mark of the Yankee season this far. Again, there were lots of runs, much more than were needed. Sanchez hit another homer (his 11th), Starlin Castro hit one (his 18th), and Aaron Hicks hit one (his 7th). The latter 2 came in a 4-run 5th inning, but that was too late for Chad Green: He'd already been knocked out, and replaced by Tommy Layne, who ended up as the winning pitcher.
Yankees 13, Orioles 5. WP: Layne (1-1). No save. LP: Dylan Bundy (7-5) -- and that's not the Florida serial killer (Ted Bundy), the idiot from
Married... with Children
(Ed O'Neill as Al Bundy), or the even bigger idiot on that ranch in Nevada (Cliven Bundy). The Yankees were 6 games over .500.
*
Yesterday, as is so often the case, the Yankees needed a few runs from recent offensive explosions, and couldn't transfer them. Kevin Gausman pitched brilliantly for Baltimore, going 7 innings, allowing no runs, 7 hits, and no walks, striking out 9. Sanchez and Ronald Torreyes each hit doubles, while those 2, Teix, Hicks, Brian McCann and Didi Gregorius each hit singles, but that was it.
In contrast, CC Sabathia allowed only 2 hits and a walk over the 1st 5 innings, but a home run by Steve Pearce gave the O's a 1-0 lead in the 6th. CC tired in the 7th, and Joe Girardi brought in Adam Warren to replace him, because he could no longer bring Dellin Betances in for the 7th, Andrew Miller for the 8th and Aroldis Chapman for the 9th, because Brian Cashman had stupidly traded Miller and Chapman.
Instead, Warren (brought in the trade for Chapman) and Ben Heller (brought in the trade for Miller, and his 2 major league appearances thus far, both for the Yankees, have been horrible) turned a redeemable 1-0 deficit into a pathetic 5-0 performance.
Brian Cashman, this one is on you: Orioles 5, Yankees 0. WP: Gausman (6-10). No save. LP: Sabathia (8-11), who really deserved a better fate.
*
There are 5 weeks left in the regular season -- 33 games. In the AL East, the Toronto Blue Jays lead the Boston Red Sox by 2 games, the Orioles by 3, and the Yankees by 6 1/2. The Yankees trail the O's by 3 1/2 for the 2nd AL Wild Card.
It is beginning to look bleak for the Division, and I'm not sure we deserve the Wild Card. Well, we do, but Cashman doesn't, and Girardi probably doesn't, either.
Tonight, we begin a series in Kansas City, away to the Royals. The defending World Champions, the 2-time defending Pennant winners have not done well, either, but they're also in the Wild Card race.
Here are the projected starting pitchers:
* Tonight, 8:15 PM (7:15 local time): Michael Pineda vs. former Met Dillon Gee.
* Tomorrow, 8:15 PM: Masahiro Tanaka vs. Edinson Volquez.
* Wednesday, 8:15 PM: Cessa vs. former Yankee Ian Kennedy.
Come on you Bombers... please! We don't have any more games to waste.
The Yankees are making me a nervous wreck again. With the death yesterday of the great comic actor Gene Wilder, I'm reminded of his scene in Blazing Saddles, as Jim, the Waco Kid. He holds out his right hand, and Cleavon Little, as Sheriff Bart, says, "Steady as a rock." But Jim holds out his left hand, and it's shaking like crazy, and he says, "But I shoot with
this
hand!"
It's been that kind of season for the Yankees. The movie had a happy ending. But this isn't Hollywood.
R.I.P., Gene.