Only one person ever had a greater impact on the game of basketball than Pat Summitt. That was Dr. James Naismith. And he invented the sport.
Patricia Sue Head was born on June 14, 1952 in Clarksville, Tennessee, and grew up on a dairy farm there. She loved basketball from an early age, but Clarksville High School did not have a girls' basketball team in the 1960s. Few American high schools did at the time. So the family moved to nearby Henrietta, because Cheatham County High School did have a girls' basketball team.
Pat Head had 3 older brothers, all of whom received athletic scholarships. But she and her younger sister Linda couldn't get them, because Title IX did not happen until 1972. So their parents paid their daughters' way into college, in Pat's case at the University of Tennessee at Martin.
Just before the 1974-75 season began, before the NCAA even recognized women's basketball, the University of Tennessee, at its main campus in Knoxville, named Pat assistant coach of their women's team -- and then the head coach quit, leaving her in charge. She was 22 years old, barely older than her players. She was paid $250 a month -- that's right, she was paid monthly. She washed the uniforms herself.
In 1976, she coached the Tennessee Volunteers -- already known as the Lady Vols -- to a 16-11 record, earned her master's degree in physical education at UT-Knoxville, and played on the U.S. Olympic team in Montreal, earning a Silver Medal.
She got the Lady Vols to their 1st Final Four in 1978. This was, as I said, before the NCAA administered a national tournament for women. The governing body at the time was the AIAW, the Association for Intercollegiate Athletics for Women. The 1st NCAA Women's Basketball Tournament was in 1982, and Tennessee reached the Final Four. To call women's college basketball "minor league" at this point would have been kind.
In 1980, Pat married R.B. Summitt. For a while, she was publicly listed as "Pat Head Summitt," but eventually everyone just called her "Pat Summitt." On September 21, 1990, Pat was making a recruiting visit to a player's home when she went into labor. But she was determined to get the player to come to UT. She got the agreement, drove to the airport, got on the UT private jet, flew back to Knoxville, and made it to the hospital in time to give birth to Ross Tyler Summitt, who goes by "Tyler."
She explained: "When you grow up on a dairy farm, cows don't take a day off."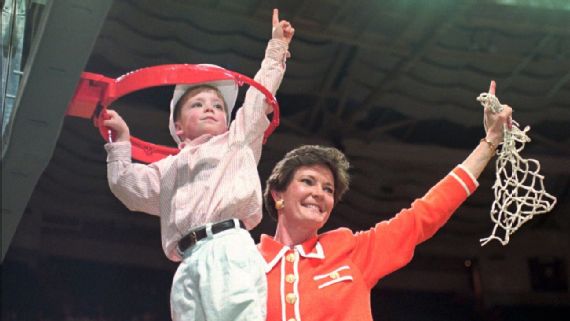 He always seemed to be celebrating with her.
In 1984, she coached the U.S. women's basketball team to the Gold Medal at the Olympics in Los Angeles, becoming the 1st American of either gender to both play on and coach a medal-winning team in the sport.
Much like Dean Smith at the men's team at the University of North Carolina, before he finally broke through in 1982, Pat was considered a great coach who couldn't win the big one. That ended in 1987, when the Lady Vols beat perennial power Louisiana Tech in the Final, 67-44.
She would win the Southeastern Conference Championship in the regular season 16 times, and in the Tournament 16 times -- winning both in 1980, 1985, 1994, 1998, 1999, 2000 and 2010. She would win 8 National Championships: 1987, 1989, 1991, 1996, 1997, 1998 (an undefeated season), 2007 and 2008.
A fierce rivalry began between the Lady Vols and the Lady Huskies of the University of Connecticut. Geno Auriemma has now led them to 11 titles, surpassing not only Pat's 8, but UCLA men's coach John Wooden's 10. That rivalry, and its games broadcast on ESPN, would help to grow the women's side of the game exponentially.
Also helping to grow women's basketball were her books, with
Sports Illustrated
and
Washington Post
writer Sally Jenkins:
Reach for the Summit: The Definite Dozen System for Succeeding at Whatever You Do
(1998),
Raise the Roof: The Inspiring Inside Story of the Tennessee Lady Vols' Historic 1997-1998 Threepeat Season
(1999), and
Sum It Up: 1,098 Victories, a Couple of Irrelevant Losses, and a Life in Perspective
(2014). Interestingly enough, considering my comparison of Summitt with Dean Smith, Sally Jenkins also collaborated with him on his memoir.
Those 1,098 wins still make her the winningest coach in the history of college basketball, regardless of gender. Going into the 2016-17 season, Auriemma has 955, and Mike Krzyzewski of the Duke men's team has 970, so both could surpass her. However, she already surpassed Bob Knight, Dean Smith, and Adolph Rupp, the previous holders of the men's coaching record. It took her 788 wins to surpass the previous women's record-holder, Jody Conradt of the University of Texas. She surpassed that old record by nearly 40 percent.
Despite her tendency to yell or to give "an icy stare" to players who weren't performing well enough, UT asked her to switch to coaching the men's team when a vacancy arose in 1997. They asked her again in 2001. She refused both times. Nevertheless, the court at UT's Thompson-Boling Arena is named for her.
Her players included Bridgette Gordon, Sheila Frost, Daedra Charles, Chamique Holdsclaw, Tamika Catchings, Semeka Rendall (together known as The Three Meeks), and, perhaps best of all, Candace Parker. And, over her 38 seasons as head coach, every player she coached got her degree. Every. Single. One. Without exception.
In 2011, she announced that she had been diagnosed with early-onset Alzheimer's disease. She wasn't even 60 years old. She was going to coach one last season, handing duties over to Holly Warlick, who had played for her from 1976 to 1980 and had been her assistant since 1985. At the conclusion of the 2012 season, Pat officially retired. Shortly thereafter, President Barack Obama, himself a basketball aficionado, awarded her the nation's highest civilian honor, the Presidential Medal of Freedom
Pat with son Tyler and his wife AnDe
Pat Summitt died on June 28, 2016, at a senior living facility in Knoxville. She was only 64 years old. But she had packed a tremendous influence into those 64 years. Without her, women's basketball would still be an afterthought, at the collegiate, professional and Olympic levels. Certainly, there would be no WNBA without her.
Her achievements may be surpassed. Her influence never will be.
Her son Tyler Summitt briefly played on the Tennessee men's team, after having been his home State's high school scholar-athlete of the year. He served as an assistant coach on the women's team at Marquette University in Milwaukee, and was the head coach at Louisiana Tech during the 2014-15 and 2015-16 seasons. He left that post under unfortunate circumstances, and there is no good reason to talk about it at this time.