The greatest hockey player who ever lived has died.
No, I don't mean Bobby Orr. Last I heard, he's fine.
And that other guy? Well, he sided with the owners in the 2004-05 lockout, so you won't find a working heart in him. But he's still alive, too.
But today, we lost Mr. Hockey. The greatest of them all. Just 1 week after we lost the greatest of all boxers, Muhammad Ali.
Pelé, take care of yourself.
*
Gordon Howe, no middle name, was born on March 31, 1928 in Floral, Saskatchewan, Canada. The family soon moved to nearby Saskatoon. Gordie quit school to work alongside his father Ab in the construction industry.
At the age of 15, his hockey skills had attracted the attention of the New York Rangers, who invited him to a training camp they were holding in Winnipeg, Manitoba. He impressed them enough that they offered him a "C form," which would have given them his NHL rights. But they wanted to enroll him at a Catholic school in nearby Wilcox, Saskatchewan that was already known for turning out good hockey players. Gordie didn't want to go to that school, and turned the Rangers down.
It would be much more difficult for New Jersey Devils and New York Islanders fans to use the "Rangers suck" chant if Gordie Howe had been the Rangers' big star in the 1950s and '60s. The team was bad for much of that period, but since the Rangers lost to Howe's team in a Finals, that's at least one more Stanley Cup the Rangers would have won. And, admit it: "NINE-teen-FIF-ty!" doesn't sound as strong as "NINE-teen-FOR-ty!"
However, Gordie's younger brother Vic Howe, also a right wing, did play for the Rangers: 3 games in 1951, 1 game in 1954, and 29 games in the 1954-55 season.
In 1944, when he was 16, the Detroit Red Wings invited Gordie to their camp in Windsor, Ontario, across the river from Detroit. This time, he and his father signed the C form. He was sent to the Galt Red Wings, in what's now the city of Cambridge, Ontario, near Hamilton. Due to a technicality, the Wings had to move him to another farm team, the Omaha Knights -- so Gordie got a taste of the American West well before his famed move to Houston.
There was another moment at which Gordie Howe could have become a legend for anoher NHL team. Frank Selke noticed another technicality, which showed that Gordie was not properly listed as property of the Red Wings. Selke was then working for the Toronto Maple Leafs, with whom he had helped to build 3 Stanley Cups, and his efforts would result in 4 more. But, due to a dispute with Leafs coach and general manager Conn Smythe, Selke soon left, and was hired by the Montreal Canadiens, whom he helped build 6 more Cup winners.
Selke, whose name is now on the trophy given annually to the NHL's best defensive forward, was friends with Wings coach Jack Adams, and let him know about the problem, thus securing Gordie's services for the Wings for a generation. A less principled man might have tried to get Howe to the Leafs... or waited until he was with the Canadiens, and tried to get Howe there.
The Leafs of the late 1940s and early '50s with Howe? That would have been pretty amazing, at least as amazing as what actually happened in Detroit. But a Canadiens team on which a line change meant that Maurice "The Rocket" Richard was replaced on the right wing with Gordie Howe? With Toe Blake, Elmer Lach and Butch Bouchard already on the roster? And, in a few years, Jean Beliveau, Bernie Geoffrion, Dickie Moore, Doug Harvey, Jacques Plante, and the Rocket's brother Henri Richard? That might have been the greatest team in the history of North American sports.
*
Gordie Howe made his NHL debut on October 16, 1946, at the Olympia Stadium in Detroit (like the Chicago Stadium, it was named a "stadium" but was actually an indoor arena), wearing Number 17. He was just 18 years old, but he scored, and against future Hall-of-Famer Walter "Turk" Broda of the Maple Leafs, no less. But the game ended in a 3-3 tie.
Before the next season, the Wings traded Roy Conacher, and Gordie was offered Conacher's Number 9. (Roy was the brother of legendary hockey players Charlie and Lionel Conacher. Charlie was one of the 1st players to be a star while wearing Number 9, as uniform numbers began to be worn in the 1920s.) Gordie was told that, with a single-digit number, he would get a lower berth in the sleeping car of the team's train. So he took it.
Howe, Maurice Richard, Ted "Teeder" Kennedy of the Leafs, and later Andy Bathgate of the Rangers, Bobby Hull of the Chicago Blackhawks, and Johnny Bucyk of the Boston Bruins would make 9 hockey's most iconic uniform number. Indeed, all of the "Original Six" now have the number retired, including the Leafs, who just changed their former "Honoured Number" system, and have retired 9 for both Charlie Conacher and Teeder Kennedy.
Number 9 became so identified with hockey greatness, mainly due to Howe, Richard and Hull in the early days of television, that, when he was a boy, and he wanted to wear 9 on a youth team, and was told it was already being worn, Wayne Gretzky asked for Number 99.
Gordie quickly became known for his physicality. The nickname "Elbows" would stick with him through his entire career. The term "Gordie Howe Hat Trick" would come to mean a player scoring a goal, assisting another, and winning a fight, all in the same game. Oddly, Gordie did that only twice in his career, both times in the 1953-54 season.
Gordie played on the right wing with center Sid Abel and left wing Ted Lindsay. With Detroit's auto industry in mind, this forward line became known as the Production Line. When Abel retired after the 1952 Stanley Cup, he was replaced at center by Alex Delvecchio, and this became known as Production Line II, which held until Lindsay was controversially traded, due to his players-union activism, in 1957.
From 1949 to 1956, the Wings finished 1st overall in the NHL in 7 straight seasons. This was before that particular achievement was rewarded with the Presidents' Trophy, but it was still considered a big deal. It had never been done before, nor has since, not even by any of the great Montreal teams.
The Wings reached the Stanley Cup Finals in 1948 and 1949, but lost to the Leafs both times. In 1950, Howe led the NHL in scoring (winning the Art Ross Trophy), Abel finished 2nd, and Lindsay finished 3rd. This time, they faced the Leafs in the Semifinals, and won, but not before Howe tried to check Kennedy, and ended up crashing head-first into the boards. He was taken to the hospital, and needed emergency surgery to relieve pressure on his brain. At one point, a newspaper published a story that he had died. The Wings went on to beat the Rangers for the Cup without him. The next season, he recovered well enough to win the scoring title by 20 points.
Gordie in the hospital, with get-well cards
In 1952, the Wings did something that had never been done before: With 2 rounds of Playoffs, each a best-4-out-of-7, they swept to the Cup in the minimum 8 games, beating first the Wings, then the Canadiens.
Pete Cusimano, owner of a local fish market, noted that an octopus has 8 legs, 1 for each necessary win. So he brought an octopus from his store to the Olympia, and threw it onto the ice. This started a rather disgusting tradition that the NHL has tried, without much success, to curb. It has been copied in other cities: Boston with lobster, Edmonton with steak, San Jose with a leopard shark (bigger than most of these, but smaller than most sharks), Nashville with catfish. (Did I mention that the tradition was disgusting?)
At any rate, the Wings completed the 8-game sweep, and Gordie Howe finally got to be on the ice to receive the Stanley Cup with his teammates. Only once more, in the 2-round structure of the Playoffs before the 1967 expansion, would a team go 8-0 in the Playoffs: The 1960 Canadiens.
The Wings lost in the Semifinals in 1953, but beat the Canadiens in the Finals in 1954 and 1955, making it 4 Cups in 6 years. In addition to Howe, Lindsay, Abel and Delvecchio, defensemen Leonard "Red" Kelly and Marcel Pronovost, and goaltender Terry Sawchuk, would all make the Hockey Hall of Fame. In other words, the Wings could field an entire starting lineup of future Hall-of-Famers. They couldn't make it 3 straight Cups in 1956, losing the Finals to the Canadiens, who began a streak of 5 straight Cups.
Richard retired after that 5th straight Cup, and on November 10, 1963, Howe scored the 545th goal of his career, breaking Richard's record. At that point, Richard and Howe were usually considered the 2 greatest players in the game's history. Howe never publicly said he was the best ever, although he didn't exactly refuse the nickname he already had, "Mr. Hockey." Richard, however, understood, saying, "I wasn't the best player. I was the best scorer," and "Gordie could do everything."
When Gordie broke the Rocket's record, he was 35 years old. What nobody yet knew was that a child could have been born in the Wings' home State of Michigan that day, and get his driver's license before Gordie Howe played what turned out to be his last NHL game.
The Wings reached the Finals again in 1961, losing to the Blackhawks; in 1963 and 1964, losing to the Maple Leafs; and in 1966, losing to the Canadiens. They would not get that far again until 1995, largely due to the machinations of Bruce Norris, who had inherited ownership of the team from his father, James E. Norris (for whom the trophy for best NHL defenseman is named). He also inherited his father's stubbornness, his cheapness, and his authoritarianism, but not his sharp mind.
With the expansion of 1967, the schedule was expanded as well. In the 1968-69 season, turning 41, and playing on a "Production Line III" with Delvecchio and former Leafs star Frank Mahovlich, Gordie topped 100 points for the 1st time: 44 goals and 59 assists, for 103 points.
Notice the Number 9s on his gloves. This was to assist TV viewers
in recognizing players. By this point, Players were also wearing
their numbers in white stickers on their black skates.
This practice would stop once more close-up cameras were added.
But after the season, Gordie discovered that he was only the team's 3rd-highest-paid player, at $45,000. Norris gave him a raise to $100,000, making him the 1st hockey player to make that much. (In today's money, that $45,000 amounts to about $300,000; $100,000, about $660,000. So he was still making less than today's rookies.) But Norris fumed: He was one of those sports team owners who couldn't stand to have his authority challenged. To him, players were merely means to an end.
Especially angering this old-school old-boy-networker was the fact that Gordie's agent was a woman: His wife, Colleen Howe, who would eventually be known as "Mrs. Hockey." Norris blamed Colleen for Gordie being out of order enough to demand a raise. (This foreshadowed M. Donald Grant blaming Nancy Seaver for Tom's demand for a raise on the 1977 Mets.) The relationship between Norris and the Howes had begun to be poisoned, and it was all Norris' fault: If he had paid Gordie as if he was the best player in the game, all the trouble afterward could have been avoided.
*
After the 1971 season, his record 25th in the NHL, Gordie was convinced by a nagging wrist injury to retire at age 43. He was given a job in the Wings' front office, but, essentially, he was just a schmoozer, shaking hands with corporate clients, and allowing the Wings to put his magic name on their corporate letterhead.
St. Louis Cardinals legend Stan Musial, when asked what he did in his nice office at Busch Stadium, smiled and said, "I don't know, but they pay me a lot of money for it!" In contrast, Gordie grumbled about not having any actual input in the running of the organization. He wasn't the head coach, or an assistant coach, or the general manager, or the director of scouting, or anything of substance. In his words, he was "vice president in charge of paper clips."
Before the 1972-73 season, the expansion Islanders offered to make him their 1st head coach. He turned it down. It was probably for the best: The World Hockey Association was launching at the same time, and their Quebec Nordiques offered their head coaching job to Maurice Richard. He took it, and hated it. He lost his 1st game, quit on the spot, was talked into keeping the job until they could find someone else, won his 2nd game, and left anyway, and never coached again. But that's 2 more games than Gordie ever had as a head coach.
Bill Dineen, a teammate of Gordie's on the '54 and '55 Cup winners, was named head coach of the WHA's Houston Aeros; another '55 (but not '54) teammate, Larry Hillman, was his assistant. In the 1973 WHA Draft, Dineen took Gordie's sons Mark and Marty. To help the WHA get better publicity -- they'd already gotten Hull onto the Winnipeg Jets, a team essentially named for him (the Golden Jet, although their uniforms were blue), Dineen asked Gordie to come out of retirement. He was willing to get surgery on his troubled wrist, and give it a shot.
Bruce Norris told the Howes that if Gordie quit the Wings' front office and went to "the rebel league," not only would he be blackballed from the NHL, never to work in it again in any capacity, but that Mark and Marty would also be blackballed -- and since they were players just starting out, this would affect them much more. It may not be the biggest dick move in the history of hockey, but it's the best-known dick move in NHL history.
And it backfired. Few decisions in the history of sports have backfired this much. Gordie and Mark -- or Gordie and Marty -- became the 1st father and son teammates in professional hockey history. They played on a line together. Mark and Marty got the traditional rookie hazings, and Gordie did not use his influence to stop it. On the other hand, the sons referred to their father as "Gordie," and even called him that to his face, in their teammates' presence, knowing that if they called him "Dad," they'd never heard the end of it.
Attendance went up all over the WHA, as people wanted to see the Howes. It probably kept the league going long enough for a merger with the NHL to be plausible. The Aeros won the AVCO World Trophy as WHA Champions in 1974. And Gordie, age 46, was awarded the Gary Davidson Trophy as Most Valuable Player.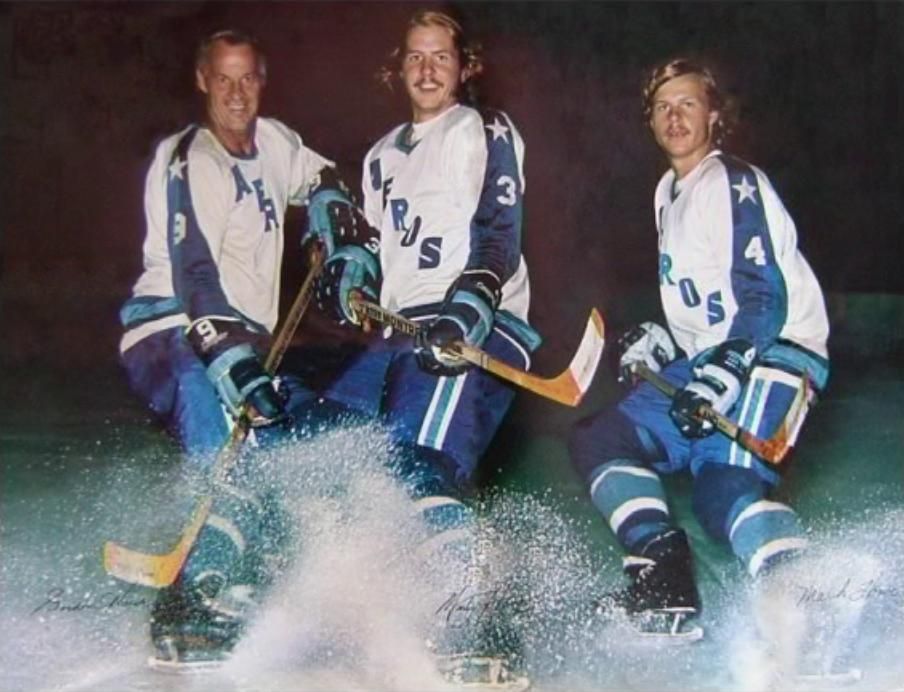 Gordie, Marty, Mark
Davidson was the founder of the league. He was also a co-founder of the American Basketball Association and the World Football League. (There would be 4 teams each from the ABA and the WHA that would be admitted to the established leagues. The WFL, on the other hand, totally flopped.)
The next season, the WHA MVP award was renamed the Gordie Howe Trophy. Gordie didn't win it again, but the Aeros again won the AVCO Trophy. They reached the Finals again in 1976, but lost to the Jets.
Meanwhile, from the time that Gordie signed with the Aeros in 1973 until 1983, the Wings made the Playoffs only once. Indeed, from 1970 until 1987, they only won 1 Playoff series. From 1966, Gordie's last trip to the Finals, until 1986, 20 seasons -- ending the year Norris died, although he'd sold the team to Mike Ilitch in 1982 -- they played in only 17 Playoff games, winning 4 of them. They became known as "The Dead Things." They built a new arena, the Joe Louis Arena, but that was about it.
I'm not saying the Wings would have been appreciably better if they still had Gordie, and had drafted Mark and Marty, and had paid them all what they were worth. It would have been tough to break through in a League that had the Big Bad Bruins in Boston, the Broad Street Bullies in Philadelphia, and the Flying Frenchmen in Montreal. But at least they would have been better. Instead, Bruce Norris found out that karma's a bitch.
The 1970s were a thrilling time for performances on the ice, in both leagues. But most hockey teams, in both leagues, were struggling financially. The Aeros needed money badly, and the New England Whalers were one of the few WHA teams that had it. So they bought all 3 Howes. Gordie was still a WHA All-Star.
In the 1979 off-season, the WHA folded, and 4 of its teams were admitted to the NHL. One was the renamed Hartford Whalers. The Wings still held Gordie's NHL rights, meaning that he could not legally play for any NHL team except Detroit. And Norris still owned the Wings. But, despite being Chairman of the NHL's Board of Governors, Norris was outflanked by a former Wings executive, now President of the NHL, John Ziegler. Gordie was allowed to play in the NHL for Hartford. In that final season, Gordie played all 80 games, scored 15 goals, and helped the Whalers make the Playoffs.
Bobby Hull also closed his career with the 1980 Whalers.
Bruce Norris' world had fallen in on him. The Wings had become laughably bad in Gordie's absence. And building the Joe Louis Arena to replace the aging Olympia had put a major kink in his finances. Now, he had to watch as his blackballing of Gordie, Mark and Marty Howe fell apart, and they were welcomed back into the NHL, and not for his team.
The 1980 NHL All-Star Game was given to Detroit and its new arena, as kind of a "gold watch" for Norris, as it was clear he would soon have to sell. And when Scotty Bowman, coaching the Wales Conference All-Star Team in that game, used his prerogative to fill out the roster with non-starters, he chose 3 legends: Jean Ratelle, Phil Esposito... and the nearly 52-year-old Gordie Howe, who was introduced as "Mr. Hockey, Number 9," and got an ovation from the Detroit crowd that went on and on and on. It was a massive middle finger to Bruce Norris -- not from any member of the Howe family, but from the Detroit fans.
Gordie got an assist, and the Wales Conference team beat the Campbell Conference team. Playing for the Campbell Conference team was 19-year-old Wayne Gretzky of another team that came in from the WHA, the Edmonton Oilers.
The previous year, Howe and Gretzky had played together on a WHA All-Star Team that played legendary Soviet club Dinamo Moscow. It was the only time that "Mr. Hockey" and the man who would surpass him as the NHL's all-time leader in goals, assists and points would play together.
After playing professional hockey in 5 different decades, Gordie was offered the chance to make it 6. At the start of the 1997-98 season, the Detroit Vipers, an International Hockey League team playing at the Palace of Auburn Hills (home of the NBA's Detroit Pistons), signed him to a one-day contract, and he played the opening shift of their opening game. He played 45 seconds and didn't touch the puck, and when the line shift came, he received a standing ovation from a sellout crowd, most of which had never seen him play. He was 69 years old.
This came right after the Wings, led by Captain Steve Yzerman, finally won their 1st Stanley Cup in 42 years, since Howe and his Production Line were at their peak. Of Yzerman, then 32 years old, Howe said, "I'm just so dang happy for the kid, it's unbelievable."
Kid Yzerman and Old Man Howe
The Wings would win again in 1998, 2002 and 2008. Gordie would live to see all of them.
Five Red Wing Hall-of-Famers with the Stanley Cup: Nicklas Lidstrom,
Gordie Howe, Ted Lindsay, Steve Yzerman and Brendan Shanhan
*
In NHL play, Gordie scored 801 goals and 1,049 assists, for 1,850 points. Counting the WHA, he scored 975 goals and 1,383 assists, for 2,358 points. Throw in what he did in the Playoffs, and his totals were 1,071 goals and 1,518 assists, for 2,589 points.
He still holds the records for seasons (26, shared with Chris Chelios, but is all alone with 32 counting the WHA) and games played (1,767 in regular season play, 2,421 counting the WHA and the Playoffs of both leagues). He appeared in 23 NHL All-Star Games and 6 WHA All-Star Games. He was the 1st player to score at least 1,000 goals at the top level, counting the Playoffs, and only Gretzky has joined him.
He was elected to the Hockey Hall of Fame immediately upon his 1st retirement, the 3-year waiting period waived. The Detroit Red Wings and the Hartford Whalers retired his Number 9. The Whalers are now the Carolina Hurricanes, but they have continued to consider 9 retired.
He was honored (or, since it's "spelt" that way there, "honoured") by his country, by being awarded the Order of Canada in 1971, and being inducted into the country's Walk of Fame on Parliament Hill in Ottawa in 2000.
Statues of him have been dedicated outside the Joe Louis Arena in Detroit (presumably, it will be moved to the new Little Caesar's Arena when it opens) and the SaskTel Centre in Saskatoon. He lived long enough to know that a new bridge over the Detroit River, linking Detroit with Windsor, will be named the Gordie Howe International Bridge. It is currently scheduled to open in 2020.
In 1998, in honor of their 50th Anniversary,
The Hockey News
named their 100 Greatest Hockey Players. Gordie Howe came in at Number 3, behind Wayne Gretzky and Bobby Orr. Orr said, however, that Gordie was the best.
Who was really the greatest hockey player of all time? Sadly, injuries prevented Orr from reaching that status. He ended up playing only 12 seasons, enough games to add up to 8 full seasons. And he is still widely regarded as the best defenseman ever.
So it comes down to Howe and Gretzky. Yes, Gretzky blew away Howe, Maurice Richard, and everybody else in terms of offensive production. Yes, he had more assists than anyone else has had points. But he didn't play defense. He didn't have to. But he didn't. Howe did.
To put it another way: In 1999, Gretzky's recurring back injury led him to retire, at the age of 38. When he was 38, in 1966, Howe was still 1 of the NHL's 5 best players, and its best defensive forward. In 1969, at 41, he had 103 points, in a 12-team league with a 76-game schedule; Gretzky's last time coming close to that was at age 36, in a 26-team league with an 82-game schedule.
Wayne Gretzky was, at peak, the best hockey player ever: He rewrote the offensive records in his sport the way Babe Ruth and Wilt Chamberlain did for theirs. But the greatest hockey player for a career was Gordie Howe. It's not just the longevity: He was 1 of the 3 best players in the NHL for 20 years.
In 2013,
Mr. Hockey: The Gordie Howe Story
aired on CBC and the Hallmark Channel. It focused on a specific part of Howe's story: The comeback with his sons in the WHA and the feud with Bruce Norris. Most of the film takes place in that landmark 1973-74 season, but it ends with his standing ovation at the 1980 All-Star Game in Detroit. Fittingly, the actor who played Norris is not shown at that moment. Michael Shanks, of the
Stargate
franchise and now the Canadian medical drama series
Saving Hope
, played Howe.
*
As 2013 turned to 2014, Gordie appeared at the NHL Winter Classic between Detroit and Toronto, at Michigan Stadium in Ann Arbor, Michigan, and the warmup act, an alumni game at Comerica Park in downtown Detroit. Shortly thereafter, he suffered a devastating stroke, and never truly recovered.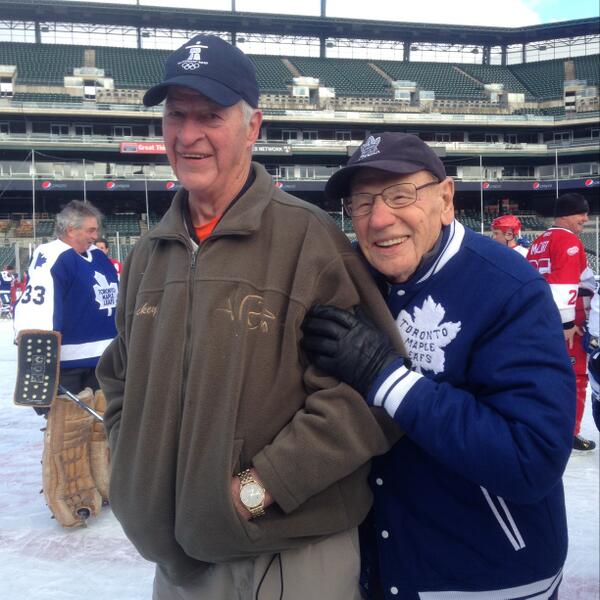 Gordie and Johnny Bower, the great goalie
of the Maple Leafs' 4-time Cup winners of the 1960s
Gordie Howe died today, June 10, 2016, at the age of 88, in Toledo, Ohio, at the home of his son Murray Howe, a radiologist.
Since his wife Colleen, who managed the family's many enterprises, fell victim to a long-term illness before dying in 2009, Gordie had been living with their 4 children on a rotating basis: Mark, Marty, Murray, and daughter Cathy in Lubbock, Texas.
Both Mark Howe and Marty Howe were moved to defense after their family line was broken up by their father's retirement. Marty remained with the Whalers until 1985. He made a brief, 3-game comeback with the minor-league Flint Bulldogs in 1993, and is now a house designer and builder, having gone into the previous family business, construction, except, unlike his father Gordie and his grandfather Ab, he's running it.
Mark would be traded by the Whalers to the Philadelphia Flyers in 1982, helping them reach the Stanley Cup Finals in 1985 and 1987. They sent him back home to Detroit in 1992, and he closed his playing career by helping the Wings reach the Finals in 1995, their 1st trip there in 29 years. But they were swept by the New Jersey Devils.
He was a 5-time NHL All-Star, and holds the league record for most shorthanded goals by a defenseman: 28. He joined his father in the Hockey Hall of Fame (unlike other sports, there are plenty of father-son combinations in the Hockey Hall), and the Flyers have retired his Number 2 -- their only officially-retired number for a player not on their back-to-back Cup winners of 1974 and 1975. (No Flyer has wore 88 since Eric Lindros left, but it hasn't been retired.)
Gordie and Mark joined Bobby and Brett Hull as the only father-son pair to both have their numbers retired in North American sports. Although no Baltimore Oriole has worn the 7 of Cal Ripken Sr. since his death, it is not officially retired, while the 8 of Cal Ripken Jr. is. Despite all the other fine father-son combos in professional sports, this is the closest that any of them comes to this achievement of the Howes and the Hulls.
Based on the clothes, the hair, and the Mr. Hockey film,
this photo was probably taken at their Houston home.
With Gordie's death, there are now 5 surviving players from the 1950 Stanley Cup Champion Detroit Red Wings, 66 years later: Ted Lindsay, Red Kelly, Marty Pavelich, Doug McKay, and Pete Babando, whose overtime goal in Game 7 beat the New York Rangers. (Pavelich appears not to be related to 1980 U.S. Olympic hockey hero Mark Pavelich.)
From the 1952 Champion Wings, 7 players are still alive: Lindsay, Kelly, Pavelich, Glenn Hall, Alex Delvecchio, Vic Stasiuk and Benny Woit. (Hall would soon be displaced by Terry Sawchuk, and become better known for playing for the Chicago Blackhawks.) (UPDATE: Woit died on December 7, 2016, so they're down to 6.)
From the 1954 Champion Wings, 10 players are still alive: Lindsay, Kelly, Pavelich, Delvecchio, Stasiuk, Woit, Bill Dineen, Gilles

Dubé

, Jim Hay and Dave Gatherum. (UPDATE: Dineen died 3 days after Woit did.

Dubé

died on September 29, 2016, so they're down to 7.)
From the 1955 Champion Wings, 11 players are still alive: Marcel Bonin, Larry Hillman, and all of the surviving '54 Wings except Gatherum, who was Sawchuk's backup in goal and never played in the NHL again after '54. (They're down to 8.)