Next Saturday, the New York Red Bulls will go to Ohio to play the Columbus Crew.
Before You Go.
Columbus can get really hot in the summer.
The Columbus Dispatch website
is predicting low 90s for Saturday afternoon, and mid-70s for the evening. It could be very uncomfortable. Dress lightly, leave the scarf at home, and stay hydrated.
Columbus is in the Eastern Time Zone, so you won't have to set your clocks back.
Tickets.
The Crew averaged 16,513 fans per home game last season. That's the 5th-lowest in MLS, ahead of only D.C., Chicago, Dallas and Colorado. Florida, Arizona, the Islanders and Carolina. It's also about 82 percent of capacity, and only D.C., Chicago, Dallas and... the Red Bulls did worse.
Which does beg the question: Why did Columbus get an MLS team? Why not Cleveland or Cincinnati, the more proven major league cities? In the case of Cincinnati, it's probably because somebody thought that Cincinnati couldn't support a team by itself. As for Cleveland, native Drew Carey, a part-owner of MLS' Seattle Sounders, explained to me on Twitter (He is as nice as he seems to be on TV) that they didn't have a suitable stadium, and that they didn't want to have 50,000 empty seats in the Browns' new stadium.
At any rate, you should be able to walk up to the box office 5 minutes before puck-drop, and buy any seat you can afford. However, fans of visiting teams are placed in Sections 115, 116 and 117, behind the south goal. Tickets are $27.
Getting There.
It's 536 miles from Times Square in New York to Capitol Square in Columbus, and 547 miles from Red Bull Arena to MAPFRE Stadium.
Flying may seem like a good option, although with a destination city as close as Columbus, you shouldn't have to change planes. But you do, in either Philadelphia or Charlotte. It's $518 round-trip from Newark Liberty to Port Columbus International Airport.
Amtrak does not go to Columbus. Its main train station was demolished in 1979 to make way for the Columbus Convention Center (which is too bad, because it was just 2 blocks from where the Blue Jackets' Nationwide Arena ended up being built), and it is now the largest metropolitan area in America that doesn't have Amtrak access.
Greyhound's run between New York and Columbus is about 14 hours, with no change of buses necessary, costing $306, and dropping to as little as $120 with advanced-purchase. The station is at 111 E. Town Street, at 3rd Street, downtown, 2 blocks south of the State House.
If you decide to drive, it's far enough that it will help to get someone to go with you and split the duties, and to trade off driving and sleeping. You'll need to get on the New Jersey Turnpike. Take it to Exit 14, to Interstate 78. Follow I-78 west all the way through New Jersey, to Phillipsburg, and across the Delaware River into Easton, Pennsylvania. Continue west on I-78 until reaching Harrisburg. There, you will merge onto I-81. Take Exit 52 to U.S. Route 11, which will soon take you onto I-76. This is the Pennsylvania Turnpike, the nation's first superhighway, opening in 1940.
The Turnpike will eventually be a joint run between I-76 and Interstate 70. Once that happens, you'll stay on I-70, all the way past Pittsburgh, across the little northern pandhandle of West Virginia, and into Ohio all the way to Columbus.
If you do it right, you should spend about an hour and 15 minutes in New Jersey, 5 hours and 30 minutes in Pennsylvania, 15 minutes in West Virginia, and about 2 hours and 15 minutes in Ohio. That's about 9 hours and 15 minutes. Counting rest stops, preferably halfway through Pennsylvania and just after you enter Ohio, and accounting for traffic in both New York and Columbus, it should be no more than 11 hours, which would save you time on Greyhound, if not flying.
Once In the City.
Founded 200 years ago, in 1816, Columbus, named for Christopher Columbus, celebrates its 200th Anniversary this year. It is easily the largest city in Ohio by population, with about 823,000 people, to a mere 397,000 for Cleveland and 298,000 for Cincinnati. But its metropolitan area has just 2.4 million people, still larger than Cincy's 2.2 million but considerably smaller than Cleveland's 3.5 million, because Cleveland has a much larger suburban area.
High Street is the street address divider between East and West, and Broad Street serving as the divider between North and South. The southeaster corner of High & Broad includes Capitol Square, with the State House. The sales tax in the State of Ohio is 5.75 percent, rising to 7.5 percent in Franklin County, including the City of Columbus.
The Ohio State House. No, I don't know why they stopped building it
before finishing the dome.
ZIP Codes in Columbus begin with the digits 432, and the Area Code is 614, with 380 overlaid. The Central Ohio Transit Authority (COTA) runs buses, but no rapid transit rail system: No subway, no elevated, no light rail, no commuter rail. The fare is $2.00.
Going In.
Columbus Crew SC (Soccer Club) moved into Columbus Crew Stadium when it opened in 1999. It was known until 2014 as Columbus Crew Stadium before naming rights were sold to a Spain-based insurance company (Mapfre the company doesn't spell its name in ALL CAPS, but the stadium's name usually is), the Crew moved into the 22,555-seat MAPFRE Stadium after playing their 1st 3 seasons (1996-98) before 90,000 empty seats at Ohio Stadium.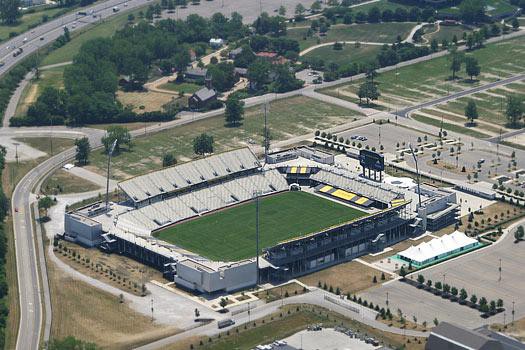 The official address is One Black and Gold Blvd., at 20th Avenue, about 3 1/2 miles north of downtown, near the Indianola Shopping Center. Number 4 bus, then a 15-minute walk: 2 blocks north on 4th Street, 2 blocks east on Hudson Street, then south on Silver Drive. If you drive in, parking is $10.
America's 1st soccer-specific stadium, it was built at a cost of just $39.3 million -- and looks it. Ohio Stadium may have been vast, but it is an architectural marvel; MAPFRE Stadium is not: From the outside, and even a bit from the inside, it looks like an oversize high school football (gridiron) stadium.
They won the MLS Cup in 2008, and reached the Final again last year, losing to the Portland Timbers despite playing at home. The Stadium also hosted the MLS Cup Final in 2001 (San Jose beating Los Angeles), 10 games of the U.S. National Team (including 4 games against Mexico, all 2-0 or "Dos A Cero" wins), and 6 games of the 2003 Women's World Cup (including a 3-0 U.S. win over North Korea). It's hosted the 2001 and 2003 NCAA men's soccer championships, high school football, and concerts.
The field is natural grass, and is aligned north-to-south.
Food.
Being in Big Ten Country, where tailgate parties are practically a sacrament, you would expect the Columbus soccer stadium to have lots of good options. Unfortunately, the club website does not include a concessions map, so I can't tell you where these items are sold.
Levy Retail runs their concessions, as they do for all athletic facilities at nearby Ohio State University. According to the Crew fan blog Massive Report, "MAPFRE Stadium will now include Columbus staples, Schmidt's Sausage Haus, Jeni's Ice Cream, and Hot Chicken Takeover." They also cite a "200-square-foot 'Drink Local' are conversion of the southwest concession stands near Gate 6, which will feature Columbus and Ohio beers."
Team History Displays.
The Crew won the MLS Cup in 2008, and reached the Final last year. They won the Supporters' Shield in 2004, 2008 and 2009. They won the Lamar Hunt U.S. Open Cup in 2002, and reached the Final in 1998 and 2010. However, there appears to be no commemoration for any of these achievements in the areas viewable by fans.
The Crew have no retired numbers, and no team hall of fame. Although they are a charter MLS franchise, they have neither a 10th nor a 20th Anniversary All-Time Team. However, Hunt, one of the league's founders, and the Crew's founding owner (and, of course, better known as the founder of the American Football League and the Kansas City Chiefs), has a statue in his memory outside the stadium.
Stuff.
The Crew SC Shop is in the southwest corner of the stadium, inside Gate 5. They sell the usual stuff you would find in an MLS team's gift shop, including jersey customization. Whether they sell yellow hard hats like the ones on their club badge, I don't know.
Unique among MLS teams -- unless you buy the San Jose Earthquakes' attempt to link themselves to previous teams that had that name, and even then, they're only older in San Jose, not in the entire Bay Area -- the Crew are the oldest team in their metropolitan area. After 20 years, they do have some history.
Steve Sirk of
The Columbus Dispatch
has chronicled this in 2 books about the team:
A Massive Season: Sirk's Notebook Chronicles the 2008 Columbus Crew
; and
Kirk Urso: Forever Massive: Memories from the 2012 Columbus Crew
.
A DVD of the 2008 MLS Cup Final is also available -- but you don't want that, because the team they beat was the Red Bulls. (November 23, 2008, at what's now named the StubHub Center in Carson, California. It remains the furthest the Red Bulls have ever gone.)
During the Game.
Since Columbus is not Cleveland or Cincinnati, and neither of those cities has an MLS team, with the Crew standing in for both, the Cleveland-Cincinnati rivalry does not come into play. Since Columbus is not Cleveland, and Pittsburgh doesn't have an MLS team, the Cleveland-Pittsburgh rivalry is also absent. And since Detroit doesn't have an MLS team, the Ohio-Michigan rivalry doesn't happen here, either.
(In other words, a person living in Cleveland can have legitimate rivalries with Pittsburgh, and Cincinnati, and Detroit/Ann Arbor, with no real inconsistency. But that's not that strange: A Yanke Fan can have Boston as a rival in baseball, Philadelphia in football -- and a Met fan can have it the other way around -- and another Tri-State Area team in hockey.)
The Crew -- named in an attempt at both alliteration and the desire to appear "hard-working" -- do have rivalries with the Chicago Fire and Toronto FC (the trillium is the official flower of Ontario and the official wildflower of Ohio, so the Crew and TFC play for an annual trophy called the Trillium Cup). But the Red Bulls aren't particularly rivals with the Crew. You should be safe in your club gear.
With their logo showing 3 men wearing hard hats, the Crew bill themselves as "America's Hardest Working Team." Since they did get to their league's final last year, there is some justification for that. They are one of the few MLS teams to explain their badge on their club website: It's round, as are most German clubs' badges, due to Columbus' German heritage; an inner ring, making it look like an O for Ohio; diagonal stripes, to suggest upward movement; the number 96, to note their status as a charter MLS club in 1996; and a checkerboard pattern, as "a symbol of our passionate fans and their unwavering support." (How a checkerboard pattern reflects that is a mystery to me. The University of Tennessee does that, but Columbus is pretty far from anywhere in Tennessee.)
Apparently, Crew Cat was a tomcat.
The Crew hold auditions for singing the National Anthem, as opposed to having a regular singer. For their 1st 19 seasons, their mascot was Crew Cat, but in 2015 he was replaced by S.C., who is billed as Crew Cat's son.
Previous mascot's son? Maybe. New? Definitely.
Improved? I don't know...
The north end of the stadium is home to the supporters' organizations, now collectively called the Nordecke -- German for "north corner." The groups include the Hudson Street Hooligans (HSH, in Section 141), Crew Supporters Union (CSU), and La Turbina Amarilla (Spanish for "the Yellow Engine"). These groups tend to wave black and gold checkerboard flags, and also Ohio State Flags (not to be confused with Ohio State University flags) with the red, white and blue color scheme replaced with the Crew's black and gold.
HSH are
not actually hooligans, but they are, to borrow the word that first gained usage in Italy, "ultras." Their motto, "Ne Cum Pedicabo," is Latin for "Don't fuck with us." They spell it out on their website: "It is definitely an adult section, for the most diehard -- be warned." Message received: Visiting fans trying to "take" the section, as in the style of English hooligans of old, are in for an unpleasant surprise.
In 2003, at a time when Columbus was the smallest market in MLS, someone noted that Kevin Keegan, legendary as a Liverpool and Newcastle player but not so successful as a manager anywhere, had taken the Manchester City job and, in response to the hated Manchester United, called City "a massive club." So Crew fans picked it up, and ran with the ironic word, until they won the 2008 MLS Cup and actually became, at least by North American standards, a massive club. Now, the word "Massive" goes on just about anything Crew-centric, and usually refers to the players' heart and the fans' passion.
Instead of the "O! H! I! O!" chant started at Ohio State, and picked up by funk band the Ohio Players and later by the Blue Jackets, the main chant is that of the city: "Co! lum! bus!" They do "When the Crew Go Marching In," "We love ya, we love ya, we love ya, and where you go we'll follow," "I Just Can't Get Enough," and a variation on a traditional English soccer chant: "I know I am, I
swear
I am, Columbus 'til I die!" And they roast their rivals, as many other teams do, to the tune of "My Darling Clementine":
Build a bonfire
build a bonfire
put Chicago on the top
put Toronto in the middle
and we'll burn the fucking lot!
They borrow from Elvis Presley with, "I can't help falling in love with Crew!" and the Beatles with, "We all cheer for the yellow soccer team!" and "Hey, Crew, don't make it bad... "
After the Game.
The area is called Old North Columbus, but the stadium is in the middle of a triangle formed by Interstate 71, a railroad and the State Fair complex. So it's not really in any neighborhood, much less a bad one. As long as you didn't instigate anything you (and, if you drove in, your car) should be safe.
As for where to go for a postgame meal or drink, there's a Frisch's Big Boy (Frisch's Restaurants owns the trademark for the former Bob's Big Boy in Ohio, Indiana and Kentucky) at 2375 Silver Drive, a 5-minute walk from the north end of the stadium. If fast food isn't what you're looking for, you may have to get back to downtown Columbus.
The most famous bar, perhaps in the entire State of Ohio, is the Varsity Club, across from the OSU Ice Arena and 3 blocks north of Ohio Stadium. 278 W. Lane Avenue, at Tuttle Park Place. High Street, the eastern boundary of the OSU campus, has been described as "a zoo" on home football Saturdays, although that won't affect you as a visiting soccer fan.
I can find no references to places where New Yorkers gather in or around Columbus: The sites that usually list bars for football fans in exile don't seem to have references to where Yankees, Mets, Giants or Jets fans go when they live nearby.
If your Red Bulls visit to Columbus coincides with the European soccer season (this one doesn't), and you want to watch your favorite club while you're in town, you can try one of these:
* Liverpool, Manchester United and Chelsea: Fado, 4022 Townsfair Way. Number 16 bus. If you don't see your club listed (especially if it's not an English one), this is probably going to be your best shot.
* Arsenal: Hendoc's Pub, 2375 N. High Street at Maynard Avenue, about 3 1/2 miles north of downtown and 2 miles west of MAPFRE Stadium. Number 2 bus from downtown. Warning: This is the home bar for the Hudson Street Hooligans, and some of them might be in attendance. If you are discreet, or at least polite, about your Metro fandom, you should be fine. But don't try anything stupid: You know what happened when NYCFC fans tried to get into Bello's last year.
* Everton: 4th Street Bar & Grill, 1810 N. 4th Street at 16th Avenue. Number 4 bus.
* Tottenham: Zauber Brewing, 909 W. 5th Avenue at Delashmut Avenue. Number 5 bus.
Sidelights.
Columbus may have only 1 major league team if you don't count MLS (and, by now, you should), but it's a decent sports town, and here's some of the highlights:
* Nationwide Arena. The Columbus Blue Jackets and their original home were inaugurated in 2000, about a mile northwest of the State House, in the Arena District, near the confluence of the Scioto and Olentangy Rivers, in an area that includes their minor-league ballpark and their Convention Center.
The Arena has hosted NCAA Tournament basketball, "professional wrestling" and concerts. Knowing of Ohio's pivotal role in national elections, President Barack Obama held one of his final 2012 campaign rallies, with Bruce Springsteen and Jay-Z performing.
Despite its youth, the Arena already has a tragic history. On March 16, 2002, 13-year-old Brittanie Cecil was struck in the head by a deflected puck during the Blue Jackets' game against the Calgary Flames, and died from her injuries 2 days later. As far as can be determined, she is the only fan in the NHL's nearly 100-year history to be killed in a game-related accident. As a result of her death, the NHL mandated safety netting around the goals in all its arenas.
The official address is 200 W. Nationwide Blvd. Several bus lines will get you there.
* Huntington Park. Just 2 blocks west of Nationwide Arena, at 330 Huntington Park Lane, this 10,100-seat stadium has been home to the International League's Columbus Clippers since 2009. Since moving in, they've won Pennants in 2010, 2011 and 2015, giving them a total of 10 Pennants.
* Cooper Stadium. Opened in 1932 as Red Bird Stadium, and renamed for Harold Cooper, the Franklin County Commissioner and team owner who kept professional baseball in the city in the 1950s, this stadium was one of the most successful ballparks in the minor leagues. It was also one of the largest, seating 17,500 people at its peak, and 15,000 in its last years.
Initially, it was home to the Columbus Red Birds, a farm team of the St. Louis Cardinals (also nicknamed the Redbirds), and to a Negro League team, the Columbus Blue Birds. The Red Birds won Pennants in 1933, 1934, 1937, 1941, 1942, 1943 and 1950.
The Cardinals moved them to Omaha in 1955, and a new team was brought in, the Columbus Jets, a farm club first of the Kansas City Athletics, then of the Pittsburgh Pirates. This led to the stadium being renamed Jets Stadium. They won the Pennant in 1961 and 1965, before being moved to Charleston, West Virginia after the 1970 season. The Pirates restored Columbus as their Triple-A team in 1977, the Yankees took over in 1979, the Washington Nationals in 2007, and the Cleveland Indians in 2009.
The Clippers were a Yankee farm team from 1979 to 2006, infamous as the bad end of "The Columbus Shuttle," George Steinbrenner's pipeline from Triple-A ball to the Yankees and back. As a Yankee farm team, they won IL Pennants in 1979, 1980, 1981, 1987, 1991, 1992 and 1996. All told, Columbus baseball teams have won 19 Pennants.
Cooper Stadium was closed after the 2008 season, but instead of being demolished, it has been converted into an auto racing facility. 1155 W. Mound Street, 3 miles west of downtown. Number 6 bus.
An April 24, 2014 article in The New York Times, showing baseball fandom by ZIP Code
, shows that, despite being considerably closer to Cincinnati (107 miles) than to Cleveland (143 miles), the Indians still have a slight edge on baseball fandom in Columbus, on the average having 28 percent to the Reds' 22 percent.
The September 2014 issue of The Atlantic Monthly had a similar map
, showing that the Browns are more popular in Columbus than the Bengals.
Cincinnati is the nearest MLB and NFL city, while Cleveland is the nearest NBA city. If it had teams in those sports, Columbus would rank 29th in population in MLB, 26th in the NFL, and 25th in the NBA. So don't hold your breath.
* Ohio State. The most famous building in the State of Ohio is Ohio Stadium, or, as ABC Sports' legendary college football announcer Keith Jackson called it, The Big Horseshoe On the Olentangy -- home field of the school usually referred to as "THE... Ohio State University." How big is it? The official seating capacity is currently listed as 104,944, making it the 4th-largest non-racing stadium in the world. 411 Woody Hayes Drive (formerly Woodruff Avenue), 3 1/2 miles north of downtown. Number 18 bus.
Value City Arena opened in 1998, at 555 Borror Drive, across the Olentangy River from the Stadium. It hosted the NCAA's hockey version of the Final Four, the Frozen Four, in 2005. The Bill Davis Stadium (baseball) and the Jesse Owens Memorial Stadium (track & field) are part of this complex as well.
From 1956 to 1998, Ohio State played basketball at St. John Arena, across from the Stadium at 410 Woody Hayes Drive. It was at this arena that the Buckeyes played the 1959-60 season in which they won the National Championship. Coach Fred Taylor is in the Basketball Hall of Fame, along with 3 players on this team, although 1 is in as a coach: Jerry Lucas, John Havlicek, and "sixth man" Bob Knight.
It was also at St. John that Elvis Presley sang on June 25, 1974. Early in his carer, Elvis played 2 shows at the Franklin County Veterans Memorial Auditorium on May 26, 1956. Built in 1955, it was demolished in 2015, and an Ohio Veterans Museum is being built on the site. 300 W. Broad Street, on the Scioto River, just across from downtown. (The Beatles played in Cleveland and Cincinnati, but not in Columbus.)
Columbus has never hosted an NCAA Final Four. Nor has any other Ohio city. The 13,435-seat University of Dayton Arena, built in 1969, 74 miles west of Columbus, has hosted more NCAA Tournament games than any other facility: 107.
* Indianola Park. Home ground of the Columbus Pandhandles, one of the 1st professional football teams, from 1901 to 1926, before the glut of early pro football doomed them. Along with the Canton Bulldogs, in the 1910s they dominated the Ohio League, one of the NFL's predecessors.
They are best remembered for the 7 Nesser brothers (sons of German immigrants, there were 8, but Pete, 1877-1954, the largest of them, didn't like football and didn't play; there were also 4 sisters): John (1875-1931), Phil (1880-1959), Ted (1883-1941), Fred (1887-1967), Frank (1889-1953), Al (1893-1967) and Ray (1898-1969). Knute Rockne, who did play a little pro football before going back to Notre Dame to coach, said, "Getting hit by a Nesser is like falling off a moving train." In 1921, Ted's son Charlie (1903-1970) played with the Panhandles, marking the only time a father and son have played in the NFL at the same time, let alone for the same team.
The Indianola Shopping Center is now on the site, 3 miles north of downtown. 1900 N. 4th Street at 19th Avenue. Number 4 bus.
Currently without an NBA team,
a May 12, 2014 article in The New York Times
shows basketball allegiances in the Columbus area are mixed between the Cleveland Cavaliers and the Miami Heat. But once you get into the suburbs, it becomes more Cavs territory. My guess: Ohio State students from elsewhere, some of whom end up staying in Columbus, stick with their old home teams; while some stick with LeBron James (who's played for both the Cavs and the Heat), and some adopted the Cavs regardless of LeBron.
The forementioned Ohio Veterans Museum will probably be completed in early 2017.
Ohio Village is a recreated 19th Century community, sort of an updated, Midwestern version of Colonial Williamsburg. 800 E. 17th Avenue, at Velma Avenue. Number 4 bus. The Columbus Museum of Art is at 480 E. Broad Street, at Washington Avenue. Number 10 bus. The Center of Science & Industry (COSI) is across from the Veterans Memorial Auditorium site, at 333 W. Broad Street, at Washington Blvd. Number 10 bus. The James Thurber House, home to the legendary author and humorist, is at 77 Jefferson Avenue,at N. 11th Street. Number 6 bus.
Farther afield -- with no public transportation available -- the Armstrong Air & Space Museum is in the hometown of Neil Armstrong, the late 1st man to walk on the Moon. 500 Apollo Drive in Wapakoneta, just off Interstate 75, 87 miles northwest of downtown Columbus.
No Presidents have come from Columbus, but Rutherford B. Hayes and William McKinley lived there while they were Governor of Ohio. Alas, there was no official Governor's Mansion during their times in that office. The Ohio Governor's Residence and Heritage Garden has only been the Governor's Mansion since 1957. 358 N. Parkview, in Bexley, about 4 miles northeast of downtown. Number 10 bus.
McKinley's historical sites are all in or near his hometown of Canton, and I'll discuss them in my Cleveland trip guides. Hayes' home, Spiegel Grove, and his grave and Presidential Library are in Fremont, 106 miles north of Columbus. Warren G. Harding's hometown of Marion is 51 miles north. Dying in office in 1923, he remains the last President to have lived in Ohio. As with both locations, there is no public transportation to there from any of Ohio's major cities.
Marion was also the official hometown of the Oorang Indians, a pro football team made up entirely of Native Americans, led by Hall-of-Famers Jim Thorpe and Joe Guyon. The problem wasn't that some of the players used their Native names, which included animal names like Ted Buffalo, Gray Horse, Big Bear, Eagle Feather and War Eagle. The problem is that they were party animals, not getting the rest they needed. As quarterback Leon Boutwell noted:
White people had this misconception about Indians. They thought they were all wild men, even though almost all of us had been to college and were generally more civilized than they were. Well, it was a dandy excuse to raise hell and get away with it when the mood struck us. Since we were Indians we could get away with things the whites couldn't. Don't think we didn't take advantage of it.
As a result of their wild ways, they went 3-6 in 1922, and 2-10 in 1923, and folded. I say Marion was their official hometown because they were a "traveling team," playing just 1 of their 21 games in Marion.
The tallest building in Columbus is the Rhodes State Office Tower, named for the longtime Governor who ordered the Ohio National Guard to fire on the protestors at Kent State University on May 4, 1970. Completed in 1974, it is 629 feet high, and every bit as ugly as the Administration it memorializes. 30 E. Broad Street, downtown, across from the State House.
While lots of movies have been shot and/or set in Ohio, Columbus hasn't been a popular location for them. There have been 2 TV shows set in Columbus:
Family Ties
, the 1982-89 NBC sitcom that introduced us to Michael J. Fox; and
Man Up!
, an ABC sitcom set in nearby Gahanna that tanked and was canceled after 13 episodes in 2011.
*
Columbus may be Ohio's largest city, but aside from being the State capital, it's known for 2 things: Ohio State football, and Ohio State anything else. But a Columbus Crew game could be fun, and it's close enough for a comparatively easy New York Red Bulls roadtrip.