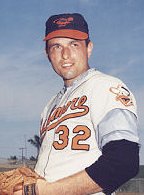 Life can be good, or cruel, or just plain weird. It was all 3 to Milt Pappas.
Miltiades Stergios Papastergios was born on May 11, 1939 in Detroit. A son of Greek immigrants, his name would later be anglicized to Milton Stephen Pappas. He went to Cooley High School on Motown's West Side, and pitched them to Metropolitan League Championships in 1956 and 1957.
Other Cooley graduates of note include big league ballplayers Bill Roman and Joe Ginsberg; Detroit Tigers and Red Wings owner Mike Ilitch; basketball players Roy Tarpley and Willie Green; NFL players Terrence Mann, Chris Floyd and Lional Dalton; actresses Barbara Tarbuck and S. Epatha Merkerson; Anita Garian, the soprano voice backing up The Tokens on "The Lions Sleeps Tonight"; and James P. Hoffa, who, like his father James R., rose to become President of the International Brotherhood of Teamsters.
Black screenwriter Eric Monte based his film
Cooley High
on his alma mater in Chicago, which was named for a different man, and should not be confused with the legendary Detroit school, which was closed in 2010 due to declining enrollment. For the same reason, Chicago's Cooley Vocational High School was closed in 1979.
Milt was scouted by former Detroit Tigers pitcher Hal Newhouser, who was scouting for the Baltimore Orioles. The O's signed him, and he made his major league debut on August 10, 1957, just a few weeks after graduating from Detroit Cooley and less than 3 months after his 18th birthday. He pitched 2 innings of scoreless relief against the Yankees, allowing just 2 hits, singles to Mickey Mantle and Jerry Lumpe. Mantle and Enos Slaughter had already hit home runs, and the Yankees won, 6-3 at Memorial Stadium.
*
In 1958, Pappas became a regular in the rotation of a rising Oriole team. In 1959 and 1960, he won 15 games each season; in 1963 and 1964, 16 each. In 1962, and 1965, he was named to the American League All-Star Team; in '65, as starting pitcher in the All-Star Game in Minnesota.
On September 20, 1961, Pappas pitched for the Orioles at Memorial Stadium, hoping to stop the Yankees from clinching the Pennant. It was the 154th game of the season, and Roger Maris came into it with 58 home runs; if he hit his 60th to tie Babe Ruth's single-season record, or even if he hit his 61st to break it (it would have required 3), Commissioner Ford Frick would count it as official; if not, and the 60th (and the 61st) came later, it would count as a separate record. (There was never an asterisk.) Pappas didn't like that, and told the press he would pitch to Maris, and let the chips fall where they may. He did give up the 59th homer, and the Yankees did win to clinch the Pennant; but the 60th didn't come for another few days, also against the Orioles. The 61st came in the last game of the season.
It looked for a while as if Pappas would be remembered for that 59th homer and for being a good pitcher for the Orioles. But the Orioles thought they needed something to get them over the top, from contenders to champions. The Cincinnati Reds needed pitching. So on December 9, 1965, the Reds traded superstar Frank Robinson to the Orioles for Pappas, Jack Baldschun and Dick Simpson.
The trade soon became known as one of the most lopsided in baseball history. In the very next season, Robinson won the Triple Crown and the Most Valuable Player award, and led the Orioles to their 1st Pennant and World Championship. Meanwhile, Pappas won 12 for the Reds in '66 and 16 in '67, but they were in a transition period between their team that won the 1961 Pennant and nearly did so again in 1964, and the 1970s "Big Red Machine" that would win 4 Pennants in the decade.
In 1968, the Reds traded Pappas to the Atlanta Braves. Had he still been on the Reds' roster in 1970, they might have had a better chance in the World Series. Instead, they lost it, to Robinson and the Orioles, who also reached the Series in 1969 and 1971, although they lost both.
In 1969, the 1st year of Divisional play, the Braves won the National League Western Division, and Pappas made his only postseason appearance, pitching 3 innings of relief in an NL Championship Series that the Braves lost to the Mets. In 1970, the Braves traded Pappas to the Chicago Cubs. In 1971 and 1972, he won 17 games each season.
On September 2, 1972, Pappas pitched a no-hitter against the San Diego Padres, as the Cubs won, 8-0. It should have been a perfect game. He had a 3-and-2 count on the last batter, pinch-hitter Larry Stahl. Then he threw what should have been called strike 3 on the outside corner. But Bruce Froemming, in the 2nd season of a 37-year career that marks him as, in my opinion, the worst umpire ever, called ball 4, and ruined it.
Pappas freaked out, and yelled at Froemming, including a few Greek profanities. He got the next batter to keep the no-hitter, but it could have been so much more. After the game, he tried to be rational, approaching Froemming and saying, "Do you know how few umpires have called a perfect game? You could have been one of them."
Froemming said, "Milt, if I had called that last pitch a strike, I never would've been able to live with myself." Pappas lost it again, and said, "How the hell do you live with yourself with all the other lousy calls you make?"
Pappas had a poor season in 1973, and was released by the Cubs in spring training 1974. His career record was 209-164, with a 3.40 ERA, a 110 ERA+, and a 1.225 WHIP. He was the 1st pitcher to win 200 games in a career without ever having won at least 20 in a season -- or even 18.
He won 110 games in the American League, and 99 games in the National League. There are only 9 pitchers who've won at least 100 games in each League. In the reserve clause era, when it was harder for players to change teams, let alone Leagues, only 3 pitchers had done it: Cy Young, Al Orth and Jim Bunning. Milt Pappas nearly made it 4. Since the end of the reserve clause made it easier, the list has added Gaylord Perry, Nolan Ryan, Ferguson Jenkins, Dennis Martinez, Kevin Brown and Randy Johnson.
He was also a decent hitter for a pitcher, hitting 20 home runs during his career.
*
He stayed in Baltimore after retiring, and opened a restaurant, Milt Pappas' Scotch & Sirloin. After it failed, he moved to Wheaton, Illinois, hometown of football pioneer Red Grange, and not far from Chicago where he was still known. He worked for a liquor distributor, and sold building supplies.
He and his wife Carole had 2 children, Michelle and Steve. On September 11, 1982, Carole drove away from the house on an errand, and was never seen alive again. For 5 years, no one knew what happened to her. In 1987, workers draining a pond 4 blocks away found her 1980 Buick, with her still inside. The coroner guessed she had taken a wrong turn, and her death was ruled an accident.
In 1990, Pappas married Judi Bloome, a teacher, and moved to her nearby hometown of Beecher. They had a daughter, Alexandria Arlis. He lived to see 5 grandchildren.
In 2012, he was honored at Wrigley Field on the 40th Anniversary of his no-hitter. But the next year, he had his own car crash, and was hospitalized for several days. It's possible that he never recovered. Another blow was the death of his daughter Michelle last year.
Milt Pappas died yesterday at his home in Beecher, apparently from natural causes, He was 76.
He was a decent man and a very good pitcher, who deserves to be remembered for more than just being on the other end of a trade for a Hall-of-Famer, getting robbed of a perfect game, and living through the nightmare of a domestic mystery.