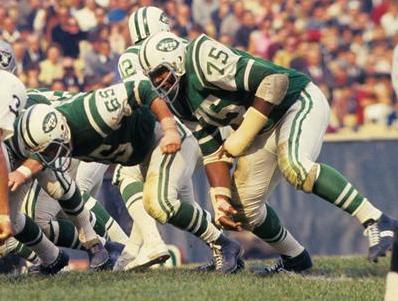 When your favorite team has won only one Super Bowl, you should treasure it, and the men who helped to achieve it, especially if it was long ago, and the number of surviving players involved is dwindling.
If you're a fan of the New York Jets, that number dwindled by one more yesterday.
Winston Hill (no middle name) was born on October 23, 1941, in Joaquin, Texas. He starred in both football and tennis at Weldon High School in Gladwater, Texas, then a segregated, all-black school where his father was the principal. Luckily for Jets fans, he chose football.
He went to Texas Southern University (also "historically black") in Houston, and was an All-American offensive tackle. In 1963, he was drafted by the Baltimore Colts of the National Football League, but was cut. Instead, he signed with the New York Jets of the American Football League, and remained with them for 14 years.
He was perhaps the finest left tackle the AFL ever had, protecting the blind side of quarterback Joe Namath (starting in 1965), and blocking for running backs Matt Snell, Emerson Boozer and, later, John Riggins. He would be named to the AFL All-Star Team 4 times. After the merger with the NFL, he would be named to 4 Pro Bowls -- making 8 All-Star selections. He was named to the AFL's All-Time Team.
"I lined up behind Winnie in the backfield," said running back Emerson Boozer. "We worked so well together. We communicated without speaking.
"And you could not meet a nicer person off the field. But on the field? Winnie was vicious!"
I should hope so, once the opposition heard his teammates call him "Winnie."
In 1968, coached by Wilbur "Weeb" Ewbank, the Jets went 11-3, and beat the Oakland Raiders at Shea Stadium, 27-23, for the AFL Championship. With all the fuss over the game that followed, this one gets forgotten, but it was actually a considerably better game.
They advanced to what had, the previous 2 years, been known as the AFL-NFL World Championship Game, but was now officially being called the Super Bowl. The NFL wouldn't officially add the Roman numerals until 1971, the 1st one after the merger, Super Bowl V. Retroactively, the Jets' appearance was labeled Super Bowl III.
It was played on January 12, 1969, on neutral ground at the Orange Bowl in Miami. They would face the Colts -- ironically, not only the team which had drafted Hill, but which had been coached to the 1958 and 1959 NFL Championships by Weeb Ewbank.
Much has been made of Namath receiving an award at the Miami Touchdown Club 3 days before the game, hearing a heckler yelling, "Hey, Namath! We're gonna kick your ass on Sunday!" and responding, "Lemme tell you something: We're gonna win. I guarantee it!" And then backing up the boast, as the Jets won, 16-7, in one of the greatest upsets in the history of sports.
Here's a trivia question you can use on your Jet fan friends: How many touchdown passes did Namath throw in that game? Answer: Exactly none. The Jets only scored one touchdown, on a run by Snell. (Their other 10 points came on the extra point and 3 field goals, all by Jim Turner.) Snell's run was to the left, meaning Hill blocked for it. And Hill gave Namath all the time he needed to run the Jets' offense for 4 scoring drives (the aforementioned TD and 3 FGs).
It should also be noted that the Jets' defense completely shut down a team that went 13-1 in the supposedly stronger league, not allowing a score until the 4th quarter. It should also be noted that the Colts did themselves no favors, making all kinds of mistakes. Perhaps never has a team been so favored to win a sports final and then come up so small.
My point: It wasn't all about Broadway Joe. He was the lead story because of his mouth. But it was his brain (believe it or not), and the brawn of the Jets' offensive line and their entire defense, plus the Colts' ineptitude, that won the World Championship for the Jets.
But when Hill and Namath were inaugural inductees into the Jets' Ring of Honor in 2010, he had nothing but praise for Namath:
It was great to protect Joe all those years. You come across great people in a lifetime, and he's one of them. He was a very special ballplayer ,and elevated everyone else's play.
*
Hill played 195 consecutive games with the Jets, and remained with them through the disastrous 1976 season, the one and only season of pro football where Lou Holtz was a head coach. He'd been a good college coach at North Carolina State, and would be again at Arkansas, Minnesota, Notre Dame and South Carolina. But with the Jets, he was a bust, trying to use the veer offense that had worked so well for him at N.C. State, but with Namath, then 33 years old and with crumbling knees, as a running quarterback.
Hill closed his career in 1977 with the Los Angeles Rams -- as did Namath. The Rams were a good team, but Namath was done, not even a good backup for Pat Haden, and he and Hill both retired.
Hill moved to Centennial, Colorado (a suburb of Denver, a former AFL city), and opened a barbecue restaurant, Winston Hill's Ribs & Stuff. He was elected to Texas Southern's Sports Hall of Fame and the Jets' Ring of Honor.
Winston Hill died in Denver yesterday. He was 74 years old. As of this writing, a cause has not been revealed, but he did need a cane when he attended the Jets' Ring of Honor ceremony at MetLife Stadium last Autumn.
With his death, there are now 34 surviving members of the 1968-69 World Champion New York Jets:
* On offense: Quarterbacks Joe Namath and Babe Parilli; receivers Don Maynard, Bill Rademacher and Robert "Bake" Turner; tight end Pete Lammons; running backs Mark Smolinski, Bill Mathis, Emerson Boozer, Lee White and Matt Snell; centers John Schmitt and Paul Crane; guards Bob Talamini and Randy Rasmussen; and tackles Dave Herman and Jeff Richardson.
* On defense: End Gerry Philbin; tackles Paul Rochester and Steve Thompson; linebackers Carl McAdams, Ralph Baker, Larry Grantham, Al Atkinson and John Neidert; cornerbacks Randy Beverly, John Dockery and Earl Christy; and safeties Jim Richards, Bill Baird, Mike D'Amato and Cornell Gordon.
* On special teams: Placekicker Jim Turner and punter John "Curley" Johnson.
Having died are defensive tackle Verlon Biggs in 1994, offensive tackle Sam Walton in 2002, cornerback Johnny Sample in 2005, defensive tackle John Elliott in 2010, receiver George Sauer and safety Jim Hudson in 2013, and now offensive tackle Winston Hill in 2016. Center Paul Seiler, who died in 2001, was on the Jets in the 1967 and 1969 seasons, but spent 1968 in the U.S. Army, though not in combat in Vietnam.
"Winnie was like my brother," Schmitt said yesterday on the Jets' team website. "He was a terrific football player. His heart was as big as his body. He did not have a bad thing to say about anyone.
"I am going to miss that turkey."
It's a term of endearment. When it came to how he treated people, how he played football, and how he ran his restaurant, Winston Hill was no turkey. He had reasons to be as proud as a peacock.