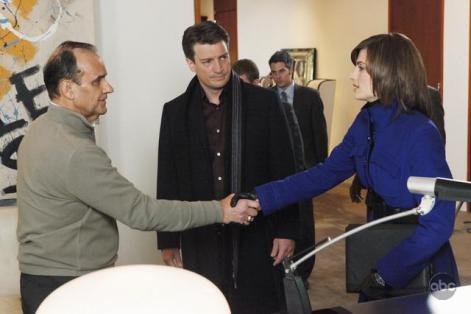 I became a fan of ABC's TV show
Castle
in its 2nd season, in 2010, when it featured an episode, "The Suicide Squeeze," about a murdered baseball player, and Joe Torre had a cameo as himself. Or, as Stana Katic's Detective Kate Beckett, a character not easily flustered, said, "Oh my God! That was Joe Freakin' Torre! I gotta call my Dad!"
The show is winding down its 8th season, and both Katic and Tamala Jones, who plays Dr. Lanie Parrish, the show's medical examiner, will not be returning for a 9th. It has not been officially decided yet, but it is generally believed that the show will return for a 9th season -- and the show's fans, especially its female fans, are furious that Katic is not returning, and that the great love story between Beckett, now a Captain, and mystery writer Richard Castle, played by Nathan Fillion, will come to an end -- given the "LokSat" storyline, possibly a tragic one.
The show should have ended last season. Not that this season hasn't had its fun moments. But last season's season finale, in which Rick's "origin story" was finally revealed, and resolved, would have been a perfect series finale. But, no, the showrunners have screwed things up royally, and the fanbase is one part outraged, five parts saddened.
If the showrunners do kill Kate off, that won't just be filthy... that'll be nasty. After all, the previous showrunner, show creator Andrew W. Marlowe, appeared to have killed her off at the end of Season 3. Maybe the show is called
Castle
, not
Castle & Beckett
, but, as a Season 7 "It's a Wonderful Life"-type episode showed, without Beckett, Castle wouldn't have been nearly as well off -- and the same would have gone for Beckett without Castle.
The show depends on their interaction. Castle without Beckett, especially at this point, would be like Superman without Lois Lane, or Robin Hood without Maid Marian.
*
At any rate, last night, ABC aired a new episode. At the same time, Yankee pitcher Nathan Eovaldi was pitching a no-hitter. And since the game was in the Central Time Zone, it would not end before
Castle
's 10:00 PM start time. So I was choosing Nathan Fillion over Nathan Eovaldi.
"Nasty Nate" got a 3-0 cushion thanks to home runs by Jacoby Ellsbury (finally, his 1st of the season) and Starlin Castro (his 3rd), and an RBI double by Mark Teixeira.
Still, knowing Joe Girardi -- who once watched CC Sabathia take a no-hitter into the 8th inning in Tampa Bay, and said in his postgame press conference that he was going to take CC out after the 8th, no matter what -- I had this vision of the future: Girardi was going to take Eovaldi out after 6 due to his pitch count, go to his bullpen, and watch the no-hitter, the shutout and the lead get blown, and the Yankee bats would then fail, and we'd lose 4-3 (or worse).
He didn't do that: He left Eovaldi in to pitch the 7th. Nomar Mazara led off, and singled on a 3-2 pitch to break up the no-hitter. At least, now, I could continue to watch
Castle
with a clear conscience -- but also with my smartphone able to give me score updates.
Incredibly, Girardi still left Eovaldi in, and he got Adrian Beltre to ground into a double play. Good thing, too, as Prince Fielder doubled, which, if Beltre had struck, popped, grounded or even flied out, would probably have led Mazara score. Eovaldi then got Ian Desmond to ground out, preserving the 3-0 lead on 2 hits.
Girardi even let Eovaldi start the 8th, but he walked Mitch Moreland. That was it: Girardi took him out, and brought in Dellin Betances. He got Elvis Andrus to ground into a double play, but Brett Nicholas hit a home run. Again, had the guy who grounded into the double play been eliminated only as a single out, it would have put the lead in considerably more jeopardy than it already was.
No-hitters are wonderful, shutouts are nice, but getting the win is what matters. Fortunately, Betances stuck out Delino DeShields Jr. to end the threat. And Andrew Miller sent the Rangers down 1-2-3 in the 9th.
Ballgame over. Yankees 3, Rangers 1. WP: Eovaldi (1-2). SV: Miller (5). LP: Cesar Ramos (0-1).
*
The series continues tonight. Luis Severino starts for us, A.J. Griffin for the Rangers.
I hope Girardi doesn't, through good intentions, try to wreck this game. Or any others. He's done that too many times, trusting his binder instead of the facts of the effectiveness of the players on the field, especially the pitchers.
Of course, he could do everything as well as it could possibly be done, and he'd still be at the mercy of Brian Cashman, Lonn Trost, Randy Levine, and Hank and Hal Steinbrenner.
But I doubt that even they could wreck the Yankees as much as the showrunners are in a position to wreck
Castle
.
And there's no "free agent" actor who could be signed for a recasting of Kate Beckett. Baseball, and the Yankees, continued after Babe Ruth. But the Yankees didn't depend on any one person.
Castle
depends on two... and, unless this season's finale is the series finale, they're going to go on without one of them. Even if they keep Kate alive with another actress... it would be like signing Stephen Drew to replace Derek Jeter.