"I'm in hell!" – Morgan Freeman
"Worse: You're in Texas!" – Chris Rock
--
Nurse Betty
This coming Monday, the Yankees visit the Dallas-Fort Worth Metroplex to face the Texas Rangers, in what Texas native Molly Ivins – frequently sarcastically – called The Great State.
An example of her writing: "In the Great State, you can get 5 years for murder, and 99 for pot possession." (I once sent the late, great newspaper columnist an e-mail asking if it could be knocked down to 98 years if you didn't inhale. Sadly, she never responded.)
Before You Go.
It's not just The South, it's Texas. This is the State that elected George W. Bush, Rick Perry, Greg Abbott and Bill Clements Governor; Dick Armey, Tom DeLay, Ron Paul and Louie Gohmert to the House of Representatives; and Phil Gramm and Ted Cruz to the Senate -- and thinks the rest of the country
isn't conservative enough
. This is the State where, in political terms, somebody like Long Island's conservative Congressman Peter King is considered a sissy. This is a State that thinks that poor nonwhites don't matter at all, and that poor whites only matter if you can convince them that, no matter how bad their life is, they're still better than the (slur on blacks) and the (slur on Hispanics).
So if you go to Texas for this series, it would be best to avoid political discussions. And, for crying out loud, don't mention that, now over half a century ago, a liberal Democratic President was killed in Dallas. They might say JFK had it comin' 'cause he was a (N-word)-lovin' Communist.
No. I'm not kidding. There are millions of Texans who think like this -- and, among their own people, they will be less likely to hold back. So don't ask them what they think. About anything.
At any rate, before we go any further, enjoy
Lewis Black's R-rated smackdown of Rick Perry and the State of Texas as a whole
. Perry is so stupid and myopic, he makes Dubya look like Pat Moynihan.
Also within the realm of "It's not just The South, it's Texas," you should be prepared for hot weather. It's not just the heat that's so bad, it's the humidity. And the mosquitoes. You think it was only the heat that made the Houston Astros build the Astrodome? Sandy Koufax said, "Some of the bugs they've got down there are twin-engine jobs." And, unlike Houston (then as now), the Dallas-area team does not have a dome, or even a roof over the stands. It's hot, it's humid, it's muggy and it's buggy, and they have that shit all the time.
So, before you go, check the websites of the
Dallas Morning News
and the
Fort Worth Star-Telegram
(the "Startle-gram") for the weather. For the moment, it's projected to be in the low 80s in the afternoons, and in the high 60s at night. Rain is possible all 3 days. Regardless of what they say, bring bugspray, and remember to keep yourself hydrated.
Fortunately, despite the State's Southernness and Confederate past, you don't need a passport to visit, and you don't need to change your money.
Texas (except for the southwestern corner, with El Paso) is in the Central Time Zone, 1 hour behind New York. Adjust your timepieces accordingly.
Tickets.
The Rangers averaged 30,763 fans last season. The official seating capacity at what's now known as Globe Life Park in Arlington is 48,114, boostable to over 52,000 with standing room. That leaves about 17,000 empty seats, so getting tickets should not be a problem.
You know the old saying that everything is big in Texas? A couple of years ago, you could count baseball ticket prices in that. Fortunately, the Rangers have brought prices down significantly. Lower Infield seats, the closest seats likely to be available, go for $82. Lower Boxes, along the foul lines, are $80. Corner Boxes are $53. Lower Reserved (you could call them "bleachers") are $38. Upper Boxes are $26, Upper Reserved are $19, and Grandstand Reserved, in the upper right-field corner, are $14.
Be warned: A lot of these seats are listed as "Obstructed View." This ballpark opened in 1994, and the plans for Camden Yards, if not the finished product, had to have been available to the designers. There is no excuse for a ballpark built after 1992 to have obstructed-view seats. Trying to look like one of the pre-World War II (or even WWI) ballparks can, after all, be taken too far.
Getting There.
It is 1,551 miles from Midtown Manhattan to downtown Dallas, and 1,576 miles from Yankee Stadium to Globe Life Park. So unless you want to be cooped up for 24-30 hours, you... are... flying.
Nonstop flights from Newark, Kennedy or LaGuardia airports to Dallas/Fort Worth International Airport will set you back close to $1,200 (round-trip). That's a bit expensive and if that's too much, and you want to wait until the next Yankee series – and thus order tickets after your next payday, in the hopes that your flight will be cheaper – you're out of luck, as this is the only series the Yankees will play in Texas this season. Yet another thing that Interleague play has futzed up.
So, if it's a choice between being cooped up or spending that much dough, what is being cooped up going to be like? Amtrak offers the
Lake Shore Limited
(a variation on the old New York Central Railroad's
20th Century Limited
), leaving Penn Station at 3:40 PM Eastern Time and arriving at Chicago's Union Station at 9:45 AM Central Time. Then switch to the
Texas Eagle
at 1:45 PM, and arrive at Dallas' Union Station (400 S. Houston Street at Wood Street) the following morning at 11:30. It would be $716 round-trip, and that's with sleeping in a coach seat, before buying a room with a bed on each train.
Dallas is actually Greyhound's hometown, or at least the location of its corporate headquarters: 205 S. Lamar Street at Commerce Street, which is also the address of their Dallas station. (The city is also the corporate HQ of American Airlines.) If you look at Greyhound buses, you'll notice they all have Texas license plates. So how bad can the bus be?
Well, it is a
lot
cheaper: $338 round-trip, and advanced purchase can get it down to $278. But it won't be much shorter. It's a 40-hour trip, and you'll have to change buses at least twice, in Richmond, Virginia (and I don't like the Richmond station) and either Atlanta or Memphis.
Oh... kay. So what about driving? As I said, over 1,500 miles. I would definitely recommend bringing a friend and sharing the driving. The fastest way from New York to Dallas is to get into New Jersey, take Interstate 78 West across the State and into Pennsylvania, then turn to Interstate 81 South, across Pennsylvania, the "panhandles" of Maryland and West Virginia, and across the Shenandoah Valley of Virginia into Tennessee, where I-81 will flow into Interstate 40. Take I-40 into Arkansas, and switch to Interstate 30 in Little Rock, taking it into the Dallas-Fort Worth metropolitan area, a.k.a. "The Metroplex." Between the forks of Interstate 35 in the Metroplex, I-30 is named the Tom Landry Freeway, after the legendary Dallas Cowboys coach.
Once you get across the Hudson River into New Jersey, you should be in New Jersey for about an hour, Pennsylvania for 3 hours, Maryland for 15 minutes, West Virginia for half an hour, Virginia for 5 and a half hours (more than the entire trip will be before you get to Virginia), 8 hours and 15 minutes in Tennessee, 3 hours in Arkansas, and about 3 hours and 45 minutes in Texas.
Taking 45-minute rest stops in or around (my recommendations) Harrisburg, Pennsylvania; Charlottesville, Virginia; Bristol, on the Virginia/Tennessee State Line; Nashville and Memphis, Tennessee; Little Rock and Texarkana, Arkansas; and accounting for overruns there and for traffic at each end of the journey, and we're talking 31 hours. So, leaving New York at around 10:00 on Sunday morning (thus avoiding rush-hour traffic), you should be able to reach the Metroplex at around 4:00 on Monday afternoon (again, allowing you to avoid rush-hour traffic, and giving you time to get to your hotel).
And you
will
be getting a hotel. Fortunately, Globe Life Park is in Arlington, midway between the downtowns of Dallas and Fort Worth. Well before either the Rangers or the Cowboys set up shop in Arlington, Six Flags Over Texas did so, as the original theme park in the Six Flags chain (opening in 1961), and so there are plenty of hotels available nearby. They're also likely to be cheaper than the ones in downtown Dallas.
Once In the City.
Dallas (population about 1,250,000, founded in 1856) was named after George Mifflin Dallas, a Mayor of Philadelphia and Senator from Pennsylvania who was James K. Polk's Vice President (1845-49). Fort Worth (about 800,000, founded in 1849) was named for William Jenkins Worth, a General in the War of 1812 and the Mexican-American War. And Arlington (375,000, founded in 1876) was named for the Virginia city across the Potomac River from Washington, D.C., as a tribute to Confederate General Robert E. Lee.
The population of the entire Metroplex is about 7.2 million and climbing, although when you throw in Oklahoma, southern Arkansas and northern Louisiana, the total population of the Rangers' "market" is about 19 million -- a little less than the New York Tri-State Area, and soon it will surpass us.
Commerce Street divides Dallas street addresses into North and South. Beckley Avenue, across the Trinity River from downtown, appears to divide them into East and West. The sales tax in the State of Texas is 6.25 percent, in Dallas County 8.25 percent, and in Tarrant County (including Arlington and Fort Worth) 8 percent even.
ZIP Codes for the Dallas side of the Metroplex start with the digits 75; and for the Fort Worth side, 76. The Area Codes are 214, 469, 940 and 972 for Dallas; and 817 for Fort Worth and Arlington.
Public transportation is a relatively new idea in Texas. While Dallas has built a subway and light rail system, and it has a bus service (get a Day Pass for $5.00), until recently, Arlington was the largest city in the country with
no public transportation at all
.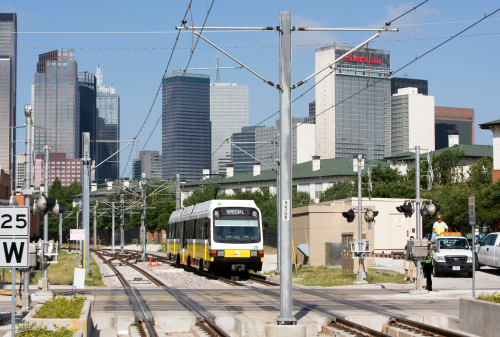 A Green Line light rail train, just outside of downtown
Going In.
Globe Life Park, named for the Oklahoma City-based insurance company, is 17 miles west of downtown in Dallas, and 18 miles east of downtown Fort Worth, about halfway between. Arlington is in Fort Worth's Tarrant County, not Dallas County. The official address is 1000 Ballpark Way, off Exit 29 on the Landry Freeway. It sits right between Six Flags and the new Cowboys stadium (now named AT&T Stadium).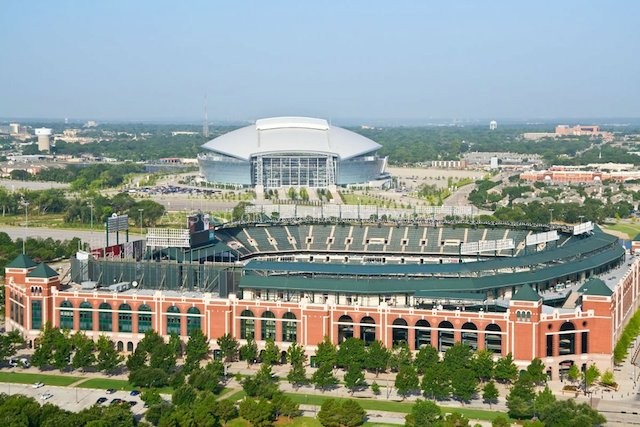 Globe Life Park, with Jerry Jones' Death Star in the background
Across Legends Way from the ballpark is a parking lot where the original home of the Rangers, Arlington Stadium, stood from 1965 to 1993. (It was a minor-league park called Turnpike Stadium before the announcement of the move of the team led to its expansion for the 1972 season.)
About that previously mentioned public transportation problem. If you got a hotel near the various Arlington attractions, you're in luck: The Arlington Entertainment District Trolley goes to the area hotels and to the stadiums and theme parks. But if your hotel is in Dallas, you'll have to take Trinity Rail Express (TRE) to Centerport Station, and then transfer to bus 221, and take that to Collins & Andrew Streets. And even then, you'd have to walk over a mile down Cedarland Blvd. and Randol Mill Road to get to the ballpark. The whole thing is listed as taking an hour and 40 minutes.
But at least it's now possible to get from Dallas to a Ranger game and back without spending $50 on taxis. So how much is it? From Union Station to Centerport, each way, is $2.50. I don't know what the zones are for the bus, but a Day Pass is $5.00, meaning that getting there and back could top out at $10, which is reasonable considering the distance involved.
Parking is $15, and this includes Lot M and Lot N, on the site of the old Arlington Stadium. From Lots F, G, H, M & N, you would walk across a bridge over Mark Holtz Lake, named for the late Rangers broadcaster, to the new ballpark.
Most likely, you'll enter at the northwest corner of the stadium, which is the home plate entrance. The ballpark faces southeast, although the structure prevents you from seeing out. It's just as well: Although Dallas has some interesting architecture, downtown is too far away to see it from there anyway.
Various old parks were incorporated into the design. Most obvious is the old Yankee Stadium, with the frieze (that thing we Yankee Fans tend to incorrectly call a "facade") on the roof; and Tiger Stadium in Detroit, with that overhanging, support-poled upper deck in right field. The use of green as the park's main color may be a tribute to the oldest remaining ballparks, Fenway Park in Boston and Wrigley Field in Chicago (although Fenway's seats are red, green is the main color for the rest of the park).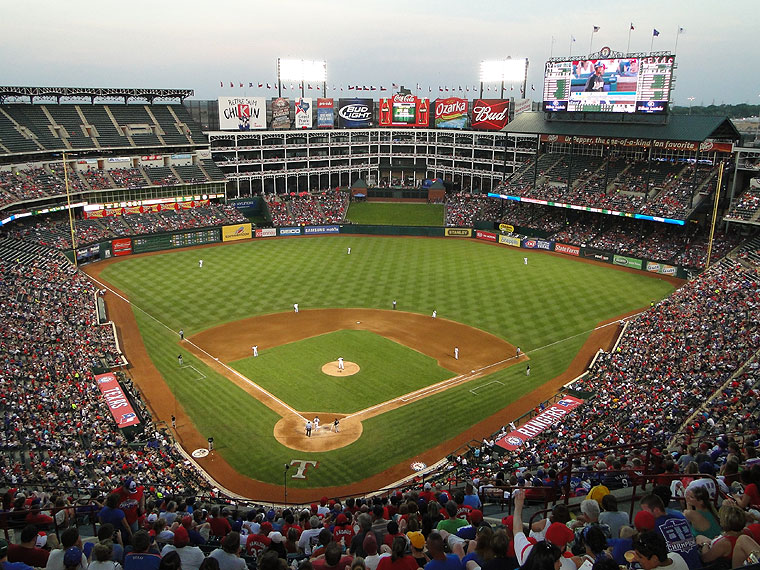 The field is natural grass, and is not symmetrical. It's 332 feet to left field, 390 to left-center, 404 to "deep left center," 400 to straightaway center, 407 to the deepest part of the park in "deep right center," 377 to right center, and 325 down the right field line. The longest home run at this stadium, as you might guess, was hit by Josh Hamilton, a 490-footer in 2010. (UPDATE: Nomar Mazara of the Rangers topped that on May 25, 2016, hitting one 491 feet.)
The Center Field Sports Park is a fan interactive area located in Vandergriff Plaza. The interactive area includes a Wiffle Ball Park, Tee-Ball Cages, a Speed Pitch, a Pitching Cage, and picnic tables. Token machines are located in the park, and age restrictions apply to some activities. The Center Field Sports Park opens 2 hours prior to game time and remains open through the middle of the 7th inning during April, May, and September weekday games; and through the top of the 9th inning during June, July, and August games. The Center Field Sports Park will also close early on nights when postgame fireworks shows are scheduled.
Food.
Along with the usual ballpark fare, the Rangers, going back to their early days at Arlington Stadium, were known for their nachos, as one might expect of a place with a Mexican influence, as Texas is. As one also might expect in Texas, they have barbecue stands, and lots and lots of beer, including the hometown brand, Lone Star Beer.
In Texas, you can expect Tex-Mex, and Casa De Fuego (House of Fire) is behind Section 125. They have a "Coney Island" stand, but the closest this Section 40 stand comes to being the Brooklyn seaside institution is selling chili dogs. There's a Dublin Up Irish Pub at 211, several Hot'n Chedder Sausage stands (their spelling, not mine), and at Section 24 (should be 34, to match his uniform number), Nolan Ryan's Beef Steak Sandwich. At Section 16, they have "Sausage Sundae." I don't wanna know.
According to a recent
Thrillist
article on
the best food at each ballpark
, the best thing to eat at Arlington is the chicken & donut skewer, at Flew the Coop at Section 50. Clearly, the author doesn't know what's good.
Team History Displays.
The Rangers, having now been around for over 40 years, have a bit of history. And while they never won a Pennant until 2010, or even qualified for postseason play until 1996, rarely (until now) have they been flat-out terrible. For the most part, they've been
just sort of there
, just another stop on a team's schedule, and nothing to get excited about.
But they have had their moments, ranging from the sublime (the no-hitters and strikeout milestones of Nolan Ryan) to the ridiculous (sending 18-year-old Houston area native David Clyde to pitch in 1973, when he clearly wasn't ready, and wrecking the arm of the top pick in the draft, just so they could bring in fans wanting to see a native Texan -- from the other side of the State -- pitch for the Rangers).
They have their AL Pennants and their AL Western Division banners flying from poles at the back wall in the outfield.
So far, the Rangers have just 2 retired numbers, aside from the universally-retired 42 for Jackie Robinson, and they hang in the left field corner: 34, for Ryan; and 26, for Johnny Oates, the manager who took them to their 1st 3 postseason berths. There is a movement to retire 7 for Ivan Rodriguez. He becomes eligible for the Hall of Fame next year, but with a steroid cloud hanging over him, if they're waiting until he's elected to retire it, there could be a long wait.
The Rangers have a team Hall of Fame, which is under the right field stands, and is open to ticketed fans during home games, and during ballpark tours. There are currently 16 members:
* Pitchers: Ryan, Charlie Hough, Ferguson Jenkins, Jeff Russell, and former Yankees John Wetteland and (ugh) Kenny Rogers. Jenkins is the only native of Canada yet in the Baseball Hall of Fame. As a result, he is the only baseball player yet elected to Canada's Walk of Fame.
* Catchers: Rodriguez (briefly a Yankee) and Jim Sundberg.
* Infielders Toby Harrah (the last active Washington Senator, and a former Yankee) and Buddy Bell.
* Outfielders: Tom Grieve, Rusty Greer, Juan Gonzalez and former Yankee Ruben Sierra
* Non-players: Oates (another former Yankee), broadcasters Mark Holtz and Eric Nadel, executive Tom Schieffer, and Tom Vandergriff, longtime Mayor of Arlington (1951-77), known as "the Father of the Texas Rangers."
In 1999, Ryan was named to both the Major League Baseball All-Century Team and
The Sporting News
' 100 Greatest Baseball Players. He was the only player generally identified with the Rangers to receive either honor. He was also chosen by Ranger fans in the 2006 DHL Hometown Heroes poll.
At the start of the 2012 season, the Rangers dedicated statues of Shannon and Cooper Stone, the father and son involved in a tragic incident the year before. All-Star Ranger left fielder Josh Hamilton saw the Stones in the stands, and tossed a ball up to them. But Shannon, a 39-year-old firefighter, bobbled it, and fell over the railing to his death. His son Cooper was just 6, and the poor kid saw the whole thing. He was wearing a HAMILTON 32 jersey. The Rangers invited Cooper and his mother Jenny to throw out the ceremonial first pitches at a Playoff game in 2011, and dedicated the statues on Opening Day, as a symbol of the bond between fathers, sons and baseball.
A highway near the ballpark is the Nolan Ryan Freeway. Keep in mind, though, that Ryan only pitched for the Rangers for 5 seasons, and while he is regarded as a Texas icon, he was from the Houston area, not the Dallas area. Oates (Number 26) and Ryan (Number 34) have had their numbers retired. Those numbers are above the skyboxes in left field. I don't know where they hang their American League Pennants (2010 and 2011) or their AL Western Division title banners (1996, 1998, 1999, 2010 and 2011).
The center-field "batter's eye" is known as Holtz Hill, and a statue of Vandergriff stands behind Holtz Hill on a part of the Ballpark's concourse called Vandergriff Plaza. A statue of Ryan is outside the park.
Vandergriff had Turnpike Stadium built in 1965, and expanded it to become Arlington Stadium as he tried to bring a major league team to the Metroplex, finally getting the "new" Washington Senators for the 1972 season.
The City Council offered to name the expanded stadium for Vandergriff, but he said it should be named for the city, and he threw out the first ball for their first game and broadcast for them for 3 years. He later served a term in Congress (elected as a Democrat, defeated by noted right-wing nut Dick Armey) and as a County Judge (elected as a Republican), and died at age 84, living just long enough to see his team play in its first World Series.
Note that the original Texas Rangers, the lawmen for whom the team (and the legendary Lone Ranger) were named, have their own Hall of Fame and Museum, in Waco. It's 100 miles south of the Dallas area, so if you want to see that, you'll need a car.
Stuff.
The Rangers have team shops throughout the Ballpark, and also in downtown Dallas and downtown Fort Worth. The usual array of caps, jerseys, T-shirts, jackets, and baseball equipment are available. Naturally, they also sell cowboy hats and foam 10-gallon hats with the Ranger logo on them.
There are DVD retrospectives of their 2010 and '11 Pennant seasons.
The Essential Games of the Texas Rangers
includes 4 games: Ryan's 7th no-hitter on May 1, 1991; the team's first postseason game, Game 1 of the 1996 AL Division Series (which remained their only postseason game won until 2010); and their 2 Pennant clinchers, both in Game 6 of an ALCS, in 2010 against the Yankees and 2011 against the Detroit Tigers.
There aren't very many books about the Rangers -- indeed, if you do a search, and don't specify the baseball team, you'll probably end up with lots of books about the lawmen. Probably the best known book about the team doesn't exactly put them in a positive light:
Seasons in Hell: With Billy Martin, Whitey Herzog and "The Worst Baseball Team in History" -- The 1973-1975 Texas Rangers
. Mike Shropshire, who covered the Rangers first for the
Star-Telegram
and then the
Morning News
, published it in 1996, at a time when the Rangers had yet to appear in a postseason game -- although 1974, when Billy (having taken over from Herzog the year before) took them to 2nd place, should have been a fun season to cover. But when you have to go to a stadium without sun protection in Texas, the long season could be pretty rough even in the best of times.
Broadcaster Nadel published
The Texas Rangers: The Authorized History
after the '96 AL West title, and the
Morning News
staff published
Believe It! Texas Rangers: 2010 American League Champions
, after they finally won a Pennant.
During the Game.
A recent
Thrillist
article on "
Baseball's Most Intolerable Fans
" ranked the Rangers 23rd -- in other words, the 8th most tolerable. If you were going to a Dallas Cowboys game, I would advise you against wearing New York Giants, Philadelphia Eagles, and especially Washington Redskins gear. Under those circumstances, the stereotypical aggression of Texans may come into to play. However, wearing Yankee gear in Globe Life Park will almost certainly get you no more than a little verbal.
And, this being a stadium, you're gonna get searched, and so is everyone else, so Texas' infamously lenient gun laws will be rendered useless. You're not going to get shot. Even J.R. Ewing wouldn't have gotten shot.
The only game of this series that is going to be a promotion is Dr. Pepper Autograph Wednesday. The Rangers hold auditions for National Anthem singers, instead of having a regular singer. They have a fight song, "Hail Hail the Rangers" -- an ironic title if you know Scottish soccer, as it's Glasgow's Celtic who use "Hail, hail!" as a slogan, not their arch-rivals, the team across called Rangers, who, like their Texas baseball and New York hockey counterparts, famously wear blue shirts. And it is with great regret, and some queasiness, that I report that the Rangers' regular song to play in the 7th inning stretch after "Take Me Out to the Ball Game" is the nauseating "Cotton Eye Joe."
Like its predecessor, Arlington Stadium, Globe Life Park offers no protection from the searing Texas heat. As a result, most home games are played at night. Until the ESPN
Sunday Night Baseball
era began, the Rangers were one of the few teams that
ever
played Sunday home games at night, a holdover from the era of "blue laws.
Like Arlington Stadium, it is a hitters' park. This is particularly true to right field, where the pole is just 325 feet away, and the upper deck appears to overhang the lower one (there's that Detroit similarity). They call their fans "Rangers Republic," as opposed to "Red Sox Nation" (or "Yankees Universe").
In 2010, the Rangers started a tradition where they had 4 girls run around on it with giant Texas State flags
when the Rangers score, similar to what many football teams do when their teams score. Speaking of football, they are also, along with the Miami Marlins, the only team in MLB that has anything resembling cheerleaders:
The Texas Rangers Six Shooters is an interactive dance squad for the Texas Rangers that perform various duties at Rangers
home games
.
The girls dance, tumble, and interact with fans.
Along with the fact that the old Arlington Stadium had been a minor-league park, the fact that the Rangers have only been around since the age of Glam Rock, and the fact that it took them 39 seasons to win their 1st Pennant, have all combined to give the Rangers, even now after 2 Pennants and 7 Playoff berths, the feel of a minor-league team -- or, to use the expression from English soccer a small club.
One good thing about the Rangers: As far as I know, they are the only MLB team that prohibits The Wave. And it's not their rule, either: It's a County law, probably instituted in the wake of that falling fan. Here's the scoreboard message:
The Rangers' mascot is "Rangers Captain," a horse dressed like a cowboy. He wears Number 72 in honor of the team's 1972 beginning. On his page on the team website, Captain's Corral, he is listed as follows: "Bats: Both. Throws: Smoke." He has also been known to "throw down" with opposing mascots, including T.C. the Minnesota Twins' bear, the Mariner Moose, and Junction Jack, the jackrabbit who used to represent the cross-State Houston Astros.
You know how the Yankees have "The Great City Subway Race"? And the Mets used to have the plane race? The Orioles have a Hot Dog race? The Nationals have the Presidents' Race? The Pirates have the Pierogi Race? The Brewers have the Sausage Race? The Rangers have the Dot Race.
The... wha-at? The Dot Race. It appears to have predated all of the preceding, although there seems to be some dispute as to who did it first, the Rangers or the Oakland A's. Originally, at Arlington Stadium, three dots -- red, green and blue -- would race around the scoreboard in the middle of the 6th inning.
Now, they have live-action racing dots. Each fan is given a coupon that has one of the 3 colors. A coupon with the winning color can be taken to a Texas store to purchase... a new car! No, just kidding, not a new car. Okay, how about a steak dinner, which would certainly fit in with Texas' image? Nope. Okay, how about a free hot dog at a ballpark concession stand? Nope. You win... a bottle of the race's sponsor, Ozarka bottled water. Oh. Joy. All that money in Texas, and that's the best they can do?
And in an apparent effort to make the Whatever They're Calling Themselves This Season Angels of Anaheim's "Rally Monkey" look mature, the Rangers have adopted the "Claw and Antlers" gesture. Utility infielder Esteban German saw a home run, and held his hands in a claw-like position. (That sounds like something to do with dexterity rather than strength.) A stolen base led German to hold his hands to his head, his fingers attempting to look like the antlers of a deer or a moose. (Now
that
sounds like it could represent strength, at least if it's a moose, though a deer can be speedy.) A foam "antlers" hat soon followed, and became a big seller. 'Scuse me while I roll my eyes.
If the Rangers win, they'll play "I Like Texas" by Pat Green as a victory song.
After the Game.
Dallas has a bit of a bad reputation when it comes to crime, but you'll be pretty far from it. Not only is the ballpark not in a bad neighborhood, it's one of those ballparks that's not in
any
neighborhood. As long as you don't make any snide remarks about the Cowboys, safety will not be an issue.
The only bars I could find that have been mentioned as catering to New Yorkers are Buffalo Joe's at 3636 Frankford Road, home of the local Giants fan club; and Humperdinks at 6050 Greenville Avenue, home of Metroplex Jets fans. Both are in north Dallas, 18 miles north and 6 miles northeast of downtown, respectively, and 26 and 23 miles northeast of the ballpark. There's also a Humperdinks at 700 Six Flags Drive, only a mile east of the ballpark, but I cannot confirm it as being particularly welcoming of New Yorkers.
The Cape Buffalo Grille, in the northern suburb of Addison, was once described as a home for local Giants fans, and as "a lifesaver for people from New York and New Jersey"; however, it has been permanently closed.
If you visit Dallas during the European soccer season, as we are now in, the best-known "football pub" in town is Trinity Hall, at 5321 E. Mockingbird Lane, just off the SMU campus. Blue Line to Mockingbird Station.
Sidelights.
Despite their new rapid-rail system, Dallas is almost entirely a car-friendly, everything-else-unfriendly city. Actually, it's not that friendly at all. It's a city for oil companies, for banks, for insurance companies, things normal Americans tend to hate. As one Houston native once put it, "Dallas is not
in
Texas."
In fact, most Texans, especially people from Fort Worth (and, to a slightly lesser extent, those from Houston) seem to think of Dallas the way the rest of America thinks of New York: They hate it, and they think that it represents all that is bad about their homeland. Until, that is, they need a win. Or money. But there are some sites that may be worth visiting.
Before there was the Texas Rangers, and before the Dallas-Fort Worth Spurs minor league team that opened Turnpike/Arlington Stadium in 1965, there were the Dallas team alternately called the Steers, the Rebels, the Eagles and the Rangers; and the Fort Worth Cats.

Dallas won Texas League (Double-A) Pennants in 1926, 1929, 1941, 1946 and 1953. They played at Burnett Field, which opened in 1924, and was abandoned after the Dallas Rangers and the Fort Worth Cats merged to become the Spurs in 1965. Currently, it's a vacant lot. 1500 E. Jefferson Blvd. at Colorado Blvd. Bus 011.

The Cats won TL Pennants in 1895, 1905, 1906, 1920, 1921, 1922, 1923, 1924, 1925, 1930, 1937, 1939 and 1948. Those 6 straight Pennants in the Twenties became a pipeline of stars for the St. Louis Cardinals, and the 1930 Pennant featured Dizzy Dean and a few other future members of the Cards' 1930s "Gashouse Gang."

The Cats played at LaGrave Field, the first version of which opened in 1900, and was replaced in 1926, again after a fire in 1949, and one more time in 2002, as a new Fort Worth Cats team began play in an independent league. 301 NE 6th Street. Trinity Railway Express to Fort Worth Intermodal Transit Center, then Number 1 bus.

From 1972 to 1993, the Rangers played at Arlington Stadium. Known for its shape and its lack of protection from the Texas sun as The Frying Pan, it was an expanded minor-league park, home to the Texas League's Dallas-Fort Worth Spurs from 1965 to 1971, expanded from an original 10,000 seats to 20,000 in 1969, to 35,000 for the Rangers' arrival in 1972 to 43,000 in 1978.
It was famous for its nachos, its scoreboard with a Texas outline, and those Dot Races. But it was not really a major league quality ballpark.
One more baseball-themed place in Texas that might interest a Yankee Fan: Due to his cancer treatments and liver transplant, Mickey Mantle, who lived in Dallas during the off-seasons and after his baseball career, spent the end of his life at the Baylor University Medical Center. 3501 Junius Street at Gaston Avenue. Bus 019.


Merlyn Mantle died in 2009, and while it can be presumed that Mickey's surviving sons, Danny and David, inherited his memorabilia, I don't know what happened to their house, which (I've been led to believe) was in a gated community and probably not accessible to the public anyway; so even if I could find the address, I wouldn't list it here. (For all I know, one or both sons may live there, and I've heard that one of them -- Danny, I think -- is a Tea Party flake, and even if he wasn't, the family shouldn't be disturbed just because you're a Yankee Fan and their father was one of the Yankees.)


If you truly wish to pay your respects to this baseball legend: Mickey, Merlyn, and their sons Mickey Jr. and Billy are laid to rest at Sparkman-Hillcrest Memorial Park Cemetery. Also buried there are oil baron H.L. Hunt, his son the AFL founder and Kansas City Chiefs owner Lamar Hunt, tennis star Maureen Connolly, Senator John Tower, Governor and Senator W. Lee "Pappy" O'Daniel, bluesman Freddie King, actress Greer Garson and Mary Kay Cosmetics founder Mary Kay Ash. 7405 West Northwest Highway at Durham Street. Red Line to Park Lane station, then 428 Bus to the cemetery.

Aside from Mantle, Texas' greatest baseball product was Tris Speaker, the all-time leader in doubles with 792 and regarded as the best defensive outfielder before Joe DiMaggio. He's buried at Fairview Cemetery in Hubbard, 73 miles south of downtown Dallas. No public transit.

As I said, AT&T Stadium, the new home of the Cowboys (opening in 2009), is close to Globe Life Park; in fact, it's 7/10ths of a mile. You could walk between them. If you don't mind losing 5 pounds of water weight in the Texas heat. The official address is 925 N. Collins Street, and the Cowboys offer tours of this Texas-sized facility, which will make the new Yankee Stadium seem sensible by comparison.
It has now hosted a Super Bowl, an NCAA Final Four (in 2014, Connecticut over Kentucky), some major prizefights and concerts (including Texas native George Strait opening the stadium with Reba McIntire, and recently holding the final show of his "farewell tour" there), and the biggest crowd ever to attend a basketball game, 108,713, at the 2010 NBA All-Star Game. While the Azteca Stadium in Mexico City hosted a larger regular-season crowd, the biggest crowd ever to see an NFL game on American soil was the first regular-season game there, the Cowboys and the Giants (Lawrence Tynes winning it for the G-Men with a last-second field goal), 105,121.


It hosts several special college football games: The annual Cotton Bowl Classic, the annual Cowboys Classic, the annual Arkansas-Texas A&M game, the Big 12 Championship, and, on January 12 of next year, it will host the first National Championship game in college football's playoff era.


Mexico's national soccer team has now played there 5 times -- the U.S. team, only once (a CONCACAF Gold Cup win over Honduras in 2013). Mexican clubs Club America and San Luis, and European giants Chelsea and Barcelona have also played there.


Don't bother looking for the former home of the Cowboys, Texas Stadium, because "the Hole Bowl" was demolished in 2010. If you must, the address was 2401 E. Airport Freeway, in Irving. The U.S. soccer team played there once, a 1991 loss to Costa Rica. The North American Soccer League's Dallas Tornado played most of its home games there, featuring native son Kyle Rote Jr., son of the SMU grad who played for the Giants in the 1950s.


The Cowboys' 1st home, from 1960 to 1970, was the Cotton Bowl, which also hosted the Cotton Bowl game from 1937 to 2009, after which it was moved to AT&T Stadium. It also hosted the original NFL version of the Dallas Texans in 1952; the AFL's Dallas Texans from 1960 to 1962, before they moved and became the Kansas City Chiefs; some (but not all) home games of Southern Methodist University between 1932 and 2000; the Tornado in their 1967 and 1968 seasons' some games of soccer's 1994 World Cup, 7 U.S. soccer games, most recently a draw to Mexico in 2004; and an Elvis concert on October 11, 1956, the 20,000 fans being his biggest crowd until he resumed touring in 1970.

But it's old, opening in 1930, and the only thing that's still held there is the annual "Red River Rivalry" game between the Universities of Texas and Oklahoma, every 1st Saturday in October, and that's only because that's the weekend when the Texas State Fair is held, as the stadium is in Fair Park. (Just look for the statue of "Big Tex" -- you can't miss him.) While it doesn't seem fair that Oklahoma's visit to play Texas should be called a "neutral site" if it's in the State of Texas, the fact remains that each school gets half the tickets, and it's actually slightly closer to OU's campus in Norman, 191 miles, than it is from UT's in Austin, 197 miles. The address is 3750 The Midway.

Next-door is the African-American Museum of Dallas. 1300 Robert B. Cullum Blvd., in the Fair Park section of south Dallas. Bus 012 or 026, or Green Line light rail to Fair Park station. Be advised that this is generally considered to be a high-crime area of Dallas.

The NBA's Dallas Mavericks and the NHL's Dallas Stars play at the American Airlines Center, or the AAC. Not to be confused with the American Airlines Arena in Miami (which was really confusing when the Mavs played the Heat in the 2006 and 2011 NBA Finals), it looks like a cross between a rodeo barn and an airplane hangar. 2500 Victory Avenue in the Victory Park neighborhood, north of downtown. Bus 052 or Green Line to Victory station.

Before the AAC opened in 2001, both teams played at the Reunion Arena. This building hosted the 1984 Republican Convention, where Ronald Reagan was nominated for a 2nd term as President. To New York Tri-State Area fans, it is probably best remembered as the place where Jason Arnott's double-overtime goal won Game 6 and gave the New Jersey Devils the 2000 Stanley Cup over the defending Champion Stars. The 1986 NCAA Final Four, won by Louisville over Duke, was held there.

It was demolished in November 2009, 5 months before Texas Stadium was imploded. The arena didn't even get to celebrate a 30th Anniversary. 777 Sports Street at Houston Viaduct, downtown, a 10-minute walk from Union Station.

The Major League Soccer club FC Dallas (formerly the Dallas Burn) play at Toyota Stadium, at 9200 World Cup Way in the suburb of Frisco. It's 28 miles up the Dallas North Tollway from downtown, so forget about any way of getting there except driving. The U.S. soccer team has played there twice, both against Guatemala, a win and a loss.

The Dallas Sportatorium was built in 1935 to host professional wrestling, burned down in 1953 (legend has it that it was arson by a rival promoter), was rebuilt as a 4,500-seat venue, and continued to host wrestling even as it was replaced by larger arenas and fell into a rat-infested, crumbling decline, before a 2001 fire (this one was likely the result of the neglect, rather than arson) finally led to its 2003 demolition. Elvis Presley sang there early in his career, on April 16, May 29, June 18 and September 3, 1955. The site is now vacant. 1000 S. Industrial Blvd. at Cadiz Street, just south of downtown.

The Dallas Memorial Auditorium opened in 1957, and hosted some Chaparrals games. The Beatles played there on September 18, 1964. Elvis sang there on November 13, 1971; June 6, 1975; and December 28, 1976. It is now part of the Kay Bailey Hutchison Convention Center, named for Texas' 1st female U.S. Senator. 650 S. Griffin Street, downtown.

Elvis also sang in Fort Worth, at the Tarrant County Convention Center, now the Fort Worth Convention Center, on June 18, 1972; June 15 and 16, 1974; and June 3 and July 3, 1976. 1201 Houston Street. A short walk from the Fort Worth Intermodal Transportation Center.

If there's 2 non-sports things the average American knows about Dallas, it's that the city is where U.S. President John F. Kennedy was assassinated on November 22, 1963, and where Ewing Oil President J.R. Ewing was shot on March 21, 1980. Elm, Main and Commerce Streets merge to go over railroad tracks near Union Station, and then go under Interstate 35E, the Stemmons Freeway – that's the "triple underpass" so often mentioned in accounts of the JFK assassination.
The former Texas School Book Depository, now named The Sixth Floor Museum at Dealey Plaza, is at the northwest corner of Elm & Houston Streets, while the "grassy knoll" is to the north of Elm, and the west of the Depository. Like Ford's Theater, where Abraham Lincoln was assassinated in 1865, and the area surrounding it in Washington, the area around Dealey Plaza is, structurally speaking, all but unchanged from the time the President in question was gunned down, an oddity in Dallas, where newer construction always seems to be happening.
John Fitzgerald Kennedy was shot in downtown Dallas and died, while John Ross Ewing Jr. was shot in downtown Dallas and lived. Where's the justice in that? J.R. was shot in his office at Ewing Oil's headquarters, which, in the memorable opening sequence of
Dallas
, was in the real-life Renaissance Tower, at 1201 Elm Street, Dallas' tallest building from 1974 to 1985. In real life, it's the headquarters for Neiman Marcus. Bank of America Plaza, on Elm at Griffith Street, is now the tallest building in Dallas, at 921 feet, although not the tallest in Texas (there's 2 in Houston that are taller).
The real Southfork Ranch is at 3700 Hogge Drive (that's pronounced "Hoag") in Parker, 28 miles northeast of the city. (Again, you'll need a car.) It's not nearly as old as the Ewing family's fictional history would suggest: It was built in 1970. It's now a conference center, and like the replica of the Ponderosa Ranch that Lorne Greene had built to look like his TV home on
Bonanza
, it is designed to resemble the Ewing family home as seen on both the original 1978-91 series and the 2012-present revival. It is open to tours, for an admission fee of $9.50.
In addition to the preceding locations, Elvis sang in North Texas:
* At the Carthage Milling Company in Carthage, 160 miles southeast of downtown Dallas, on November 12, 1955 (the night of the dance in
Back to the Future
).
* At the high school gymnasium in DeKalb, 150 miles northeast, on March 4, 1955.
* At Owl Park in Gainesville, 70 miles north, on Apirl 14, 1955.
* In Gilmer, 125 miles east, at the Rural Electrification Administration Building on January 26, 1955, and at Trinity High School on September 26, 1955.
* In Gladewater, 120 miles east, at the Mint Club on November 23 and Dcember 24, 1954, the high school gym on April 30 and November 19, 1955, and at the baseball park on August 10, 1955.
* The City Auditorium in Greenville, 50 miles northeast, on October 5, 1955.
* In Hawkins, 110 miles east, at the high school on December 20, 1954 and the Humble Oil Company Camp on January 24, 1955.
* In Henderson, 140 miles southeast, at the Rodeo Arena on August 9, 1955.
* In Joinerville, 130 miles southeast, at Gaston High School on January 28, 1955.
* At Driller Park in Kilgore, 120 miles east, on August 12, 1955.
* At the Reo Palm Isle Club in Longview, 130 miles east, on January 27, March 31, August 11 and November 18, 1955.
* At the American Legion Hall in Mount Pleasant, 120 miles northeast, on December 31, 1954.
* In New Boston, 150 miles northeast, at the Red River Arsenal on December 31, 1954, and at the high school, first at the gym on January 11, 1955, and then at the football stadium on June 6, 1955.
* At the Boys Club Gymnasium in Paris, 100 miles northeast, on October 4, 1955.
* At the Recreation Hall in Stephenville, 100 miles southwest, on July 4, 1955.
* At the Mayfair Building in Tyler, 100 miles southeast, on January 25, May 23 and August 8, 1955.
* At the Heart O Texas Coliseum (now the Extraco Events Center) in Waco, 100 miles south, on April 23, 1955, and April 17 and October 12, 1956.
* And in Wichita Falls, 140 miles northwest, at the M-B Corral on April 25, 1955, at Spudder Park on August 22, 1956, and at the Memorial Auditorium on January 19 and April 9, 1956.
Dallas values bigness, but unless you count Southfork and Dealey Plaza, it isn't big on museums. The best known is the Dallas Museum of Art, downtown at 1717 N. Harwood Street at Flora Street. Nearby is the Perot Museum of Nature and Science, named for ol' H. Ross himself, at 2201 N. Field Street at Broom Street.


The Dallas area is also home to 2 major football-playing colleges: Southern Methodist University in north Dallas, which, as alma mater of Laura Bush, was chosen as the site of the George W. Bush Presidential Library (now open); and Texas Christian University in Fort Worth.

SMU played at Ownby Stadium (when not playing at the Cotton Bowl) from 1926 to 1998. The Dallas Tornado of the old North American Soccer League also played there from 1976 to 1979. It was demolished, and replaced with the 32,000-seat Gerald F. Ford stadium. (No relation to the 1974-77 President who'd been a star center on the University of Michigan football team, this Gerald Ford is a billionaire banker who gave $42 million of his own money to build it.) 5800 Ownby Drive.

The Bush Library is at 2943 SMU Blvd. & North Central Expressway, a 5-minute walk from Ford Stadium, Moody Coliseum, and the university bookstore, which, like so many university bookstores, is a Barnes & Noble (not named for Dallas character Cliff Barnes).

SMU is also home to Moody Coliseum, home court of their basketball team. The Dallas Chaparrals played ABA games there from 1967 until 1973, when they became the San Antonio Spurs. 6024 Airline Road. All SMU locations can be accessed by the Blue or Red Line to Mockingbird Station.

SMU has produced players like Doak Walker, Forrest Gregg, Dandy Don Meredith, and the "Pony Express" backfield of Eric Dickerson and Craig James (both now TV-network studio analysts), while TCU has produced Slingin' Sammy Baugh, Jim Swink and Bob Lilly. Both schools have had their highs and their lows, and following their 1987 "death penalty" (for committing recruiting violations while already on probation), and their return to play in 1989 under Gregg as coach, SMU are now what college basketball fans would call a "mid-major" school. Ironically, TCU, normally the less lucky of the schools, seriously challenged for the 2009 and 2010 National Championships, but their own "mid-major" schedule doomed them in that regard. TCU's Amon G. Carter Stadium hosted the U.S. soccer team's 1988 loss to Ecuador.

Aside from Dallas, TV shows that have shot in, or been set in, the Dallas area include Walker, Texas Ranger, Prison Break, the new series Queen of the South (based on a Mexican telenovela), and the ridiculous, short-lived ABC nighttime soap GCB (which stood for "Good Christian Bitches").

Movies about, or involving, the JFK assassination usually have to shoot in Dallas: The 1983 NBC miniseries Kennedy with Martin Sheen, JFK, Love Field, Ruby, Watchmen, LBJ (with Bryan Cranston as the Texan who succeeded him), and the Hulu series 11/22/63, based on Stephen King's fantasy novel.

Other movies shot in the city include the 1962 version of State Fair, Bonnie and Clyde, Mars Needs Women, Logan's Run, The Lathe of Heaven, Silkwood, Tender Mercies, Places in the Heart, The Trip to Bountiful, Born on the Fourth of July, Problem Child, My Heroes Have Always Been Cowboys (not about the football team), The Apostle, Boys Don't Cry, Dallas Buyers Club, the football films Necessary Roughness and Any Given Sunday, and, of course, the porno classic Debbie Does Dallas. However, it might surprise you to know that RoboCop, which was set in a Detroit that was purported to be in a near future when the city was even worse than it then was in real life, was filmed in Dallas. What does that say about Dallas? (To me, it says, "This is another reason why Dallas sucks.")

*

Texas is a weird place, and the Dallas-Fort Worth Metroplex is no exception. But it's a pretty good area for sports, and it even seems to have finally embraced baseball as something more than something to do between football seasons.


If you can afford it, go, and help your fellow Yankee Fans make the Rangers feel like they're in Yankee Stadium. After all, as I've said before, RANGERS SUCK! Especially when they wear blue shirts. Whatever the sport, whatever the country, the only Ranger in a blue shirt who doesn't suck is the Lone Ranger! (And in the new movie, even he didn't wear a blue shirt. But then, the movie tanked, just like the last Lone Ranger movie did, in 1981.)

But remember to avoid using the oft-heard phrase "Dallas sucks." In this case, keep the truth to yourself!