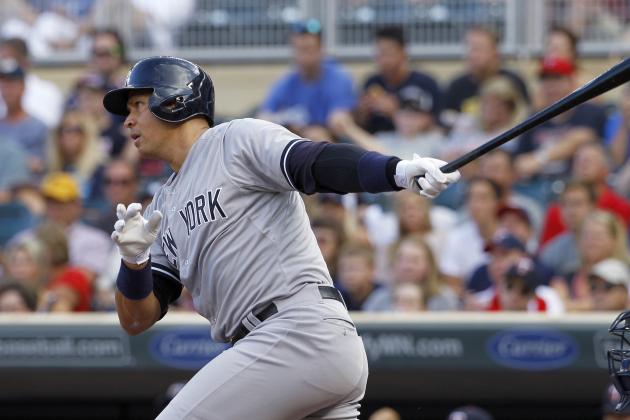 Last night's game between the Yankees and the Minnesota Twins at Target Field in Minneapolis was looking as bad as the previous night's game. In that one, the Twins jumped out to a 5-0 lead after 4 innings, winning 10-1.
This time, the Twins jumped out to a 5-0 lead after 3 innings, as CC Sabathia again looked like an old pitcher.
But this time, the Yankees started clawing back sooner. Alex Rodriguez hit a home run in the 4th inning to make it 5-1 Minnesota.
In the 7th, Chris Young doubled, and A-Rod hit another homer. This was followed by a Mark Teixeira double, a Carlos Beltran lineout that got Teix to 3rd, and another lineout by Chase Headley that got Teix home. That made it 5-4.
The Yankees went into the 9th inning still losing. Thus far, they were 0-37 when trailing after 8 innings.
A-Rod led off the 9th, and did it again. Three home runs in one game. This made him the 5th-oldest player ever to do that. And it gave him 23 homers on the season, and 677 for his career -- putting him 23 short of 700, 37 behind Babe Ruth at 714, 78 behind Hank Aaron at 755, and 85 behind Barry Bonds at 762, And it tied the game.
Then Teix singled. Beltran grounded into a force play, eliminating Teix but getting himself to 1st. Headley singled Beltran over to 3rd. And John Ryan Murphy, hardly the kind of guy you would expect even to hit a sacrifice fly to get the go-ahead run home from 3rd with less than 2 out, crushed a pitch into the seats in right-center field. His 1st home run of the season, capping a tremendous comeback.
What could go wrong for the Twins, did. Murphy's Law.
Yankees 8, Twins 5. WP: Adam Warren (6-5). SV: Andrew Miller (23). LP: Glen Perkins (0-2).
The series concludes this afternoon. Nathan Eovaldi starts against Kyle Gibson.
*
Cole Hamels pitched a no-hitter last night. If that was his last start with the Philadelphia Phillies, it's a hell of a way to go out.
It was also the first no-hitter pitched against the Chicago Cubs in almost 50 years -- since Sandy Koufax's perfect game on September 9, 1965.
This does not mean the Yankees should trade for Hamels before the trade deadline this Friday. Considering how much Hamels has struggled since the Phils' 2008 World Series win, this could well be the pitching equivalent of "death throes." After all, David Cone struggled a lot after his 1999 perfect game. So has The Great Johan Santana since his 2012 "no-hitter."