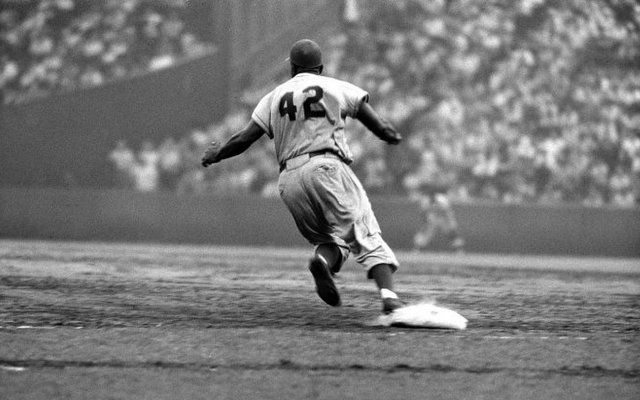 According to my details page, this is my 2,000th post. A good time for a landmark piece.
Here, I sum up my "Best Athletes By Uniform Number" series. If you disagree, there is a comments section.
Golf is not a sport, so don't expect to see Jack Nicklaus, Tiger Woods, or any other Masters leader get the Number 1.
Auto racing is not a sport, so, if you're looking to see 3 for Dale Earnhardt Sr. or 43 for Richard Petty, just get the hell out of here right now.
0 Al Oliver
00 Jim Otto
1 Terry Sawchuk
2 Secretariat. Wore it on his silks at the 1973 Belmont Stakes. Setting records in all 3 Triple Crown races. Winning the last by 31 lengths. I think even Derek Jeter would have to concede this was a greater performance than he ever gave -- if not quite in New York City. (Belmont Park is just over the City Line in Elmont, Long Island.)
3 Babe Ruth
4 Bobby Orr. Lou Gehrig was one of the greatest players ever in his sport, but Orr was one of the greatest and one of the most important players ever in his.
5 Joe DiMaggio. Ahead of Franz Beckenbauer.
6 Bill Russell. Ahead of Stan Musial, Julius Erving, Toe Blake and Bobby Moore -- so this was closer than it might seem at first.
7 Mickey Mantle. Ahead of anybody who ever wore it for Manchester United. Or Real Madrid.
8 Yogi Berra
9 Gordie Howe. Ahead of Ted Williams and any soccer striker.
10
Pelé
11 Norm Van Brocklin. Don't tell me Mark Messier led the New York Rangers to a title: Van Brocklin led the Philadelphia Eagles to one. And it's now been more than 54 years since that happened.
12 Terry Bradshaw. 4 rings honestly beats 4 rings from cheating -- and any 1 ring, no matter how significant. So, sorry, Joe Namath; not sorry, Tom Brady.
13 Wilt Chamberlain
14 Don Hutson
15 Steve Van Buren
16 Joe Montana
17 Dizzy Dean
18 Peyton Manning
19 Johnny Unitas
20 Barry Sanders
21 Roberto Clemente. A tough call ahead of Zinedine Zidane.
22 Emmitt Smith
23 Michael Jordan
24 Willie Mays
25 Gianfranco Zola
26 Peter Stastny
27 Frank Mahovlich
28 Walter Johnson
29 Ken Dryden
30 Martin Brodeur
31 Billy Smith
32 Jim Brown. A tough call ahead of Sandy Koufax and Magic Johnson.
33 Kareem Abdul-Jabbar. A tough call ahead of Sammy Baugh.
34 Walter Payton
35 Mike Richter
36 Jerome Bettis
37 Doak Walker
38 Curt Schilling
39 Roy Campanella
40 Gale Sayers
41 Roger Bannister. Wore it when he broke the 4-minute mile.
42 Jackie Robinson. This time, the importance carries him ahead of Mariano Rivera, Sid Luckman and James Worthy.
43 Tris Speaker
44 Hank Aaron. A tough call ahead of Jerry West.
45 Bob Gibson
46 Andy Pettitte
47 Tom Glavine
48 Torii Hunter
49 Hoyt Wilhelm
50 David Robinson. I considered Rebecca Lobo. I do have one female athlete on this list, but she's not from a sport you usually think of as having uniform numbers.
51 Dick Butkus. Both better and meaner in his sport than Randy Johnson was in his.
52 Ray Lewis
53 Don Drysdale
54 Goose Gossage
55 Hideki Matsui. Ahead of Junior Seau -- the only Asian native on this list beating out another ethnic Asian.
56 Lawrence Taylor
57 Dwight Stephenson
58 Jack Lambert
59 Jack Ham
60 Chuck Bednarik
61 Bill George
62 Jim Langer
63 Willie Lanier
64 Jerry Kramer
65 Elvin Bethea
66 Ray Nitschke. Ahead of Mario Lemieux. 5 titles to 2. And did Lemieux win a championship when it was 55 degrees below zero? No -- even though he actually played on ice.
67 Bob Kuechenberg
68 Jaromir Jagr
69 Bixente Lizarazu
70 Sam Huff
71 Alex Karras
72 Carlton Fisk
73 Nadia Comaneci. Wore it when she scored 7 perfect 10s at the 1976 Olympics.
74 Merlin Olsen
75 Mean Joe Greene
76 Marion Motley
77 Red Grange
78 Anthony Munoz
79 Roosevelt Brown
80 Jerry Rice. Ahead of Ronaldinho, who wore it at AC Milan because his usual 10 wasn't available.
81 Night Train Lane
82 Raymond Berry
83 Ted Hendricks
84 Randy Moss
85 Jack Youngblood
86 Buck Buchanan
87 Willie Davis. Way ahead of Sidney Crosby.
88 Lynn Swann
89 Mike Ditka
90 Julius Peppers
91 Sergei Fedorov
92 Reggie White
93 Doug Gilmour
94 Charles Haley
95 Richard Dent
96 Cortez Kennedy
97 Bryant Young
98 Jason Collins
99 Wayne Gretzky. Ahead of the Brazilian Ronaldo, who wore it at AC Milan because his usual 9 wasn't available.
*
Of these 101 performers,
40 are black,
2 Hispanic,
1 Asian. 99 are male, 1 female. 99 are human, 1 animal.
83 are Americans, 8 Canadians, 1 Puerto Rican, 1 Brazilian, 1 Englishman, 1 Frenchman, 1 Italian, 1 Czech, 1 Slovak, 1 Romanian, 1 Russian, 1 Japanese.
71 are currently living, 30 dead.
By the nature of uniform numbers, it makes sense that football leads the list: 53 football, 23 baseball, 13 hockey, 6 basketball, 3 soccer, 1 track & field, 1 gymnastics, 1 horse racing.
Cities? Remember, it's the numbers that these cities represent, not the player's entire career, although each could represent more than one city (thus, these add up to more than 101): 21 for New York, 11 Chicago, 9 Los Angeles, 8 San Francisco Bay Area, 8 Pittsburgh, 7 Detroit, 7 Milwaukee/Green Bay, 6 Philadelphia, 5 Boston, 5 Baltimore, 4 Dallas; 3 each for Washington, Cleveland, Miami and Atlanta; 2 each for Minneapolis, St. Louis, Kansas City, Houston and Toronto; and 1 each for Cincinnati, Indianapolis, San Diego, Seattle, Charlotte, San Antonio, Denver, Phoenix, Quebec City, Montreal and Edmonton.
2 had their best years in the 1910s, 3 in the 1920s, 1 in the 1930s, 4 in the 1940s, 13 in the 1950s, 15 in the 1960s, 25 in the 1970s, 12 in the 1980s, 16 in the 1990s, 11 in the 2000s, and none so far in the 2010s.