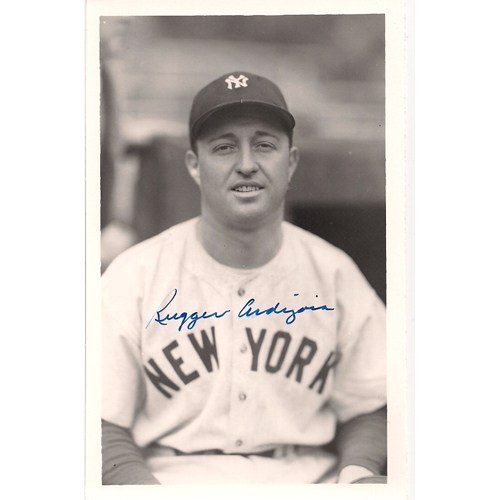 Unless you live in or around San Francisco, you may never have heard of Rugger Ardizoia. That's understandable. He only appeared in 1 Major League Baseball game. But that's 1 more than most of us will ever appear in.
Rinaldo Joseph Ardizoia was born on November 20, 1919, in Oleggio, Novara, in the Italian Alps, making him, to date, the last of the 7 MLB players to have been born in Italy. His family -- possibly to escape the rise of Benito Mussolini and his Fascist Party -- came to America, and settled in San Francisco, which had a large Italian community that included future Yankees Joe DiMaggio, Tony Lazzeri and Frank Crosetti.
He became one of the San Francisco Bay Area's top pitchers. In 1937, just after graduating from Commerce High School, he signed with the Mission Reds of the Pacific Coast League. They were never popular, indeed they were never the most popular team in their own ballpark. From 1926 to 1937, first at Recreation Park and then from 1931 at Seals Stadium, they shared a home with the city's more established team, the San Francisco Seals. And they never replaced the Oakland Oaks, across the Bay, as the Seals' main rivals. He only made 9 appearances for the Reds, but it was enough to make him their last living former player.
In 1938, the Reds were moved to Los Angeles, where they became the Hollywood Stars. After a year pitching in Bellingham, Washington, "Rugger" (his friends thought he tended to do "rugged" things) for them in 1939 and 1940. Described as a husky righthander with a good fastball and a cool temper, he went 14-9 for a good Stars team in '39, and 14-20 for a much lesser one in '40.
But he impressed the Yankee scouts, and they signed him for the 1941 season. He pitched 3 games for the Newark Bears in 1941, before being sent to the Kansas City Blues. He was 22 years old, and seemed headed for the major leagues, until World War II took him away. He served in the U.S. Army Air Force, and pitched on the 7th Air Force team -- making him a teammate of DiMaggio's for the first time. He was also a teammate of Charlie Silvera, although he wouldn't reach the majors until after the Yankees traded Rugger.
After The War, the Yankees sent Rugger back home, and he pitched the 1946 season in Oakland, where the Oaks' manager was Casey Stengel. He went 15-7, and that convinced the Yankees to invite him to their major-league spring training in 1947.
On April 27, he was with the Yankees, wearing Number 14, awaiting his chance for a big-league debut, when Babe Ruth Day was held at Yankee Stadium. When Ruth was introduced, he tried to step out of the dugout, but, stricken with cancer, he stumbled. Rugger helped him up, and the Babe said, "Jeez, thanks a lot, kid." Rugger said, "Okay, Babe." Ruth was notorious for forgetting names, but, that November, Rugger got a signed birthday card from him.
On April 30, 1947, at age 27, Rugger finally made his big-league debut, against the St. Louis Browns at Sportsman's Park in St. Louis. He was now a major league teammate of DiMaggio's, as well as fellow Italians Phil Rizzuto (from Queens) and rookie Yogi Berra (from St. Louis). The game was a lost cause, as the Browns pounded Allie Reynolds, who didn't get out of the 3rd inning, so the Yankees didn't have anything further to lose by putting a rookie in the game.
Rugger came in to pitch the bottom of the 7th inning. The first batter he faced was catcher Jake Early, who smacked a double. Opposing pitcher Denny Galehouse bunted him over to 3rd. But he got Bob Dillinger and Al Zarilla out to end the threat.
He was left in to pitch the bottom of the 8th. Vern Stephens and Jeff Heath, both of whom had hit home runs earlier in the game, hit back-to-back singles. Jerry Witte grounded into a double play, but Stephens still scored. Then Wally Judnich hit his 2nd homer of the game. Johnny Berardino, later better known as soap opera actor John Beradino (notice the dropped R), drew a walk. But Rugger got Early out to end the inning.
It was 13-4 Browns when Rugger came in, and 15-5 at the end. The only real bright spot for the Yankees was a homer by 1st baseman George McQuinn, against his former club, whom he'd helped win their only Pennant in 1944.
Whatever Rugger had done to impress the Yankees in the minors, he soon found himself back there. The Yankees traded him to the Chicago White Sox, and, rather, than keep him at the big-league level -- certainly, the South Siders needed pitching at that point -- they sent him back to the Hollywood Stars, now their farm team. The Yankees won the World Series in 1947, but Rugger didn't appear on the World Series roster, and didn't get a World Series ring.
He pitched for the Stars, the PCL's Seattle Rainiers, and the Dallas Eagles of the Texas League, until 1951, throwing his last professional pitch at age 31. His minor league record, nearly all of it at the Triple-A level, was 123-115, with a 3.63 ERA. As a major leaguer? 0-0, ERA of 9.00.
Most likely, he was a victim of the locked-in system of 16 MLB teams, 8 in each League. In the expansion era, with more teams and more opportunities, he might have had a nice big-league career.
He stayed in San Francisco, with his wife Mary and 2 children, and became a linen salesman. He continued to pitch in semipro ball until he was 61. He watched the Giants, who moved to San Francisco in 1958, and kept in touch with his old teammates from coast to coast. He detested modern baseball, with its facial hair, tattoos, and umpires who seemed to decide where the strike zone was instead of enforcing it like in the rule book. But he appreciated the Yankees' clean-shaven look.
Notice the Mission Reds cap.
Rinaldo "Rugger" Ardizoia died this past Sunday, following a stroke, in his hometown of San Francisco. He was 95 years old, and had been the oldest living ex-Yankee. According to
a recent New York Times article
, he had lived in the same house since 1940, had used the same rotary-dial telephone since 1942, and still got around the house, albeit with a walker.
With his death, the oldest living ex-Yankee is now Eddie Robinson, 94, a 1st baseman from Paris, Texas, who played in the majors from 1942 to 1957. He was a 4-time All-Star before coming to the Yankees, and had won the World Series with the Cleveland Indians in 1948 -- he is the last living player from the last Indians title. He is also the oldest living former Detroit Tiger, and a former general manager of the Atlanta Braves and Texas Rangers. He played for all but 1 of the AL's original 8 teams, the Boston Red Sox, and he "completed the circuit" as a scout for them, his last job in baseball. Silvera is a few weeks younger than Robinson.
The oldest living major leaguer is Mike Sandlock, a catcher who played 195 games for the Boston Braves, Brooklyn Dodgers and Pittsburgh Pirates from 1942 to 1953. If he makes it to this coming October 17, he'll be 100 years old.