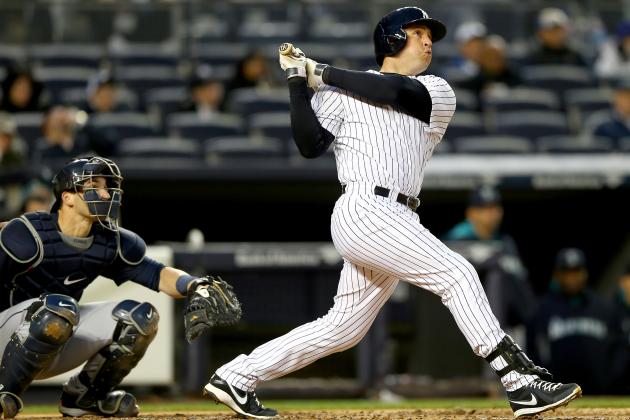 The Yankees concluded their home series with the Seattle Mariners with a 2-1 win, their 50th win of the season against 41 losses, a pace for 89 wins. That's usually not enough to win the American League Eastern Division, but, this year, it might be.
At first it looked like one of
those
games, with the Mariners scoring a run off CC Sabathia in the 5th inning, and keeping that 1-0 lead into the bottom of the 6th. CC pitched very well, going 6 innings, allowing 1 run on 6 hits and 1 walk, striking out 7. Robinson Cano, the ex-Yankee who hit 2 home runs the day before, couldn't touch the Yankees this time, going 0-for-3. But another ex-Yankee, Austin Jackson, sent to the Detroit Tigers in the Curtis Granderson trade, singled home the run.
"King" Felix Hernandez was equal to the task, and the Yankees got next to nothing off him for 5 innings. But Brett Gardner led off the bottom of the 6th with a walk. Those leadoff walks are trouble, and, this time, it was trouble in our favor.
Hernandez struck out Alex Rodriguez, but Mark Teixeira singled. Hernandez struck out Brian McCann, and gloom settled over Yankee Stadium again. But Carlos Beltran -- yes, Beltran -- singled Gardy home.
Justin Wilson relieved CC in the 7th, and worked out of a jam he'd gotten himself into. Dellin Betances looked a little shaky in the 8th, but he didn't allow a run, either.
Mariner manager Lloyd McClendon made a mistake, relieving "King" Felix with ex-Yankee Vidal Nuno. Then, after Nuno eliminated all 4 batters he'd faced, McClendon pulled him for Fernando Rodney. After Rodney got the 2nd out in the bottom of the 8th, he hung a pitch to Teixeira. Boom: Teix Message down the right field line, his 23rd homer of the season. Also the 386th of his career, passing Dwight Evans on the all-time list.
Andrew Miller pitched a perfect 9th. Yankees 2, Mariners 1. WP: Betances (6-2). SV: Miller (20). LP: Rodney (2-4).
*
The Yankees aren't doing great, but they're doing fine, fine enough to lead the AL East on July 21.
Even Lisa Swan from Subway Squawkers, the most pessimistic Yankee Fan you could ever meet, is
getting a little optimistic
. (One of the reasons she's so pessimistic is that, like me, she grew up in the 1980s, the worst Yankee decade since the 1910s. So it's odd that the Yankees celebrated the 1980s in that photo. One of these days, I'm going to have to do that piece on how much the Eighties stunk.)
With the clutch hits the Yankees are getting, they're starting to remind me of the 2009 team that was looser than any Yankee team in recent memory, and seemed to get a walkoff, or at least a late go-ahead, hit every night.
And they were loose, with Derek Jeter, who could have been called Captain Coporate, allowing the team's personalities to fly, especially with then-newcomers CC, Teix, Nick Swisher and A.J. Burnett.
It's only been 6 seasons, but there's only 4 players left from that team: CC, Teix, Gardy and A-Rod. And, without Jeter around, A-Rod has loosened up a bit, allowing him to hit better -- which has allowed Teix to hit better, with A-Rod as "protection."
It's been said that the worst advice you can give some people is "be yourself." Well, without Jeter, A-Rod is a whole lot better off being himself.
The contending Baltimore Orioles, managed by ex-Yankee manager Buck Showalter, come in next.