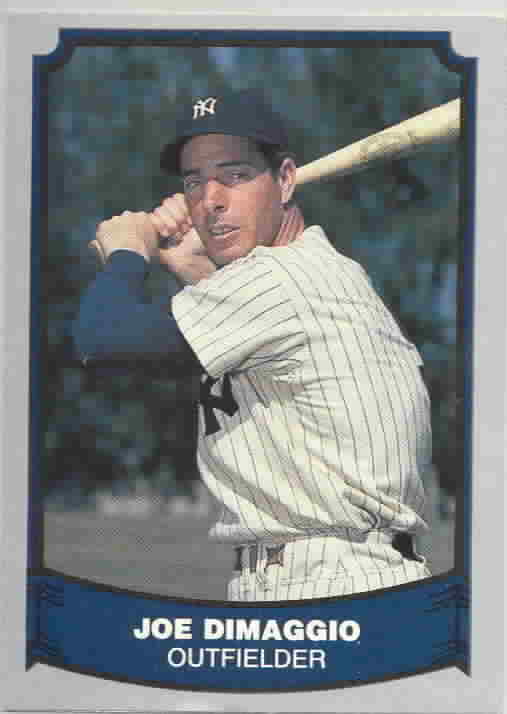 November 25, 1914, 100 years ago today:
Giuseppe Paolo DiMaggio Jr. is born in Martinez, California. With his name anglicized to Joseph Paul DiMaggio, he grew up in nearby San Francisco.
From 1936 to 1951 -- except from 1943 to 1945, when he was in the U.S. Army Air Force, serving in World War II -- he played center field for the New York Yankees. In his 13 seasons, he made the All-Star Game every year, won 10 Pennants and 9 World Championships. His older brother Vince and his younger brother Dom were also All-Star major league outfielders.
Since his death on March 8, 1999, Joe's reputation has taken a beating, for his rudeness, for his cheapness, for his treatment of his wives (actresses Dorothy Arnold and, later, Marilyn Monroe), for his apparent association with organized crime figures, and for his ego, insisting upon being introduced as what a 1969 poll chose him as: "Baseball's Greatest Living Player."
But for an entire generation of fans, the ones who grew up in the Great Depression of the 1930s (and thus did not see Babe Ruth, or see Lou Gehrig at his best), and went off to World War II in the 1940s, he was The Guy.
"Joe DiMaggio played his last game in 1951. I was born in 1952. And my father, and every guy I ever met in my father's generation, said the same thing: 'Willie Mays? Great. Mickey Mantle? Hit the ball out of sight. You never saw DiMaggio, kid. You never saw the real thing.'"
-- Bob Costas
In 1967, Paul Simon, also a native New Yorker (born in Newark but grew up in Forest Hills, Queens) and similarly short, tried to address the turbulence of the times by thinking of someone who represented reliability, someone who could be counted on.
He made his choice in the song "Mrs. Robinson":
Where have you gone, Joe DiMaggio?
A nation turns its lonely eyes to you.
Woo woo woo.
What's that you say, Mrs. Robinson?
Joltin' Joe has left and gone away.
Hey hey hey.
Hey hey hey.
My generation, the generation of the children of the one that produced Costas and Simon, knew DiMaggio as an old Yankee coming out of the dugout on Old-Timers' Day in a navy blue suit (or, if you're a little older, maybe an updated version of his old Number 5 Yankee uniform), or as the commercial spokesman for
Mr. Coffee coffeemakers
and The Bowery Savings Bank of New York. (Subsequent buyouts have The Bowery's assets under the ownership of Capital One Bank. I'm not sure whether Joe would have liked those ads with the Vikings -- or are they Visigoths? or Huns? -- but my mother says she can definitely see Joe asking the Capital One tagline: "What's in YOUR wallet?")
And yet, in 1999, right after his death,
The Sporting News
ignored the fact that Joe played only 13 seasons (missing 3 due to The War and maybe 3 more due to an early retirement due to injury), and selected him at Number 11 on their list of the 100 Greatest Baseball Players -- not first among the then-living, trailing Stan Musial, Ted Williams, Hank Aaron and Mays, who was Number 2 overall behind Babe Ruth.
And, in fan balloting done by MasterCard, baseball fans of all generations -- including those who, like me, had never seen him play, this nearly half a century after his last game -- voted him to the Major League Baseball All-Century Team. He finished 5th among outfielders, behind Ruth, Aaron, Williams and Mays, and right ahead of Mantle, generally considered the most popular (if not necessarily the greatest) of the following era.
This is a repeat of a piece I did on the 75th Anniversary of his major league debut, on May 3, 1936, at the original Yankee Stadium. He started the season late due to injury. The Yankees beat the St. Louis Browns 14-5, and Joe went 3-for-6. Only 25,000 fans came out, despite Joe having already been about as hyped as a rookie could be in those radio and newsreel, pre-TV, pre-ESPN, pre-Internet days. If they only knew.
Top 10 Joe DiMaggio Moments
Honorable Mention. Date unknown, 1943, 1944 or 1945
, and the story may be apocryphal, so I can't count it in the Top 10, but I do have to mention it. Joe served in the Army Air Force (forerunner of the U.S. Air Force) during World War II, although not in combat. He also played for a USAAF baseball team, and supposedly it played a Marine Corps team that featured Chicago White Sox pitcher Ted Lyons, a fellow future Hall-of-Famer. Seeing Joe, Lyons allegedly said, "I enlisted to get away from DiMaggio, and now here he is!" As I said, the story may be apocryphal, and, as a result, I have no record of what happened when they faced each other in this wartime game.
10. January 14, 1954.
Joe marries Marilyn. It didn't last the year. But when the most popular living athlete married one of the biggest (and still very much rising) actresses in the world, it sent the popularity, and indeed the legacy, of each soaring. Even though Joe's entire career was done before they met, and Marilyn's best work probably came after they divorced, it is now hard to think of either without the subject of the other coming up.
And unlike a lot of people who knew Marilyn (or say they knew her well), Joe never cashed in on her reputation. His own, sure: He made more money in a year on the memorabilia circuit than in his entire career (though he was the 2nd ballplayer, after Hank Greenberg, to get paid $100,000 a season). But if someone gave him a picture of Marilyn to sign, even if he was also in the picture, he would refuse, maybe even get up and leave. Right after Joe died, comedian Bill Maher, who normally enjoys lasciviousness, said he wanted salute Joe, "for living to be 84 years old, and never writing a book about banging Marilyn Monroe."
9. October 8, 1939.
Game 4 of the World Series. The Yankees were readying a sweep of the Cincinnati Reds. In the top of the 10th inning, Joe got a hit, and Reds outfielder Ival Goodman bobbled the ball. Charlie Keller came around to score, and he crashed into the Reds' future Hall of Fame catcher, Ernie Lombardi. Lombardi was stunned, and lost the ball for a few seconds. Seeing this, Bill Dickey, the on-deck hitter, yelled for Joe to try to come all the way around and score as well.
On the film -- which doesn't make the Keller-Lombardi collision look all that bad, but apparently Keller, not sliding, had kneed Lombardi in the groin -- Dickey can be seen gesturing for Joe to slide. Whatever he was yelling, it apparently "woke up" Lombardi, who finally grabbed the ball, and moved to tag Joe, who executed a perfect hook slide, throwing his entire body away from the plate, except his right foot, which just sort of brushed the plate. The run meant nothing, as Keller had already scored the go-ahead run. But it was still the best slide I've ever seen.
8. August 8, 1941.
Following the streak, a song commemorating it, titled "
Joltin' Joe DiMaggio
" was written by Alan Courtney (words) and Ben Homer (music), and recorded on this date by Les Brown & His Band of Renown (one of the most popular of the "Big Bands"), with Betty Bonney singing lead. It's not a great song, but it's a great baseball song.
7. October 3, 1937.
The Yankees beat the Red Sox, 6-1 at the old Yankee Stadium, and Joe completes perhaps the best season any righthanded hitter has ever had for the Yankees. He batted .346, had 215 hits, 35 doubles, 15 triples, 46 home runs (a record for Yankee righthanders until 2005), and 167 RBIs (a record for Yankee righthanders that still stands). His OPS+ was 166 -- and as amazing as that was, he didn't even lead the team: Lou Gehrig had a 176! And the Yanks went on to beat the Giants in the World Series.
And, by the way, he was still a few weeks away from turning 23 years old.
6. September 30, 1939.
Again, the Yankees close the season with a game with the Red Sox, only this time, they lose, 4-2. It doesn't matter: In the season that concluded with the aforementioned incident with Ernie Lombardi, the Yankees lost 1st baseman and Captain Gehrig to a fatal illness, yet still won 106 games, the most they (or any of the New York teams) would win between 1927 and 1961.
This was because the leadership slack was picked up by catcher Bill Dickey (Gehrig's best friend on the team served as a kind of unofficial captain thereafter), and the hitting slack was picked up by DiMaggio, whose .381 batting average that season remains the 2nd-highest in Yankee history, behind Babe Ruth's .393 in 1923; no player for any New York team (Yankees, Dodgers, Giants or Mets) has topped it since. This was also the 1st of Joe's 2 batting titles and the 1st of his 3 Most Valuable Player awards. And he wasn't yet 25.
5. October 5, 1950.
Game 2 of the World Series. Robin Roberts, exhausted from so much pitching down the stretch, has gone 9 innings for the Philadelphia Phillies. But, having thrown Roberts out for the regular-season finale just 3 days earlier, and having desperately started his usual reliever, Jim Konstanty, in Game 1 (it almost worked, the Yanks won, 1-0), Phils manager Eddie Sawyer sends Roberts out for the 10th inning.
DiMaggio takes advantage of the valiant Roberts' fatigue and sends a home run into the long bleachers that extended from left to center field at Shibe Park (later known as Connie Mack Stadium), to give the Yanks a 2-1 win and a 2-0 lead in the Series. The Yanks completed the sweep 2 days later.
4. July 2, 1941.
When Joe started his hitting streak on May 15, the Yankees were .500, 14-14, and in 4th place, 5 1/2 games behind the League-leading Cleveland Indians. Having surpassed the American League record of 41 straight games set by George Sisler in 1922, and having tied the overall major league mark of 44 set by Willie Keeler in 1897, Joe walked onto the field at a broiling hot Yankee Stadium (95 degrees), and the Yanks were 45-26, .634, 3 games ahead of the Indians.
The Yanks' opponents that day were the Boston Red Sox, in 3rd place, 8 games back, and it didn't matter that the Sox' Ted Williams was batting .401 and Joe "only" .348: Anybody who thinks that Ted was "robbed" of the MVP that year is an idiot. Even if the award were for "Most Outstanding" rather than "Most Valuable," Ted might not have deserved it.
Joe hit a 3-run homer off Sox starter Dick Newsome, to give him the record of 45 straight, eventually reaching 56 straight. Lefty Gomez, the Yanks' Hall of Fame pitcher and Joe's best friend on the team, who not only started this game but also the last one in which Joe didn't get a hit, told him, "You not only broke Keeler's record, but you did it by following his advice: You hit 'em where they ain't!" Oh yeah, the Yanks won the game, 8-4.
3. June 28, 29 & 30, 1949.
Joe missed the 1st 2 months of the season with bone spurs in his heel. Then, one day, he got out of bed, put his weight on his foot, and felt no pain. He played in an exhibition game against the cross-river New York Giants, and felt no pain. He traveled with the team to Boston to play the Red Sox.
In the 1st game of the series, he went 2-for-3 with a home run. In the 2nd game, he went 2-for-4, both hits being home runs, and 4 RBIs. In the 3rd game, a plane flew overhead, trailing a banner that read, "THE GREAT DIMAGGIO." Now, Joe's younger brother Dom was the center fielder for the Red Sox, but he was just a really good DiMaggio. The Great DiMaggio helped the Yankees complete the sweep of the Sox by going 1-for-3 with a 3-run homer.
Three games, 5-for-10, 4 homers, 8 RBIs. Remember, he hadn't played at all until that series started. He ended up playing in just 76 games, but batted .346 with 67 RBIs -- in what amounted to half a season.
2. October 1 & 2, 1949.
In spite of Joe's return, the Yanks blew a 12-game lead over the Sox, and it came down to the last 2 days of the season, and the schedulemaker nailed it: Sox vs. Yanks at the original Yankee Stadium. The Sox led by 1 game: If they won either, they would win the Pennant. The Yanks had to take both to do it.
The Yankees had scheduled the opener as Joe DiMaggio Day. Joe wanted to cancel it, and not play, as he was sick with pneumonia. But he maintained the attitude he had when he was quoted as saying, "There might be somebody out there who's never seen me play before. He deserves my best."
He came out, accepted the cheers and the gifts, and thanked the team, his teammates, and the fans, and closed with, "I'd like to thank the Good Lord for making me a Yankee." He did play that day, and got 2 hits, and the Yanks came from 4-0 down to win, 5-4, on an 8th inning home run by Johnny Lindell.
The next day, the Yanks led 5-1 in the 9th, ready to clinch, but Joe, still sick, dropped an easy fly ball, to make it 5-3. He walked off the field, knowing he was now a liability. The Yankees got the last out and won the Pennant. (Funny, Red Sox fans never mention how Ted Williams got THAT year's MVP instead of a deserving Yankee.)
1. July 27, 1991.
What's this, the Number 1 Yankee Clipper moment coming nearly 40 years after he played his last game? This will take some explaining.
It was Old-Timers' Day, and I was sitting at the back of Main Level Section 8 at the old (but post-renovation) Yankee Stadium. The subject of the day's ceremony was the 50th Anniversary of Joe's 56-game hitting streak.
Of his 1941 teammates, 7 were still alive, and 5 showed up: Phil Rizzuto, Tommy Henrich, pitcher Marius Russo, first baseman Johnny Sturm (who only played that one year in the majors, went off to war and never regained his batting eye), and Stanley "Frenchy" Bordagaray, who played for several teams and won Pennants with the '39 Reds and '41 Yankees. The 2 who did not return were the ailing Bill Dickey and Frank Crosetti, who had a policy of never returning for Old-Timers' Day. After Henrich's death in 2010, they're all gone now.
The ceremony closed with Joe doing something he rarely did: Public speaking. He may have spoken more in those 7 minutes than he did in the 13 years he played. He mentioned that, in Game 3 of the 1941 World Series, Russo pitched a complete game: "The reason I mention this is that, today, that's considered a great achievement." He mentioned that Henrich had loaned him a bat, after the bat Joe had used for the first 41 games of the streak had been stolen.
And of the Scooter, not yet having received his rightful election to Cooperstown, he said, "Nobody had a better view than I did of him playing shortstop... And, Phil, I just want to tell you that you're my Hall-of-Famer. And I mean that."
Biggest ovation of the day, even bigger than those for Joe, Mickey Mantle, and, in what turned out to be his first Old-Timers' Day back with the Yankees, Reggie Jackson.
I had also seen Joe on Old-Timers' Day in 1987, and would see him again on Old-Timers Day 1994, and I saw him throw out the first ball on Opening Day 1995. But this Old-Timers' Day 1991 was special. We got to see and hear Joe DiMaggio, not as a flickering image on black-and-white film, and not as a man telling us how good his bank or his coffeemaker was, but being what he was: The defining baseball player of his era... and a real, live human being.
Joe is gone now, and while he was alive, he wasn't the easiest person to get to know, and if you got on his bad side, you were out, permanently. It seems the only person he ever tried to reconcile with was Marilyn.
But when the old Yankee Stadium was closing in 2008, they asked the current Yankee players what item they would like to keep. Derek Jeter made his choice, and it was kept secret for a while. Eventually, it got out that he wanted, and got, a sign in the tunnel that led from the Yankee clubhouse to the dugout, the sign with Joe's quote, "I'd like to thank the Good Lord for making me a Yankee."
I hope Hank & Hal Steinbrenner had a new sign made up. Or, at least, one with another of Joe's quotes, either the one about the fan that's never seen you play before and he deserves your best effort, or the one where he said, "Just putting on the Yankee uniform was the highlight of my career."